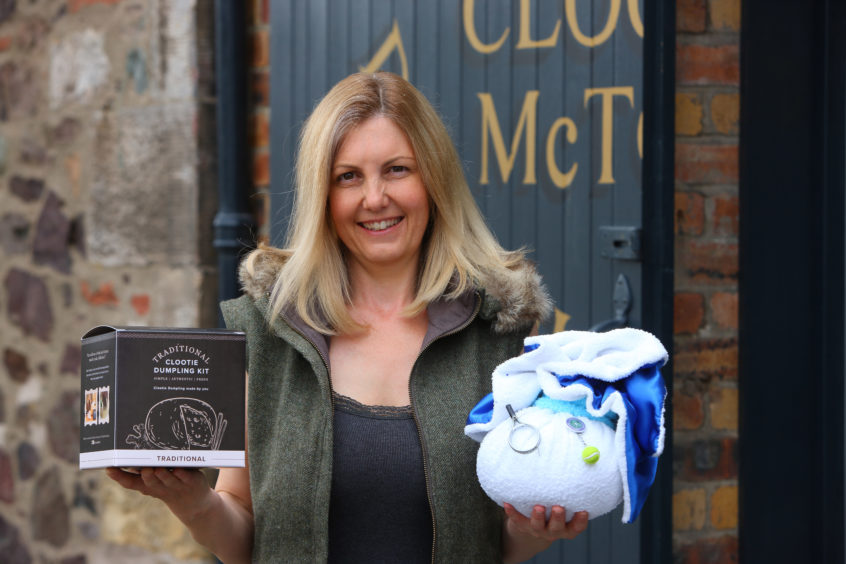 Michelle Maddox, founder of Clootie McToot Dumplings, really is chieftain o' the puddin' clan, discovers Caroline Lindsay
It's 2am and Michelle Maddox, mum of four and founder of Clootie McToot Dumplings, is already hard at work in the kitchen in her Abernethy home, while husband Alasdair, the kids and French bulldog Ralph are all fast asleep.
"After a quick cup of tea, I boil all the cloots (cloths for cooking the dumpings in), prepare all the fruit, eggs, spices and other ingredients, then fill up the pots with water to boil on the stove," Michelle explains.
"Around 7.30am it's back to being mum, getting the kids (and Alasdair) up, fed and off to work and school."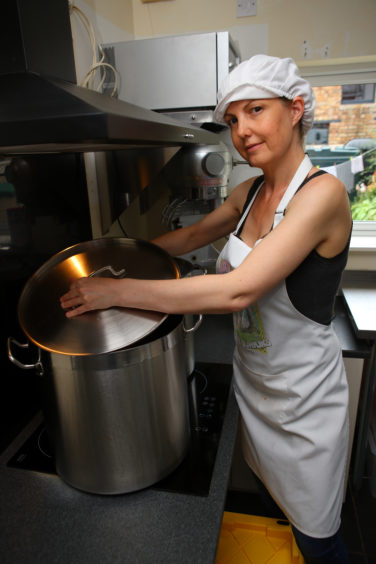 Clootie dumpling, a Scottish fruit pudding, dates back to 1747 when the first recipe was published.
Michelle was inspired to start her business in spring 2017 after her son Jacob asked if she would make clootie dumplings from his great-grandmother's recipe to sell at his school Christmas fair.
"The aroma of sugar and spice, and the laughter from my children as we made them, brought back many fond memories of my own childhood," smiles qualified caterer Michelle.
Since then Clootie McToot has gone from strength to strength winning a number of awards and attending some of the biggest food and drink festivals across Scotland.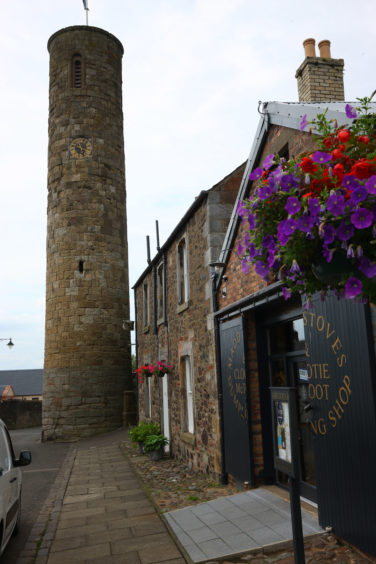 With 14 different fresh dumpling recipes ranging from traditional to apple, pear and cinnamon, the most recent creation is the ECO Eat which is a high protein and slow release energy clootie dumpling made with food cricket flour. "Cricket flour is touted as a nutritional powerhouse, hailed as a sustainable food source for the future and, because it's about 65% protein by dry weight, is a super food," Michelle explains.
"We also offer sugar free, gluten free, dairy and vegan friendly dumplings."
Once everyone is away to work and school the day really starts – the chef's whites go back on and the mixture is shaped into balls and placed on freshly-boiled floured cloots.
The cloots are tied and the dumplings are skelped (smacked) for good luck and put into the boiling pot of water until they are cooked. When they come out, they're de-clooted and put in the ovens to dry. Then the dumplings are left to cool before being packaged.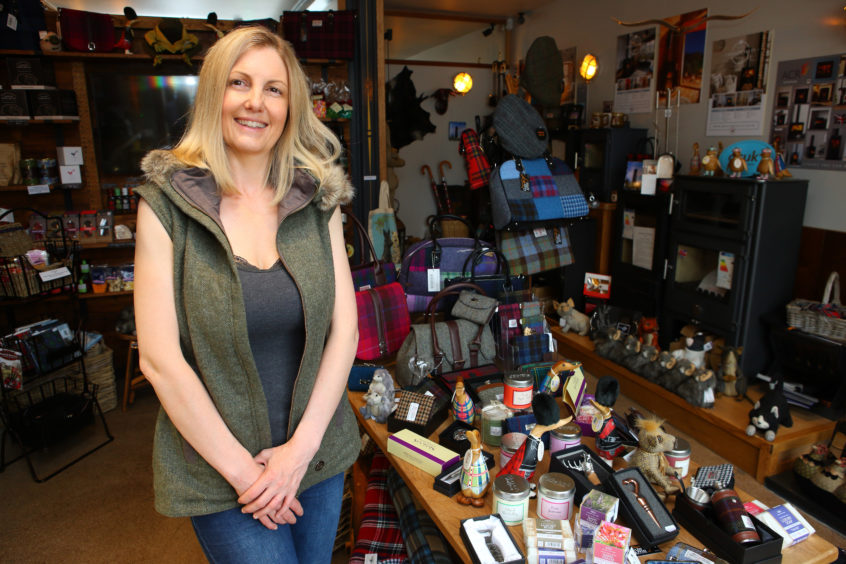 But Michelle's day doesn't stop there as she's then back out on the road collecting the kids, home to do homework and prepare dinner.
"The days can be long but when I hear the fabulous comments from our 'Clootie Clan' or winning awards it makes it all worthwhile," she smiles.
"Once labelling and cleaning is done and the kids are off to bed, I catch up with any paperwork, emails and items that have come up from the shop in Abernethy before grabbing an hour of TV before bed."
Michelle sources the ingredients as locally as possible, using free range eggs for a hen farm less than two miles away.
"We try to use the freshest and most sustainable products, often swapping dumplings for the freshest of ingredients locally," she smiles.
"I also like to partner with local businesses like Strathearn Cider and Lindores Abbey Distillery and for this Christmas we are using their AELDER liquor for our festive dumpling."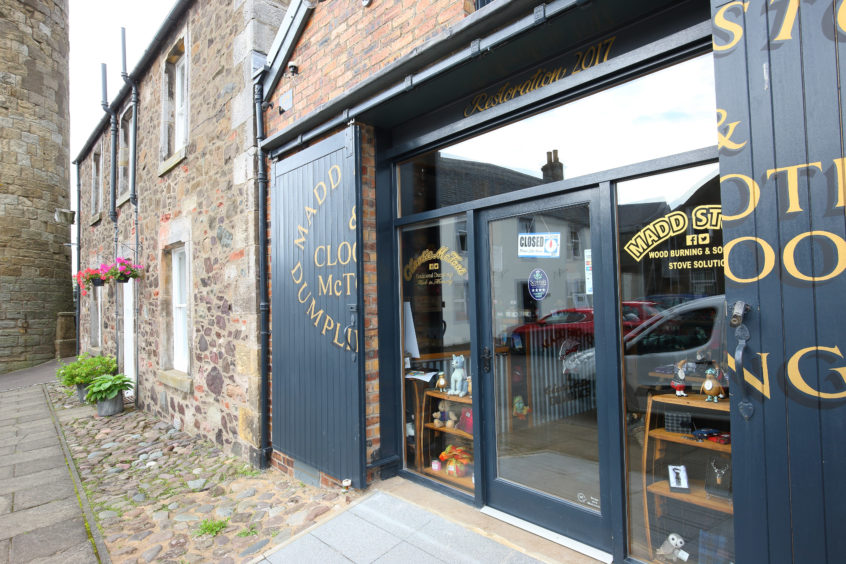 Ask Michelle what she enjoys most about running the business and her enthusiasm bubbles over.
"I love the smells of the dumplings boiling in the pots," she says.
"I love what I do as it was obviously all meant to be – if it had not have been for Jacob and all the support we have, Clootie McToot Dumplings would never have existed.
"I love the fact it's an old family recipe that my mum joined our team as manager, and the excitement of playing about with ingredients and developing new flavours, even when they don't always go to plan!"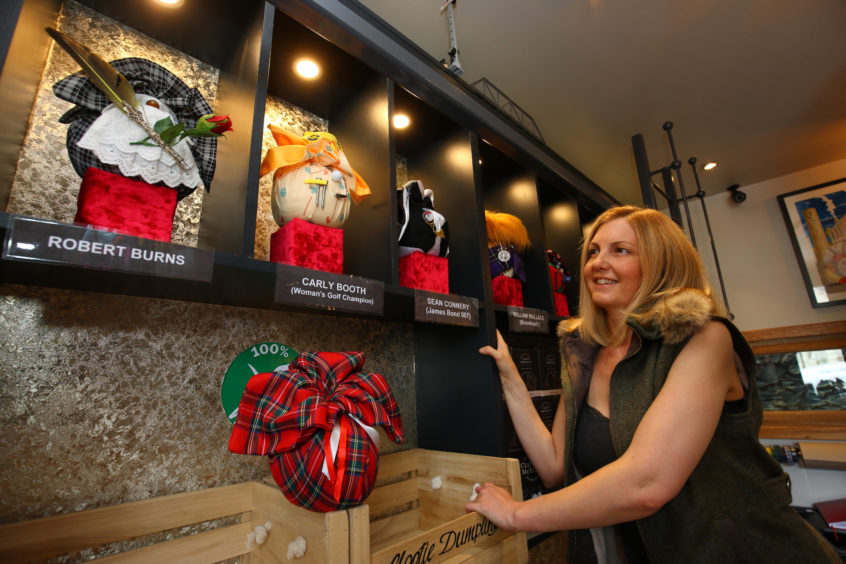 The biggest challenge? "There isn't enough time in the day to do everything we want to do. As well as providing the best dumplings as fresh as possible we also want to ensure that people can bring the art of clootie dumpling making back into the home. That's why we have been working tirelessly over the last couple of months to produce our Clootie McToot dumpling kits."
With a shop on Main Street in the Perthshire village of Abernethy, next to the 900-year-old round tower, customers can come in browse the range of products and sample the dumplings.
"We will also be offering demonstrations and workshops where people from all over the world will be able to come in and learn the art of clootie dumpling making right here in Abernethy," says Michelle.
"There is also room to come in and have tea and coffee with a slice of warm clootie dumpling and custard."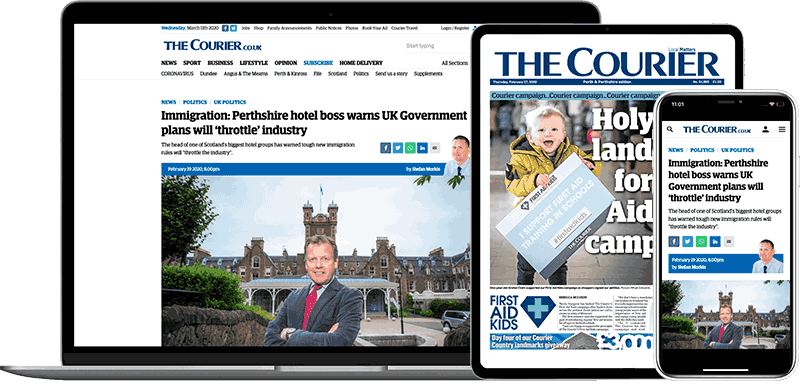 Help support quality local journalism … become a digital subscriber to The Courier
For as little as £5.99 a month you can access all of our content, including Premium articles.
Subscribe