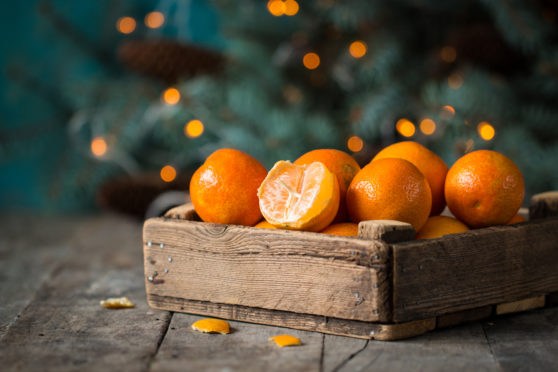 Rachel, Chris and Andrew Rowley run Ballintaggart Farm in Perthshire.
The darker, colder days are firmly here and while part of me is wishing them away, part of me knows that's what's best is to embrace this cosy season for what it is. The kitchen is firmly the heart of our home and eating our way through the dreich days certainly helps.
We are all starting our day with porridge, slowly stirred with milk and honey and topped with our personal favourite combinations, chopped apples or bananas and dried fruit like apricots and sultanas and, for some, a large spoon of Nutella for the weekend!
We've also enjoyed homemade sausage rolls for packed lunches and warm snacks, although have to confess, given our busy lives, that homemade pastry seems a step too far, it's still satisfying to use ready roll and stuff with quality sausage meat from our wonderful local butcher, roll into neat parcels, generously paint with egg wash and sprinkle with poppy seeds for texture, they're especially hard to resist when just baked, steaming and crisp.
There's also no end, it seems, to our soup repertoire, whether it's slow roasted sweet potato and coconut, celeriac and thyme or some combination of vegetables from the bottom of the veg drawer, the key is always in taking time with the basics.
Melt a generous knob of butter and slow sweat onions, leeks and celery for at least 10 minutes, add salt and a splash of wine if you have and at the end of the ten minutes or so, a clove of chopped garlic and some herbs, we have dried sprigs from our herb garden always on hand. And then add the main veg and stock and simmer slowly before blending.
We love bread and are fortunate enough to have ready access to incredible daily made sourdough from Ballintaggart Farm but we also love rustling up a batch of super cheesy scones to accompany our steaming bowls of soup.
And because we can never see past a sweet treat, this month we've turned to oranges, loosely justified because of a vitamin C hit, we've taste tested orange and thyme drizzle cake and Nigella's faithful and wonderful clementine cake, where whole clementines are boiled for a couple of hours and then blitzed (skins and all) into the most delicious almond-based batter.
Wishing you all a cosy month ahead before the real countdown to Christmas begins.
Songs to cook to: Not long until Christmas carols but for now, candles on and Yo La Tengo Autumn Sweater.