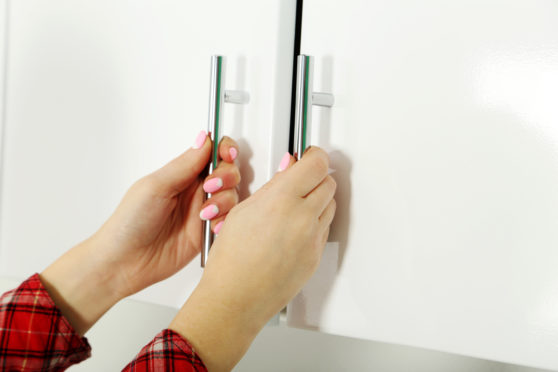 Panic buying led to thousands of shoppers rushing to their nearest supermarkets to stock up on essentials. Now your kitchen cupboards are fully stocked, what do you do? Here, we bring you a selection of recipes to help you make the most of those lockdown supplies..
Food from Fife promotes the producers, farm shops, hotels, restaurants, cafes, and visitor attractions in the area. One member, Jenny Thomson, runs Courses for Cooks from her home in Dunfermline.
The experienced chef has created this sausage and bacon pasties recipe which is ideal for using up leftovers in your fridge.
She says: "Pasties were designed for labourers to take for lunch, whether out in the fields or down mines. They can be made with all sorts of ingredients, we can all get creative with what we have in our store cupboards to create tasty and filling pasties."
Sausage & Bacon Pasties (makes 6)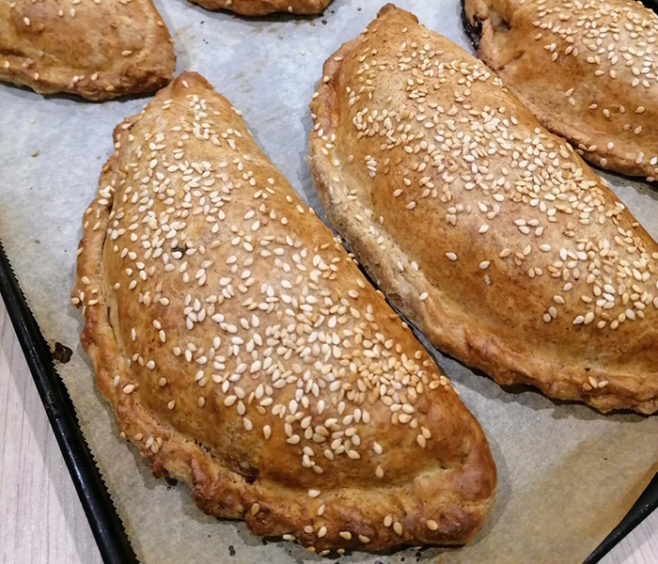 Pastry ingredients:
300g flour (I used ½ & ½ plain and wholemeal)
150g butter
Salt & pepper
Water to bind
Filling ingredients:
4 pork sausages
2 rashers streaky bacon
1 onion
1 potato
½ small fennel bulb
2 small carrots
½ stick celery
Handful of mixed herbs (e.g. parsley & thyme), chopped
2 tbsp milk
Sprinkle of sesame seeds (optional)
Method (to make pastry):
Rub the butter into the flour with a pinch of salt and a grind of black pepper.
Add cold water a little at a time, mixing with a knife until the pastry comes together and forms a dough.
Form into a flat disk and refrigerate for 20 mins.
Method (to make filling):
Pre heat the oven to 200°C/400°F/Gas6. Chop the onion, potato, fennel, carrots & celery into approx. 5mm dice
Chop the bacon into small pieces, remove the skins from the sausages and pinch into small pieces.
Mix everything together with a goo grinding of black pepper and a little salt.
Divide the pastry into 6 pieces and roll out thinly. Cut into 19cm rounds & re roll the scraps into the next circle.
Divide the filling between each piece of pastry, use a little water to dab around the edges of the circles, then fold the pastry over the filling to make a half moon parcel. Press the edges of the pastry together, then fold the edge over to make a rope like seam.
Brush with milk and sprinkle over the sesame seeds if using.
Bake in the oven for 15 mins at 200°C, then reduce the oven to 180°C/350°F/Gas4 and cook for a further 40 mins. Eat warm or cold.
Jenny has also created another exciting recipe using a can of sweetcorn, an avocado, a spring onion and a few tomatoes to produce sweetcorn guacamole pancakes. Here's how you can make them at home:
Sweetcorn & Guacamole Fritters (serves 2)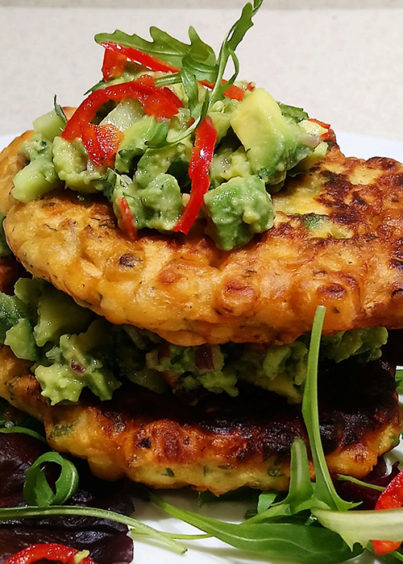 Fritter ingredients:
1 tin sweetcorn (198g size)
100g flour
60ml water
1 egg white (optional)
1 tsp chopped parsley
Pinch of chilli flakes (optional)
1 spring onion, finely sliced
Salt & pepper
Filling ingredients:
1 large avocado
5 or 6 cherry tomatoes, quartered
1 tbsp chopped coriander
Juice of ½ lime
Salt & pepper
Drizzle of sweet chilli sauce
Method (to make fritters):
Tip the tin of sweetcorn and its juice into a bowl, add the gram flour, water, parsley, chilli flakes, spring onion, salt & pepper.
Beat the egg white to stiff peaks and fold into the corn mixture.
Heat a frying pan on a medium heat, drizzle in a little oil and rub over the bottom of the pan with a piece of kitchen paper to absorb any excess oil.
Use a serving spoon to drop 2 or 3 spoonfuls of mixture into the bottom on the frying pan, spreading them a little with the back of the spoon. Allow to cook for a few minutes, then flip over to cook the other side.
Adjust the heat under the pan down if the fritters are too brown or up if they're not cooking quickly enough.
Method (to make guacamole):
Mash the avocado with the tomatoes, coriander, lime juice, salt & pepper to a rough paste.
To serve, place a warm pancake onto a plate, top with ¼ of the guacamole, place a second pancake on top and top with another portion of guacamole.
Finish by sprinkling over a little more chopped coriander and a drizzle of sweet chilli sauce.
If you're looking for something special to wash down your dinner with then this creative tin can cocktail from the Highland Liquor Co. made with their Seven Crofts gin and a tin of peaches, could be just the thing.
Tin Can Cocktail (serves 1)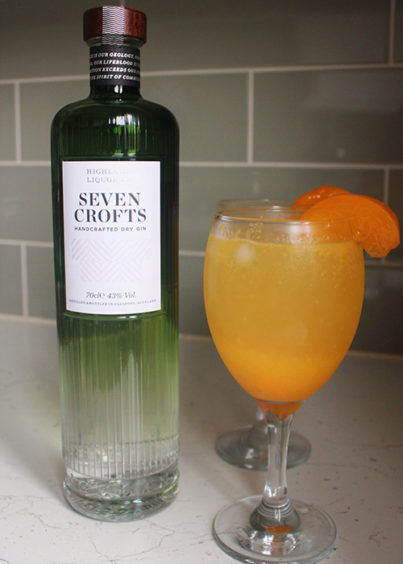 Ingredients:
One tin of peaches
Tonic water
50ml/20z gin
Ice
Method:
Blitz half the can of peaches in syrup to form a puree.
In a large wine glass add 25ml/1oz into a wine glass of peach puree and the pour of gin.
Finally add ice and top with tonic water before stirring through.
Garnish with a mint sprig and orange slice if you have them to hand.