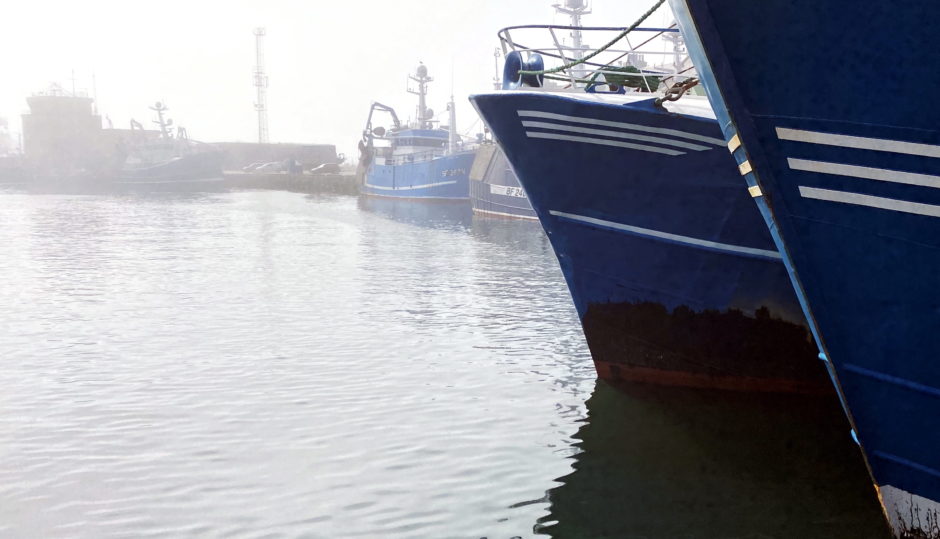 Jamie Ross hears from voices within the fishing community about the devastating impact of Covid-19 on Scotland's fleets.
The hustle and bustle of Peterhead's harbour has quietened these last few weeks.
Doors of businesses are locked and boats at berth have signs warning that no one will be permitted on board because of new safety measures.
Its fish market continues to operate, however, in what is becoming a new normal.
While it once welcomed tourists and eager locals alike, it now restricts access to only key workers in order to protect stakeholders.
It's a familiar story across all ports in Scotland.
They are steps that have been introduced to help the country battle COVID-19, but it has had an inevitable impact on the market.
Restaurants have shuttered and transport links have narrowed.
As a result, whitefish and prawn sales have slowed since lockdown.
And with no end in sight it is uncertain what the future holds for the fishing industry.
Now, more than ever, fishermen are calling for help from their local communities to stay afloat.
Jimmy Buchan, one of Peterhead's most famous fishing sons, has described the current battle as being a "silent war" on the business.
One that he is hopeful the British public will help them overcome.
Jimmy Buchan has spent his life at sea, but now sits as the chief executive of the Scottish Seafood Association.
The group represents about 70 processors and traders in the country, championing Scottish seafood to the masses.
He is in no doubt that there will be lasting effects on the industry because of COVID-19.
But he is adamant that they can be overcome.
"We are at war with a silent invader, and people are fearful of their health," Jimmy says.
"We've locked down and habits have changed drastically.
"When people are shopping now they aren't hanging about, and the result of that – across Europe – is that restaurants where people would be eating Scottish seafood have been lost overnight.
"The effect that has had on the catching sector has been catastrophic."
Meanwhile, supermarkets have become the primary place for people to buy their weekly shop.
But even there, restrictions are taking its toll.
People are ferried through one-way systems to prevent a build up of customers, and panic buying often means there's a lack of choice when it comes to what is available to buy.
"[Supermarkets] took wet fish off the shelves altogether," Jimmy laments.
"When we needed them to up their game, it had the opposite effect.
"We need retailers to embrace what we've got – there is an insatiable demand to eat seafood, so people are looking for it."
In the meantime, Jimmy says the Scottish Seafood Association continues to lobby the government to ensure fishermen see a light at the end of the tunnel.
"I don't think this is going to end in three weeks," he tells me.
"I think we're looking at this for the rest of the summer.
"And I think, even if restrictions were lifted, people will be conscious of their health – 'do I really need to go in to an area where I could pick up this disease?'
"They will change their eating and buying habits.
"We need all the help we can get just now, and what we need to ask is for the great British public to support our industries.
"Never has it been more important, and demonstrated to us just how important food security is to a nation.
"It's unfair for us to sit back and watch our industry die and to then go and buy food that's being imported.
"We need the British public to make sure that British businesses survive."
Peterhead is the largest whitefish port in the UK.
There, fish is landed every day while the pandemic continues.An auctioneer guides only buyers around its market – through aisles of boxes spaced two metres apart – to sell the day's catch.
Likewise, the men buying stand further apart to fall in line with the market's fresh safety policies.
In the short-term, everyone is trying to continue on as normally as possible in an atmosphere Simon Brebner describes as "challenging".
Simon, the chief executive of Peterhead Port Authority, believes the town's fishermen are up to the challenge put in place by COVID-19."
Our market operation is continuing as normally as possible," he explains.
But the demand for whitefish and prawns, Simon agrees, "has softened considerably over the last three weeks."
"However, we have had the odd spike or two, for example just before the Easter weekend."
The outlook remains fluid.
"However, the fishing fleets are agile and experienced to deliver sustainable harvest as markets dictate."
Echoing this, Peter Duncan, the head of fishing at the port, believes everyone will have to come together for the industry to remain strong.
He says: "I don't think there is an industry that has not been effected by COVID-19 in some way."
The fishing industry is no different, there have been significant changes in the way that the key workers operate.
"The industry has faced and met challenges not only on a day to day basis but, in some occasions, hour by hour.
"Last month, the Scottish Government launched a £5m hardship fund to try and offset the losses some are expected to accrue during the outbreak, capped to a maximum of £27,000 and only for vessels under 39ft.
An additional £3.5m for vessels over 39ft was announced on April 7.
Peter adds: "Leaders within the industry have been working together to ensure that the fishing industry weathers this current storm and still be in a position to function in an environment post-virus."
Fish is a good source of healthy protein – I would promote any action that would encourage local and UK business."
The Scottish Fishermen's Federation had welcomed the initial measures the government has introduced to help businesses.
Elspeth Macdonald, its chief executive, said that for many the markets have "disappeared" overnight.
"It is clear however from the regular reports we are receiving from our members that other markets, particularly for shellfish, have evaporated, and the whitefish market has contracted rapidly as a result of the pandemic," she added.
"We will therefore be continuing to make the case to government for similar support for other parts of the fleet that are at imminent risk of hardship."
Stephen Bruce still buys fresh fish from Peterhead's market regularly.
His is one of many businesses across the country which have pivoted how they operate.
Formerly, Peterhead Fish Company would set up shop in towns across the north-east, selling fish directly to customers from their van.
Now, with lockdown in full effect and the general public staying at home, Stephen travels to and from doorsteps to feed families.
"We used to park up in different areas and folk would come to us," he says.
"But that isn't possible. Now we're delivering direct."
And the demand seems to be there.
Last Wednesday, he had over 100 inquiries on his website about getting fish delivered.
"We can't complain," he adds.
"We've completely changed the way we're working.
"And people have been so nice, people really are appreciative.
"We go to a lot of people who are socially isolated, people who aren't able to leave their house for 12 weeks, so we're trying to get to them."
A former fisherman himself, he acknowledges that the market price for fish is not sustainable.
He says: "It's a pity.
"The prices are depressed for fishermen, and I would like to see it more expensive to give them some encouragement to go to sea.
"The trouble is that there's so many hotels that have just closed.
"But the message I'm getting from every company that is delivering fish is that the demand is there.
"The quality of fish in the north-east of Scotland is second to none."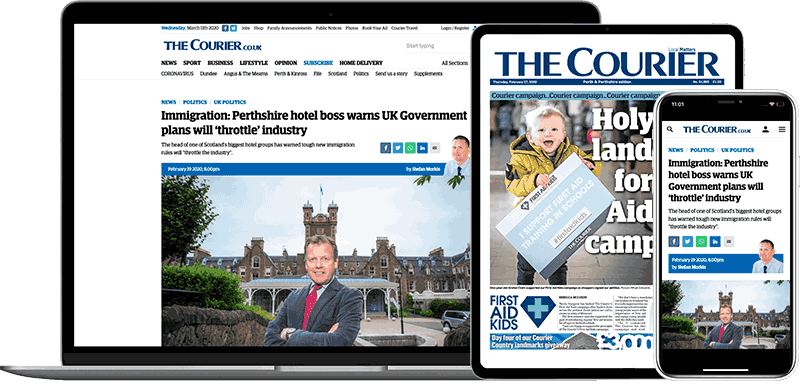 Help support quality local journalism … become a digital subscriber to The Courier
For as little as £5.99 a month you can access all of our content, including Premium articles.
Subscribe