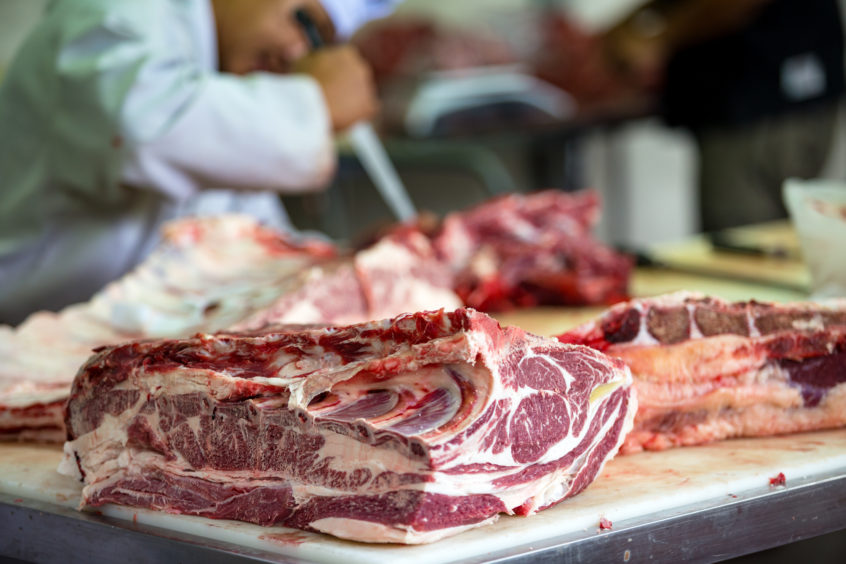 Now that summer is on the way, it's time to get the barbecue out – and there are still plenty of local options for choosing the best cuts of meat.
Normally, the default option would be to pop down to the nearest supermarket for supplies, but these days many people are opting for their local butcher instead.
With some butchers now offering online deliveries, contactless collections and socially-distanced walk-ins, going local can be a much less stressful experience than queuing at a large superstore.
Whether you're having a lockdown barbecue, treating yourself to a steak or planning mid-week meals for your family, independent butchers have got you covered.
Phil Whyte, owner of Chattan Quality Meats in Aberdeen, said: "We've tried to keep things as normal as possible. We're still open but restricting entry – only two people in at any one time – and we have hand sanitiser at the door, plus we sanitise the card machine between uses.
"The majority of our trade is walk-ins and people are respecting social distancing. We also offer deliveries – this was something I wanted to do before the lockdown too, but there wasn't much demand for it.
"Deliveries still only make up about 5% of our business as I think people like to come in and see the products in person. After lockdown I'd like to keep offering deliveries though, especially for the elderly who can't always get out easily. At the moment we arrange it over the phone.
"A lot of people are shopping local during lockdown, customers have said it's a much calmer experience than queuing at supermarkets, where they feel anxious about touching the products and feel rushed. At a local butcher's you have things done for you – you can just point to what you want and the staff bag it up for you."
In Dundee, Scott Brothers butcher's has been responding to high demand for online deliveries, which have saved their website from closure.
One of the owners, George Jarron, said: "We've always done online deliveries, both locally and throughout the UK. It's actually very difficult to make money from online sales, because a professional website with an e-store costs so much to run. We were considering pulling it in March, but lockdown changed that.
"Previously we'd only have a big influx of online orders around Christmas time, but now there's a lot more demand. Usually we'd deliver maybe 20 parcels a day, now we're up to over 100 a day.
"Time will tell whether we keep the website, it depends on whether people will keep shopping locally after the lockdown or if they'll go back to supermarkets. We'll always keep doing deliveries in the Tayside area though – you can place those over the phone too."
---
If you're looking for an independent butcher's in your area, check out our guide to some of the firms offering delivery, contactless collection or walk-ins…
Haigs, Aberdeen
Haigs is an award-winning family business established in 2007 by James and Julie Haig. James' career began in Scotland as a young apprentice butcher and he went on to be involved in senior butchery management for a major retailer, Q Guild in central London before returning to Scotland. Haigs offers in-store collection as well as a mobile shop service with card facilities throughout the north of Scotland Including Stonehaven, Laurencekirk, Inverbervie, Newtonhill and other locations.
Posted by Haigs on Wednesday, 15 April 2020
H&S Milne and Sons, Aberdeen
This family butcher's prides itself on selling locally-sourced meat, combining time-honoured traditional methods of cutting with new techniques to offer the best cuts of quality meat and poultry. During lockdown they've been offering a £20 "lean pack", including diced chicken, pork, sausages, mince and burgers with less than 5% fat.
Scott Brothers, Dundee
A long-established and well-known business in the Dundee and Angus area, Scott Brothers has been operating for 80 years over three generations, after being founded by farmer George Jarron in 1935. There are three branches in Dundee, which are open for walk-ins, telephone orders and online deliveries, available nation-wide.
The Butcher The Baker, Dundee
A family butcher's since 1902, The Butcher The Baker is now run by David Webster, who is part of the third-generation of a Dundee butcher's family. Butchery manager Paul Higgins, a former head butcher at the House of Bruar, carefully chooses suppliers and employs many of his secret recipes. The Butcher the Baker is currently offering home delivery through the Zippy D app.
Remember we are open Monday – Saturday from 8-5 and closed on Sundays. If you can't make it in then download the Zippyd App for home delivery 🚚 @zippyddundee #delivery #fillet #local #supportinglocal #butcher #butchershop #staysafe #dundee #tayside #thebutcherthebaker

Posted by The Butcher The Baker on Monday, 20 April 2020
Bel's Butcher's, Angus
A traditional butcher's serving the Edzell and Montrose area, Bel's offers a variety of bakery goods and ready meals as well as meat. The business has won a number of awards including a Diamond Award in 2011. Bel's is a member of the Scottish Meat Federation and Quality Meat Scotland, and prides itself on being community-focused, selling meat from local farms. Deliveries are being arranged over the phone or through their Facebook page, and collection from the shop is also available.
Duncan Fraser and Son, Inverness
One of the longest-established butchers in Inverness, Duncan Fraser and Son commenced trading in 1911 and has a strong emphasis on quality, as well as the importance of shopping local, with their products sourced from the north-east of Scotland.
Free delivery service operates from Tuesday to Saturday, with deliveries to Milton of Leys and Culloden areas scheduled for Tuesdays and Fridays.
A&I Quality Butchers, Inverness
Set-up in 1997 by Alistair Paul and Ian McAllister, who have 50 years butchery experience between them, A&I is one of the few butchers in Scotland that buy in whole carcasses and butcher to their own standards. They place a lot of importance on where their meat comes from and take the time to get to know their suppliers well. A&I are delivering throughout Inverness and the Highlands, and their shop is also open.
Simon Howie Butchery, Perth
Starting off from humble origins, Simon Howie first started trading in Dunning in 1986 and now supplies numerous supermarkets and individual customers. Click and collect is available from the Perth and Auchterarder branches, with online delivery also an option. The range of products is extensive and includes gluten free and vegetarian ranges.
D.G. Lindsay and Son, Perth
This award-winning craft butcher began trading in Perth in the late 1800s and has always been in the Lindsay family, now being run by the fourth generation. Produce is sourced mainly from the Perthshire region, as well as the rest of the UK where needed. Orders for delivery (in Perth or Scone), or collection can be placed by phone only, between 9am and 4pm, apart from 1pm-1.30.pm.
John Henderson Butcher's, Fife
Originally set up in Kirckaldy in 1934, this catering butcher's, now based in Glenrothes, supplied hotels and restaurants throughout Fife, Perthshire, Tayside and the Lothians before the lockdown. It is now offering online deliveries to households. Gluten-free and "kitchen-ready" options, such as marinaded meatballs, are available.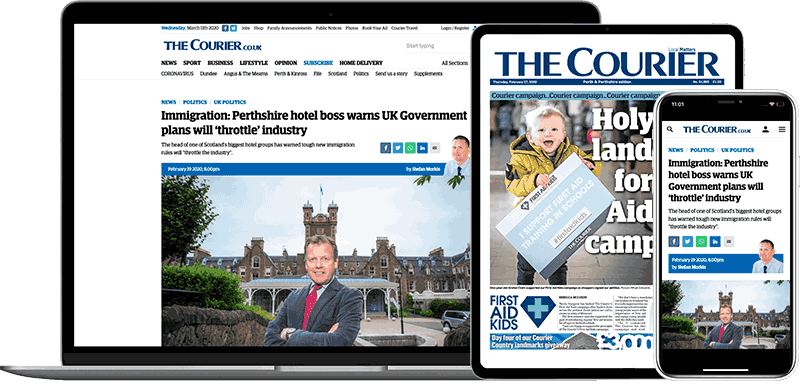 Help support quality local journalism … become a digital subscriber to The Courier
For as little as £5.99 a month you can access all of our content, including Premium articles.
Subscribe