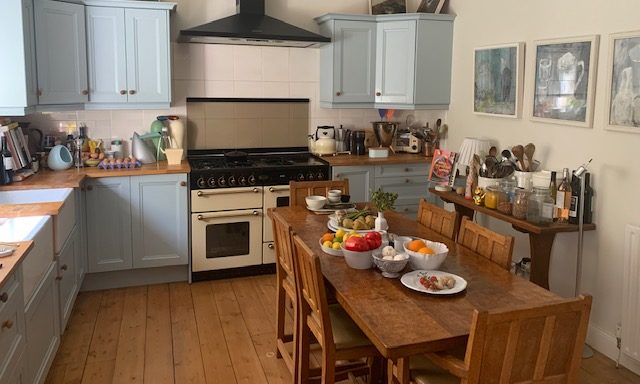 Memories of Mum's kitchen come back to Murray Chalmers, as he takes stock of his own kitchen gadgets and stocks during lockdown.
Now that the kitchen feels even more like the heart of the home I've started noticing more irritating things about mine, things that I'd not really paid attention to before the lockdown: the wooden work surface that needs sanded; the window blind that needs a new cord; the jar of fennel seeds that predates decimalisation. You know how it goes; things just meander along, happily fraying at the edges, minding their own business, until you decide right now that your angst is baring more frets than a chainsaw and everything is actually annoying.
These observations of decay have really all come from a need to establish a routine as an attempt to give some structure to days which would otherwise drift, untethered as they are to the rigours of normal life. We've all had to adapt to a new rhythm and it's an unfamiliar one that is hugely disorientating. This was really noticeable in the first few weeks; now we're in this for a longer haul there's been a sense that we're dancing as fast as we can, keeping up a pace that has made time and its markers become something of a nebulous concept. Staring at the ceiling
The days go by so quickly – I still don't understand why, especially because I'm on my own for all of them. Really, I should be climbing the walls instead of inspecting them for minor flaws in the paintwork from five years ago. Staring at the ceiling does have its benefits – primarily it stops you watching Emmerdale and going near the Mars Bar stash – but it's not really conducive to a productive, fulfilled life in the long term.
There came a point when the realisation that this might be more of a marathon than a sprint really hit home. It was certainly sobering in more ways than one. Like many, I've been getting up later, eating constantly and drinking way too much booze – almost as a reward for breathing in the cleaner air of a new day and subsequently getting through the next 16 hours; it's like being in a troubled relationship when the fun has gone and all you have is dwindling patience and endurance. No wonder so many people take respite in the haven of the kitchen, surrounded by nurturing components of life that can bring instant joy in beleaguered times.
New structure
For me establishing a new structure requires everything to be perfect because I have all this time to reflect on how to make it so, and no one here to remind me that life just isn't like that. So, for instance, I couldn't start writing this column until the kitchen was spotless, till I'd prepped my lunch, done a wash, fed the sourdough starter, made some yoghurt and then alphabeticised all my vitamin pills.
I am aware just how neurotically, pretentiously crazy this is at a time when a criminal amount of people are dying and many of those alive are struggling to survive. I know how lucky we are to be in reasonable health. I get it.
Nevertheless the only way to stop these mental fissures becoming yawning chasms of despair is to have a routine and look for comfort and reassurance from the people and, or, things around you. Never has my house been tidier than it is now and never have I so wanted to have people here for a wild all-night party to trash it all.
Routine
So a routine was needed in an attempt to differentiate one day from the next and quit anguishing about whether the couple in the BBC's quite brilliant Normal People are going to get back together. Part of establishing a new routine is seeing what you've got to work with, keeping the best bits and discarding the dross, a strategy which could well be helpful to many government departments right now. It's easier for we civilians to do this at home while we all hunker down.
One of the things I've noticed about my kitchen is how it works quite well spatially. It's a pleasing space and, although the units themselves are cheap Homebase rip-offs of much more expensive kitchens, both versions probably contain enough references to the Cotswolds to keep everyone happy. Mine was called something like the Burford or the Painswick in honour of a bucolic life conjuring up nostalgic images of drinking cider with Rosie before all those rough new money townies and Kate Moss moved in (I love Kate Moss btw).
Gadgets and implements
So the kitchen itself is pretty nice, even if one of the butler's sinks has a crack caused by a house-guest banging a Le Creuset down a bit too hard while I, polite to a fault, pretended not to notice or care.
What makes the kitchen though are the things in it, the gadgets and the implements that make it both a functioning space and an environment of nourishment and succour. For me and many others this often comes down to stuff you've inherited from your mother – ranging from the stained recipes on fading notepaper, battered wooden spoons, a broken egg timer, a Kenwood mixer that doesn't really work, plus the bravery to tackle boiling tripe or clootie dumpling.
When our mum died my sister and I obviously kept things of sentimental value; yesterday I discovered some of my mother's jewellery which she'd kept in Tiffany boxes but which bore the more realistic mark of H Samuel; that simple discovery charmingly sums up my mum's struggles and aspirations for us. The main things we wanted to keep were from the kitchen because, even when we had no money and mum was bringing us up alone, she would always cook. We rarely ate out except when we crossed time zones to go to Butlins in Ayr, a holiday for which she saved weekly.
Lochee High Street
On the appointed day we would board a coach from Napper Thomson's on Lochee High Street and as we left Lochee our normal lives would recede. Butlins had everything and, to us kids, it was all FREE; roller skating, T.Rex at the disco, chairoplanes at the funfair and a knobbly knees competition for the dads and lads and a bonnie babies competition for the mums. My sister came second and even now, more than 50 years later, I think she was robbed.
At dinner time an announcement would come over the tannoy and we'd all run from our chalets to massive refectories where my abiding memory is not of the food but of the swing-ometer; should the arrow on this contraption swing to your table number, it would earn you a bottle of Asti Spumante.
Days later we would return to tenement life, second-hand comics from our neighbours, old newspapers in the shared toilet, and mum's cooking.
She was really great at the basics – but also she specialised in dishes which many chefs have now trendily rediscovered; how she would have howled to see me look up how to pickle and press a tongue or make beef mince on dripping toast from the mega-hip Book of St John cookbook.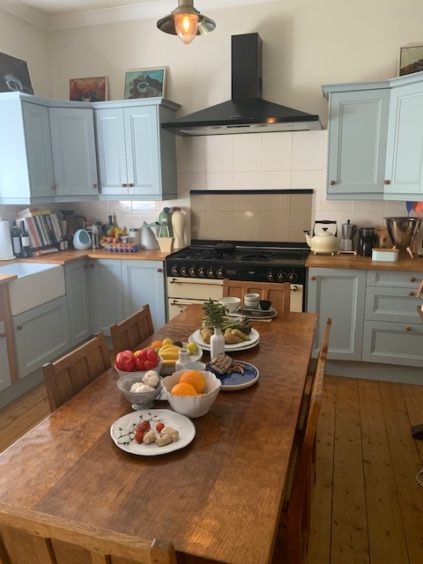 Abiding memory
My abiding memory of our kitchen is the presence, both physical and olfactory, of the chip pan – living on top of the cooker, it was permanently clogged with a clag of dripping, just waiting to become a fire hazard and artery constrictor on its nightly melting moments.
Despite the Proustian via Liff Road memory of the fug of spitting chip fat mixed with an almost illicit expectation of malt vinegar (mum thought too much Sarsons gave you an ulcer), we didn't keep the chip pan when she died. Just as you can't put your arms around a memory, you can't use a filthy chip pan as a reminder of your adolescence, although the smell of chips clung to my clothes as strongly as the cloud of Kouros aftershave engulfing me.
Crinkle cutter
What I did keep were essentially stalwarts of most 1970s domestic kitchens; firstly the crinkle cutter to give your daily chips that then fashionable crimped appearance. I've never used it but, looking at it as I write, I can see my mum's proud face as she chopped and I think maybe it's due an ironic revival.
Then some plastic measuring jugs which are so old that the measurements on the side hardly show. A few 1960s spatulas. Some glass casserole dishes that survived me putting them on the hob… and a set of steak knives and forks which really need to be transported to the set of Abigail's Party.
Pride of place
My own kitchen kit seems very anonymous in comparison and, with the exception of some nice duck-egg blue stuff Nigella did with designer Sebastian Conran, there is nothing especially memorable. Things that we all fell for and used only twice – the spiraliser, the coffee frother – sit forlornly at the back of a cupboard, waiting to be joined by the juicer and the stick blender.
But on the work surfaces on either side of my cooker there is deep visual joy to be found with my collection of 1980s and '90s Philippe Starck objects.
Pride of place is given to the lemon squeezer from Mars that actually can't squeeze without temporarily blinding the squeezer (a friend told me that when she left her first marriage she left the Starck squeezer to her husband to signify the fact that both he and the gadget were useless).
Then there's the truly futuristic kettle that scalded any poor innocent who mistakenly thought a kettle should boil water.
The beautiful whimsy continues with the parmesan grater with decorative tusks too delicate to put much of a gore even in the softest cream cheese; the thermos flasks that are so beautiful, big and bulky that they now exist solely as sculptural objects that you might take on your next trip to space; the fly swatter called Dr Skud that reveals a human face as you prepare to kill; the colander that is so big and unwieldy that people use it as a flowerpot/vase; finally, and triumphantly – a recent find on eBay – some ergonomically perfect steel chopsticks that make sense in that you can wash them and they do their job. Time shall not wither Starck chopsticks.
Were my mother to be looking down on this house now she would have a wry grin and would probably be thinking that I once had more money than sense.
Memories are made of this.