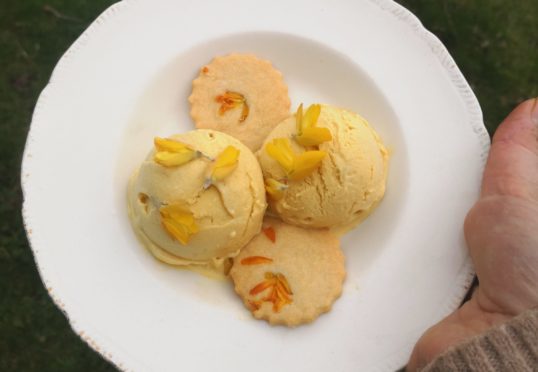 Whip up this delicious ice cream from foraged gorse flower petals
There's nothing more satisfying than making your own food.
Whether that is bread, pasta, your own sauces, condiments, or bakes, the satisfaction you get from creating something scrumptious out of simple ingredients is extremely rewarding.
So for those with a sweet tooth, this foraged gorse custard ice cream recipe by north-east forager Leanne Townsend of Wild Food Stories will definitely hit the spot.
The indulgent recipes uses forged flowers, sugar, double cream, milk and egg yolks, all whipped into one big pot of deliciousness.
And with gorse being in season all year round, this is one dessert you will be able to make numerous times.
As well as sharing this recipe, the forager, who has more than a decade of experience, has also revealed her top tips and knowledge about some of the popular plants in season during May.
---
Gorse Custard Ice Cream
Ingredients
480ml single cream
2 cups (2 handfuls) gorse flower petals
120ml cup full fat milk
100g sugar (add more to taste if needed)
3 large egg yolks
Method
Take the gorse and cream and place into a medium saucepan on a medium heat.
Simmer for five minutes.
Take the saucepan and put it to the side to cool – this will help the gorse flavour infuse more.
Once cool, strain into a bowl to remove the flowers.
Take the infused cream and warm again, adding milk and sugar. Gently simmer for three to five minutes – do not let it boil.
Whisk the egg yolks in a separate bowl.
Pour around a third of the cream and sugar mixture into the bowl with the eggs and quickly whisky together.
Once done, add more of the mixture. Repeat until all of the cream is incorporated.
Return mixture to the saucepan, stirring and whisking continuously. This will slowly thicken over time. Place into the container you wish to freeze it in.
Put in freezer and remove it every 30 minutes, stirring it. Do this until it is firm enough that you can't mix any more.
Serve when ready.
---
Read more here…