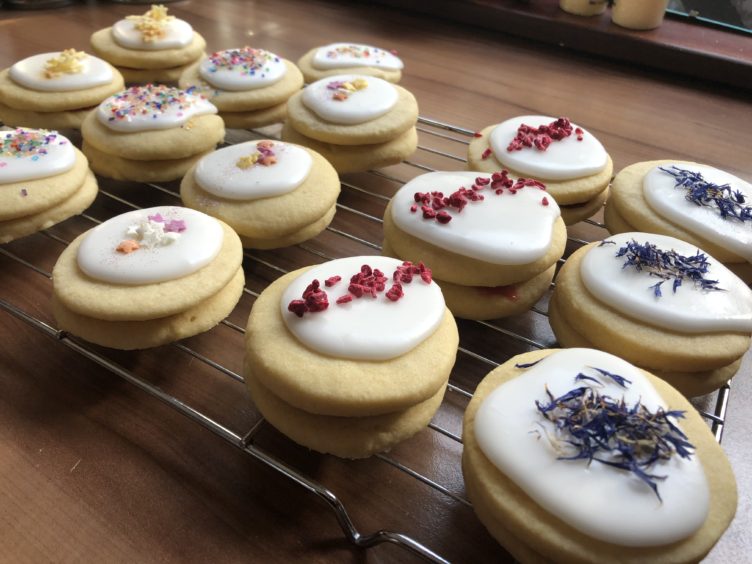 That moment many of us have had marked on the calendar for weeks – National Biscuit Day – is finally here and we're choosing to celebrate with two easy biscuit recipes created by local foodies.
Mary-Jane Duncan from Fife's Kitschnbake has created her take on one of Scotland's most searched-for biscuit recipes, the Empire Biscuit.
According to Google trends, over the past 30 days, searches online of Empire Biscuit recipes have been consistently popular, with the search reaching peak popularity in Scotland on May 8, VE Day.
Meanwhile, David Hetherington, the most recent recipient of the Scottish Hotel Awards' most Inspiring Chef of the Year accolade makes one of his favourites – ginger nuts.
---
Kitschnbake Easy Empire Biscuits
This delicious, easy empire biscuit recipe can be doubled up to make even more if required.
(Makes 8-10, depending on the size of the cutter) 
Ingredients
175g butter, softened
175g plain flour
50g icing sugar
50g cornflour
To decorate: 
Strawberry or raspberry jam
100g icing sugar
Water
Glace cherries, if desired
Method
Preheat your oven to 170C/160C fan and line two baking trays with greaseproof paper.
Mix all the biscuit ingredients in a large bowl – if your butter isn't soft enough grate it with a cheese grater before use.
Use your hands to mix all together into a nice ball of dough. Lightly flour your work surface and roll out the dough until 1/2cm thick – you can use a sheet of greaseproof paper on top of the dough to help stop the rolling pin from sticking.
Using your choice of round cookie cutter, cut out the biscuits and place them on the lined baking trays.  We use a 7/8mm cutter.  Try to aim for an even number.
Place the trays in the oven for approximately 10 minutes (depending on size).
Remove from the oven before they turn golden brown and leave to cool for 5 minutes.
Place biscuits onto a wire rack to cool completely prior to decorating. Spread jam over the top of half the biscuits then sandwich it with another one. Mix your icing sugar with a teaspoon of water until just runny enough to drop off the spoon. Add a little more water or icing sugar a little at a time to get the right consistency.
Drizzle the icing sugar over the top of your biscuit and spread it out with the back of your spoon.
Pop a glace cherry or sweetie or whatever you wish to decorate on the top. Enjoy!
---
David's Dunkable Ginger Nuts
Here, the head chef at the Bridge of Orchy hotel explains how his recipe came about:
"I remember when I was young I set myself a challenge to find out which biscuits would dunk in my tea the best. You'll know if you're a dunker that it's a fine line between that tea-soaked goodness and utter disappointment when it plummets deep into the abyss of tea never to be seen again, until it bops you on the lip as to take the final sip.
"So you had your rich tea, which was abysmal, probably about a two second dip if you were lucky and even then you could get it almost to your mouth and… flop straight on to your cardigan.
"Stepping it up a notch was the custard creams and the Bourbon biscuits, they had a bit more about them, and the creamy filing partially melting was great. Keeping with the filled variety an even sturdier one still was the jammy dodger, real good dunkability and even as the biscuit started to dissolve you had the chewy centre still hanging about for a bit of fun.
"The biscuits you could really bank on were ones from the now-famous Peter Kay skit about Hob Nobs. They obviously have the dunkability of a Royal Marine commando, but I have to say for the dunk rating combined with the flavour factor (I had a sheltered childhood) the ginger nut was the one for me! So here's a wee recipe I cooked up for my own ginger nuts."
(Makes 16)
Ingredients
100g self-raising flour
1 tsp bicarbonate of soda
2 tsp ground ginger
40g caster sugar
50g unsalted butter
2 tbsp golden syrup
Method
Stick the oven on at 180°C and let it heat up.
Line a couple of trays with non-stick baking paper.
Sieve the flour, bicarb and ginger into a big bowl and then stir in the sugar.
Mix the golden syrup and melted butter into the dry ingredients until the mixture comes together to form a soft dough. Refrigerate your mix for about 1 hour.
Cut the dough in half and cut each half into 8 portions.
Roll each portion into a ball and place well-spaced out on the trays, then just gently flatten slightly with your thumb.
Bake for 12-14 minutes until golden and they get that cracked texture on top. Leave to firm up on the trays for 10 mins, then dunk away my friends!
For an added cheeky twist, whip up a wee butter cream and pipe onto on biscuit, then sandwich it with another and you have a wee ginger nut butter cream sandwich number…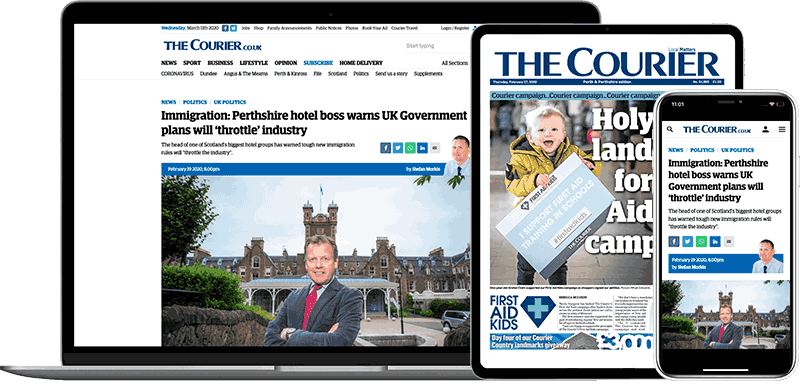 Help support quality local journalism … become a digital subscriber to The Courier
For as little as £5.99 a month you can access all of our content, including Premium articles.
Subscribe