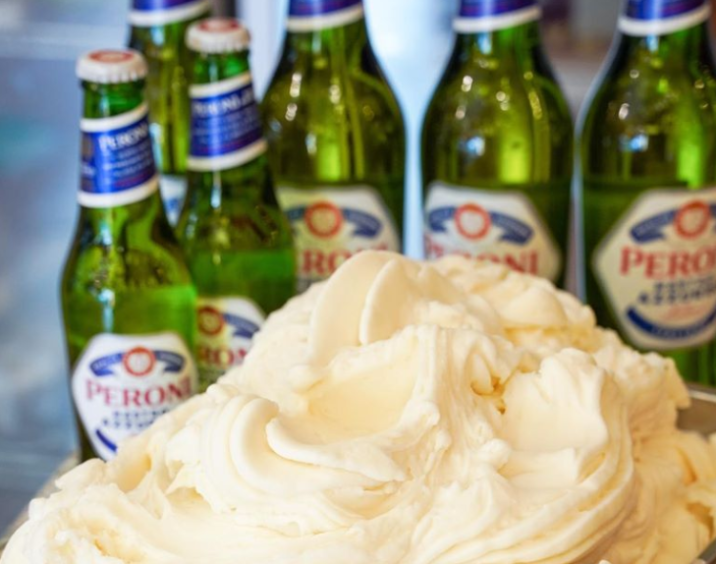 As the weather hots up, this parlour has put a boozy twist on one of its sorbets.
An ice cream shop in Broughty Ferry has launched a new unique flavour to help customers cool down.
Visocchi's Cafe on Gray Street launched the Peroni Nastro Azzurro sorbet which contains the 5.1% ABV popular Italian beer.
Created by master gelatiere and co-owner Roberto Caira, the product is only available to those aged 18 and over.
Marco Caira co-owner of the venue which opened in 1954 and brother to Roberto, said: "We have now created more than 800 flavours. The sorbet tastes exactly like the beer. We thought, 'What's more Italian than Peroni?' So we put the ice cream and beer together to see what would happen.
"We created a Kopparberg Mixed Fruit Cider flavour which went down a storm last year, so we made all the other ones. We've also won awards for our pink champagne sorbet, and we've done Baileys ice cream, too.
"All the pubs are closed and we've never done a beer sorbet before so we wanted to give it a try."
As well as the beer sorbet, customers can also enjoy Strongbow Dark Fruit Cider, limoncello and orange sorbets, not to mention Scottish tablet, Baileys Irish Cream, Rum 'n' Raisin and other ice cream flavours, too.
The sorbet is priced at £1.80 for a one scoop cone or tub.
The venue, which is also home to an Italian restaurant, is open for takeaway and collection pick ups only from 11am to 9pm.
For more information on Visocchi's Cafe, click here.