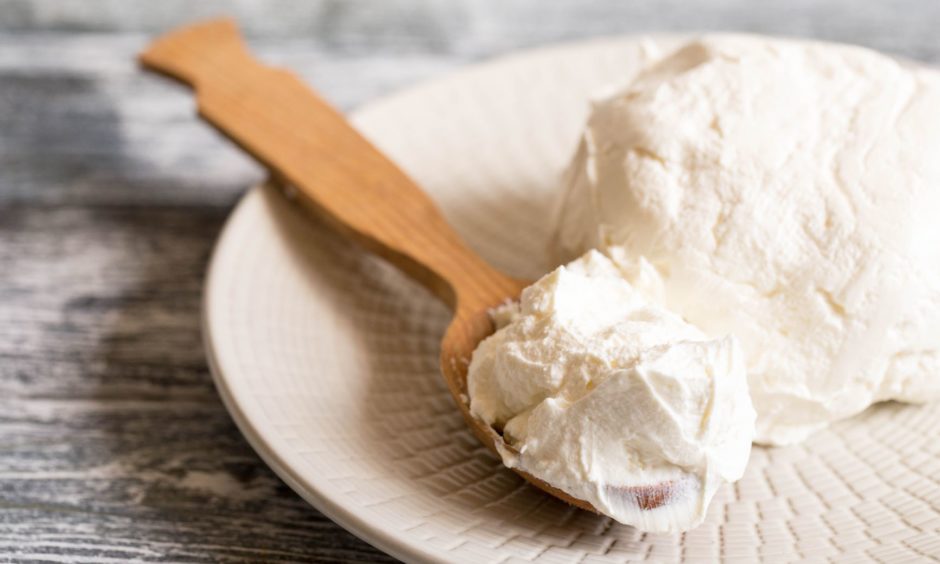 It's the low-fat dairy product that is an ideal substitute for a range of higher-calorie ingredients. Here, we show you how.
Quark is one of those products that most of us have heard of, but a lot have never used.
Despite its growing popularity, particularly among those watching their waistlines, not everyone is regularly putting a carton in their shopping trolley.
But for those week-day meals where you may be looking to trim back on the calories without sacrificing on taste, quark is a great option.
Its mild, creamy flavour and consistency lies somewhere between Greek yoghurt and cottage cheese and it can be used in sweet or savoury dishes.
It's made with pasteurised skimmed milk that goes through an "acidification" process by adding lactic acid. That causes the whey in the milk to split from the curd which is turned into Quark cheese.
It's brilliantly versatile, as these three recipes prove..
---
Veggie Thai green curry
(Serves 2) 
Ingredients
For the sauce:
1-2 tbsp green curry paste
1 tin coconut milk
3 tbsp Graham's Natural Quark
1 lime leaf, shredded
1 lemon grass stalk, finely chopped
2 tbsp finely chopped coriander leaves
For the curry:
1 tbsp olive oil (or coconut oil)
1 aubergine, cubed
1 red bell pepper, roughly cubed
1 onion, finely diced
A few broccoli florets
1 carrot, cut into strips
Small handful green beans
Seasoning to taste
Garlic powder
Method
To make the sauce:
Scrape the thick creamy part of the coconut milk into a wok/saucepan. Heat gently until it melts and bubbles. Stir in the green curry paste and cook for a further few minutes.
Add the lime leaf, lemon grass and coriander and keep on a low heat. Stir in the quark and take off the heat. Keep to the side while you prepare the rest of the meal.
For the curry:
Heat the oil in a pan. Add the aubergine, onion, pepper, broccoli, carrot and green beans. Season with sea salt, ground pepper and a sprinkle of garlic powder and stir fry for five minutes or so, adding more oil if needed.
Bring the heat down to low/medium, stirring occasionally until the aubergine is cooked. Stir in the sauce and cook for 5-10 mins on a low/medium heat until fragrant.
To serve:
Serve with your preferred rice (we used basmati rice, mixed with a bit of sesame oil for flavour) and top with fresh coriander and lemon.
Recipe and photo by fresheather. 
---
Lemon quark drizzle cake
(Serves 12)
Ingredients
2 tsp baking powder
225g caster sugar
250g self-raising flour
250ml tub of Graham's Vanilla Quark
3 large free range eggs, separated
Zest and juice 1 lemon
125ml vegetable oil
4 tbsp granulated sugar
Method
Preheat the oven to 160C fan/180C/gas mark 4. Grease the base and sides of a 900g/2lb loaf tin, then line with non-stick baking parchment.
Sift the flour, baking powder and caster sugar into a bowl. Beat the quark, egg yolks, lemon zest and oil together in a jug. Whisk the egg whites together in a clean bowl until they form soft peaks.
Stir the quark mixture into the dry ingredients, then stir in a third of the egg whites. Next, add the remaining egg whites and gently fold into the mixture using a figure of eight motion.
Spoon the mixture into the prepared tin and then bake in the middle of the oven for 50-55 mins or until risen and firm to the touch. When lightly touched in the centre the cake should bounce back. Leave the cake to cool in the tin for 10 mins.
Mix the juice of the lemon with the granulated sugar and spoon over the cake, while it is still warm. Leave the cake to cool in the tin on a wire rack. Once cold, remove from the tin, peel away the lining paper and serve in thick slices.
This cake will keep well in an airtight container for up to a week.
Recipe by Graham's the Family Dairy
---
Quark breakfast muffins
(Makes 12) 
Ingredients
120g rolled oats
250g Graham's Natural Quark
65ml Graham's semi-skimmed milk
100ml sunflower oil
1 large egg, beaten
100g soft brown sugar
150g plain flour
1 tsp baking powder
½ level tsp bicarbonate of soda
1 tsp salt (optional)
150g chopped dried dates or apricots or cranberries
Extra quark, to serve
Method
Preheat the oven to 180C fan/200C/gas mark 6. Line a 12-hole muffin tin with paper cases.
In a bowl stir the oats with the quark and milk and leave to soak for 5 mins.
Add the oil, egg and sugar and beat well to mix.
Sift the flour with the baking powder, bicarbonate of soda and the salt on to the quark and oat mix. Scatter the dried fruit on top then quickly fold in. Do not overmix, leave a few pockets of flour – these will disappear when cooked and give a lighter result.
Divide the batter equally among the paper cases in the muffin tin and bake for about 20 mins until risen and golden brown (a skewer inserted into the middle of a muffin should come out clean.)
Remove from the oven and allow to cool for 5 mins then cool on a wire rack. Serve split and filled with a little more quark.
Recipe courtesy of Graham's the Family Dairy