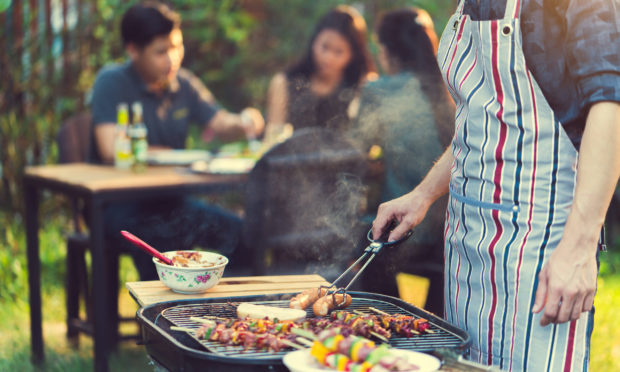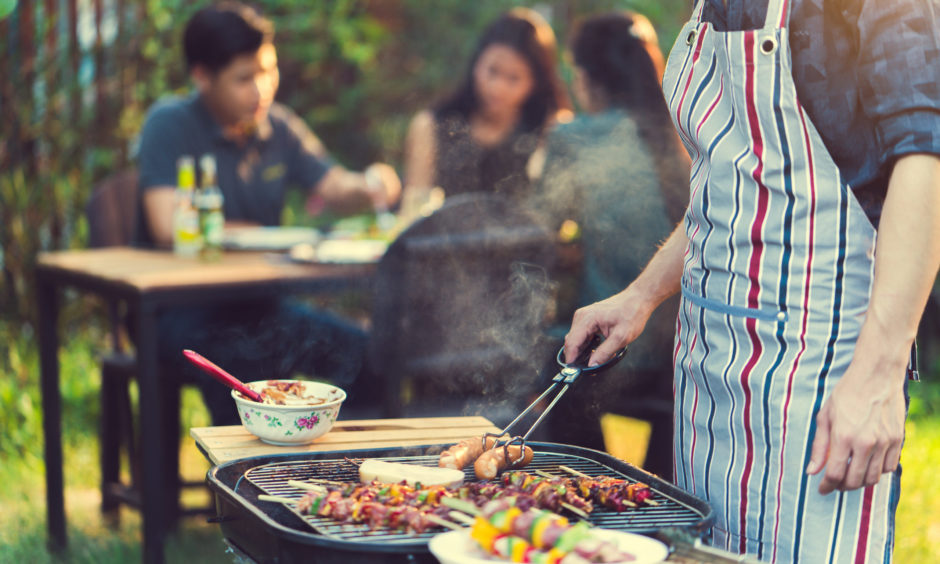 The great weather recently saw many dusting off their barbecues and enjoy some al fresco dining. Here are three different recipes for barbecue food.
Outdoor cooks have been taking to their internet browsers to find the answers to many questions about barbecues.
The OnBuy BBQ Department was keen to investigate the most popular questions asked relating to outdoor barbecues.
With more than 7,500 searches since summer began, "how to barbecue chicken" came back as the biggest question on the UK's mind. Unsurprisingly, barbecue chicken is the most popular dish to cook on the grill with skewers, sliders and wings favoured by many.
In second place is "how to light a barbecue". In total there have been 7,150 searches this month from clueless Brits around the country who are unsure where to begin!
The third most asked question is "how to build a barbecue" with 4,040 searches in total this month, while, in fourth place was "how to barbecue a steak" with 2,870 searches.
Overall, the most common questions are related to food. Some popular foods that made an appearance included fish, burgers, beef, salmon and corn on the cob with a combined search volume of 4,400 this month.
Here are three ways to enjoy perfectly cooked food on your barbecue.
---
Perfect barbecue ribeye steak
(Serves 1)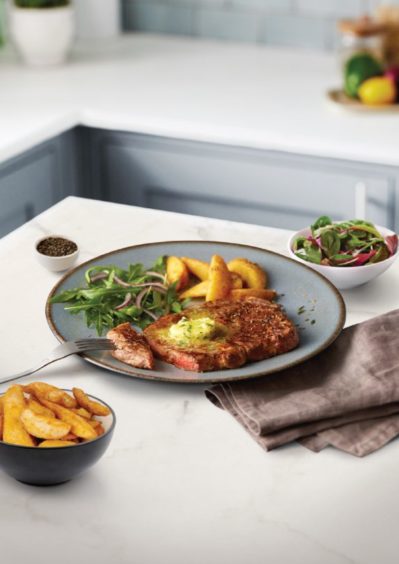 Ingredients
225g Scotch Beef ribeye steak
20ml rapeseed oil
2 to 3 knobs of butter
Sea salt and black pepper (to taste)
For the horseradish, garlic and parsley butter:
100g salted butter at room temperature
2 cloves of garlic
1 to 2 tbsp of horseradish sauce
Handful of fresh parsley
Black pepper to taste
Method
Make sure the barbecue grill is hot before you start cooking – to ensure you seal the steak and caramelise the meat. Chargrill to your liking but keep turning to avoid blackening.
Some people like to season their steaks before cooking with a little freshly ground sea salt and black pepper.
After cooking your steak – cover with some foil and allow to rest for 3 to 4 mins.
For the horseradish, garlic and parsley butter, peel and finely chop the garlic and the parsley.
Mix all the ingredients together in a bowl and season with black pepper.
Make the butter mixture into a sausage shape and wrap in some greaseproof paper.
Put into the fridge to harden while you cook your steak.
Cut into 8 slices and serve two slices on top of your cooked steak.
---
Double Scotch Lamb chops
(Serves 6)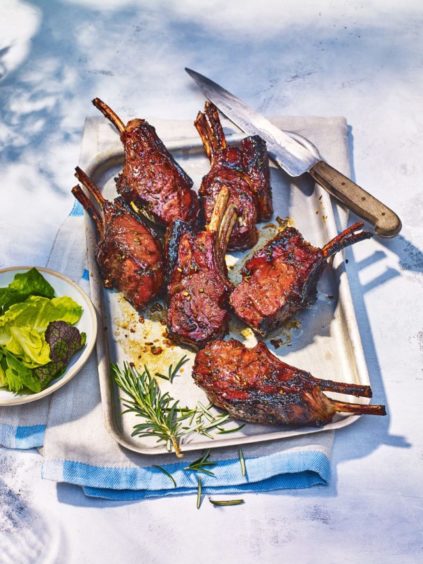 Ingredients
2 racks of Scotch Lamb PGI, cutlets or loin chops, cut 2 chops thick
3 tbsp Tamari soy sauce
3 tbsp ginger syrup from a jar of preserved ginger plus 2 balls of ginger, very finely chopped or grated
Leaves from 2 sprigs rosemary, very finely chopped
Half stalk lemongrass, very finely chopped
1 clove garlic, crushed (optional)
Method
Trim some of the fat from the chops if thick, but do leave a thin layer.
Mix all the marinade ingredients together in a bowl then add the double chops (and any single ones if an there is an uneven number of chops on the racks) and turn well to coat them in the juices now and again. Or, put them with the marinade into a self-seal freezer bag and squeeze out most of the air. Chill for half an hour or so while the barbecue comes to temperature.
Drain the marinade from the chops into a bowl, to brush over the chops as they cook.
Chargrill the chops to your liking but turn them often to prevent blackening, and brush with the reserved marinade. A dark golden brown would be ideal, tinged darker here and there.
---
Specially Selected Pork souvlaki
(Serves 4)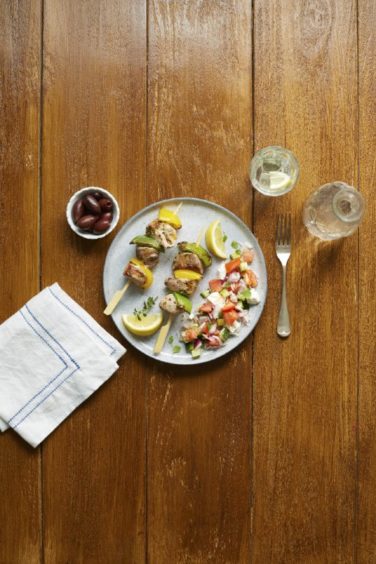 Ingredients
500g leg of pork or diced pork leg
2 x cloves garlic
2 x peppers
50ml lemon juice
50ml rapeseed oil
1tsp dried oregano
Black pepper
For the salad:
100g cooked white long grain rice
3 x large vine tomatoes
A third of a cucumber
1 x red onion
150g feta cheese
Fresh basil
4 x metal or wooden long kebab sticks
Method
Soak wooden skewers in water. Cut the pork into medium-sized chunks and peel and mince the garlic.
Put the oil, lemon juice, garlic and dried oregano into a large bowl, season with some black pepper.
Drop the chunks into the oil bowl and mix well. Marinate for a couple of hours or, if possible, overnight.
Chop the peppers into chunks, the same size as the pork. Thread the pork and the peppers on to skewers. Preheat the BBQ and grill the kebabs for 15 minutes, turning as they cook.
For the salad, finely chop the red onion, cucumber and tomatoes, add to the rice, crumble over the feta and mix well.
Recipes courtesy of Quality Meat Scotland.