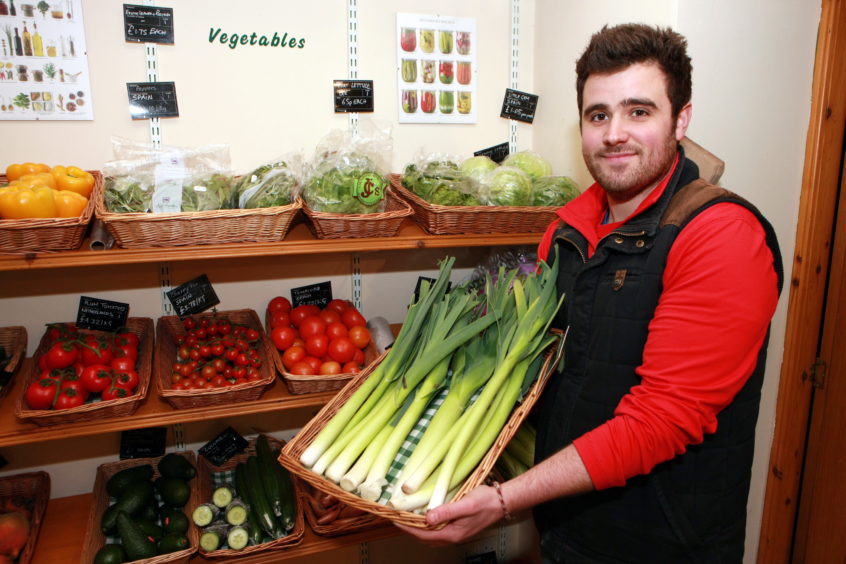 Murray Chalmers, weekly food and drink columnist for The Courier's magazine, The Menu, talks about some of the local businesses leading the way
When I'm not writing about food or ranting about the state of the world I have another life as a publicist, a career that has seen me navigate an ever-changing music industry for 35 years.
It seems frankly unbelievable that I started my career in 1985 when vinyl was king – and now, just like vinyl and Boris Johnson's entire cabinet, I'm still spinning.
These days though my dance is more like a solo Watusi than a frenetic jive or a punk pogo – the Watusi being a brilliant creation for an elderly man with failing rhythm, since it's best realised by imagining one's feet are placed in sand. If that isn't an allegory for getting older I don't know what is!
Although less obviously sexy, this solo contortion is proving far easier an activity for this 60-year-old, currently tackling lockdown with a knee injury, hairy earlobes, conjunctivitis and a mystifying case of athlete's foot – at a time when all gyms are closed and the closest I've got to athletics is putting the bins out.
Wearing socks with sandals isn't helping the rash or my attempts to find a partner before the next lockdown.
It's not the sexiest of looks but, just like those increasingly attractive trousers advertised with elasticated waists and made from a polycotton mix, it's comfy and only the cat, the window cleaner and the postman Craig ever get to witness my fashion forwardness.
And yes, I am now on first name terms with the postman.
For someone who was once triumphantly told at Edinburgh's Napier College (now University) that he would go on to be completely unemployable, I'm at least grateful to have had something interesting to do with my life and to prove my former tutor wrong; the job has not only brought me into the orbit of many musicians and artists whom I greatly admire, but has allowed me to travel the world and, ultimately, return home enriched with experience, memories, a wider waistline and a wonky liver.
It's been a trip and it's my good fortune to still be standing. However, like most of us who have weathered a few storms in life, it seems we made it through the rain only to find a hurricane waiting round the corner where deep waters formerly ran still.
Mick Jagger
Now, as a so-called elder statesman of PR, I might have plenty of anecdotes to drag out when conversation falters at two minutes past a two-metre meeting, but it wasn't always so.
Once, long ago in a faraway land, I was the rookie Dundonian kid plonked at a desk in his first week as an unpaid trainee in a top London PR firm; my first aptitude test was to call Mick Jagger and persuade him to do a new TV show.
As my boss eavesdropped on the extension phone, I dialled the number, spoke to Mick's then-girlfriend Jerry Hall and finally spoke to Jagger himself.
With the arrogance of youth I told him about the show, he agreed to do it, I passed the test and I got to stay on in my job. This PR lark was a doddle! Miraculously a career followed.
The reason I tell this story, apart from the fact that I really can't just criticise the Government here EVERY week, is because everyone expected me to be nervous about having to pick up the phone and call Mick Jagger.
But I wasn't because at the time I was a hip young thing who cared more about clubbing in Taboo and wearing a new jumper from BodyMap than I did about Mick Jagger, who was then more like a walking flow-chart than a deviant rocker.
Of course I realise now how silly this was, given that Mick Jagger had caused such a worldwide seismic shift in consciousness in the previous two decades, but the fact is that throughout my life I have always been attracted to the mavericks, the freaks and the misfits, the independents, the agitators and the dreamers.
I still am.
For me 2020 so far isn't displaying much hope, apart from the power of the worldwide fury sparked by the death of George Floyd.
Birkenstocks
This is the year I realised I will never truly understand anything – the year I spent three months house-bound in Adidas tracksuit bottoms and Birkenstocks, the year I became obsessed with First Dates Hotel and the year I stopped going to Tesco and learned to love the Co-op. (Other multinational supermarkets to stop going to are also available).
I haven't been to a big supermarket in more than three months, an omission that has been one of the more welcome of this new life during lockdown.
Other sacrifices have been less happy, to the extent that when I next hug an actual living thing which isn't a cat then the Law hill might erupt in sympathy – and that's even with a wide river, a big sky, an iconic museum and an unoccupied office block between us.
In truth I haven't missed the joyless supermarket experience at all. I get everything I need either delivered to my doorstep, from the small but great shop in Wormit or from the Co-op in Newport.
Fancy deli type stuff like Gordal olives and truffle butter I get from the Newport Bakery. I bake my own bread and I make my own yoghurt.
Fish is delivered once a week and lasts me from Friday until Monday. Short of having a cow tethered outside on the path to provide milk for the cat I'm doing pretty well without BOGOF deals, strip lighting, queuing, irritating tannoy announcements and clubcards.
I'm also spending less because I'm only buying what I need, and I'm much more aware of food ethics and food miles. For me small has definitely meant better.
So, for example, if I want to buy plants I would much rather go to a small farm shop or nursery than a chain like B&Q.
For one thing, I believe it's important to support independent businesses – but also when you do you are buying into an ethos of care and knowledge that you just don't get in a big chain. It's a nicer experience all round.
Rediscovery
A recent rediscovery, and a very welcome one, is Pittormie Fruit Farm, a true family business which is situated on the A914 just after Balmullo (the signage is quite discrete so don't blink/speed or you might miss it).
It's a little gem of a place, owned and run by the Camerons and really I think it's the future. Stocking fruit, veg and plants grown on the farm, Pittormie also offer a wonderful selection of other produce that is chosen because there is some link to the farm.
So, on a recent trip I bought geraniums, herbs, fruit beer, Tayberries, asparagus, Puddledub pork, compost and eggs. Everything was top quality and the prices are cheap. The eggs were a revelation – laid the day before from "gaun aboot hens", I haven't tasted a fresher egg in years.
Co-owner Gillian is normally on hand to give advice on everything they sell. On a recent trip she let me try some different herbs including mints that I hadn't encountered before; when you talk to her and her son Euan it's so obvious that this is a business built on respect for the produce and for the customer, and a desire to present food with as little distance from field to fork as possible.
Family farm
I spoke to Euan Cameron about the ethos behind Pittormie, which his parents took over in 1996.
"Initially the farm shop was just a berry shop, only open for about seven weeks in the summer. Then we opened the shop as a farm shop for around five months, with the honesty box available in the winter," he told me.
"It's grown from that, really. As well as selling to the public in the farm shop we also deliver plus we supply wholesalers, markets, shops and businesses including Jannettas Gelataria, Williams Bros brewing company and Cairn O'Mohr winery.
"We tend to grow a lot more unusual stuff now than we used to, including weird and wonderful berries like Tayberries, Tummelberries and Worcesterberries.
"Chefs like Jamie Scott at the Newport take our stuff and, in a way, we've found our niche by also growing more unusual things alongside the staples. Really this is a wee family farm of 35 acres which is almost like the old idea of a market garden," he continued.
"During the pandemic a lot more people have been shopping locally and it's been great to have these new customers. Even if half these people continue to use the shop we will be delighted. I think people like and remember that our produce is better than the supermarkets, they don't have to queue, they get better value for money and the produce they buy has been harvested straight from our fields.
"For instance we have seven acres of gooseberries, a proper old-fashioned fruit that people find hard to get. We have people coming from Aberdeen to buy them. We find that often when we pick up new customers they tend to be for life."
"In terms of the other things we stock, we like when there's a connection to the farm and there's a wee story behind the produce. It's too easy to stock our shop with random stuff. Really, I want it to be a proper farm shop rather than just a shop on a farm."
Fruit 'n' veg
Throughout the lockdown one important shop that has kept open is Fraser Reid's classic fruit and veg shop on Perth Road. Fraser is another example of someone doing a job he loves and thus it was no surprise to hear that he takes a lot of produce from Pittormie.
Fraser opened his shop in 2009 when he realised that there was no greengrocer's shop left in Dundee. His market research was to sit in his car on Saturdays and watch people shop on Perth Road.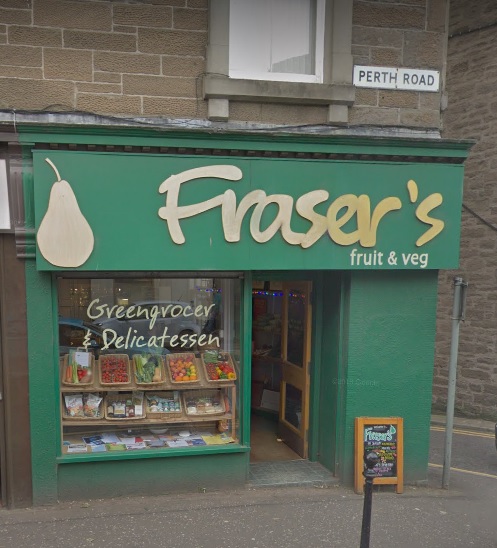 He opened three months later, using his interest in cooking as a way to enhance what he stocked, thus bringing a modernity to a shop based on tradition.
He developed his range of goods by thinking "what do we have to buy elsewhere?" and then stocking it himself – thus we found pomegranate molasses, harissa, good olive oil, fish from Spinks and good bread, sitting next to the excellent fruit and vegetables on his shelves.
I remember the joy of going in there first and talking to Fraser about food and realising his commitment both to his customers and to Dundee as a whole.
His is a very social environment where he will recommend recipes, restaurants and other shops whilst also ordering in any special produce his customers request. He is a genuine people person who would rather stand behind the till than in front of a marketing book.
I asked him about changes in shopping he'd noticed during the pandemic: "There's probably been a few less customers but their spending has increased," he said.
"Initially people reverted to buying core ingredients but recently I've noticed customers have started asking for more unusual stuff again.
"People are getting a bit more experimental. With a day's notice I can usually get something we don't stock normally. One things about Dundonians is they are very loyal in supporting you.
"I'm happy with where we are because we're selling a very different thing to supermarkets here. A student was in recently and I heard her describe it well when she said 'it might be more expensive per kilo than a supermarket but actually I spend less because I only buy what I need. I can buy just one carrot if I want'."
Fraser ended by telling me a lovely story from around five years ago when chef Tom Kerridge started cooking with sprout tops.
Fraser approached Euan at Pittormie and asked if he could supply sprout tops for his shop, at which point Euan asked him what sprout tops were.
When Fraser explained this new trendy ingredient to Euan, Euan smiled and said: "Oh you mean the parts of the sprout I cut off with my knife and plough back into the fields?"
With the realisation that there was a market for sprout tops Euan, a new generation of farmer, was only too happy to bring sprout tops to the dining tables of Tayside.
Support your local independent business!
Pittormie Fruit Farm: w:pittormiefruitfarm.co.uk t:01334 870233
Fraser's Fruit and Veg: Instagram @frasersfruitandveg t:01382 669613
---
Read more in this series…
MURRAY CHALMERS: The 80s was a swaggering multi-layered decade that served up so much choice
MURRAY CHALMERS: In my book, Delia Smith is definitely wrong – one is not fun