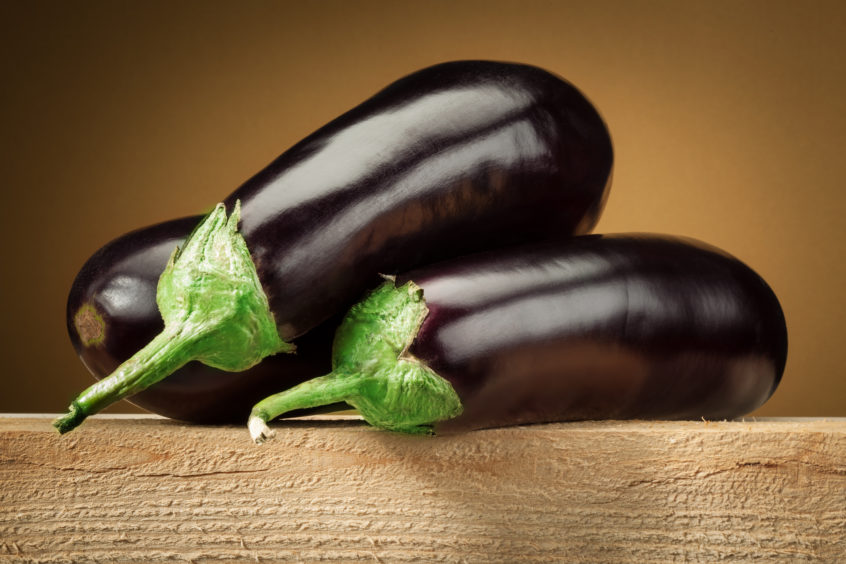 Aubergines or eggplants? Fruit or vegetable? Regardless of what you call them, they are just about to ripen and be ready to eat. Rebecca Shearer finds out more about aubergine season and why we should be eating them now.
It goes by many names across the world: brinjal in India, berenjena in Spanish, eggplant in the US, Australia and New Zealand, a patlican in Turkish and melanzana in Italian. But the British aubergine is firmly planted in our summer diet.
Part of the nightshade family, which includes tomatoes, potatoes and chilli peppers, the aubergine is an often overlooked fruit that is seemingly treated as a vegetable when it comes to cooking.
They are usually planted in the springtime but are largely harvested from July to mid-October and contain a healthy amount of vitamins B1 and B6, as well as potassium. They are also rich in antioxidants such as nasunin.
Also similar to the tomato, aubergines require a lot of heat when it comes to growing them, which is why there are very few commercial growers of the fruit based in Scotland. Though those who do grow them say that if you already know how to grow tomatoes, then aubergines are relatively easy as they require a similar amount of care.
What do the producers say?
Michelle Sullivan, co-owner of The Artisan Grower in rural Aberdeenshire, which grows fruit and vegetables to make "veganic" veg boxes for consumers says: "Interestingly, growing aubergines is relatively easy, even in Scotland.
"We start them early in an unheated tunnel but placed on a propagation table which is heated with special heat wires.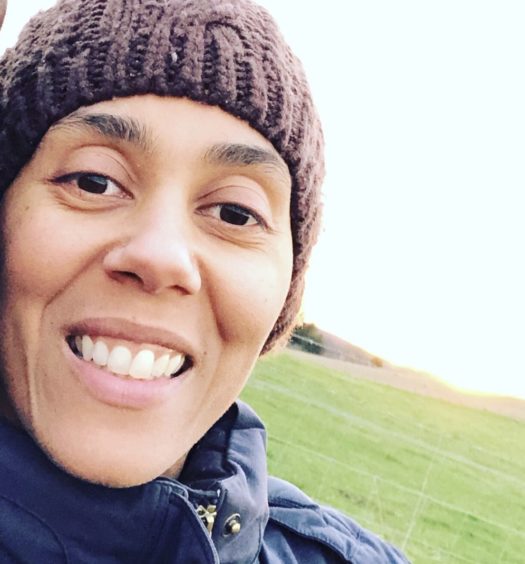 "Aubergines are heat-loving plants. After about a week or so they will begin to germinate. When they have their first set of 'true leaves' we pot them up into larger containers and grow them on. We add worm castings to this compost to add richness and nutrition to the compost.
"After about a month we place them in the unheated tunnel in the field. This usually happens after the last frost which in our region is mid May. Again, we add amendments to the soil such as worm castings and seaweed. We don't use any animal inputs on our farm, only what green nature produces. The aubergine will then establish the roots and begin to bloom and will soon begin to set fruit. Aubergines are a blessing to our farm, we love them."
Another grower, Ben Vanheems from GrowVeg says: "Generally you'd start aubergines off on a windowsill or somewhere warm, in late winter. You could use a propagator but a windowsill is fine and you would grow them on from the seedlings.
"In Scotland they would then need some protection, such as from a greenhouse, as you wouldn't get much of a crop from outside.
"Generally they like it around 25-30 degrees Celsius and need quite a warm summer. They say you can grow them outdoors if you grow them against a brick wall, which can radiate some of the heat back out at night-time. They just need a bit of protection in Scotland, whether it's a cold frame or a greenhouse.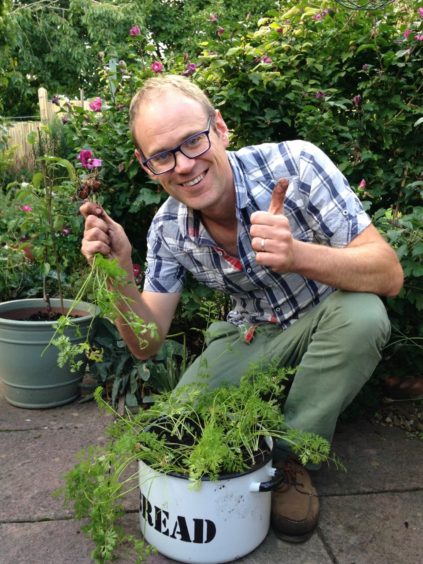 "As it's late June it's a bit late to start growing them as many will already be available to harvest, having been growing since February or March. However, some places like B&Q or Homebase may have some plants available that are a bit further on.
"The earliest that aubergines will start flowering will be now, with the peak of the season being mid-August, but it can vary depending on when the seeds were sown. You'll get them fresh in the shops from temperature-controlled commercial glasshouses but homegrown ones probably won't be available until August/September.
"There are a few different aubergines. The one we are most familiar with is the very dark purple one but they do come in other colours as well – a cream colour and a duck egg colour, as well as some stripy ones. That's one of the benefits of growing them at home – you can try out different varieties.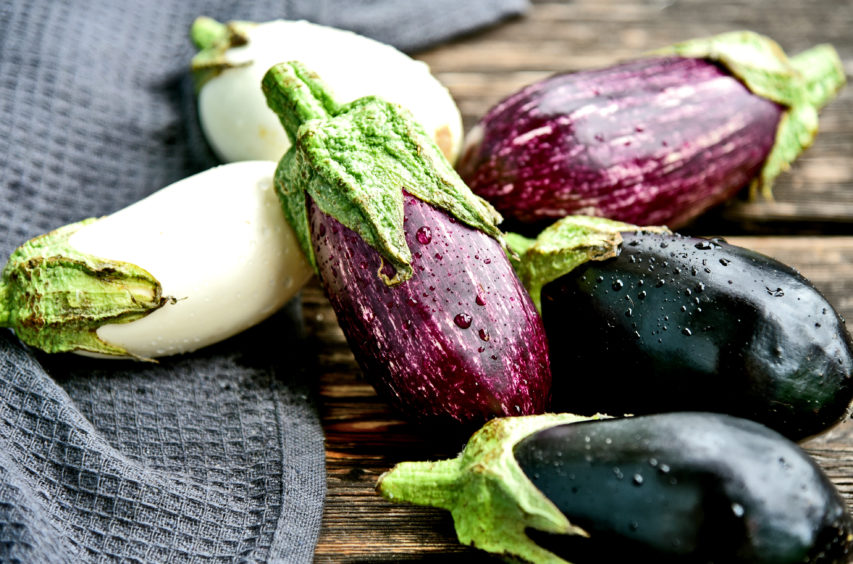 What should we look for when buying aubergines?
"When you're looking to buy aubergine in the shops, a good fruit will have a nice shine to it and will be slightly firm, without giving too much," said Ben.
"If you're growing them yourself you should be able to push a fingernail into the skin and it will leave a slight indent but won't pierce the skin. Obviously, don't go round the shops doing this to all the aubergines, but it's a good ripeness test if you grow them at home.
"They don't smell as much as tomatoes do when they are ripe so it's really the final colour you are aiming for."
How should we eat them in season?
Aubergines are typically used in a lot of vegetarian, plant-based and vegan dishes, though they are often used to compliment fish and in stews and curries.
Ben said: "When it comes to cooking with them, I like them griddled so they get those nice black stripes on them, with a little bit of salt, pepper and olive oil. There's also the classic moussaka which is great to have them in."
Michelle also added: "At The Artisan Grower we love them because they can be made so succulent and juicy. As a family we have travelled a number of times to Romania and we always enjoy two particular recipes there.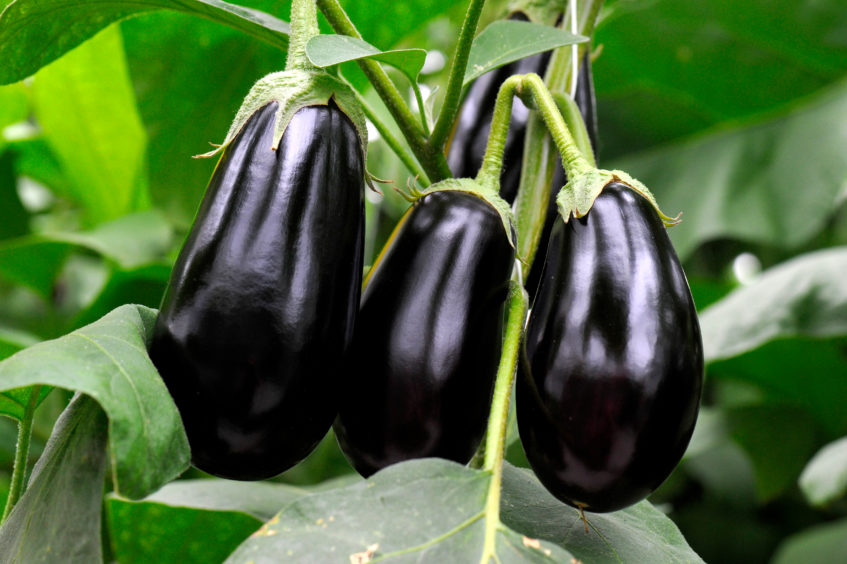 "Zacusca is one which is a delicious inoculation of tastes and flavours a mix of aubergines and bell peppers. It is a spread that we enjoy on homemade bread.
"Both recipes roast the aubergines on an open flame giving the dish a kind of smoked flavour. Aubergines come chock full of antioxidants which is protective against cell damage and harmful free radicals. They are rich in B vitamins which is vital for optimum function of the nervous system, B vitamins can also help balance mental health.
"They can help reduce cholesterol and therefore reduce the risk of heart disease. They are high in fibre which can contribute to lower chances of obesity and of course eating a diet high in all fruits and veggies can help reduce the chances of developing cancer.
"We, of course, must mention the moussaka, which first originated in Arab lands but was created by a French-trained Greek chef named Nikolaos Tselementes in the 1920s. This is a dish made with layers of meat, aubergine and cheesy sauce. There are many variations of the dish some with layers of potatoes too. We make a plant-based version using vegan mince alternative."
---
The Artisan Grower's Plant-Based Moussaka
(Serves 6)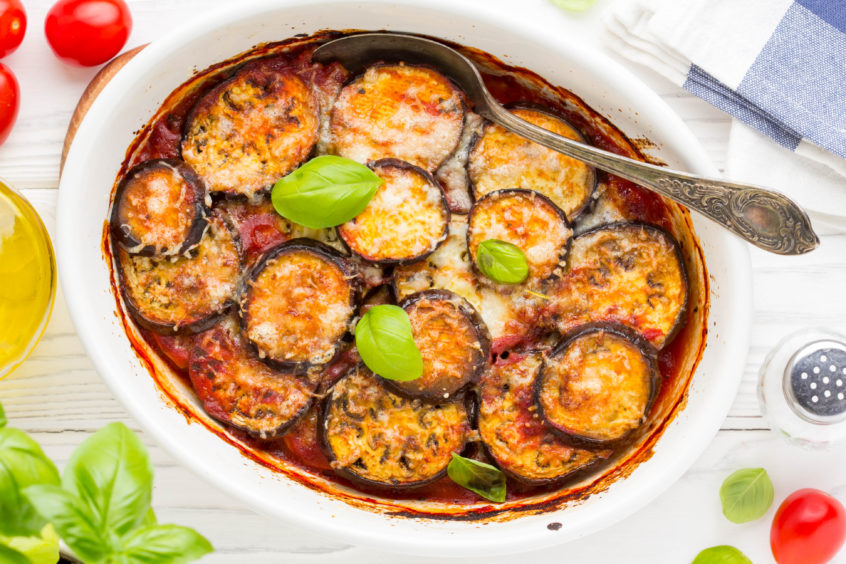 Ingredients
Splash of healthy oil (olive or coconut)
1 good sized onion
2-3 cloves of garlic, crushed
400g can of tomatoes, chopped
2 large aubergines, thinly sliced
400g vegan mince alternative
1 teaspoon dried Italian herbs
Salt to taste
To make the cashew cheese sauce topping:
1 cup raw cashew nuts (un-roasted and unsalted)
2 cups water
6 tbsp Nooch (nutritional yeast)
1/3 tsp garlic powder
2 tsp onion powder
1/2 tbsp salt
1 1/2 tbsp lemon juice, freshly squeezed
Method
Preheat oven to Gas Mark 5 or 190°C, 170/180°C fan.
Saute onion and garlic gently in oil until softened. Set aside onion and garlic and now in the same pan saute the vegan alternative mince until golden brown. Return the onion and garlic to the pan with the mince.
Add chopped tomatoes, herbs and simmer until nicely incorporated, if a little dry then add a little water.
Brush the aubergines with oil and grill the slices on both sides under the grill.
Spoon half of the mince mixture into the base of your ovenproof dish. Then similar to a lasagne, cover with a layer of the grilled aubergines.
Then repeat with the final half of the mince mixture and the last set of aubergines.
Top with the cashew cheese sauce. To make the sauce, place all ingredients in a high speed blender and blend until creamy. Pour into a pan over a medium flame and continuously stir until the mixture becomes thick. Be patient and don't stop stirring otherwise you risk it burning.
Once nice and thick pour the sauce over the top of your moussaka and place in the oven for approximately 20-30 minutes or until nicely baked.
Serve with a seasonal salad.
---
Read more in this series…
Season's Eatings: Tomatoes prove fruitful when kept out of the fridge
Season's Eatings: Why Scottish strawberries are the cream of the crop