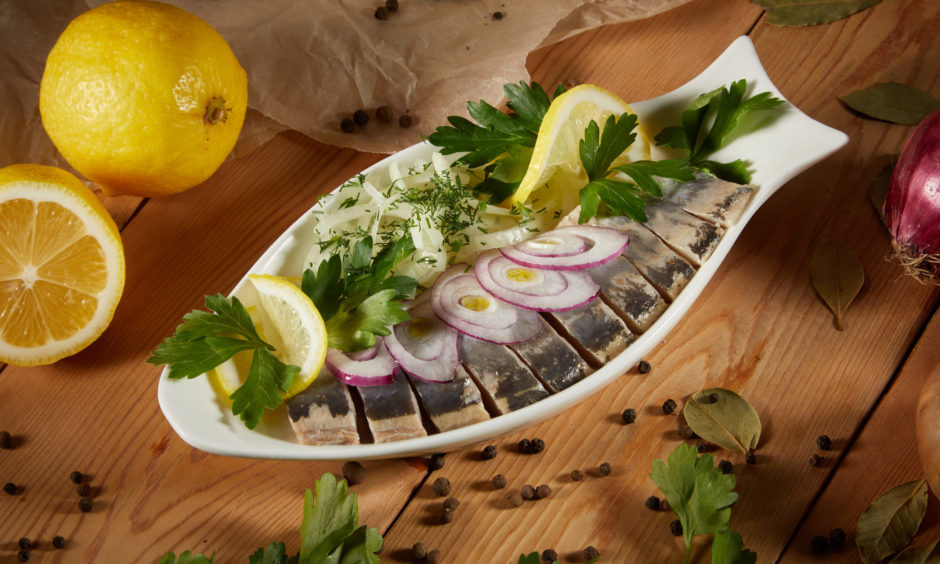 The summer months are plentiful when it comes to food offerings, but perhaps one of the least well known foods available at this time is herring. Here, Rebecca Shearer speaks to two industry experts and finds out more about why this once-popular fish still deserves pride of place on our plates.
One of the most abundant fish species in the world is the Atlantic and North Sea herring. Also known as kippers, when a whole herring has been split in a butterfly fashion and smoked, the months of June to the end of August are the best time of year to be eating them.
This summer, the fishing industry has been struggling due to lockdown and many fish counters in supermarkets being closed. But as things begin to open up again, there seems to be little excuse not to have fish back on the menu – and now is the time to snap up herring, which has one of the shortest seasons in the industry.
Popularity of herring
Despite it being hugely popular during the First and Second World Wars, herring has largely fallen out of fashion in recent times.
Ian Gatt, chief executive of the Scottish Pelagic Fishermen's Association (SPFA), which first began as the Scottish Herring Producers' Association in 1932, says the lack of interest in herring is still prevalent among consumers.
"I think herring has started to fall out of fashion with people and a lot of it gets exported to different places such as The Netherlands and the Baltic states now. But at the end of the war, people ate it in abundance.
"There was a closure of herring markets in the early 80s as stock was in poor supply. But when it opened up again it was as if everyone had substituted herring with something different and we've never really clawed back that market, which is a shame as it's a lovely fish. It's so cheap as well."
Herring season
The herring season usually lasts from mid-June to mid-August when the fish are spawning and there is more meat on it.
Mark Buchan, who is the skipper on the Scottish fishing vessel Qunatas PD379 which regularly catches herring and is currently stationed in the North Sea north of Denmark, says it's almost not worth eating herring when it's not in season.
"The season usually starts in June and carries right through until September and it's predominantly focused in the North Sea.
"We could eat herring at other times of the year, outwith the season, but at that time of the year there is so little fat on the fish that you don't get the same taste and you'd notice a significant difference."
Ian also agrees that it's best to eat herring while it's in supply in our shops.
"Herring is in the shops now. But, the bulk of the herring we fish is exported and mainly goes to Germany, Poland and the Baltic states. Some will end up in Africa, and Russia is also a big market, as well as some of the countries around the Black Sea.
"Mid June is when a lot of herring starts appearing in the shops and fishmongers. Then nearer the end of the season, around mid-August or so, the fish are spawning and they have roe in them. Where herring is largely exported to the European markets, roe is exported largely to the Far East, such as Thailand and Japan."
Are there different types of herring?
Aside from herring magically transforming into kippers when it's smoked, there are two types of the species caught off the Scottish coast – the North Sea herring and the Atlanto-Scandian species.
Ian notes the difference between the two: "A North Sea herring is a smaller fish. The other kind would be the Atlanto-Scandian herring, which we fish up in Norwegian waters and north of Shetland. It's a bigger fish altogether."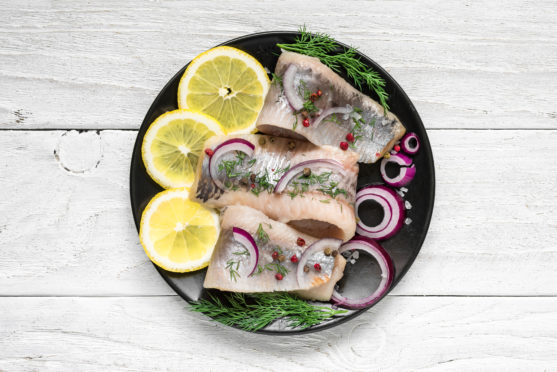 Mark also agrees that the main way to tell them apart is through size.
"There is definitely a difference between the North Sea and Atlanto-Scandian herring. We catch both of them. The Atlanto-Scandian is a larger fish altogether and the area it is usually found is a lot further north than in the area where we catch a lot of our herring – they're found north of Norway and around the Faroe Islands, right up to the far west of Iceland.
"If you know your herring, you'd definitely be able to tell the difference in taste, otherwise the only difference really is the size."
Why should we be eating it?
In spite of the fact that herring is best eaten over the summer months, there are plenty of other reasons as to why we should be eating it in these next few weeks and the best ways in which to do this.
Ian says: "In general, I think people in the UK prefer the taste of North Sea herring as there's a bit more fat in them and it's the one we are used to.
"I like herring in the summer time. In our part of the world, people eat a lot of fish and in lots of different ways. My parents used to making herring rollmops, in which they'd roll them up and bake them in the oven. That was almost how the country was brought up.
"I quite like having herring in oatmeal. In my view it's got to be a thin oatmeal.
"People can buy and eat herring in Scotland and be comfortable it's come from a sustainable source as it's been MSC (marine stewardship council) certified. MSC is an independent body which looks at the fisheries and whether they are sustainable or not. So each herring is traced back to the fishery it came from and is given the blue tick based on that fishery's sustainablity standards. We've held that certification on our fisheries since 2008. Next time you're in the supermarket, look for the blue tick MSC logo on the packaging."
Eating herring also brings a variety of health benefits with it too.
"It's rich in Omega-3 and vitamin D," says Mark, "so, healthwise, it's very good for you. And it's a good fish to try if you're wanting something a bit different from the main fish one evening. North Sea herring is also caught from a very sustainable source and has an MSC accreditation to it.
"We're stationed on the north coast of Denmark at the moment and are helping vessels coming in every morning with their fish. So we're having herring with oatmeal every morning but there are loads of ways to eat it. We've been having a lot of barbecues here as well, which is also good as herring makes a good dish for those."
---
Kipper Kedegree
Recipe from Fish Is The Dish.
(Serves 4)
Ingredients
 450g kippers
2 bay leaves
2 tbsp vegetable oil
1 onion, chopped
2 cardamon pods, lightly crushed
½ tsp turmeric
2 tsp curry powder
1 cinnamon stick
350g basmati rice
600ml reduced-salt vegetable stock
2 tbsp chopped parsley, plus extra to garnish
4 hard-boiled eggs, quartered
Method
Preheat the oven to 200C/fan 180C/gas mark 6.
Wrap the kipper fillets and bay leaves in some foil and place on a baking tray in the oven. Bake for about eight minutes until cooked through.
Take out of the oven, discard the bay leaves and flake the fish. Heat the oil in a pan and fry the onion gently for five minutes until soft.
Add the cardamom pods, turmeric, curry powder and cinnamon stick, and cook for a further one minute or so.
Add the rice and stock and bring to the boil. Turn down the heat, cover and simmer for 15 minutes.
Remove the cinnamon stick from the rice. Add the kippers and chopped parsley and cook for a few more minutes to warm through.
Serve topped with the eggs and garnished with more parsley.
---
Read more in this series…
Season's Eatings: Aubergines are about to have their moment in the sun
Season's Eatings: Why Scottish strawberries are the cream of the crop