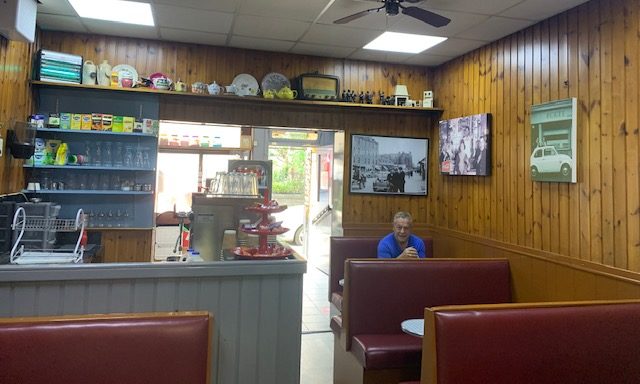 This week, food and drink columnist and reviewer for The Courier's food magazine The Menu, Murray Chalmers visits an iconic Dundee cafe – Forte's in Stobswell.
During the last week I've been playing David Bowie records constantly whilst dreaming that he fell back to Earth, scooped me in his wings and whisked us off to Mars to party with Major Tom, Andy Warhol, Billy Mackenzie, Oscar Wilde, Joan Rivers, Kenneth Williams and Gandhi.
I am here to report that this was indeed the party of the century – Fanny Cradock can still turn her hand to the meanest vol au vent, Mary Whitehouse is now a rapper who swears like a trooper and what Flora MacDonald doesn't know about navigating the chord structures of Party Fears Two just isn't worth repeating.
My dreams have been wild during lockdown, unravelling the type of unconscious scenes that would make Freud's cigar ignite without a Swan Vesta anywhere near his couch. Thank God for the power to dream!
When I was young and heading nowhere fast dreams of escape would get me through some tough times of isolation; now, 50 years later, just when I should be coasting into a gentle retirement, dreams are once again keeping my weary head just above the waterline.
Dreams reflect the fact that my current mood is definitely ABH – anywhere but here. As the horrors of leaving lockdown reveal that there is no quick and easy solution, every day has felt like staring down the twin barrels of a gun loaded with bullets engineered by Brexit and Boris, relentlessly aimed at the sitting target of little Britain.
We are now a country dancing as fast as we can to at least four different tunes, a Dis-United Kingdom presided over by a billionaire boys club of liars and hypocrites with no concern for anyone other than themselves.
How galling it must be for the Government to have to look at many of their new constituents and realise that some of these malcontents are in fact their bastard children – the ones urinating on statues, attacking people who they think don't belong here or who have different opinions to theirs.
Memories
What kind of dystopian, messed-up world is it where we are safer ignoring advice from our Prime Minister rather than implementing it?  Is it alarmist to say that I'm scared for the future – in fact I'm terrified we might not have one?
That's why you'll find me locked-down in the reverie of memories, music or a good book, the opening lines of Life on Mars now my adult equivalent of climbing Enid Blyton's Magic Faraway Tree.
Thinking of the past and growing up in a Dundee which is barely recognisable now – both my schools, Liff Road Primary and the beautiful original Harris Academy, were demolished – has made me long to go to some of my favourite old haunts in the city.
And being alone so long in lockdown has made me yearn for café culture which not only provides good scran but also offers a quick fix of companionship for the isolated and watches out for the elderly and the needy at a time when social services might fail them.
I have very many happy memories of cafes in Dundee, most of them gone now.
Most memorable of the departed are the Sarsaparilla bar which served concoctions that had mystical, magical powers (all unproven) to serve you well in the skin and blood departments, and the café inside Dens Road Market where the smell of old clothes dripped heavy with congealed chip fat, greased tea and buster peas, invoking a pungency that even a bottle of full strength Kouros aftershave couldn't extinguish.
Dens Road Market
Dens Road Market was a vast world of Dundee worthies, where you could spend a whole day looking for 60s jackets and Ercol chairs only to leave with a stuffed budgie, a cheesecloth shirt and a tub of hair gel.
I often developed an itch when I went there, and I went there a lot because my punk wardrobe was basically culled from the clothes of dead people. And the food? Well, local collector/vintage enthusiast Ruth Alexander remembers a soup with unidentified pieces of meat floating in it; my cousin Jacqueline actually worked in the market and adds mysteriously that she knew what went into the soup but wasn't prepared to say.
I do know that any maladies caused by this non-specific broth would easily be cleared by the power of the buster peas which were so wind-forming and pungent that they could stop an advancing army in their tracks.
Those peas were truly the gift that kept on giving, a fact sadly untrue about the market itself which is now closed. A huge part of old Dundee died with it.
Very much still open is Forte's, the gem of Dundee café society, owned and managed by Wendy Sturrock yet still presided over by her father Jim, a figure who, for me, sums up the spirit of the city.
Forte's Café is the type of place that could only ever really be closed by a global pandemic – and even then they have managed to open for takeaways for the past seven weeks.
I do think that when Forte's close their doors forever it will be on the day that the Tower of London becomes a raven-free zone and a Christmas ASBO is served on Slade and Wizzard. In other words, it's never going to happen.
What's so good about it? Well, where do we start? The exterior is a classic 1950s interpretation of the 30s, the yellow and red of the frontage immediately transporting you to a time when Cliff Richard was seen as a threat to civilisation.
The window is etched with the words "Tea. Coffee. Hot filled rolls" which, whilst admirable in their almost haiku like simplicity, give little clue to the joys within.
Mr Whippy
Huge lettering above brings the promise of Mr Whippy Ice Cream, made on the premises. A sign outside the door promotes black pudding, bacon, lorne sausage, polony, fried egg, potato scone, each served on a toasted roll, possibly all at once.
Already you know your membership of Slimmer's World is in jeopardy.
But really, for me, there has only ever been one thing to order here and I think to have this on a Saturday morning through the fug of a mild hangover is a joy – an egg and cheese roll and a white coffee. Never have nine words concealed such a panoply of sensations, of textures, of delight.
The roll is lightly toasted to perfection, not so much well-fired as given a written warning. Inside is the most glorious amalgamation of cheese and creamy scrambled egg, a combination so harmonious that I have often asked majordomo Jim what the secret is.
He won't tell and I think in reality it's a bit like the formula for Coca-Cola – if you're meant to know you will know and actually, you're not meant to know. It's easier just to sit back and enjoy.
That the ping of the microwave is involved only enhances the mystery – this isn't fast food but it's good food made fast and I'd say it's the true breakfast of champions.
The coffee is similarly special. This frothy, ambrosial nectar is probably a very simple formula but I'm not a coffee nerd and this is as far away from artisan roasts as it's possible to get. It just tastes brilliant.
Again, I think if Jim told you the secret he would have to tie you to a chair and make you listen to his collection of Leonard Cohen CDs until the melancholy voided the recipe from your brain.
The banter in Forte's is what sets it apart. You know that very cutting yet affectionate Dundee humour that is almost impossible to learn if you didn't grow up here?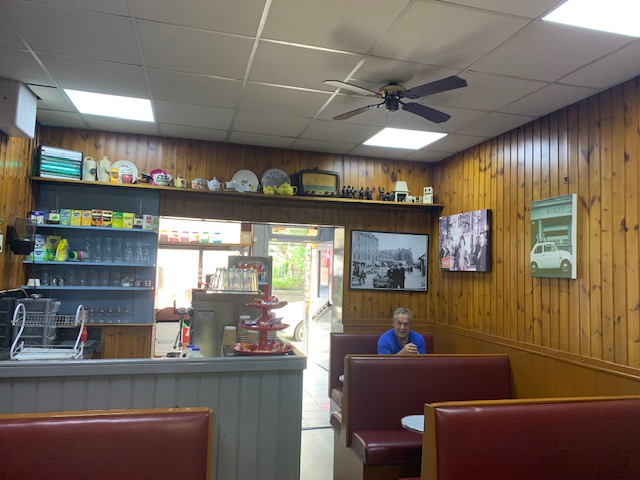 The kind of dry humour that hits you in the face and yet feels like a kiss from a labrador? You got it here. People flock around Jim as he dispenses his bon mots on the state of the world like a Billy Connolly figure who somehow ended up owning a café instead of going onstage.
Stage
But really the café IS his stage and the customers are his supporting cast. I spoke to him over one of Forte's classic frothy coffees and asked him what makes a great café.
"It's interaction with the public. We get to know about our customers' lives," he says. "I've got quite a few old people who can't get in here right now and we're part of their routine and now that routine is blootered and there's nobody there to support them.
"Why has Forte's endured with all these people? I think it's the quality of the service.
"You listen to what the customers want. A lot of cafes don't. You walk in and no one speaks to you. People walk in here and say 'the usual' and you just know that's it's a bacon roll with tomato sauce, and cut a certain way.
"I took an old picture of Amalfi off the wall and cleaned it and I put another picture in its place and people were instantly asking why. They notice everything. We don't have WiFi. Our WiFi is called the art of conversation. Our customers all talk to each other.
Banter
"Billy Mackenzie lived up the stairs with his dogs and he would always come in. Gerry Rafferty, who wrote Baker St, came in. when he was on tour. We get a real cross section of people.
"You don't get the banter anywhere else. We involve everybody in the conversation. It's abnormal if customers don't speak.
"Some of our customers won't even sit in the back room in case they miss anything going on at the front because the front is where it all happens. Our egg and cheese roll recipe was passed down through generations and I passed it to my daughter Wendy and now she's passed it on.
"What would I do if someone came in and asked for a kale and avocado salad? I'd say I don't have any kale because I finished it all (laughs). This isn't London. People don't ask for substitutions on our menu, although our customers know what they want.
"A lovely couple come in and the woman wants her beans strained. Where else are you going to get that?
"We once had a girl come in who was threatening and one of my waitresses came out of the kitchen with a brush and just swept her out on to the street. A lot of my customers speak auld Dundee and that's what you're looking for – a cross section.
"I have multi-millionaires come in here and have business meetings. One person came in with a Range Rover and people were outside taking pictures.
Iconic
"We get people who come back to Dundee from Australia, all over the world. At the same time if we don't see any of our regulars for a while, especially if they're elderly, we'll make enquiries to check they're OK.
"We get such amazing characters. We've had films shot in here including Dylan Drummond's film Top of the Hill which won an award at the 2005 Milan Film Festival. But when people want to film we tell them the customers have to come first, although sometimes the customers end up in the film. It's all family.
"This place has been in this location since the 30s. The sign above is the original from the 50s. It's iconic," Jim finishes.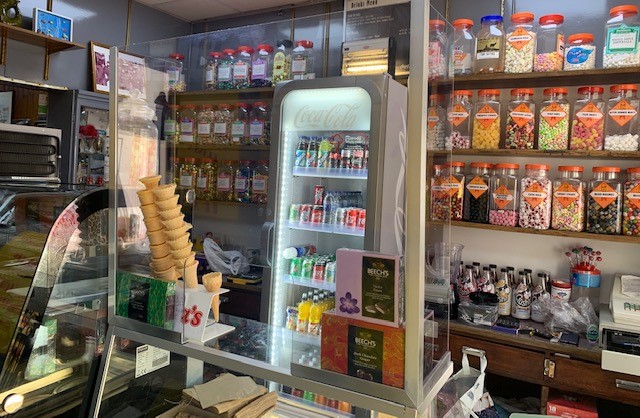 I once took a friend visiting from London to Forte's and warned him not to engage in too much banter as this place is, to me, an inherently Dundonian experience, best eased into like a comfortable chair. I told him to order quickly, clearly and ask for no substitutions to the menu as this might identify him as a newbie.
The waitress approached and my friend ordered a cappuccino. Her stare was withering, and I now knew there would be trouble.
"'We don't do cappuccino'" she said, spitting the last word out like it was gristle from the broth in Dens Road Market. "Oh, OK, what coffees do you do then?" David asked.
It was now clearly a battle of wills and there could only ever be one winner. With the excitement of a victor, yet relishing a slow kill, the waitress looked at David and said "We do one kind of coffee here".
Tremulous with fear he replied: "What's that, then?" Barely hesitating to relish the spoils of victory, she looked him in the eye and said just one word as she swept the chessboard to victory. That word was "coffee". The kind of coffee they do at Forte's is coffee.
How perfectly Dundonian is that?
Forte's Café, 98 Dura St, Dundee, DD4 6TE.
T: 01382 452616
Currently open for takeaway only.
---
Read more in this series…
MURRAY CHALMERS: I tried sticking to the lovage diet – but I love bread more
MURRAY CHALMERS: Let's look forward to eating out again and help to keep the hospitality industry afloat