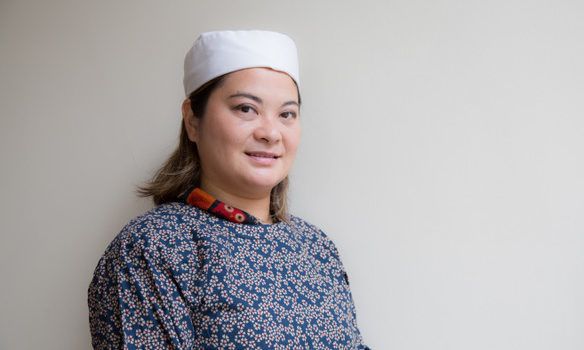 In this series, Rebecca Shearer speaks to chefs and foodies who are helping to make Scotland's food and drink industry world class. Here she talks to Best Restaurant in Scotland award-winner Kaori Simpson about her greatest food memories.
When she opened Edinburgh's Harajuku Kitchen restaurant in 2013 at the age of just 36, Kaori Simpson had already worked in restaurants in Japan, the Philippines and even as a chef in Japan's consulate-general.
But her real love for Japanese food using Scottish ingredients, or "fusion cooking", is what she is really passionate about.
Her fascinating family history and journey to winning the Best Restaurant in Scotland award in 2019, as well as a prestigious AA rosette, makes her story one of passion and hard work.
Here, she reveals the meals and food memories that have marked the milestones in her life.
Childhood – Tonkotsu ramen noodles
Born in Hong Kong to Japanese parents, when she was seven Kaori and her family uprooted and moved to the province her mum was raised, in Fukuoka, in southern Japan.
"Fukuoka is the home of Tonkotsu ramen and it's hugely memorable for me. My dad moved to the Philippines to become a fish trader and set up his own company, so we were left with just me, my sister and my mum and moved back to where my mum was from.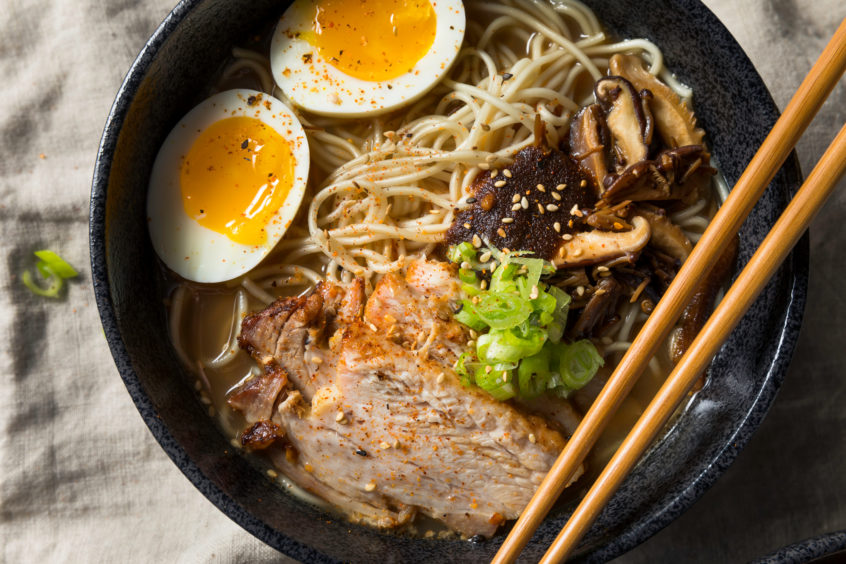 "Mum had to work really hard – she would sell kombucha made from kelp and go from town to town and door to door trying to sell it. Then she would come home at about 8pm having been out all day.
"She would be so tired when she got home and wouldn't have any energy to cook for us so she would sometimes order in some Tonkotsu ramen noodles. It was often a celebratory meal for us as she would do this whenever she got some money.
"It's so tasty and so good. The soup is white, which you don't see in any other Asian soup. It was always from our neighbourhood ramen shop and they would be delivered in steaming bowls. I think they only took about three minutes to cook the noodles.
"Back in the 1980s takeaway was usually done locally and delivered to you. They'd put your order in a squared tin box that sat on either side of the bicycle. You would drink the whole soup until the end, with the aromatic and roasted seasame seeds on the top – it was so nice. Then when you finished it you would wash the bowl and leave it outside your door and the next morning it would be gone!
"It takes hours to make the broth so it would be a treat for us. We often wouldn't have the time to make it ourselves.
"But when I was about six or so I would make a sneaky instant ramen noodle. My mum would be away and they're so easy to make. I don't know how I managed to switch on the gas! I had some instant noodles with some eggs in it. That is probably my earliest cooking memory."
Teens
When Kaori became a teenager, her family then moved to be with her dad in Manila, in the Philippines, where he was still working in his tuna trading business.
"While we were there my mum opened a Japanese restaurant in the centre where she served delicious blood clam sashimi.
"I'd sometimes go to the restaurant after school just to help out and I'd get there and would see them seasoning the blood clams. They're about the same size as scallops but she would have to kill the clams there, take them out of the shell and throw it down really hard on to the chopping board. It was really shocking when I first saw it. But she would slice it very quickly into sashimi and you would just eat it there and then.
"It was almost like eating oysters and was actually really beautiful, like an aphrodisiac. You'd eat it and the sensation and flavour would just hit you and you'd be like, 'wow!'.
"Later on in my teens I began working as a dishwasher and KP [kitchen patrol] in my mum's restaurant because there was nothing to do. She would always come home at midnight so I would be left with my sisters and the person who was looking after us. But, mostly I wanted to stay with my mum.
"So at the weekend and after school I would go to the restaurant and my mum would say that if I wanted to stay I wasn't allowed to sit at the customer's table and that I'd have to sit through the back. I started KPing then gradually helping more. It would just be small things like prepping the fish or the vegetables or even some frying and I think I had learned to do this by the time I was 14 or 15.
"There was a Japanese sushi chef who worked at the restaurant too and he would get me to help with small jobs such as cleaning the squid, which involved cleaning inside them, taking out the guts and peeling the skin. I couldn't burst the ink as the chef would need to use that for the salad, although I did do it a couple of times when I first started. If you ended up covered in ink it meant you'd failed and it couldn't be used!
"So at the weekends and in the summer holidays I would be working for my mum and then whenever we went back to Japan she would take me to all the dry markets and wet markets there. Usually it would be to get more products to bring back to Manila, so I would accompany her.
"I then ended up going to uni in Manila to study liberal arts, while still working for my mum. We would make specifically Japanese food for the Japanese staff of businesses.
"My older sister and I were assigned to manage it and we got to create the menus as well. So that became my way into the catering business.
"Sadly my father died when I was 14 so it was just me, my mum and my sisters."
20s – Scottish fare
Despite cooking virtually being in her blood, Kaori initially decided to pursue other career paths.
"After I'd finished uni I decided to take a break from catering and I went to work for a Japanese TV company called TV Asahi. I was able to speak Japanese, English and Filipino so I was working for a bit as a director and in journalism. That made me want to work in politics a bit so I went to study politics.
"From there I came to the UK to study politics and international relations at Plymouth University. For a while in my early 20s I didn't do any cheffing or cooking and would instead look for work in charities or NGOs.
"My husband is from Scotland and he was also studying at Plymouth, which is where we met. After we graduated I moved back to Japan and he came with me and we got married over there.
"Then we came back to the UK two years later and I started working for a women's charity, which I did for four years. I got really bored. I was always looking for good Japanese food here too but, at that time, there weren't many places.
"I remember thinking how much I missed cooking and that I really wanted to go back to it so that's when I decided to go to culinary school in Dalkeith, which is now Jewel and Esk College.
"I was there for three months before they moved us to a new campus in Portobello, which had a shiny new kitchen and a really good instructor and had so much fun. I did that for three years to finish my SVQ Level 3.
"During that time I had to do an internship with a restaurant. I knew that for an opportunity like that I should go to the best so I just went straight to Tom Kitchin and was interviewed and got to work with him for three months.
"I was lucky to be there as his student apprentice, though I was by this point in my early 30s. It was a really good opportunity as I learned a lot.
"I became more aware of Scottish produce at that point too.  Tom had a local forager who would bring him seasonal food, like mushrooms from the forest. I was in awe at this as it was food you didn't see at the supermarkets. His cooking was seasonal and I learned so much from it, especially about local Scottish food and where it all comes from.
"He put me on to the starters section and had me make this tempura which involved frying small micro herbs, which had been dipped in light batter and then fried one at a time using tweezers. It was technical but that was just for the decoration. It really struck me as tempura is Japanese traditionally but that one was his version and it was completely different, but yummy."
30s – Beer fried noodles
"While I was still studying, a friend of mine set up the first Stockbridge market in Edinburgh. It was a really small one down a lane. He said 'I know you make such good food' and let me set up a stall at this market. The first thing I did was beer-fried noodles and sushi using a really small barbecue grill that I'd borrowed from my father-in-law. Then I would pack the noodles and sushi in takeaway boxes, and that's how I started out.
"Then, when I graduated from the college I was continuing with the market but I had started to work for the Japanese consulate-general as an assistant chef to the residence head chef.
"The head chef's family came from Osaka and he had such good knowledge of Japanese cuisine – not just sushi but from all the different regions of Japan. He covered everything and all the seasonal Japanese food.
"I was there for two years and it was a really nice job. The head chef is like my mentor. Different regions of Japan have different 'flavours' and he was from the south, like my mum. So my tastes and his tastes were very similar so I was so happy.
"I was still doing the Stockbridge market, which had by then turned into what it is today. That had become really popular. "Then when I was 36 I had the opportunity to open my own restaurant as I was approached by a Scottish farmer who wanted to open a restaurant with me and be my business partner.
Now – Seafood
"At the restaurant we have the traditional Japanese food which is inspired by my mum's cooking, our family traditional home food and her restaurant food. But I also wanted something that people here are more comfortable with so we have a sushi chef who makes great California rolls.
"I've been doing some cooking recently and making videos to show people they can cook a lot with leftovers. I made a dish with Scotch beef and, where I'd usually use Japanese tzatziki I used Drambuie.
"During lockdown we have been supporting a local fisherman who has a small boat in Fife. Somehow my husband got in touch with him. Usually they supply all the restaurants in Fife and Edinburgh with brown crab and lobster.
"So I gathered about 20 of my friends who are foodies and every Thursday we had a 'lobster day'. They were so simple to cook – you just need a bit of lemon juice or soy sauce."
Now you can try one of Kaori's delicious fish-based recipes for yourself…
---
Fish ball soup with coriander and squid

Ingredients:
20g sliced ginger
30g crushed and diced garlic
10 fish balls
2 ltr chicken stock
300g bok choy
2 tbsp salt
1 tbsp sugar
1 tsp chilli oil
1 tsp white pepper
Sesame oil
Chopped spring onion and coriander for garnish
Method
Fry the ginger and garlic until garlic is golden brown and then add the chicken stock.
Cover and simmer for 10 minutes.
Add the fish balls, then cover and simmer for another 5 minutes.
Add salt, sugar, chilli oil and white pepper then simmer for another 5 minutes.
Pour the soup into a bowl and garnish with spring onion and coriander.
---
Read more in this series…
My Memories in Meals: Dundee chef's journey to success wasn't all plain sailing
My Memories in Meals: Fuelled by salty porridge, chef was chosen by Nigel Slater for greater things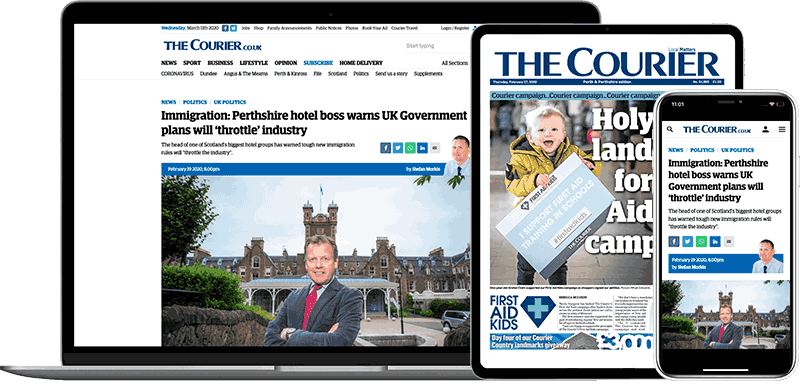 Help support quality local journalism … become a digital subscriber to The Courier
For as little as £5.99 a month you can access all of our content, including Premium articles.
Subscribe