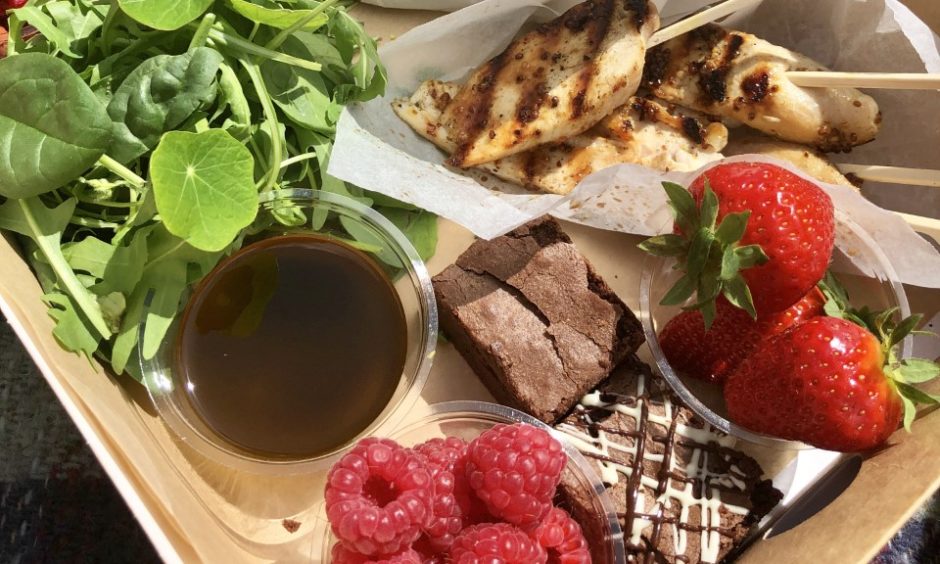 Beautifully-packed individual picnic boxes are a practical solution during what is likely to be dubbed the 'Summer of the Picnic', says Catherine Devaney, who regularly writes for food magazine The Menu
When it comes to picnics, life is divided into two kinds of people.
Those who are content with a hunk of fresh bread, a selection of charcuterie, some fresh buffalo mozzarella and a bunch of basil to tear their own leaves.
And those who regard such a spread with baffled indifference and who will wait, impatiently, for someone to make them a sandwich.
For the former, a picnic means an array of scrumptious things laid out on a tartan rug for the picking; for the latter it means sandwiches wrapped and neatly packed with no need for self-assemblage in a midge-ridden car park.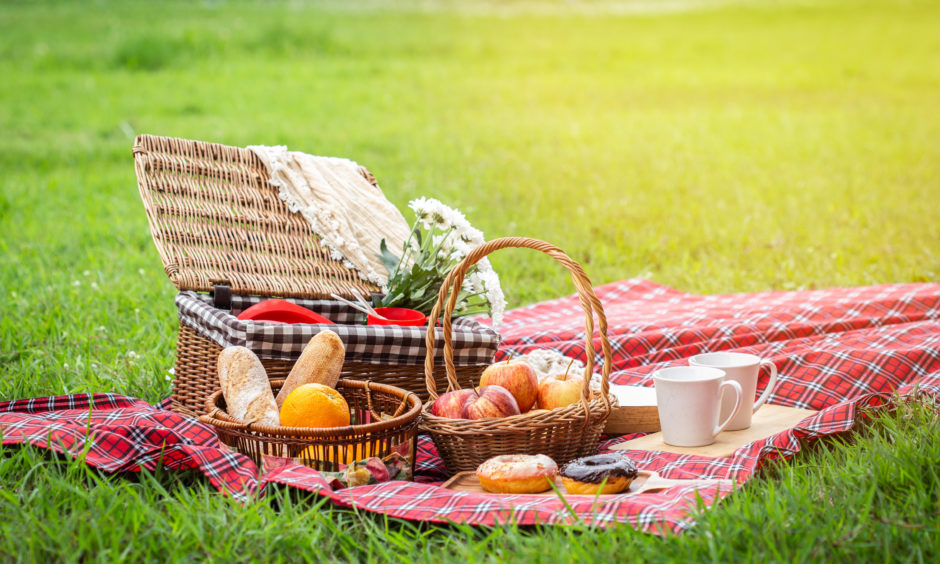 Personally, I have a foot in both camps. The buffet-style picnic is all well and good if there's plenty of space, no wind (no sand) and plenty of time to laze around clinking bottles of ginger beer and cracking open boiled eggs a la the Famous Five (although Timmy the dog must have been spectacularly well trained, because any ground level picnic activity we attempt quickly degenerates into an exercise in warding off the Labrador).
But I am a firm believer in the Enid Blyton adage, usually uttered by the irksomely domesticated Anne, that "everything tastes better outside".
And although indoor meetings are now sanctioned, I suspect this will still be remembered as the "Summer of the Picnic".
The key to successful picnicking is advance planning. It's not a hastily prepared cheese sandwich and a Penguin; nor does an en route expensive dash round Marks & Spencer make for a rewarding picnic experience.
I'm all about the individual picnic box.
Think about handing everyone a beautifully packed little box, with individual portions of salads, fruit, sausage rolls, brownies… with their own fork, knife and crisp cloth napkin (that's the childhood Enid Blyton reader coming out in me again, I'm sorry).
And in these troubled Covid-19 times, it avoids the need for any tricky sharing of food or utensils, meaning everyone can sit in their own personal bubble of comfort without the need to delve a hand into a communal Pringles container or apply lashings of hand sanitiser.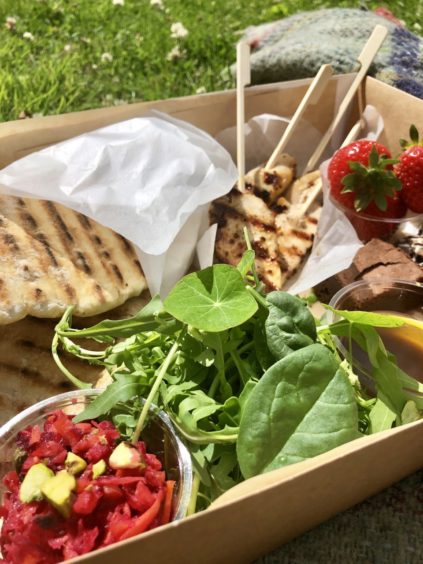 So what's in my perfect picnic box? First up, chicken satay skewers with peanut and lime dip.
Start the day before and make up a marinade for the chicken by blitzing, in a food processor, two lemon grass stalks, 25g fresh ginger, 5 garlic cloves, 2 fresh red chillies, 2 tsp ground cumin, 2 tsp ground coriander, ½ tbsp light soft brown sugar, 2 tsp Thai fish sauce, 2 tsp dark soy sauce, 1 tsp ground turmeric and enough rapeseed to achieve a thick sauce consistency. Slice two chicken breasts lengthways and marinade in the fridge overnight.
The next day thread the chicken onto skewers (soak the skewers in cold water for about half an hour beforehand) and cook on a hot griddle. To make the dipping sauce, gently heat 125g natural peanut butter (no added sugar), 225ml coconut milk, 3 tbsp Thai sweet chilli sauce, 1 tbsp dark soy sauce and the zest and juice of one fresh lime… whisk everything together until it bubbles.
If satay's not a crowdpleaser in your bubble, or time is short, the simplest chicken skewers can be made with a quick marinade of honey, wholegrain mustard and rapeseed oil… a hot griddle plan and some sea salt will work wonders. Next up are flatbreads, which are ideal for tearing and dipping.
I've been using a Jamie Oliver recipe for years, which never fails and is incredibly easy to whip up.
In a bowl mix 350g self-raising flour with 1 tsp baking powder and 350g natural yoghurt, and bring together with your hands to form a soft dough.
Scale into golf ball sized balls and roll out, on a well-floured surface (the dough will be quite sticky), into oval shapes. Heat a griddle pan until it's screaming hot then toast the flatbreads for a few minutes on either side until puffed up.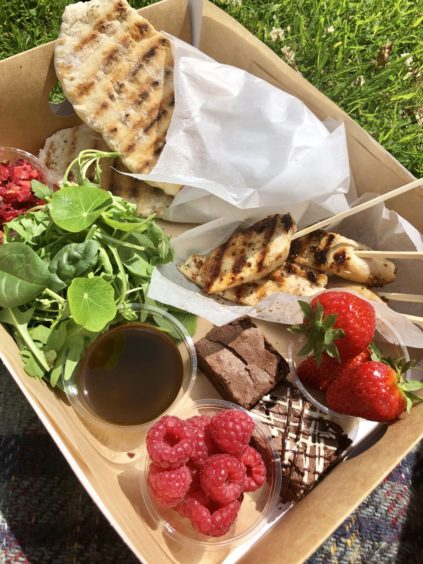 Now for the sides – this time I'm going with a beetroot and pistachio slaw because it's vibrant and crunchy and the perfect little pot to sit alongside the freshly-made flatbreads.
Grate some fresh beetroot, a carrot or two, toss with chopped fresh coriander, a handful of chopped pistachios and a generous grating of fresh ginger; then mix through with natural yoghurt, a teaspoon of honey, the juice and zest of a lime and salt to taste.
Hummus would be another great addition with the flatbreads, and perfect for serving in little picnic pots.
To finish off the savoury selection, you could add some portions of salad leaves – lots of local growers are selling lovely bags of the stuff at the moment, and nasturtium leaves are easy to pick from the garden – just be sure to pack it undressed, perhaps adding some little portions of zesty vinaigrette.
Every great picnic has to end with something sweet, but with the Scottish soft fruit season in full swing you really don't need to look much further than some little portions of strawberries and raspberries.
If you're really inclined to push the boat out, why not add a chocolate brownie or two? Easy to make in a batch the day before, simply portion and pop in everyone's picnic boxes on the day.
Which only leaves the hardest part – finding the perfect picnic spot. You must boldly seek out "the Goldilocks zone", which is neither too close to the incoming tide nor anyone else's Labrador, not so far from the car that it's impossible to pop back for the baby wipes, absolutely free of ants and preferably midge free too.
Not an impossible task then…
---
More on this topic…
History of the picnic and recipe ideas for socially-distanced outdoor feasts
Three ways with picnic food: Celery sausage rolls with a beer dip and two different salad ideas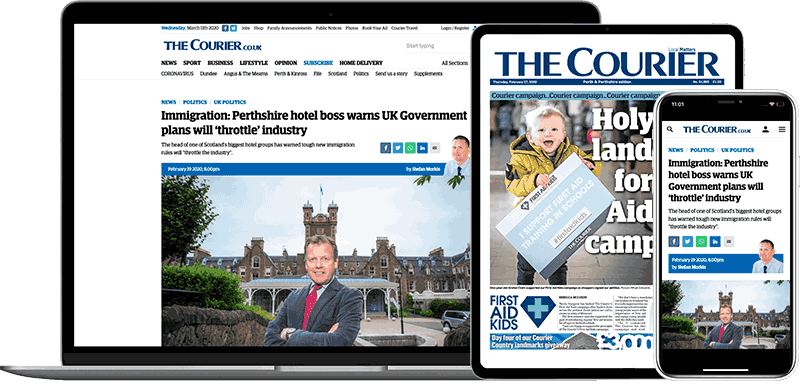 Help support quality local journalism … become a digital subscriber to The Courier
For as little as £5.99 a month you can access all of our content, including Premium articles.
Subscribe