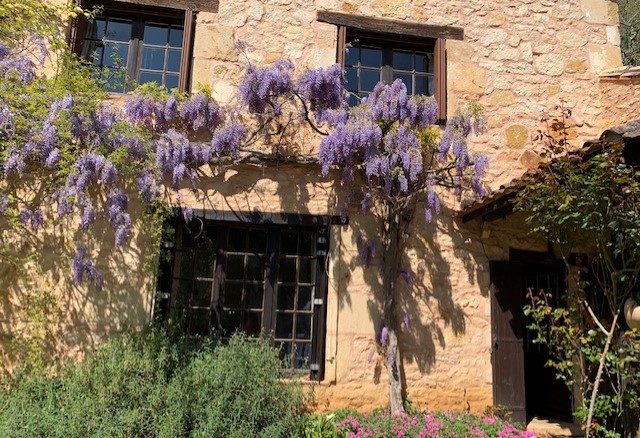 Food writer Murray Chalmers shares memories of idyllic times spent in his house in France with great food and good friends
I went on holiday to France and bought a house. And yes, it actually was that spontaneous because I had no intention of bringing back anything other than some local cheese, bread, charcuterie and chocolate in my hand luggage.
Instead I soared back on Ryanair with details of my new French home pressed in my bag next to my dirty T-shirts, damp swimming trunks and an airport-bought book about a region in the south of a country I barely knew.
Before the holiday I had never been to this particular part of France and had no knowledge of the area, the customs or, indeed, much of the language.
Paris was pretty much the France I knew – glamorous, metropolitan, buzzing and hip. Paris was London, New York, Tokyo and Berlin – another world where artistic ghosts mingled with the future.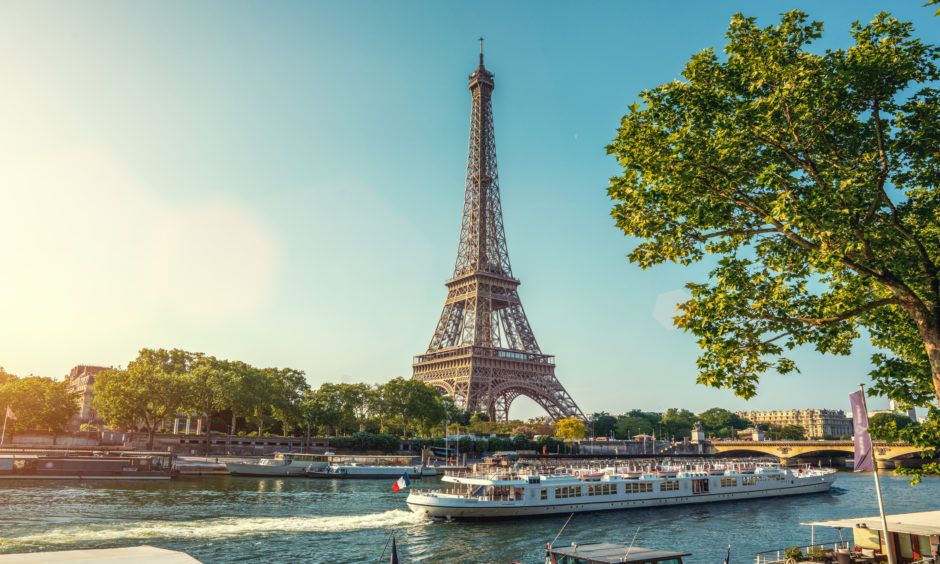 It's always been one of my favourite cities in the world because it just feels so alive, so free and so easy to disappear into. It's also the closest place you can go to from the UK that feels resolutely European and ever so slightly alien.
I even love the hauteur of Parisians who seem to revel in the fact they live amidst such beauty by appearing slightly distant from the rest of France, never mind the rest of the world. That, for me, is a joy.
But, just as London isn't Linlithgow, neither is Paris anywhere close to this place we had chanced upon to call home, which was actually edging nearer to Spain than Northern France.
This brought new meaning to the idea of being remote – there was no bakery selling exquisite croissants, no fromagerie selling the best cheeses and, if you wanted a pint of milk, then your nearest hope was a cow in the field down the valley.
Grand-mère
The house we had found wasn't even in a village and the nearest shop, owned by the wonderfully wizened grand-mère figure of Mme Debiard, was a 20-minute bike ride away.
But I fell in love, both with a person and then with a house, and I didn't yet know that the printed details of this dream home that I couldn't really afford were about to tip my finances into a deficit that no excess baggage charge could ever hope to emulate.
Really, I should have declared my recklessness at customs when I arrived back in the UK; as the cheap red wine from the plane wore off the realisation hit me that I was more in the merde than in the mud. Whichever word you used the future looked precarious.
I looked for a French lawyer the minute we were back and the minute after that I booked an urgent meeting with my accountant.
Very soon he would call me in and ask where all the money had gone and, laughingly, enquire whether I had a secret drug habit. It was a relief to show him a picture of a mill rather than a bitter pill, although in truth his reprimand was just as hard to swallow.
That was 10 years ago. We moved in in December 2010, when there was literally one open restaurant within a radius of 10 miles; here we could celebrate getting the keys and the proprietors could celebrate us being the only customers.
It was a long way from the heat we had revelled in that summer. Now a blizzard of snow engulfed us as we drove through darkened villages which seemed uninhabited.
The restaurant was in the beautiful village of Monpazier, one of the loveliest villages in an area of outstanding beauty in a country built on the very idea of it. That's a lot of beauty for your buck! Everything was soft and seemed to shimmer as we huddled close to a roaring fire and realised that we now owned a house in France.
Champagne
It seemed impossible that we had done it, and in such a short space of time since the holiday. We ordered champagne and I remember thinking I was the luckiest man in the world. It was an incredibly happy time.
Since then a lot has changed in my life, much of it precipitated by settling into the house and becoming part of another existence at a slower pace.
The house is an old mill with a huge Monet-type pond, a separate mill-house and a river running through the massive garden. It sits in 18 acres of land including a forest where long, meditative solo walks can make you think you're the only person in the world. It's insanely beautiful.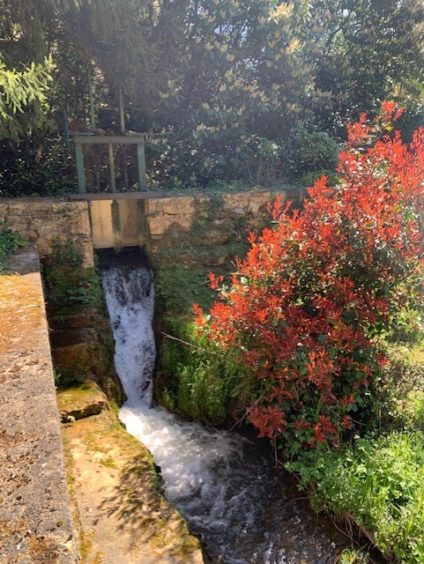 There's an outdoor pool which is situated looking down the valley and within earshot of the flowing water of the river – it's so idyllic that the postwoman once looked at my friends and I who were celebrating my birthday pool-side, marched towards me with a huge bunch of flowers and just sighed and said "c'est paradis!".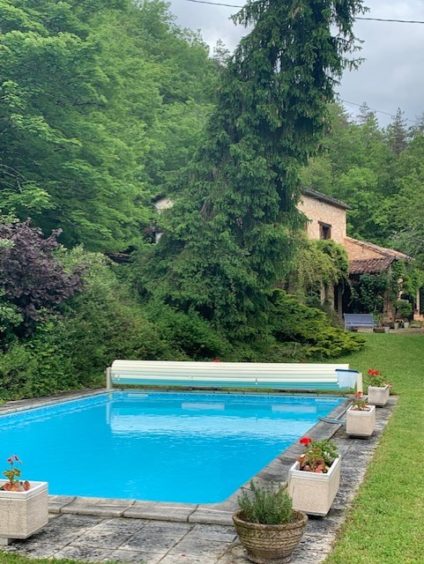 It really was paradise and as the years went on the garden became more what the previous owner told us would be an impossibility – a very British "tamed" garden right in the middle of the wild French countryside. People would stop their cars to take pictures because it was so archetypally, beautifully French that it was almost a cliché.
Sadly, the house that was meant to be where we could live our dream turned out to be not so great for the relationship which foundered at the same rate as the garden progressed.
Now single, I'm a very different person to the one who came back from that holiday with a suntan, a smile and a property portfolio. So, after 10 years the house and much of its contents are now on the market although I still harbour thoughts of winning the lottery and buying it outright before someone else does.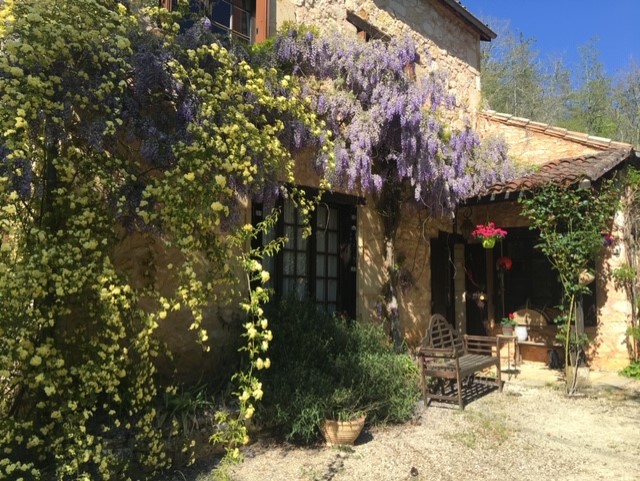 But I'm resigned to losing the house, just as we lose our European identity. The truth is I feel Scottish and then I feel French and I want to continue being part of Europe; losing the house has become somehow emblematic of losing so much more in life.
Perspective
France changed my perspective on so many things – culture, language, food and people – because really what always struck me is just how different it is from here. I used to treat Ryanair like a bus – I would leave my office late morning on a Friday, get to Stansted and catch the same flight to Bergerac every week.
I'd have a glass of chilled rosé in my hand in the French garden at 6pm where I would forget being British and I would finally relax into being a new person. A French person. I commuted between two cultures like this for years.
One of the first things we did was to change the kitchen because the existing one was basically the set of "Allo Allo". It was 1970s charming but I never knew brown could come in so many shades until I spent time cooking there.
We ripped the whole thing out, my personal stipulation being that we had to have a Lacanche cooker.
This brand is commonly called the Rolls-Royce of cookers and, for the money we paid, I might have actually hoped to arrive at a function astride it.
But there isn't a day that I haven't looked at it and thought what an incredible piece of kitchen kit it is; ours is all the more pleasing because it's run on gas canisters that are so primitive that they are installed in the mill-house.
Thus there's a river and a small bridge between the kitchen and the gas supply.
My sister once had the gas run out as she cooked Christmas dinner on the Rolls and wasn't too happy that I had forgotten to get a spare canister before the shop closed for the festive season. The gas puttered to a halt just as the turkey was going in.
Glorious
Of course the food in France is glorious. It's a real treat of mine to sit here in Fife and watch the brilliant Rick Stein meander round France and cook food from the various regions.
Ours, the South West, is pretty rich in goose fat and garlic, mixed in with truffles from Perigord, duck, foie gras, prunes from Agen, walnuts, cassoulet and the most amazing fruit. In our garden alone we have a huge walnut grove, cherry trees, plums and tomatoes.
A trip even to the supermarket is a joy but a trip to a market like Issigeac is life-affirming. It takes hours to get round all the stalls which groan with the abundance of nature. Seasonality is so important, as is touching the food and smelling it. It's such a sensory experience but all the more so because it's part of daily life.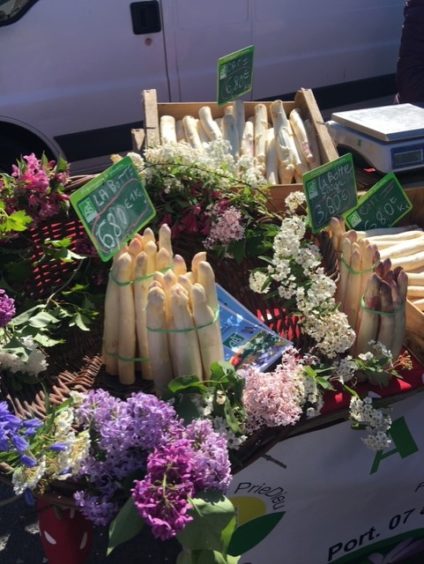 Choosing a melon is approached with the same seriousness as choosing a life-partner – in fact maybe more so. Everything is good; you've never tasted a strawberry until you've tasted a Gariguette, which appear early in the season as if putting an end to the hardship of winter.
White asparagus from the farm up the road is equally short in season and celebratory. Everything somehow tastes more of itself.
The shop in the next village to us wasn't just a shop. It was really the centre of village life and, although there was a more modern Proxy just up the road, I would never go there. To enter the grocery run by Mme Debiard was to walk into a piece of French history.
When you walked in a bell would jangle but there was rarely anyone there – Mme was normally gassing away in the back room. The first time this happened I ran out, worried that I had actually walked into someone's house.
It turned out that I had because Mme lived in the back, from where the bell would bring her, stooped and bowed and wise and wonderful, ready to help you either choose the best box of strawberries or give you the number of the local bee man or someone who could teach you French.
Remonstrations
That first time I ran away she came chasing to the door and made it perfectly clear how the rules went, her remonstrations somehow conveying her annoyance as if it were Esperanto. I never forgot that lesson. You ring a bell; you wait.
Mme spoke no English and thus I had to speak French. As a newcomer to the area she was intrigued enough to indulge me; also she was best friends with Mme Vacher, who we had bought the house from, so she was keen to hear my stories of our renovations, stories which would later buzz down the humming wires from rural France to Mme Vacher's new home in Paris.
The produce sold by Mme Debiard was really herself – some of it was practical, some of it was obscure and some of it was steeped in a tradition that was sadly disappearing from a country which had started to embrace pizza and McDonalds. But that was a long way from here where this shop came to symbolise so much of what I wanted in the world.
Here you had wisdom, tradition, respect and a sense of doing things properly that made it like going into an old curiosity shop. The Christmas when Mme Debiard gave me a gift of some beautiful mistletoe in her dark, magical timebox was the day that I felt the warmth of French hospitality at its finest.
I'd earned that mistletoe! I sped back home and made Nigella Lawson's clementine cake, getting back to the shop just as the light was fading, presenting it to Mme as an acknowledgement of our entente cordiale.
When she died the whole village turned out to pay their respects to this remarkable woman. She may be gone but her spirit lives on. Vive la France!
All France pictures by Murray Chalmers.
---
Read more in this series…
MURRAY CHALMERS: In my book, Delia Smith is definitely wrong – one is not fun
MURRAY CHALMERS: Banter is what sets iconic cafe Forte's apart from the rest