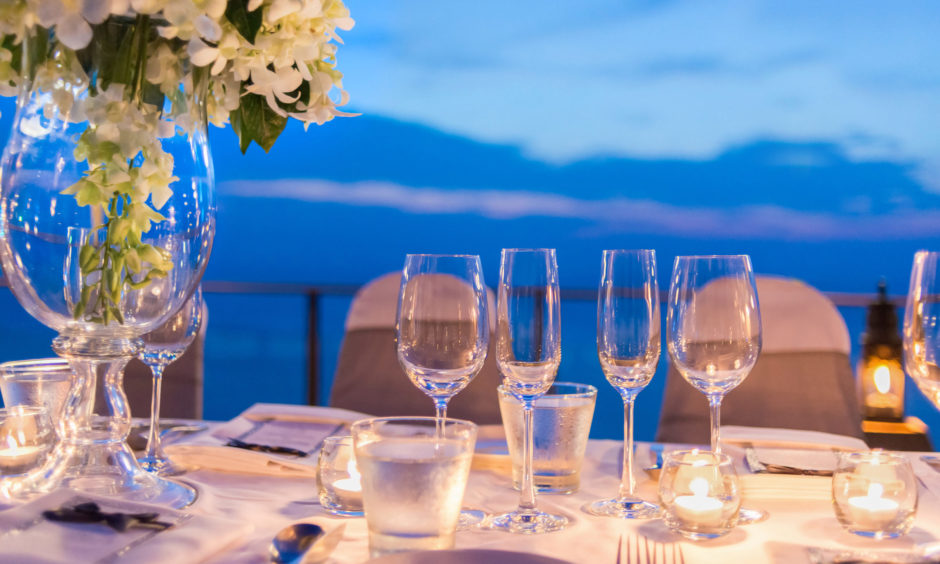 Enjoying a meal in a restaurant and adjusting to the new normal as lockdown carefully eases, Murray Chalmers looks back at magnificent dining moments.
We went to a restaurant the other day. Two friends and I sat in the beautiful wild flower meadow at Kinneuchar Inn and ate great Greek food whilst drinking wine and chatting excitedly.
The sun shone and the buzz of conversation from other diners provided a hugely convivial backdrop to our own laughter, coupled with a vague sense of disbelief that we were there at all.
Once we got used to the simple new protocols in place it was a very easy re-entry into something that we had thought would never disappear from our lives – the chance to break bread with friends and celebrate being together. It was heaven.
Now that we have some respite from lockdown we see the stoic, the resourceful, the brave and the lucky reopen their doors to feed us equally lucky customers; it feels like a second spring as many of our favourite eateries welcome us back. I've missed them so much!
Sadly though, not every catering business made it – there are lots of casualties already and many more will follow. It's the same across the world; stories from New York and London, where rents and business rates are cripplingly high, are of closures and lay-offs.
Support
The implications for small businesses especially are enormous; who could open a restaurant from scratch right now?
That's why it's so important to support the hospitality industry because the rest of this year will be make or break time; if you have disposable income you might choose to treat restaurants and cafes as "use it or lose it" because, really, we all play a major part in ensuring their survival.
I was in New York in February and ate at many of my favourite places, obviously not knowing that it would be the last time I would have that specific experience.
Now that eating out may never be the same again my brain is flooded with memories of wonderful dining moments from the past, many of them in America, where I once thought I would live.
Before flying home from New York I have a ritual of a solo lunch at The Odeon in Tribeca, where I eat the same thing, drink two glasses of Chardonnay and feel an overwhelming sense of contentment before leaving for JFK.
This time was especially emotional because I'd gone to New York to celebrate Yoko Ono's 87th birthday on February 18, something I've been doing for many, many years. Yoko's birthday is a wonderful reminder of friendship, positivity, conviction, unity and hope – all of which we need right now.
The next day at The Odeon I texted a friend pretending that his idol Dave Gahan, the singer of Depeche Mode, was lunching next to me – although it could easily have been true; when I first started going to this seminal downtown classic the air hung heavy with the ghosts of Andy Warhol, Keith Haring and Jean Michel Basquiat, as well as literary figures like Jay McInerney who used a photo of the restaurant on the cover of his 1980s classic novel Bright Lights, Big City.
The Odeon was where art met commerce and it was a good example of a restaurant which became greater than the sum of its parts. The first time we went there in the '80s we thought we would be mugged; it was so far downtown and we hadn't yet developed the chutzpah to swagger down unknown streets like we were born in Brooklyn.
That soon came, as did the gentrification of Tribeca.
Identity
Later, when The Odeon didn't chime so much with the zeitgeist, it kept its identity and is now a much-cherished classic 40 years after opening. When I ate there in February it seemed like this icon was back at the top of its game. Now I look at their valiant attempts to survive the pandemic as being emblematic of an industry in turmoil across the world.
What is it that makes some places memorable and others not? What leads to somewhere like Rogano in Glasgow – launched in 1935 – remaining a destination restaurant whilst newbies come and go?
It's not the food (which can be variable), and it's not the ambience, although of course both are important. Rather it's something indefinable that makes you feel like a pair of arms have wrapped themselves round you when you walk through the door, a cosseting cashmere blanket voiding the harsh world outside.
It's places that you can remember fondly 20 years later when the joy comes flooding back without looking at a single photo. It's when your life can be sorted by two hours in the company of others, leaving you more enriched than when you came in.
My favourite restaurants and hotels in the world never really change that much, despite my desire to try as many new places as possible.
I only really stop going somewhere I love when they pull the walls down around my ears, as they did with the Hotel Bel-Air in Los Angeles, or if a global pandemic shuts down life as we know it. Whilst it's true that you can't put your arms around a memory, sometimes it's all that's left and that's why we must cherish what we have.
In style
Back in the day when I had money I would go to the Bel-Air once a year, and then when I began to have less money I would go twice – my reasoning being that if bankruptcy beckoned then I would go broke in style.
At that time Tatler magazine always voted the hotel the best in the world and their ultra-posh reviewer wrote that if she ever had a terrible fight with her husband in London he would wait a day and call her pool-side at the Bel-Air.
I always envied that story knowing that it couldn't possibly translate to my own life, living in a crappy one-bedroom conversion in Clapton, at that point the Murder Mile of London.
But I always tried to go on glamorous holidays or combine work trips with a break. Consequently my outlook on life became more expansive and based around living for the moment – tomorrow could wait, as could old age and a savings account.
Hotel Bel-Air still exists but I would never go there now. It was closed for major renovation in 2009 and we lay by the pool where Marilyn Monroe had been photographed and watched the shutters come down on a legend.
Many of the regulars were in tears; the richest would just move in for the summer and we paupers – who would have to save up hard for 361 days just to stay there for four nights – got to know their faces very well.
Everyone would speak because if you were there then it felt like you were smart enough to be in on the secret, although really the secret was just money, quiet discernment and not making a splash when you dived in the pool.
The hotel was old Hollywood, with a swan lake, pink painted villas and the most heavenly gardens on Earth.
Whenever I smell the herbaceous scent of wood smoke now I am transported to the Bel-Air, where Elizabeth Taylor would always have the same suite overlooking the herb gardens.
From its opening in 1946 it was an immediate hit and became very popular with Hollywood royalty including Marilyn Monroe, Grace Kelly, Cary Grant and Audrey Hepburn.
The gym was in Marilyn's old villa and often I would be there alone, ostensibly working out but really just staring at her photos on the wall and dreaming (as Monroe's spiritual daughter Debbie Harry once sang, you really were always touched by her presence, dear).
Oscars night
On Oscars night you would see the movie stars walk through the gardens to their cars and the sense of glamour and excitement was palpable. Those guests not attending would watch it all in the panelled hotel bar, drinking chocolate martinis and eating burger and chips, rooting for those we had seen by the pool just a few hours earlier.
The night before you might have had one of the bellmen (who were of such a vulnerable vintage that I would help THEM with our luggage) bring a VHS of 'Sunset Boulevard' and some popcorn to your room and you'd truly think that life couldn't get better. I really believe it was the loveliest place on Earth.
My starriest moments at the Bel-Air were normally around birthdays; once we were celebrating in one of the prized booths overlooking the gardens and my friend Patricia whispered to me that Warren Beatty and Nancy Reagan had just been seated next to us.
Now I know Nancy Reagan was a horror-show, and her husband's politics were certainly not my own, but she was still First Lady and he was Warren Beatty so I make no excuses for blatantly uncool rubbernecking over the tortilla soup.
My second starriest moment is when I was there for my 50th birthday and Robbie Williams sent me so many cupcakes that I gave many of them to the staff, one of whom whispered to me that I must be a helluva big rock star to receive this cupcake mountain from my friend Mr Williams.
If only he knew I had just been secretly looking at the wine list to find one we could afford to have with dinner.
The hotel reopened in 2011 and is now a hideous concoction of mid-century modern and glitzy luxurious bad taste. Saying goodbye was painful. In August 2009 I had a final swim in the pool, defiantly stole a giant pink towel imprinted with the hotel's signature swan, and closed the door on a chapter of history, never to return.
If you're interested in the hotel and also the excellent food that was prepared there, you can find a beautiful book called The Bel-Air Book of Southern California Food and Entertaining through abebooks.com. When it's raining in Courier Country I guarantee this book will transport you to sunnier climes.
Nairn
Closer to home, my favourite place ever in Scotland was the incredible Clifton House in Nairn which is now closed – but what a treasure it was. Part hotel and part theatre, it bore the unmistakable imprint of owner J Gordon Macintyre, who died in 2016 aged 84. This was a hotel like no other, where the exquisite attention to detail made each stay an event.
Mr Macintyre himself was a joy, an iconoclast who brought his amazing vision to international acclaim; his dining room, which was often converted to a theatre, attracted performers as varied as Rod Stewart and Yehudi Menuhin.
More than 80 productions were performed there – in truth I can't remember what we saw but that's probably more to do with the hospitality of the host than the strength of the production.
The wallpaper in the drawing room was designed by Pugin, curtains were swagged in specially woven Gainsborough silk, and the ceramics collection made you scared to raise your arm.
Breakfast was served until lunchtime and the menus were in French. It was not a place for the underconfident – I once queried something about our room only to be silenced by Macintyre's wife, who simply held her finger to her lips and instructed "don't question the matriarch".
It was a response that was impossibly grand, patronising, insulting, terrifying and hilarious all at the same time and we made up later when she apologised to me in the newsagents. Even Grande Dames of Nairn have bad days.
If you want to read how consummate taste, flamboyance and an innate sense of beauty came together in a seaside hotel in Nairn you could do worse than google the obituaries of this remarkable hotelier who left wonderfully enduring memories with so many, myself included.
His hospitality was on parade like a Minton vase and we will never see his like again.
---
More in this series
MURRAY CHALMERS: Remembering friends, food and a house in France
MURRAY CHALMERS: In my book, Delia Smith is definitely wrong – one is not fun