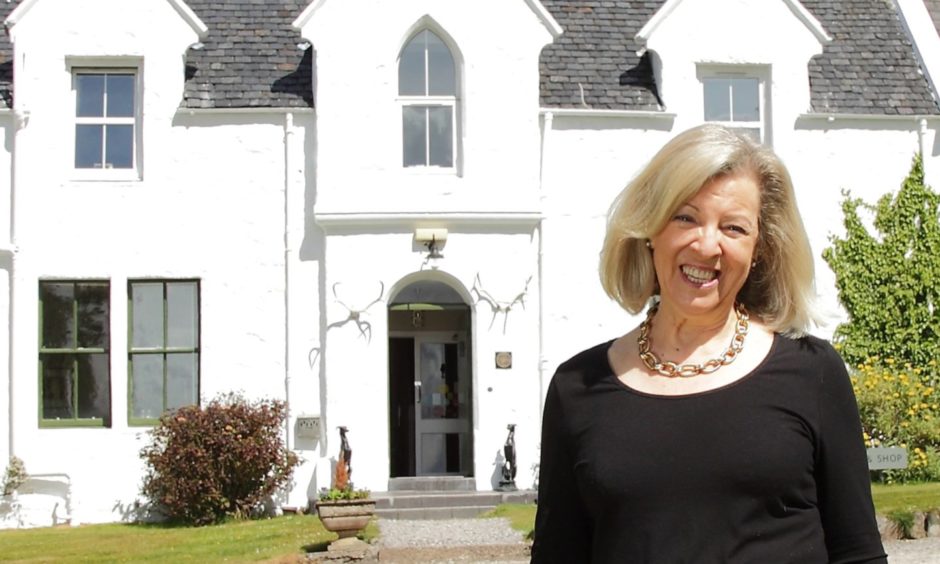 In this weekly series, Rebecca Shearer speaks to the people who have helped shape Scotland's food and drink industry, and finds out more about the role that fine fare has played throughout their lives and careers…
Lady Claire Macdonald OBE, whose husband Godfrey is the 34th hereditary chieftan of Clan Donald, is widely respected in Scotland's food and drink landscape and with more than 20 cookbooks under her belt and numerous live cooking demonstrations across the country, it is easy to see why.
Having spent decades running Kinloch Lodge in Skye with her husband Lady Claire, 72, is well-placed, both geographically and experientially, to talk about anything to do with Scottish food.
Here, she looks back on some of the dishes that have stood the test of time have become the most memorable meals from each decade of her life…
Childhood and teens – apricot ice cream
One of three daughters of Captain Thomas Noel Catlow, Lady Claire did a lot of her growing up living in Thurland Castle, Lancashire, but would spend many summers with her family abroad.
"My father was based in Rome as a naval attaché with the embassy, but we travelled extensively and we'd have the most wonderful summer holidays on the north-west coast of Sardinia. They rented a house there for the whole month of August. It was a very basic house and in the most beautiful location. We'd just spend the entire summer in the water," she said.
"For a great treat we'd be taken out for supper and the most memorably delicious thing was apricot ice cream.
"I love apricots better than anything and having them in summer in ice cream is perfect and a real treat.
"Apricots from that era just remind me so much of those summers and the fact that if we had access to water we were forever jumping in, swimming and playing and it was just lovely."
20s and 30s – fish pie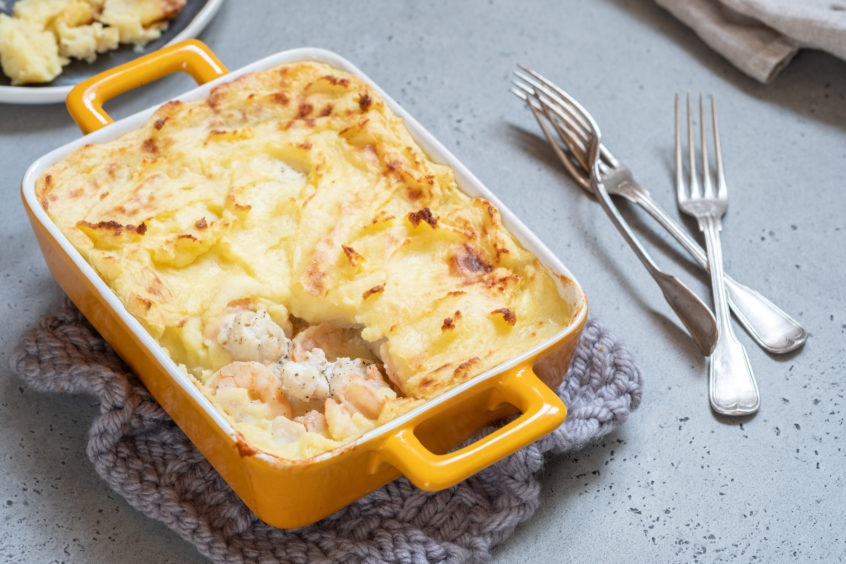 In her early 20s, Lady Claire married nobleman Godfrey Macdonald and they set about turning the Macdonald estates on the Isle of Skye into a hotel and fine dining restaurant at Kinloch Lodge.
"My mother, who never really enjoyed cooking, was a very good cook and made the best fish pie for us when we were younger.
"She taught me and I would say that, when making a good fish pie, it's imperative that two thirds of the fish content is smoked – whether it's smoked haddock or smoked cod. Then I think that the potato topping matters – it should be very well beaten mashed potato and properly seasoned.
"Godfrey really likes fish pie with chopped hard boiled eggs through it and I would say chopped parsley too.
"I always loved my mother's fish pie but then I started making my own.
"In my 30s I was really learning to cook while working at our hotel, Kinloch Lodge in Skye. In those days there were Cordon Bleu magazines published every day from London and they would have photographs above each recipe, so I would know what I was aiming for.
"The things I made from those magazine pages didn't always turn out quite like the photographs and if it was really different we would just eat it and make something else for the guests."
40s and 50s – crab meat spaghetti
"Crab meat with lemon, garlic and parsley and olive oil stirred through spaghetti would define these decades for me," enthused Lady Claire.
"So you'd cook the spaghetti and mix it through. It's the only crab recipe that I only use a white crab meat for because if you use brown and white and mix it into pasta, the brown meat seems to make the pasta turn to stodge.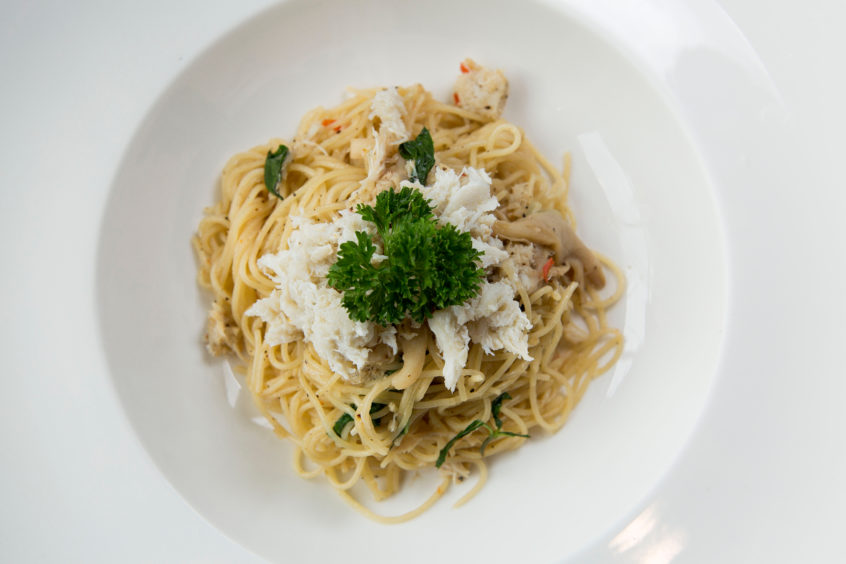 "During those days I was still cooking in the hotel kitchen but we still had a family of four and the children would have friends round, or we would have friends round, and so I was really into making special occasion quick dishes. This crab pasta is a special occasion main course.
"You only need a mixed leaf salad to go with it and in total it won't take more than 10 minutes to make and put on the table.
"I've got a very sweet tooth and I was travelling all over the place doing cooking demonstrations and there was a baked upside down pear and ginger pudding that I do. It was a really good one to do at demonstrations because it freezes beautifully without deteriorating. I'd make it two weeks earlier, freeze it and take it with me."
60s and now – Scottish produce
The past 20 years have undoubtedly been a whirlwind for Lady Claire, who has since become the patron of Scottish Food Fortnight, a recipient of the NFUS Ambassador's Award and appointed an Officer of the Order of the British Empire (OBE) in 2013.
But, despite her numerous accolades and achievements, promoting Scottish produce is still high on the agenda for her.
"I was a big fan of lamb at this time. I've worked for years with Quality Meat Scotland (QMS) and the Scottish lamb, beef and pork really is the best in the world. Every year at the Highland Show I do demonstrations in the QMS tent.
"This year I filmed my demonstration. It was a fillet of lamb stir fried with sugar snap peas, ginger and garlic. It's quick but delicious and of all the Scottish prime meats lamb is my favourite. So it's playing homage to all the lamb farmers through Scotland and throughout the highlands and it tells people just how exceptional lamb is.
"I love eating everything. In lockdown we've been having the best time. People have been saying it's like the war but it absolutely isn't. We've got access to the best food and we are so lucky.
"What motivates me when it comes to writing my cookbooks can be summed up in one word and that's 'greed'. I love food and I love eating. It's just such a pleasure and it's not just about the food, it's getting people round a table. It's also about the pleasure of cooking for other people and we just have access to the best food here in Scotland.
"It's such a joy to be able to cook every day, not elaborately – you don't need to be elaborate with the best ingredients. When we reopen Kinloch on the 15th, our main focus will be on local.
"We've always used the best ingredients but these times are calling for change and our whole menu will be about simplicity, seasonality and leading with the best produce in the world – Scottish produce."
---
Lady Claire's Stir-Fried Lamb with Peas and Mint
(Serves 6)
Lady Claire says: "This is a dish with protein and vegetables all in together. It is a perfect summer dish, because it can be eaten hot, or cold, depending on the weather. And it is a widely known fact that Scottish lamb is the best in the word."
Virtual Highland 2020 – Lady Claire Macdonald

Let's get our Virtual Show 2020 cooking! We're excited to have teamed up with the one and only Lady Claire Macdonald who's bringing us a cook along from her amazing sunroom. Lady Claire is rustling up a delicious quick and easy Scotch Lamb stir fry – a real weekend winner. Psst, Lady Claire, we agree, the view's gorgeous 󠁧󠁢󠁳󠁣󠁴󠁿

Posted by The Scotch Kitchen on Thursday, 18 June 2020
Ingredients
2 tbsp rapeseed oil (I like to use the chilli oil made by Culisse for this dish)
700g lamb fillet, any tiny strips of membrane trimmed off, the lamb sliced into finger thick strips
12 spring onions, trimmed at either end and of any tatty outer leaves. The spring onions then sliced on the diagonal into three
220g sugarsnap peas, each sliced diagonally into 1cm bits
1"/2cm bit of fresh ginger, the outer skin finely sliced off, the ginger sliced into very fine dice
1 fat clove of garlic, skinned and sliced into very fine dice, as for the ginger
220g / 8oz Frozen petit pois, thawed
Small bunch of mint leaves (applemint if at all possible), sliced
1 teaspoon salt
About 12 grinds of black pepper
Method
Heat the chilli rapeseed oil in a wide saute pan and, over high heat, brown the strips of lamb fillet. Scoop them into a warm bowl.
Very slightly lower the heat in the pan and add the sliced spring onions, the ginger and garlic, and the chopped sugar snap peas.
Stir fry for several minutes, till the onion content is just tender. Then add the thawed petit pois and the browned lamb strips.
Stir fry for a further couple of minutes.
Tip the contents of the pan onto a serving dish.
There is no need for garnish of any type because the contents of the dish are decorative enough! Serve hot, or cooled, the weather will dictate!
---
Read more in this series…
My Memories in Meals: Fuelled by salty porridge, chef was chosen by Nigel Slater for greater things
My Memories in Meals: Dundee chef's journey to success wasn't all plain sailing