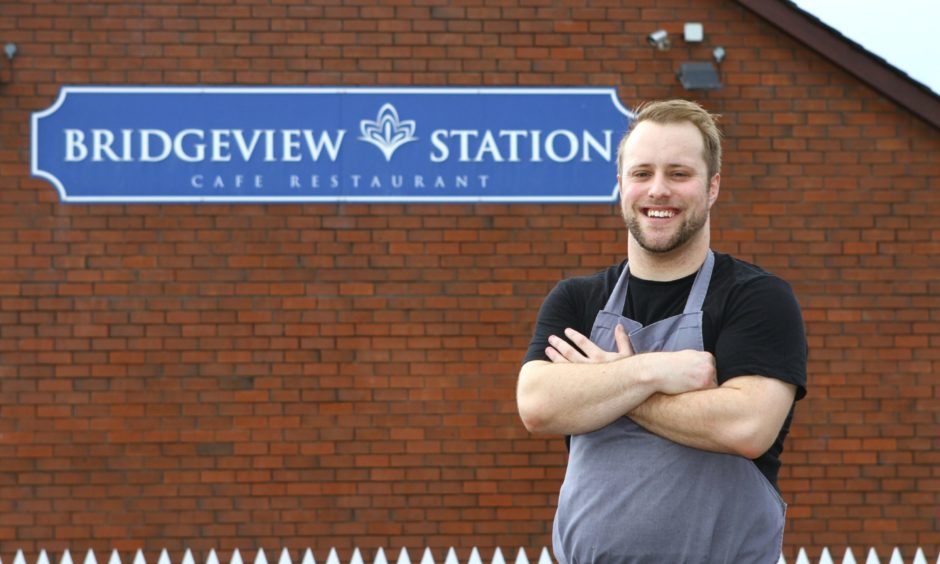 In this weekly series, Rebecca Shearer speaks to those who have helped shape Scotland's food and drink industry, and finds out more about the role that fine fare has played throughout their life and career…
Spearheading the kitchen at one of Dundee's most popular restaurants, Bridgeview Station, is 30-year-old Rory Lovie, who spent much of his life in awe of his granny's home cooking and fine Scottish fare.
Since being inspired by Ready, Steady, Cook when he was seven, Rory has always found himself most comfortable when in the kitchens of some of Perth and Dundee's finest restaurants.
Here, he talks about his favourite food moments and memories from throughout his life and career.
Childhood – porridge and kippers
Having been born in Dundee but brought up in Perth's North Muirton area, Rory spent a lot of time with his granny, who was an advocate for traditional homecooked food.
Rory says: "The majority of my childhood was spent at my granny's as both of my parents were working. A big influence on what I ate as a child was my granny, so food-wise I would probably say porridge or kippers as being the stand out meals for this decade.
"I still can't make my granny's porridge and have never been able to master it. I've tried so many times – she used to do things like soak the oats overnight, which I tried and it doesn't work. I even tried using different brands, but no, it's never been as good as my granny's.
"I also love smoked fish and have done since I was about five. I got introduced to kippers as my grandad used to have them every Friday.
"I'd usually stay over at my granny's on a weekend, so porridge would be a Saturday morning treat and I'd sometimes get kippers as well and would get two breakfasts as I was quite greedy.
"Some days she would do this amazing fried breakfast but everything would be cooked in the one pan. She'd put the egg in first so when you came to eat it the egg would be rock solid but it would be crispy and very tasty.
"She'd also buy Scotch pancakes on a Saturday but they'd be stale by the Sunday so she would fry them. I've mentioned this to a lot of people before and they all said their grannies would also fry pancakes. It was the best thing ever and I still sometimes have it – if I'm making pancakes for my wee one I will say 'let's just fry them tomorrow' and they're so tasty. I don't know why but they are.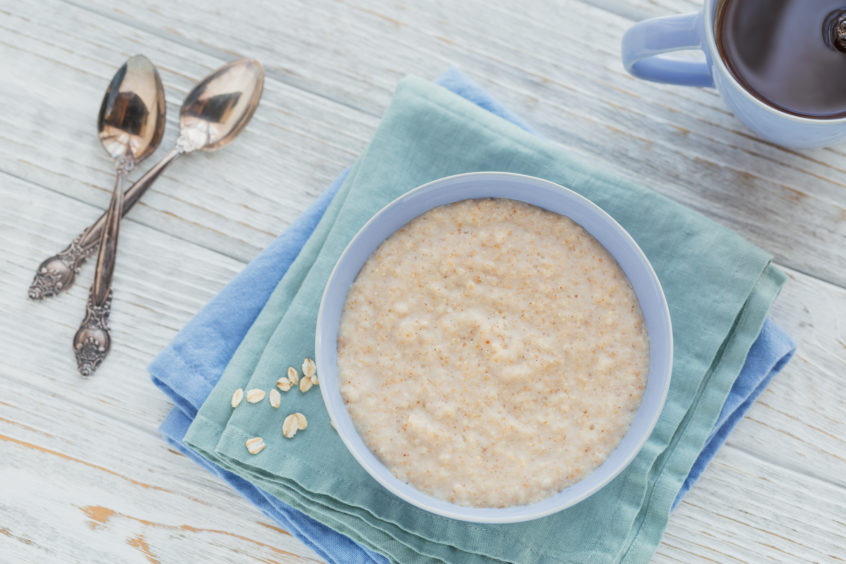 "I used to go to a lot of the coastal places with my granny, like Arbroath and Leven, and go to the beaches. While we were there we'd obviously have fish and chips!
"But that was my childhood – beaches, fish and chips, porridge and kippers."
"I think I knew I wanted to be a chef from about the age of seven as I remember I would come home from primary school and Ready, Steady, Cook would be on, so I would always sit and watch it. Then I would go to my mum and say 'can you get me all this stuff they're cooking with and I will cook it at home?' and she'd be like 'Rory, I've never even heard of half of this stuff!'. So she would go out and buy it, I would then use it in the kitchen – while making an absolute mess – and I don't think the food would turn out edible but I loved it. Since then I wanted to be involved in cooking."
Teens – mince and tatties
After falling in love with traditional food and cooking in his youth, Rory carried much of that passion in his teens, where he went on to start working in kitchens and studying cooking in college.
"My most prominent food memory from my teens would probably be mince and tatties. I loved mince and tatties – and I still do, except my missus isn't really a big fan of it. Both my granny and my mum used to make suet dumplings with them and I loved it.
"Steak pie is another one that I loved then and still love now. It would be my last supper if I ever had to choose something, which a lot of people find weird. I love pastry and I love beef but it absolutely has to be with mashed potato and mashed turnip, which is probably one of my favourite vegetables.
"I left school in fifth year and already knew what I wanted to do – I'd applied to Perth College for the City and Guilds course in professional cookery.
"College was good and I really enjoyed it, however I didn't feel I learned as much there as I eventually did when I started working in a proper kitchen, which was a big eye-opener.
"I got my first job as a kitchen porter when I was 15 at Let's Eat in Perth with Tony Heath. I loved that job and loved being involved and Tony was excellent to me and was almost like a mentor, he showed me a lot of the basics.
"My missus has The Cheese Byre in Perth, where I am helping out at the moment because I'm not currently working, and Tony keeps ordering his cheese to his house so it's good to see him again when we deliver it.
"The food at Let's Eat was eye opening because it was different at the time, it was very modern and I remember thinking 'this is what I want to be involved in'. But then Tony left and the restaurant was taken over by Willie Deans, who changed the name to Deans Restaurant. Willie's got a bit of a reputation in the hospitality sector but he was alright with me as I was quite good friends with his son.
"It was after working there that I went to college, though I was still helping at the weekends.
"I did quite well at college – we were finalists in the college restaurant of the year awards for Scotland and Northern Ireland when I was there, which was a great achievement, especially at Perth College as we were quite basic in terms of the stuff we had there, though the food we were doing was really good.
"I was in charge of the team for the competition and I remember we did a starter and a lamb dish. Then we got through and ended up winning the Scotland and Northern Ireland heat and got to travel down to London for the final. In the end Cambridge won the whole thing but it was a great experience."
Early 20s – foraged foods
Having excelled in his college cooking course, Rory then went out into the restaurant world, first starting out at Perth's Huntingtower Hotel.
"After college I went to work at the Huntingtower hotel. It had two AA rosettes at the time and had a good reputation and was one of the busiest places in Perth for weddings at the time. I went in on the first day and thought 'this is a great kitchen and a great time' but sadly it all went downhill from there as the head chef and I just didn't get on.
"I left and it had knocked my confidence and I was considering not doing cheffing anymore. Then I got a phone call from one of the other hotels in Perth, New County Hotel, asking if I would be their commis in their restaurant Opus One, which I accepted as I wanted to get back into it.
"Their head chef Ryan Young sadly died a few years later, but he really taught me about flavour. He cooked everything in garlic and herbs – no matter what it was. But everything about Ryan's food was really tasty and it really stood out and I really think we were doing the best food in Perth at the time. We had two AA rosettes and were pushing for a third.
"After we lost Ryan we brought in another chef called Romy who was French. He taught me a lot and gave me the opportunity to be his sous chef. It was great to be given the chance to be his second in command at such a young age as I was only about 21 at this point.
"Romy was very good at his presentation and making everything look beautiful. Some of the dishes we made you wouldn't even want to eat them because they looked so beautiful.
"One of the dishes Romy did that really stood out, and was one of the first ones he put on the menu, was braised rabbit. He stood it up like a tower and would put a Pommes Anna potato crisp around it and it was served with this amazing saffron broth, with lots of different veggies in it. '
"I would say foraged foods represent this part of my life. Ryan used to come in with loads of chanterelle mushrooms, which I would have to prep. He used to go up to the big forest near Bankfoot to forage them. I've been since but haven't been able to find any.
"Then when Romy came in he had more of a Michelin background as he'd worked in some prestigious restaurants in France. He was into foraging too and invited me out with him once.
"The first one I was introduced to was wild garlic, which I am now obsessed with. I use it for so many things, such as butter and soups. From then I have built up my knowledge of it and started buying books about foraging.
"Then when I was 22 Romy took me aside one day and told me he was leaving and I was going to be the new head chef. I accepted it and said I would see how I get on. But I was passionate, young, was a quick learner and I think I did really well at it – I managed to keep the two AA rosettes.
"I also won young rising star of the year at the Scottish Hotel Awards in the same year I became the head chef.
"After that I was there for a further two years and then after that, at about 24, I went to work at Bridgeview Station in Dundee and have been there ever since."
Late 20s and now – Scottish produce
Having been the head chef at Dundee's Bridgeview Station restaurant for the past six years, Rory has become a huge fan of local Scottish produce and tries to use it on the menu as often as possible.
"I used to go to the Bridgeview for food a lot and I became friends with the owner. The food was really simple, tasty and cheap.
"I was thrown in right at the deep end as I started during graduation week and had to do nearly 1,000 covers, which is a big ask. Previously I'd been doing about 40 covers in the restaurant and 20 at the bar, so 1,000 in one week was a lot.
"The owners have given me free reign so I can do a lot of my own stuff in the restaurant. I am big a fan of using Scottish produce so I brought in a couple of new suppliers on board.
"Everything we do at the restaurant is local as much as possible, or Scottish. Scottish produce for me is second to none. I think we've probably got one of the best larder's in the world, especially beef and shellfish."
---
Rory's hake fillet, venison chorizo, crushed potatoes and fennel, lobster sauce
(Serves 4) 
Ingredients
50ml rapeseed oil
4 x hake fillets, skin on
1 x fennel bulb (keep the fronds for garnish)
200g baby potatoes
2 tsp grain mustard
2 sticks of venison chorizo
400ml lobster sauce (recipe below)
For the lobster sauce: 
1 tbsp rapeseed oil
Lobster shells from one whole lobster
250g passatta
2 tomatoes
1 onion
1 celery stick
1 carrot
150ml white wine
300ml water
2 star anise
2 lime leaves
100g creme fraiche
Method
First, make the lobster sauce. Roughly chop the onion, carrot, tomatoes and celery and bash the lobster shells up. Add all to the pan and sweat off with some oil.
Add the star anise and the lime leaves. Cook for four to five minutes.
Next, add the white wine, water and the passatta. Bring to the boil then simmer for around 20-30 minutes.
Once done, add the mix to a high-powered blender or bash with a rolling pin. Blitz or bash and then pass the mixture through a fine sieve into a clean pot so as to catch all the bits of shell.
Bring the passed sauce to the boil and then add the crème fraîche and reduce it until the sauce coats the back of a spoon. Season to taste.
For the main dish, boil the baby potatoes in salted water until just tender and then leave to cool.
Thinly slice the fennel on a mandolin then sweat it off in a pan with 15ml of oil until lightly coloured, then take the potatoes and chop them up roughly. Add them to the fennel with the grain mustard and heat up. Season with salt and pepper.
Heat up the lobster sauce until it's just warm.
Chop up the venison chorizo to nice-sized pieces and leave aside.
Take a frying pan and simply heat up the rest of your oil, season the hake then pan fry it skin side down until nicely coloured. Then flip it over and cook for a further five minutes until just cooked. Add the chorizo and heat it through.
Turn off the heat and the fish will continue to cook and rest until it's time to plate.
To plate, place the crushed potato and fennel mix on to the middle of the plate. Place the chorizo around the potato mix then pour the lobster sauce until it nearly covers the chorizo.
Place the hake on top and garnish with the leftover fennel fronds.
---
More in this series…
My Memories in Meals: How fish and chips after swimming inspired a cafe dream
My Memories in Meals: Fuelled by salty porridge, chef was chosen by Nigel Slater for greater things