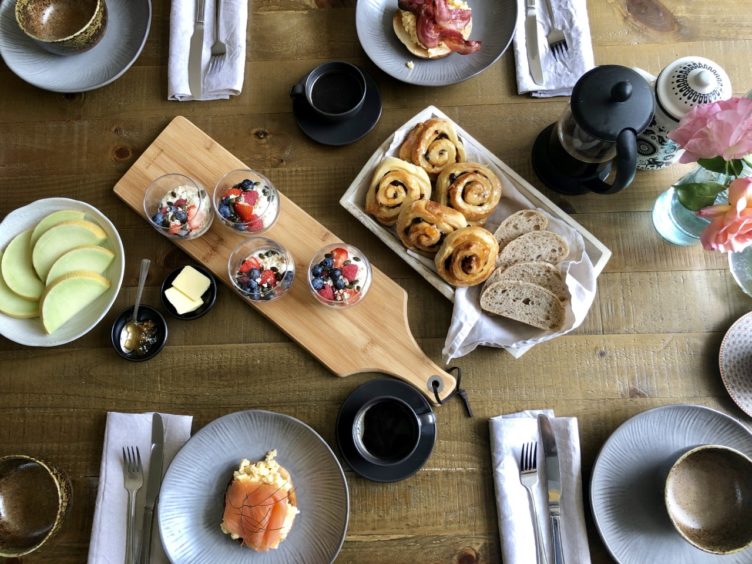 Food writer Catherine Devaney looks back at the history of brunch, what it means to her and a recipe to help make the most of late mornings
If I was to hazard a guess as to the origins of brunch I would have said it probably shook up the breakfast scene around the same time the "Rachel haircut" was on trend, when no one questioned how six 20-somethings with low-paid jobs could afford to drink lattes all day and live in New York's Soho.
This was the late 90s, when mobile phones were bricks, the internet was accessed from cafes and every group of friends worked out who was Monica and who was Phoebe.
We all wanted to be Rachel and no one understood what she saw in Ross. The same era that Sex and the City introduced us to takeaway cappuccinos, mimosas and Louboutins. However, it turns out I would be wrong.
A little diligent googling reveals that brunch was around as early as the late 19th Century.Wikipedia dutifully informs me that according to an article in Hunter's Weekly in 1895, by Guy Beringer, brunch was by then already known as a meal for "Saturday night carousers".
Canada
Personally, I didn't know what brunch was until the early noughties when, living briefly in Canada, I discovered the maple syrup drenched feast that was Sunday morning in a little café called Place Milton. Booking was non-existent, but it was worth braving the queue for their hangover-quenching orange juice as fresh as it comes.
Eggs came every which way and were always accompanied by the most moreish, salty, fried potatoes and the most desperate of days could be righted with a chocolate milkshake to finish.
At that stage I absolutely qualified as a "Saturday night carouser", for whom the timing of the calorie-laden injection of refined carbohydrate, sugar, caffeine and just enough fruit to ease the conscience was the very best start to a Sunday.
Now that our carousing is limited largely to a bag of Dairy Milk buttons on the sofa and Netflix we don't venture out much for brunch, but I hear the latest trend is for the 'bottomless brunch', where it's possible to book in for unlimited cocktails or prosecco with your pancakes.  A bit like an 'all you can eat' buffet, with bellinis.
Had such a thing existed in my carousing days I'm not sure I would have lived to tell the tale.
Brunch
Bottomless or not, brunch became firmly established as one of my favourite meals. No more feeling like you've missed breakfast or are too early for lunch; and now that we're older than the Friends crew will ever be (pause to weep), the timing is actually ideal for little ones too.
Whereas Sunday lunch can sometimes feel like a bit of an ordeal, hoovering up that precious afternoon, brunch is perfectly timed to coincide with the early lunch predilections of the under-10s whilst nestling nicely in between toddler nap times.
It should be a relaxed affair, one that tolerates comings and goings, with no ceremony needed beyond reaching into the cupboard for another cup.
So what makes the perfect brunch? For me it's the collision between sweet and savoury, with an element of smoke.
Smoked bacon (streaky preferably) crisped to perfection under the grill, doused in maple syrup… at this point I've died and gone to heaven with nothing else required… and on that point, it's definitely worth splurging on the real stuff and not the cheaper "maple-flavoured" imitation.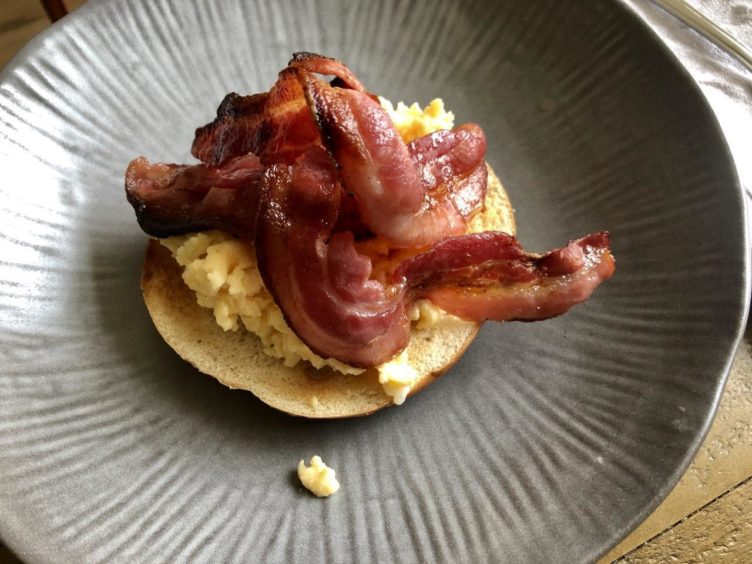 Eggs, of course, are non-negotiable. Poached if you will, but ideally only if you can face making a hollandaise (English muffins also essential at this juncture) although I tend to think they're a tough call for a crowd, since there will be always be at least one or two runny yolk refuseniks; scrambled are easier to whisk up in quantity.
Fried suggests a 'fry-up', which I firmly believe is not what brunch is about (and if you come anywhere near my kitchen with a tin of baked beans I will politely suggest you leave by the nearest available exit).
Other accompaniments to throw on the table include avocado, smashed with a little salt and lime, smoked salmon, lashings of Scottish berries (Perthshire blueberries are available just now) – make the most of them while they're still around – and some creamy stand-a-spoon-in-it Greek yogurt.
You can always impress by making up some individual jars of yogurt, berries, oats, a scattering of pumpkin seeds and a drizzle of honey.
Whether you opt for pancakes, waffles, bagels or simply some lovely moreish sourdough is down to personal taste… but I humbly suggest you pick one and do it well; it can be a tricky thing juggling all that flipping, toasting and waffling.
But let us not forget the baked goods. Croissants, pain aux raisins, cinnamon buns, pains au chocolat… piled high in the middle of the table, beckoning with come-hither eyes. If you want a brunch bake to impress, try your hand at cinnamon buns.
Recipe
This recipe, adapted from a Paul Hollywood version, is a simple version of bun dough, which can be made the night before and slowly proved overnight, leaving you set to bake in the morning.
Gently warm 300ml whole milk and 40g unsalted butter in a saucepan until the butter has melted. Meanwhile put 500g strong white flour, 7g instant yeast and 7g salt into a bowl, on opposite sides.
If possible use a stand mixer with the dough hook attachment – it does make life easier – although you can work the dough by hand. Mix on the lowest setting while slowly adding the milk mixture with one egg.
The dough should be wet and sticky once all the liquid has absorbed. Continue to mix on the lowest speed for about five minutes and until the dough is stretchy, soft and slightly glossy. Put it into an oiled bowl, cover with oiled cling film and place in the fridge overnight.
By morning it will have at least doubled in size. Take it out and knock back the dough by kneading gently, then let it rest for ten minutes.
On a floured surface, roll it out into a rectangle about 1cm thick. Brush all over, liberally, with melted butter then sprinkle, liberally, with soft light brown sugar and cinnamon. Finish by sprinkling with sultanas and raisins, then roll up the dough (starting with the long edge) as tightly as you can.
Once you have a sausage shape, nick off the ends, then cut the dough into equal pieces about one inch thick. Place the round spirals, cut-side up, in a deep oven tray lined with baking parchment, leaving about two centimetres between each one. Cover with oiled cling film and leave in a warm place to prove for about 45 minutes.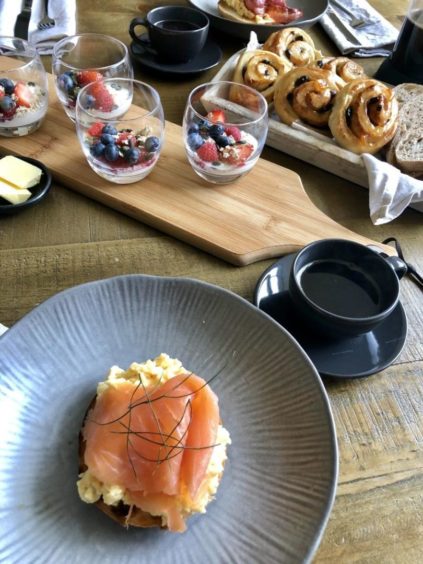 They should be touching each other by now, so that when you pull apart the baked buns you have the perfect 'baker's kiss'. Bake in a preheated oven at 190C for 25-30 minutes until golden brown, then brush with marmalade glaze (heated in a pan with some sugar and a dash of water) and cool on a wire rack; finally drizzle with water icing as they cool.
Lingering over fresh coffee and sweet, moreish buns…a slight citrus tang reminding you it's still morning as the clock ticks past midday and slips into afternoon… the kitchen filled with the smell of warm cinnamon… If Instagram made Sunday mornings then this is it.
Bottomless buns? Forget the mimosas, I'll be there for you.
---
Read more in this series…
Kitchen Life: Forget meditation – a warm scone is the secret to inner peace
Kitchen Life: Make-ahead meals to take the edge off the kids going back to school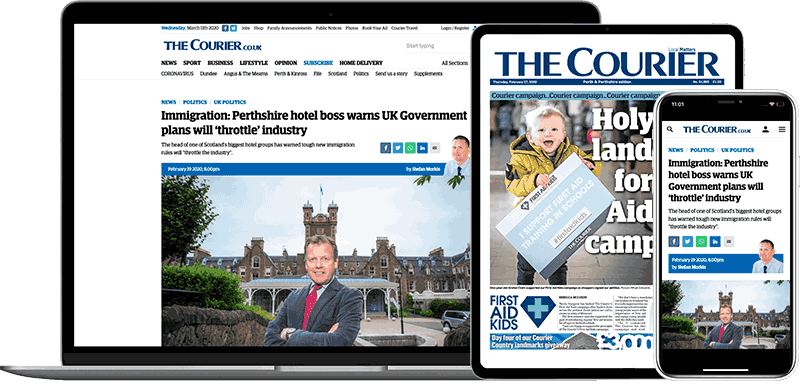 Help support quality local journalism … become a digital subscriber to The Courier
For as little as £5.99 a month you can access all of our content, including Premium articles.
Subscribe