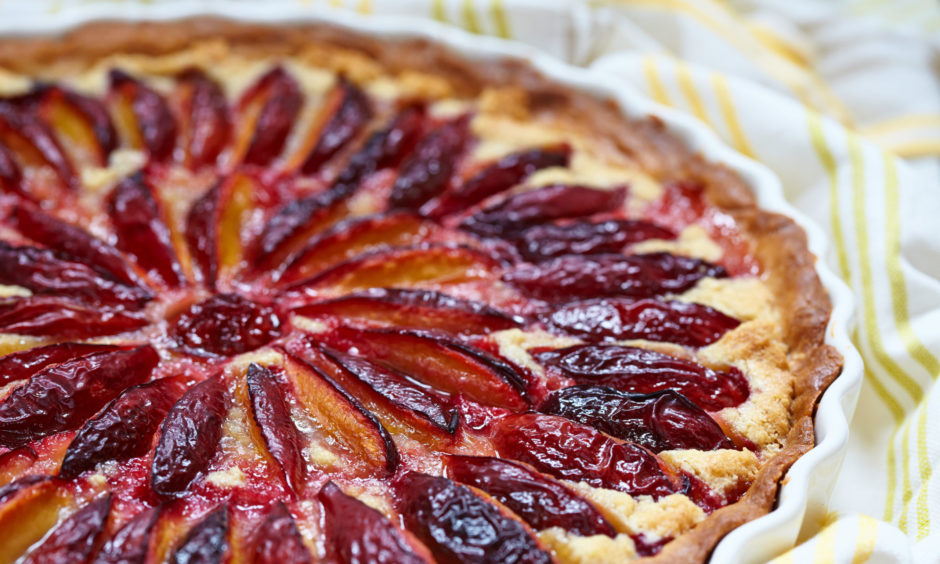 Catherine Devaney, of Harper and Lime Event Catering and Private Dining, makes the most of a glut of autumn fruit by making some family-friendly desserts
Every year, when summer starts to fall away into autumn I have the same unmistakable sense of uneasiness, there's a certain agitation and inability to focus on any one task for long.
Summer hasn't quite packed its bags just yet, there are still a few Scottish strawberries lingering in the shops and I'm still tripping over sunhats and packing picnic blankets.
Yet autumn is rushing it out the door with the morning chill in the air, the hay bales neatly stacked in the fields and a swift darkening of the long light evenings we've grown so accustomed to.
In the kitchen, it's time to leave behind the lightness of summer and re-discover the dusky, sultry warmth of autumn's larder.
Like the squirrels, scurrying around to stock up their winter stores, it's a time to haul out the old jars from the back of the cupboard and fill up the shelves with jams, jellies and chutneys.
Any hassle factor just now will pay dividends when you produce brandy bottled plums on Christmas Day or your own plum chutney to devour with blue cheese on Christmas night.
You'll find those lucky enough to have their own fruit trees are currently groaning under the weight of a bumper crop, so it's worth making a few fruit tree friends who will happily offload some of the bounty.
A sure sign of autumn is when posts begin to appear on local social media groups offering plums and apples by the bucket-load, free to a good home.
There's such a glut, it does make me wonder how more might be done to somehow get this free food to people who are unlikely to have access to a garden, let alone a fruit tree.
Maybe some entrepreneurial soul should develop a Tinder-style app where users can swipe their way to their nearest fruit tree friend or, more seriously, perhaps we need some kind of free food hub for home grown produce.
Crumble
I've taken to keeping a large batch of crumble topping made up, ready to top an impromptu crumble.
I've also discovered that the kids will disappear for at least half an hour if I send them to find brambles to add to the crumble, and then be struck by childish delight to eat the fruits of their labour – so it's win-win really.
What struck me this week though, is how food can mean so much more than the odd quick crumble when you have a real connection to the place and the people who grow it.
Beyond the sharing of food, there's a sharing of skills, time and a spirit of kindness. My quest for plums took me to my friend Jane's garden, where she was up to her ears in jars of jams and chutneys – all made from her mother's recipes, as a volunteer for the Dunshelt community shop.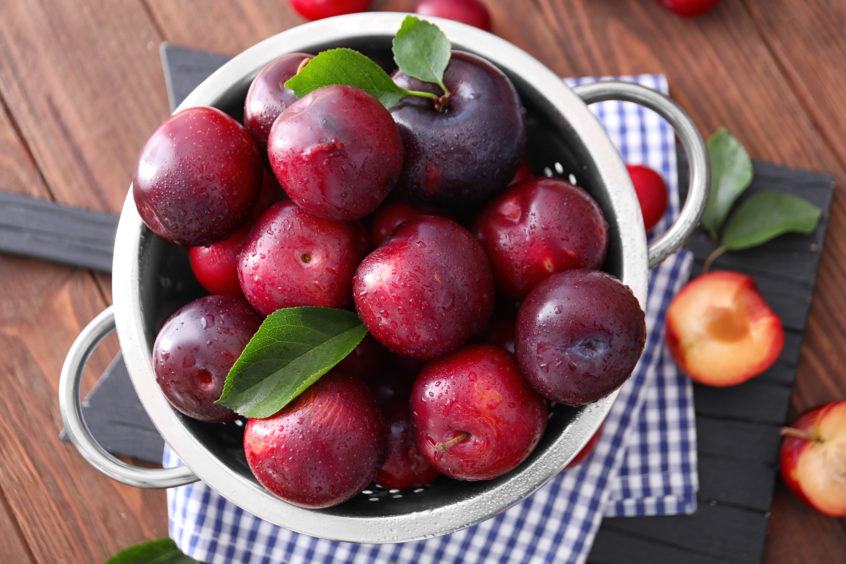 From a large basin at her back door she filled a bag with gorgeously ripe, blushing Victoria plums and generously sent me on my way with a jar of homemade plum jam, blackberry jelly, a lesson in how to use a jelly bag and a recipe for plum, ginger and chilli chutney.
Meanwhile, in Pitlessie, a school gate exchange led to another bag of picture perfect russet plums, these ones so ripe they could be eaten whole… an entire summer of warmth wrapped up in their sweetness.
Now I'm a bit of an instant gratification sort of girl. While I admire those with the patience to bottle and jam, I was really hankering after a rich autumn treat; something worthy of these beauties, and instantly consumable – look no further than frangipane.  It's as if it was made for autumn fruit: the buttery, rich almond is the perfect foil to the mellow sweetness of plums, pears or brambles.
Recipe for frangipane
To make a plum frangipane tart, start by making a batch of sweet pastry (you can do this the night before if you like).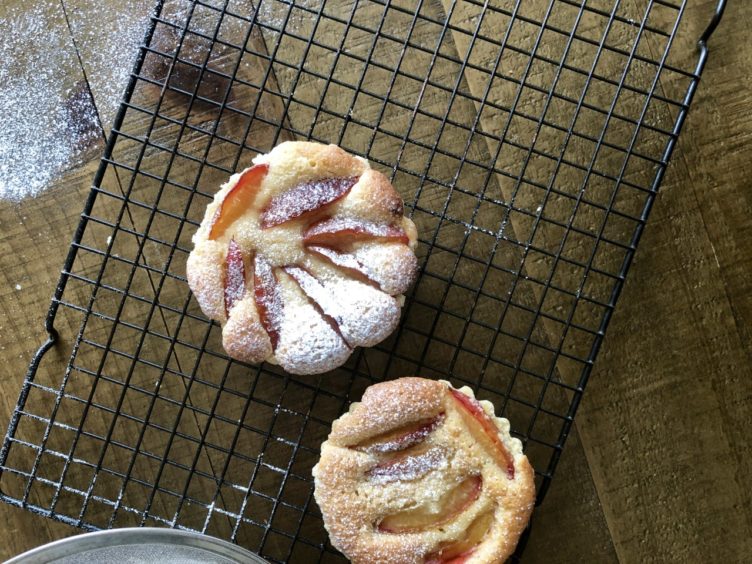 Cream 125g softened butter and 50g sugar, then gradually add one beaten egg, mixing well after each addition. Continue to mix, while gradually adding 200g of plain flour.
Spoon the mixture onto a layer of cling film and wrap in an oblong shape (the mixture should be very soft) and chill in the fridge. When the pastry is firm, roll it out on a well floured surface until 2-3mm thick and line a 20cm tart ring, letting the pastry overhang the edges.
Prick the base of the tart all over with a fork and place in the fridge to rest while you make the frangipane.
To make the frangipane (almond cream), cream 100g softened butter and 100g caster sugar until light and airy. Gradually beat in two eggs and mix well.
Gently mix in 100g ground almonds and 10g plain flour. Now retrieve the pastry shell from the fridge and spread a thin layer of plum jam over the bottom (for this I thank you, Jane!).
Then pipe or spread a layer of frangipane on top, filling the tart shell about half full.  Now stone and slice the plums and layer them on top of the frangipane, pressing them down slightly.
Bake at 200C for 35-40 minutes or until the pastry and the filling are golden.  Trim away the excess pastry with a sharp knife, then dust the tart with icing sugar.
A quick and oh-so-moreish accompaniment is ginger cream.
Whip double cream and add some diced stem ginger and a tablespoon of icing sugar.  As you whip, pour in a little of the ginger syrup from the jar.
A final tip from Jane, as she sent me on my way, was to make brandy plums.  A simple concoction of sugar, water, brandy and some orange peel – boiled – then used as poaching liquor for the plums.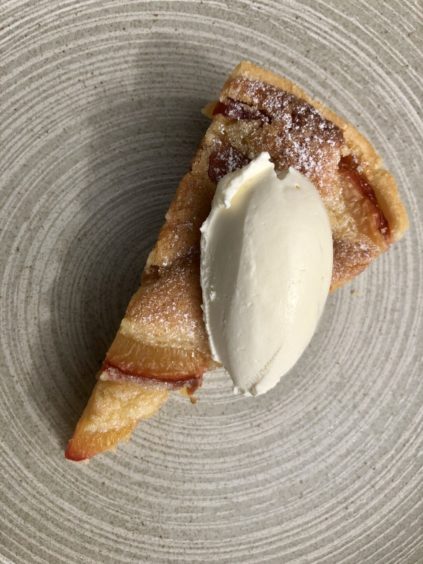 However, a little ferreting around in the drinks cupboard confirmed that brandy was in short supply…although I did have a rather large bottle of Amaretto. And so it turns out that amaretto plums are rather divine!
Bring 300g sugar and 600ml water to the boil and liberally add a couple of large glugs of Amaretto… be generous, this is not the time for restraint. Turn the heat down and add as many plums as the liquid will cover (halved and stoned).
Poach gently for five minutes or until they are tender but still keep their skins on (if they're very ripe they won't need long).
Remove from the liquid with a slotted spoon then bring the liquid back to the boil and reduce by half until it has thickened to a syrup consistency. Pour this gorgeously pink syrup over the plums.
Serve warm if you like, but I prefer them chilled, with lashings of ginger cream, or eaten as a decadent breakfast with thick porridge and Greek yogurt.
I'm told these can be bottled for Christmas, but I suspect they won't last quite that long in this house.
---
Read more in this series…
Kitchen Life: Forget meditation – a warm scone is the secret to inner peace
Kitchen Life: Make-ahead meals to take the edge off the kids going back to school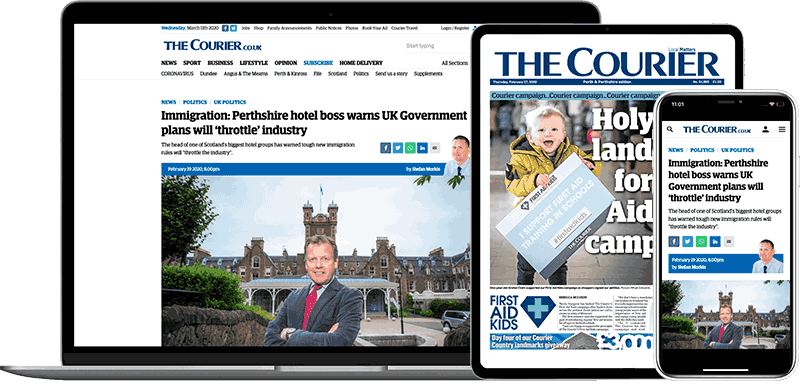 Help support quality local journalism … become a digital subscriber to The Courier
For as little as £5.99 a month you can access all of our content, including Premium articles.
Subscribe