The launch of a new cauliflower crisp is the latest in a line of healthier snacks produced in Cupar using misshapen veg. Clare Johnston discovered how demand for nutritious and eco-friendly food options is helping Scotland's farmers build a sustainable future.
With their lumps and bumps, "wonky" veg have long been consigned to the scrap heap.
Just seven years ago, as much as 40% of fruit and vegetable waste was attributed to their ugly appearance.
But a shift from farmers, and more recently retailers, to turning this around, along with changing consumer attitudes, is helping to reduce wastage and make farming greener and more sustainable.
Waitrose recently announced it has relaxed its size and shape guidelines for the carrots, parsnips and asparagus it buys from UK farmers, while Morrisons has reported that consumers were buying more misshapen food, and Sainsbury's and Tesco are including wonky veg in their recipe boxes, smoothies and soups.
The last two years has also seen the rise of the healthier vegetable-based snack, offering shoppers fast foods that are higher in protein and fibre and more nutritious than the average crisp or bar.
The latest to hit the market is a cauliflower crisp from Scottish brand, Nudie Snacks, produced in partnership with Cupar-based Growers Garden which was formed by the East of Scotland Growers collective of 16 farms.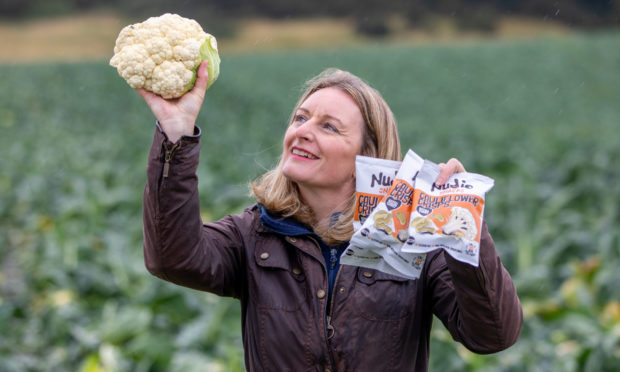 Nudie Snacks founder, Tracey Hogarth (picured), recently took the decision to launch the cauliflower crisps after putting the project on hold during the pandemic. With a range of other health snacks already on the market, including toasted coconut chips, and roasted pulses, Tracey wanted to both seize on the nutritional value of cauliflowers and create a product that was helping decrease crop waste.
She explained: "I'm going back to 2017, and the free-from market was really taking off but there wasn't a huge choice in snacking and the snacks available seemed boring and tasteless.
"We knew fibre and gut health was going to be a big thing so we looked at pulses. They keep you fuller for longer, they're sustainable, high in fibre and plant protein. So we did a range of roasted pulses – peas, lentils, broadbeans and chickpeas – with brilliant flavours that are all vegan.
"We launched those and at the same time we did a range of protein energy balls. Most were either doing protein bars or a really big ball and we believed more females were getting into the market. So we developed a bite-size protein energy ball, and it turned out to be good for a lot of things because they're really nice for snacking and packed lunches, popping them in your bag for when you're out and about, or after the gym.
"We went down the route of having an indulgent cake-inspired flavouring; carrot cake, salted caramel brownie and chocolate orange and peanut butter. So again it's a bit different from what was on the market but, more importantly, they taste good.
"Then cauliflowers became quite big; there were cauliflower steaks and rice and we were looking at developing a cauliflower puff and we were almost there but the supply chain was complicated.
"I met a supplier in Cupar, Growers Garden, and I said I wanted to do a cauliflower crisp and they agreed to work with us."
In 2018, Growers Garden built its own production facility in Cupar – where it can create vegetable mix "pellets" which can then be fried, air-popped or roasted – as part of its mission to maximise the use of every vegetable harvested on their farms.
Commercial manager Alan Wallace explained: "We farm in the Borders, Fife, Perthshire and Angus as far north as Arbroath and Montrose, across to Perthshire up by Meigle and Blairgowrie and right down to Kelso so we cover around 180 linear miles up the east coast of Scotland and we grow on a very large scale.
"We grow broccoli, cauliflower, kale, cabbages and onions and organic as well, and we supply to retail primarily but also food service and food processors.
"For the past 20 years we've been looking at ways to utilise our wonky veg. We've been producing broccoli and cauliflower florets for example and we supply them into retail directly or indirectly, and into food processors and as frozen, so with broccoli florets there's a 50% chance that's come from us.
"If you think back 20 years ago that was really something, that was diversification. Now we're thinking, 'what else we can do?', so we're looking at how we use our waste product to create electricity or gas so we've invested in that as a group.
"We looked to other things like vegetable bars and and vegetable-based pastas and that's how we came across a process called extrusion where we take a number of ingredients and mix them together to press out and produce a pellet.
"We couldn't find anyone who was prepared to take our fresh broccoli, our wet ingredient, and mix it in a nice clean dry factory so we had to build our own in Cupar. It was completed at the end of last year and it has more capacity than we need for our product so we're now talking to others, including Nudie.
"Some of those products don't contain vegetables but some do. If they contain veg that comes from our growers then we use our wonky veg to try and add value back into that crop and make sure our farming is sustainable."
In using the wonky veg to create her snack, Tracey sought to make sure that every part of the cauliflower was used to minimise waste and costs, and increase nutritional values.
The crisps are made from 40% fresh cauliflower and come in two different flavours – cheese and caramelised onion and katsu curry, are low in sugar and roughly 40% lower in saturated fat than standard potato crisps.
Tracey said: "We wanted to use pretty much every part of the cauliflower we can so nothing gets wasted at all. That's exactly what we've done.
"From a health perspective they're plant-based, 118 calories per 22g pack, it's not far off the 100 calorie number most want to be around for a snack, low in salt and saturated fat and are made with real cauliflower.
"Most of our range is pretty healthy, the more indulgent is coconut chips because they've got a bit of sugar in them, but our corn our pulses, protein balls, they're all low in saturated flat, they're reasonable in fibre so these are pretty good for kids rather than traditional potato crisps and confectionery."
The snacks market in the UK is huge, with savoury snacks alone valued at £3.2bn. The health snacks sector is helping to fuel growth, but although in its infancy it appears the pandemic is accelerating demand.
A survey of 2,000 adults found one in five are looking for healthier snacking options, with a similar proportion saying they had been eating more plant-based products since the start of lockdown in March.
The move was driven by both health and environmental concerns, something that bodes very well for producers of vegetable-based snacks that help decrease crop waste.
But where Covid has opened up opportunity, it has equally created challenge. For Nudie Snacks it disrupted the plan to take the cauliflower crisps to market in March, with Tracey holding off amid the uncertainty.
She said: "We were all ready to go and launch in March and then lockdown happened, so we've pretty much stood still since then. All the pellets were made and sitting there so I made the decision – whether it's brave or stupid only time will tell – that I really needed to get these out to market. Under normal circumstances we would have pre-sold them or got listings [with retailers] but we haven't because everyone was focussed on Covid, lockdown and the essentials, so I've taken quite a big risk.
"At the moment you can purchase from our own website, and I would like to think that we are going to be successful and get some listings in the supermarkets and health shops but we're not there yet.
"Covid has been challenging for us and we have to do what we need to do for the business to survive and keep my staff in their jobs."
It's a similar story for Alan and the team at Growers Garden.
He explained: "We launched our broccoli crisps in December 2018 and we had a very good start, quickly getting up to 500 outlets for selling our products including Harvey Nichols and Selfridges. We secured a listing with Boots, things were on the up until coronavirus hit.
"Because our main outlet for sales was food service and farm shops and garden centres our sales took a 90% hit overnight  so that was a real kick. Now our sales are up to 30% of where they were and we're forecasting they'll be up to 50% by Christmas unless there's another spike.
"For this project to be successful it's not about us taking over the world with Growers Garden crisps, it's about working with companies like Nudie, and others who might want a broccoli or carrot or kale crisp – or lentil, we can also make things like that. The success on that side of the business allows us to invest more in our own product, whether it's marketing or reducing the price point, and making it more accessible to everyone . That really opens up the opportunity so we're spinning a lot of plates right now."
Read more on local food innovation..
Food Innovators: The Fife family on a mission to revive craft malting in Scotland