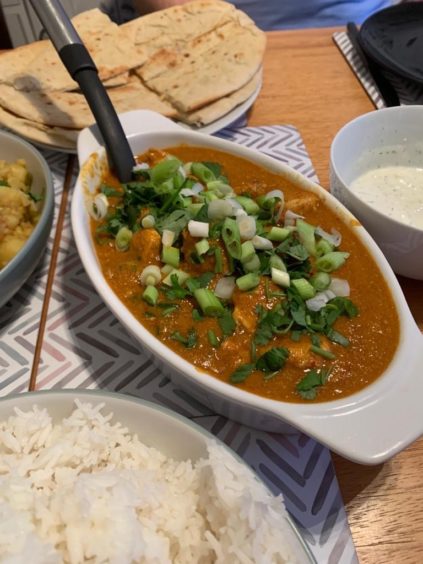 James Taylor and Ella Rae took our Chillies Garlic Butter Chicken Friday Fakeaway recipe as the inspiration for an Indian banquet. And judging by the pictures, it looks like a feast to be proud of.
For the last few months we have been bringing you our regular Friday Fakeaway feature in the hope of inspiring readers to make their own takeaway-style dishes at home.
And James Taylor along with his fiancée Ella Rae did just that, with Ella taking our recent recipe for Chillies Garlic Butter Chicken and using it as a centrepiece for an Indian feast.
James, from Carnoustie, explained: "As soon as I saw the recipe on The Courier's food and drink section I messaged Ella and said, 'We should make this'. She immediately came back saying it sounded delicious.
"We invited Ella's parents round and she created a lovely Indian meal with the garlic butter chicken as the main dish.
"It was absolutely delicious and tasted just like something you would order from a takeaway. We will certainly be making it again."
The garlic butter chicken curry was served with boiled rice, naan bread, homemade onion chutney and  aloo gobi (cauliflower, spinach and potatoes).
Watch a video of the meal Ella prepared and scroll down for pictures.
Have you been inspired to create something fantastic from any of our recipes? We'd love to hear about it. Email us on foodanddrink@dctmedia.co.uk