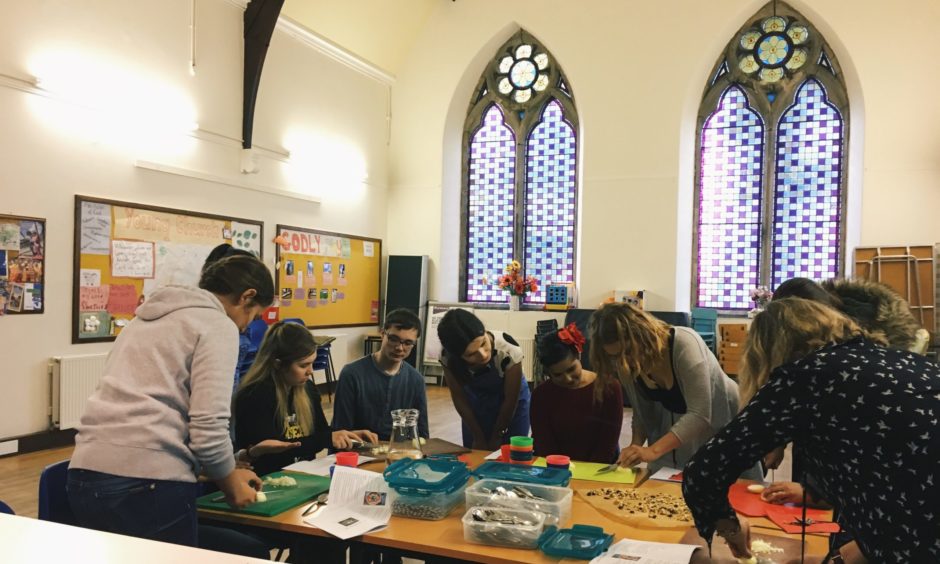 St Andrews Fine Food and Dining Society proves the student diet is not just pasta, beans and omelettes, as Julia Bryce finds out.
While most people's experience of food at university may have looked a lot like pesto pasta, beans on toast and omelettes, others have certainly enjoyed the finer things in life, all thanks to a food-inspired society.
Since 2009, St Andrews University has been home to the award-winning Fine Food and Dining Society which is currently led by its president Joe Logan, a fourth-year chemistry student and proud foodie.
Joe leads the society's members in a range of cook-alongs, classes, and tasting events that would be the envy of any food-lover.
Voted as president in April earlier this year, Joe has been part of the group for four years, starting as a member and then making it to a committee member which he has sat on for the past three years.
Going virtual…
And while the pandemic may have seen numbers plummet from 107 members to around 70 now, Joe and the committee are looking forward to bringing virtual events into the homes of students across the country.
They've also been supporting local producers by advertising them on their social media accounts via a virtual tour.
He said: "We had hoped we'd have been able to do some smaller events, but we're looking at different ways on how we can host events online. We've been looking into cooking classes, but it's not quite the same as getting to be at the restaurant and trying the food. These will be free events as we just want to get people involved. It requires a lot of effort with filming people in their homes, but we're sure we can pull it off in some capacity.
"Our food tour is something we do every year, either during Freshers or the week after, and a couple of committee members will take people around the town. We show people around 10 to 12 places and explain a bit about the different businesses. Sometimes we'll be able to get samples for people to try.
"We couldn't do it in person so we did an online homage to it on our social media pages. We wanted to promote the businesses on Instagram and posted some videos/pictures to highlight why we think they are good and why others who are new might like them, too."
A whole range of experiences
The committee and members usually have a whole host of events lined up for all to enjoy. As well as inviting leading local chefs to partner with them, they also work closely with other university societies, too.
Joe added: "We tend to divide the events into two areas – cooking classes and dining events. The cooking classes are super popular and usually hosted in a church hall. We get in local chefs or producers, and sometimes students from a range of cultures will host the class. We've had the Japanese Society hold a class, the Thai Society and more. The Baking Society has held a Christmas baking class and we've hosted a Sri Lankan cooking class as well. Anyone who is interested and wants to show off what they are cooking can really get involved. Classes with local chefs are rare as the chefs are quite hard to get, but in the past we have done a whisky and chocolate pairing class with Luvian's and a vegan chocolate making class.
"The other side is run by the dining events coordinator. We do things from tasting dinners in restaurants to sampling a new menu of a new restaurant. They are great for meeting people as most people will just go on their own and will be sat at a table with 10 others. Everyone is from different backgrounds, nationalities, ages and study a range of things, so it's a great way to connect with others.
"The direction has changed a little, but it is still the same idea. It's anything food-based. It could be a big brand event, a formal dinner, or a small trendy social event. Originally some of the events were lower budget and still the same idea, but didn't have the same scope or scale that we can now bring in. We have more people, better connections and as a group we can afford to put the events on now that we have a decent following."
Membership
With membership usually priced at £8, due to the coronavirus pandemic the committee has reduced it to £5 and is still giving members the opportunity to enjoy the range of discounts they have managed to secure from local businesses
Joe said: "We work with lots of local businesses to get exclusive discounts for our members. They are usually food-related and we had the cheese shop, the wine shop, a few restaurants and other places involved, too.
"All of our members can get a discount and it is great to get as many people as possible along to these places supporting local businesses. If the firms want any news promoted we'll pop it into our newsletters. It is one of the main attractions of the society as the discount can be great for getting discounts on ingredients you will use every day. There's everything from fresh fish, cheese, wine, and so on."
St Andrews Food Festival
Incorporating St Andrews Food Festival into their series of events, Joe says the last event which took place last year was a huge success, and is looking forward to seeing the committee bring it back next year, Covid-19 restrictions permitted.
With around 15 members on the committee at any one time, each individual has their own responsibilities and tasks to carry out throughout the year.
"The committee can be voted by anyone who is a member of the society. We hold an AGM in April and we're holding our EGM in October virtually. This year we couldn't elect a full committee because of the restrictions. We'd all just gone home and elected a smaller committee. We're hoping to fill the other spaces at the EGM," said Joe.
"It is quite a large committee, and there's around 12-15 people in total on it. Anyone who is part of the society can also run. Last year we had 108 members. We're working our way back to that, but we're sitting at around 70 now. It is a well-known society on campus.
"The food festival is a sub body of ours which has come and gone for the past few years. They merged with us three years ago. In 2018 the festival didn't run – that was its resurgence year. In 2019 the food festival came back and it was very successful. We ran it in Younger Hall and the attendance was over 1,000 people. It was a really good day and we worked with a lot of businesses near and far to showcase what people could get. It had been planned for May this year so we had to cancel it. We're unsure if it will be able to go on next year, so it is a bit up in the air. It will come back when it is safe to do so."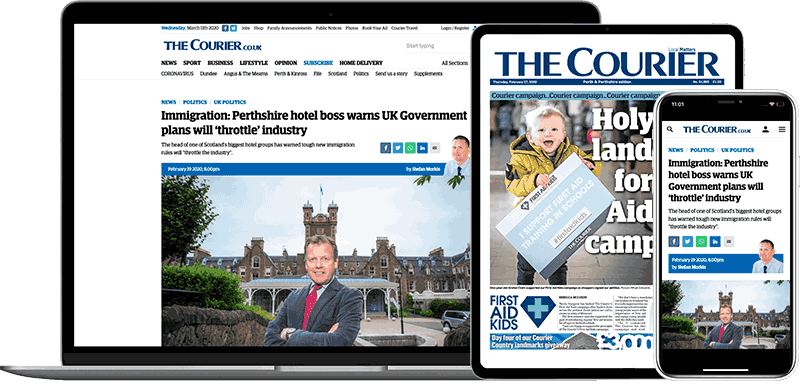 Help support quality local journalism … become a digital subscriber to The Courier
For as little as £5.99 a month you can access all of our content, including Premium articles.
Subscribe