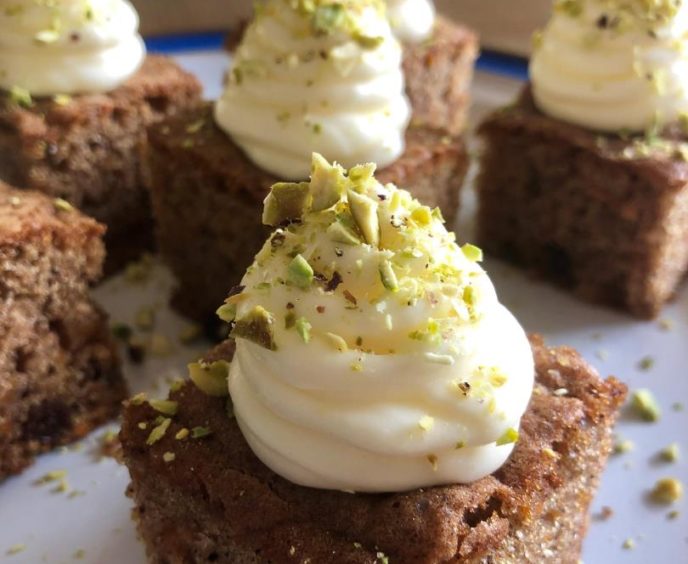 Catherine Devaney is a regular contributor to The Courier's food and drink magazine, The Menu. Here, she embraces autumnal cake-eating
Every season has its cake. Autumn days bring trees of flame, enormous piles of leaves to crunch, new wellies and the child-like joy of returning home on wet, muddy days to a bucket of tea and a slice of carrot cake.
I would happily walk in the rain for this cake! It's now a staple in our autumnal afternoon tea boxes and a regular fixture in my own cake tin, often finding its way into the children's snack boxes. Notes of cinnamon and nutmeg bring a flicker of wintery warmth, with plump sultanas adding sweetness and a shower of crushed pistachio a delightful nutty crunch over the cream cheese icing.
As a traybake, it bakes beautifully evenly, ready to be portioned into perfect moist squares and topped with a swirl of frosting. It's also a lovely cake to bake with young children. They can get involved by grating the carrots and doing a bit of stirring, as well as learning that it is possible to put some healthy things in cakes!
Start by pre-heating the oven to 160C (140C fan).  Then whisk four eggs with 200g vegetable oil, 125g dark brown sugar, 100g caster sugar, the zest of two clementines and juice of one, two teaspoons of ground cinnamon and one teaspoon of mixed spice.
Whisk until thick and pale. Stir in 200g grated carrot and 125g sultanas. Sift 225g self-raising flour and one teaspoon of bicarbonate of soda, then fold into the mixture. Pour into a rectangular tin – greased and lined with baking paper – then bake for 45 minutes until a skewer comes out clean. Cool in the tin for five minutes before transferring to a wire rack to cool.
To make the cream cheese icing, beat 125g softened butter with 180g icing sugar until light, then add 200g cream cheese and beat until deliciously light and well-combined. Spoon or pipe over the carrot cake and scatter with crushed pistachios. Now, leave your wellies at the door and come and indulge.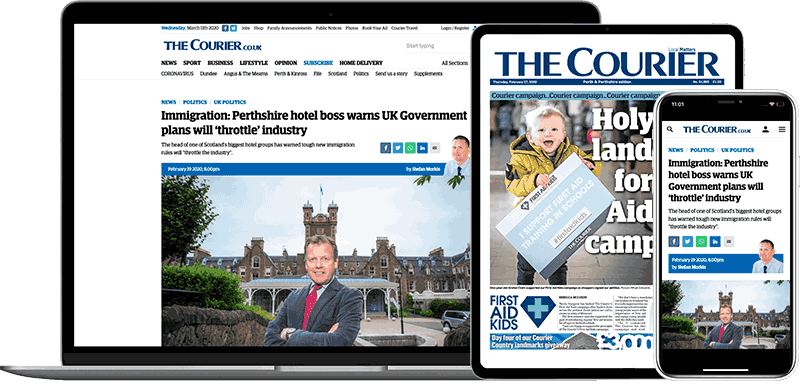 Help support quality local journalism … become a digital subscriber to The Courier
For as little as £5.99 a month you can access all of our content, including Premium articles.
Subscribe