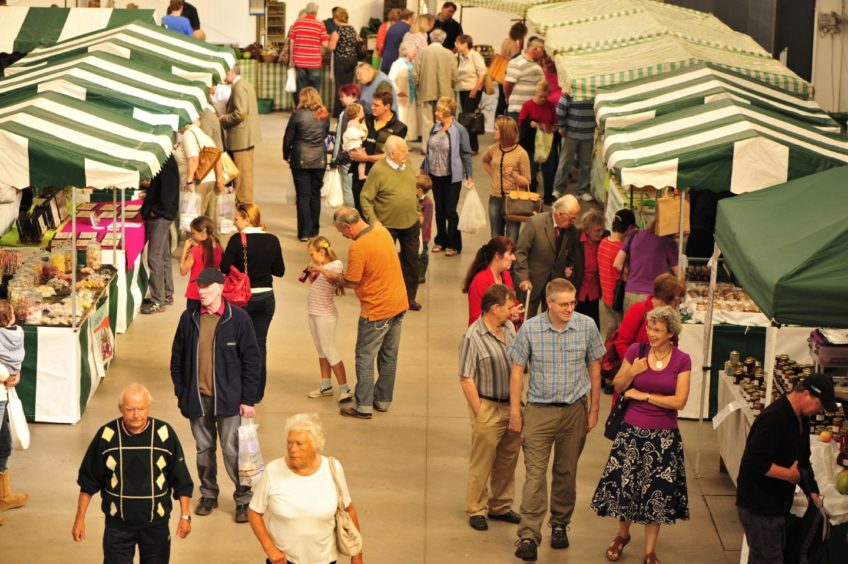 I think nothing gives me more pleasure than walking round a small town, seeing where my nose and intuition take me.
On this day in Forfar we struck it lucky because the car park we chose turned out to be next to the monthly farmers' market, which was happening that day. Result!
At times like these you have to take serendipity where you find it, and if a farmers' market in Forfar is to provide solace, venison burgers and two grouse for a song then who am I to argue?
The world already seemed a better place – the sun was shining and a sense of new discovery was in the air.
Before this trip all I really knew about Forfar was the bridie, David Irons' fantastic hardware shop and that my dear departed friend, the world-class architect Kathryn Findlay, had been born in Finavon.
If there isn't a commemorative plaque for Kathryn in Forfar then there really should be. Approaching the town I could only imagine how the rolling landscape of Angus had informed her ground-breaking work.
Visionary
Kathryn died in 2014 at the age of 60 and her funeral was attended by no less than Zaha Hadid, one of the most revered architects in the world, herself to die two years later.
I sobbed throughout the service at the loss of a friend and of a brilliantly iconoclastic visionary, the daughter of an Angus sheep farmer. Wandering around Forfar I kept thinking how beautiful it was that someone born here would go on to conquer her world – a male-dominated world at that.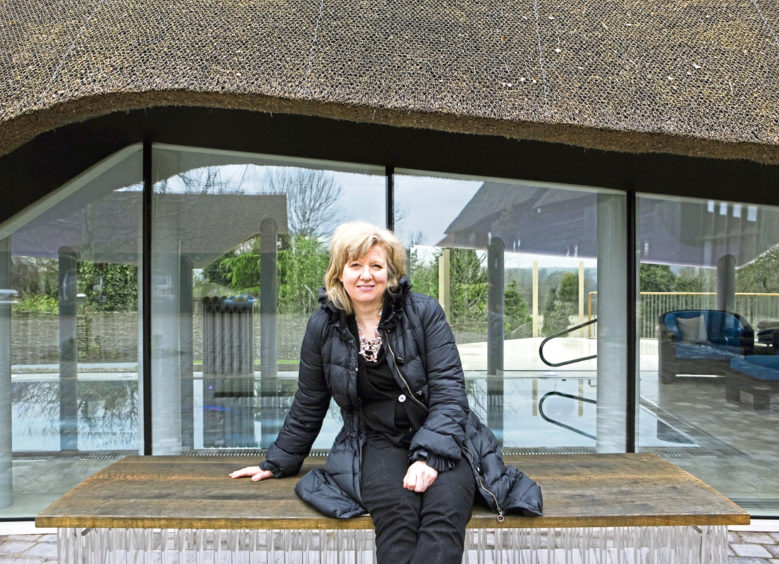 It's a long way from Forfar to Tokyo, where Kathryn moved to in 1979. She was appointed associate professor at the University of Tokyo, the first female academic in their architecture department and the first foreigner to teach there since the Meiji period.
Kathryn went on to design ground-breaking iconic buildings such as the Truss Wall House (1993) and the Soft and Hairy House (1994). Her final project was working with artist Anish Kapoor on the Orbit in London's Olympic Park.
I wish Kathryn were here now to explain how the undulating landscape of her birthplace had influenced her professional work.
Beguiling
Forfar is a strangely beguiling town, with many surprises. I love it because it feels navigable on foot, a lot of the old independent shops have survived and the Meffan Gallery (closed right now due to Covid) is a wonderful space to immerse yourself in art and local culture.
With the Meffan off limits we chose commerce over intellectual stimulation, but even before the joys of buying pie-funnels and Italian casual jumpers we chose lunch at Cashley's.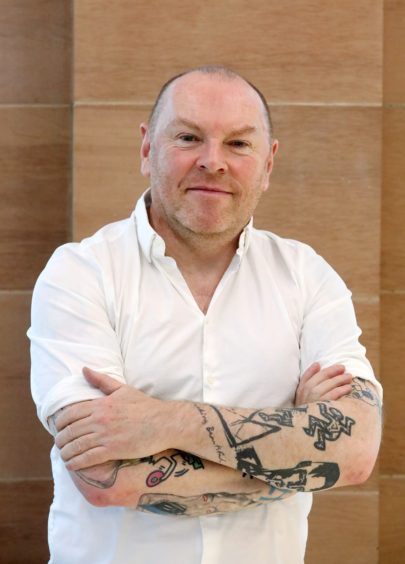 For an easy simple lunch made from well-sourced ingredients and cooked from scratch, Cashley's is just the ticket.
It's a deceptive space in that the cafe section downstairs gives no indication of a bigger area one flight up. The decor is so unobtrusive that it's just a blank canvas for relaxation – whitewashed walls, pine tables and a few pot plants.
It's a room conducive to kicking back; I could imagine breakfast or brunch here being a really nice way to start the day. Sourdough toast with preserves is only £2, while a mouth-watering selection of wraps and buns start at £3.50.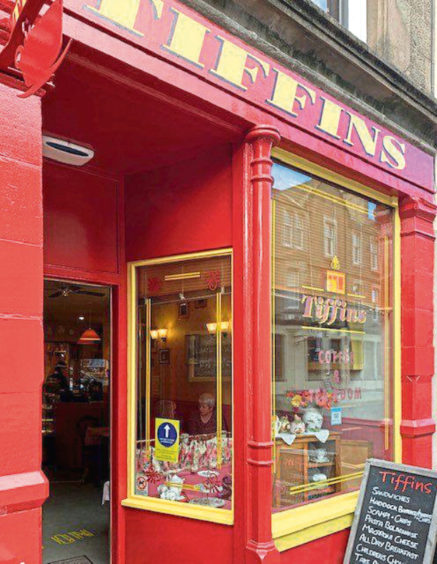 I imagine the chilli egg (£3.50) – a pretzel bun stacked with smoked bacon, topped with a seasoned fried egg and dressed with sriracha hot sauce – would kick any hangover into touch, whilst the shakshuka (£8) would be an equally restorative treat for a less mind-numbing throb of a penance.
Bacon jam
However, unusually for a Saturday, I didn't have even the mildest fug in my brain and so I ordered the burger (£13) which was homemade and delicious.
Enhanced by some bacon jam (invented in my ex-local Spar shop in Walthamstow, London, and now conquering the world) and Cashley's "top secret burger sauce", the burger came with excellent homemade chips and a coleslaw which was notably more interesting than the usual sludge.
David was very happy with Cashley's menu because there was a strong vegetarian/vegan element. He chose the caramelised onion goat's cheese tarte flambée (£6.50) which was such a generous portion it could have fed two.
This delight from Alsace didn't disappoint – a lovely crispy, slightly charred base enveloping the most heavenly juxtaposition of sweet and sharp flavours from the onions and the cheese.
Delight
Rick Stein has a good recipe for the original tarte flambée (for carnivores) in his book Rick Stein's Secret France. Cashley's was a real delight.
Next time I will definitely go for the evening menu which is currently served from Thursday – Saturday and is £25 for two courses and £29 for three.
The steak, sourced by local butcher Alan Rennie, sounds especially delicious as does the dark chocolate and Parma violet delice.
Steak, chocolate and red wine are pretty much what's advocated for me in Peter D'Adamo's blood group diet which I followed for quite some time and which actually worked.
A post-lunch wander around Forfar provided many delights including my new favourite shop in the world, David Irons & Sons.
Blackbird
There is something in this shop that is going to change your life – you just don't know it yet. This wonderful emporium is the kind of place where you can buy all the ironmongery and hardware you might need, and so much else.
I left with the following: drain cleaner, two egg cups cast as chickens, a wooden lemon squeezer, some grate cleaner, an enamel rice dish, a salad spinner, two face masks that look like Andy Warhol designed them and a pie funnel in the shape of a blackbird.
Other treasure troves in Forfar include Doig's furniture shop, the old 1960s post office, Jas McLaren & Son for bridies, Granny Betty's Larder for provisions and the remarkable Jarvis Brothers for clothes and home ware.
Jarvis Brothers is just amazing; here you can find tradition mixed with cool, often in the same item. What interested me most was a well-edited selection of Barbour jackets and a sale rail of Gabicci jumpers which have been perennially fashionable since 1973 and the days of Northern Soul.
All of this is served up in an old school atmosphere of such delight that going back into the outside world somehow seems like an admission of defeat.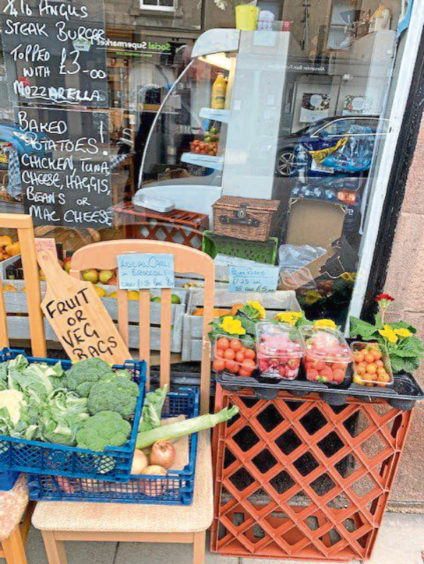 Our last shop before afternoon tea was the tiny but ace Forfar Antiques and Collectables where I bought a Madonna 12" single, an Orchestral Manoeuvres in the Dark album designed by Peter Saville and Ben Kelly, and a wonderful piece of barge-ware which will brighten up winter on the barge that is my balcony overlooking the Tay.
After that frenzy of consumerism we needed tea and a cake at Tiffins. Here is a classic tearoom serving macaroni cheese, scampi and chips, scones and baked goods in an environment that feels nicely nostalgic.
A great way to end a jaunt around a very pleasant town.
Grouse
It's worth pointing out that the Forfar Farmers' Market has many stalls that I haven't seen in other markets, and thus is worth travelling to. For instance I have been trying to buy grouse locally to me in Fife since the start of the season, and this year no one had it.
This is partly due to my local butcher dumbing down the breadth of what they stock to the degree that asking for a free-range chicken is now greeted with a raised eyebrow – but I'm sure Covid has played its part also.
At Forfar, I bought two grouse and a wild duck from the Game Larder, for a total of £13. Both reclaimed the phrase "oven ready" from the mouths of the wickedly mendacious Johnson, Gove et al.
The first grouse was simply roasted with butter and juniper, protected from burning by streaky bacon, and served with bread sauce (I use Nigella's recipe, from How To Eat).
Next day for lunch the second was fried and devoured on good sourdough bread, anointed with redcurrant jelly and the juices from the pan deglazed with some blackcurrant and thyme vinegar from The Little Herb Farm. Along with the duck, that made four delicious meals for around £15 all in.
There are lots of great books with good game recipes but for one-stop shop ease I tend to veer between Tom Kitchin's Meat and Game and The Game Cookbook by Clarissa Dickson-Wright and Johnny Scott.
However, no book is needed for the delicious (and low fat) venison burgers with juniper and the venison sausages from Pitscandly Farm in Forfar, a bargain at three for £10 and decidedly my version of fast food.
Cashleys: 1 Castle St, Forfar, DD8 3AE. Tel 01307 464 688. cashleysrestaurant.com
Forfar Farmers' Market: angusfarmersmarket.co.uk Next market November 14
Tiffins: 12 W High St, Forfar, DD8 1BB. Tel 01307 461152
More in this series:
Why a trip to Montrose proved to Murray Chalmers that music really is the food of love
FOOD FOR THOUGHT: Murray Chalmers makes up for lost time as he heads to five eateries in a week