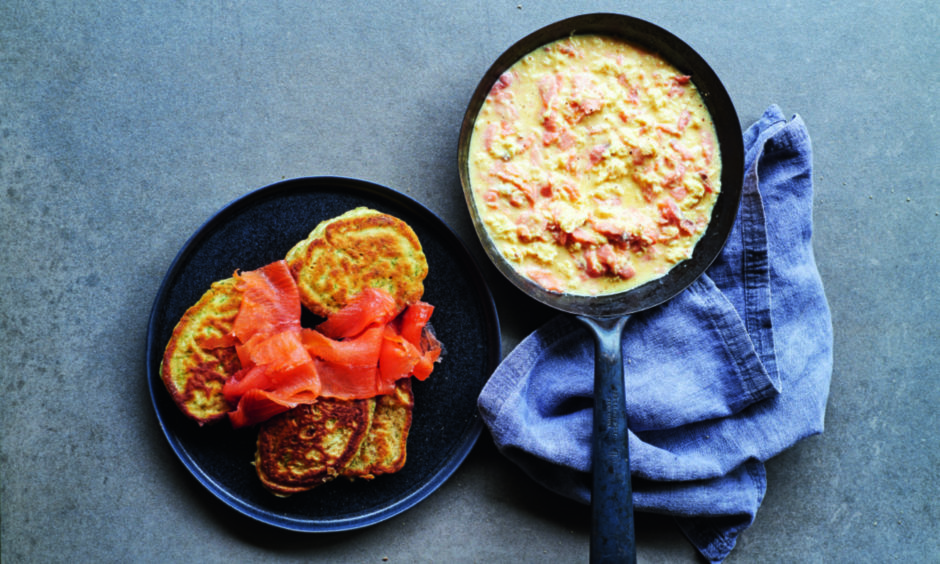 Whether you have them for breakfast, lunch or brunch, blinis are a great way to stay energised until dinner time.
Blinis with Scottish smoked salmon and scrambled eggs
(Serves 4)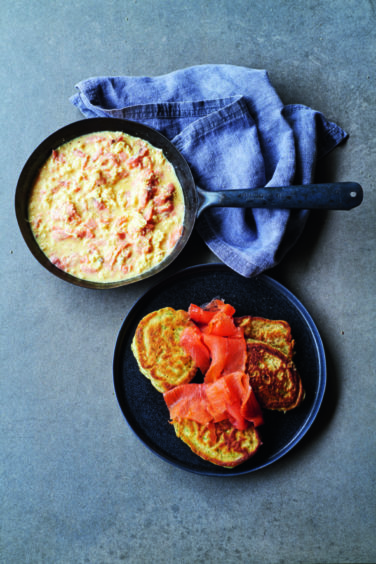 Ingredients
For the blinis:
175g plain flour
1 tsp baking powder
2 eggs, separated
150ml full-fat milk
Sea salt and freshly ground black pepper
Small bunch of dill, chopped
25g salted butter
For the scrambled eggs:
4 eggs
50ml double cream
25g salted butter
4 slices of Scottish smoked salmon, chopped
To serve:
8 slices of Scottish smoked salmon
100ml crème fraîche (optional)
1 lemon, cut into wedges (optional)
Method
Heat a large flat griddle pan (or a heavy-based frying pan) over a medium heat until hot. To make the blinis, put the flour into a large bowl, add the baking powder, egg yolks and milk.
Season well and mix together. In a separate clean and grease-free bowl, whisk the egg whites until stiff (you can use an electric hand whisk or balloon whisk for this), then fold into the batter along with the dill. Dot the butter over the griddle pan.
Once it is melted and foaming, spoon on the batter to form 8 discs. Cook for a couple of minutes until each one has puffed up and you can see bubbles appearing, then flip over and cook until golden on the other side. Lift on to a plate and set aside.
To make the scrambled eggs, whisk the eggs and cream together in a bowl. Heat the butter in a non-stick frying pan over a medium heat, then pour the egg mixture into the pan and cook gently, stirring occasionally, until just set.
Stir through the chopped salmon and season with black pepper.
To serve, pile the slices of smoked salmon on to a serving plate with the blinis and serve the scrambled eggs alongside, with crème fraîche and lemon wedges on the side, if you like.
Recipe from James Martin's Islands to Highlands by James Martin (Quadrille, £25).