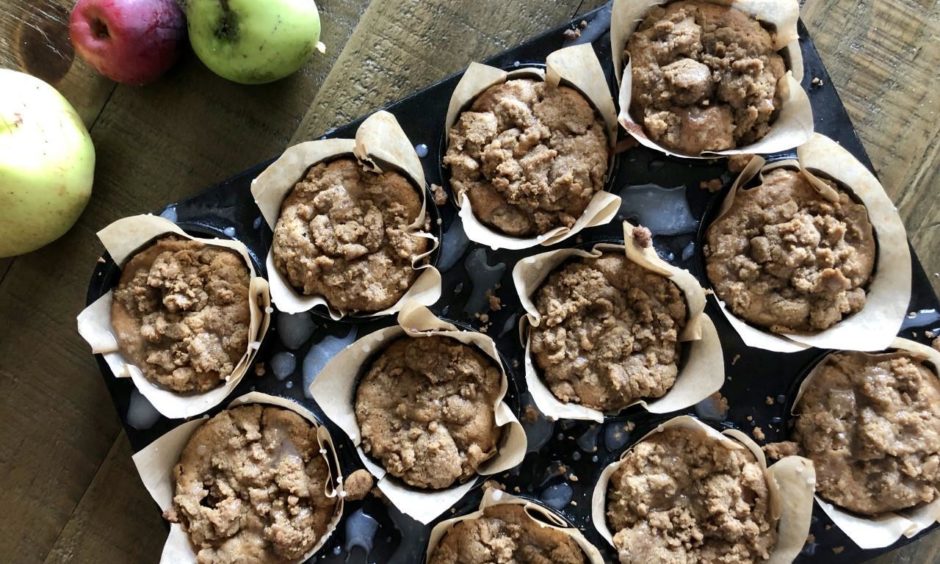 Food blogger Catherine Devaney shares a recipe from her kitchen in Fife using amazing autumn apples to make crumble muffins.
The apples take us by surprise every year.  They seem to appear overnight, as if autumn has conjured them out of the mist.
For months the branches are empty, full of leaves, then one day the trees are suddenly groaning with fruit.
Then it's a race to pick them before the wind catches them and they fall to the ground, balancing precariously on ladders to reach the higher branches, filling basket upon basket for neighbours to help themselves.
A spin on the traditional apple crumble is the rather delightful apple crumble muffin.  Softening the apples first in butter and dark brown sugar yields the most moreishly moist apple chunks, tartly sweet, buried in a rich muffin, finished with crunchy, sweet crumble topping.
The aroma will transform the kitchen, instantly, to what I can only imagine a New England fall to smell like, laced with cinnamon and brown sugar.  We eat them with whisky cream; an indulgence that the season seems to demand.
To make the crumble topping, mix 150g plain flour, 1 tsp cinnamon and 85g dark brown sugar, then rub in 100g butter until the mixture is a sandy consistency. Set this aside while you make the muffins (it makes a large batch, so plenty left for a crumble!).
Now line a 12-hole muffin tray and preheat the oven to 200C (180C fan).  Cream 115g butter (softened) with 100g dark brown sugar and 50g caster sugar. Then add two eggs and beat until smooth (scrape down the sides of the bowl at least once).
Add 120g natural yogurt, 1 teaspoon vanilla extract, 220g self-raising flour, 1 teaspoon baking powder and 1 teaspoon of cinnamon; and mix just until the batter is smooth. Then add 60ml milk and mix.
Now for the apples!
Peel, core and dice two medium apples. Heat a knob of butter in a pan until foaming then add the apples and toss to coat, before adding a tablespoon of dark brown sugar (this is where the magic happens!).
Stir, let the apples bubble and the sugar caramelise for a minute (inhaling deeply!), then pour everything into the muffin batter and stir. Now fill the muffin cases (three quarters full) and top with a generous sprinkle of crumble topping.
Bake at 200C for five minutes then turn the oven down to 180C (160C fan) for 15-20 minutes until a skewer comes out clean. I defy anyone not to eat them warm, straight from the oven!
Read more in this series:
How to make a plum chutney that is the best accompaniment to blue cheese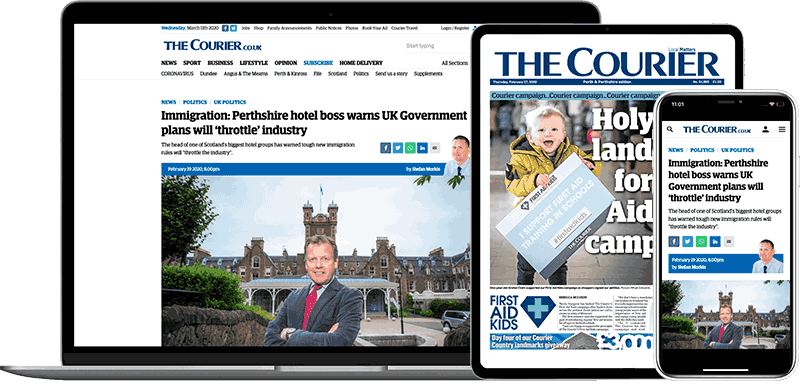 Help support quality local journalism … become a digital subscriber to The Courier
For as little as £5.99 a month you can access all of our content, including Premium articles.
Subscribe