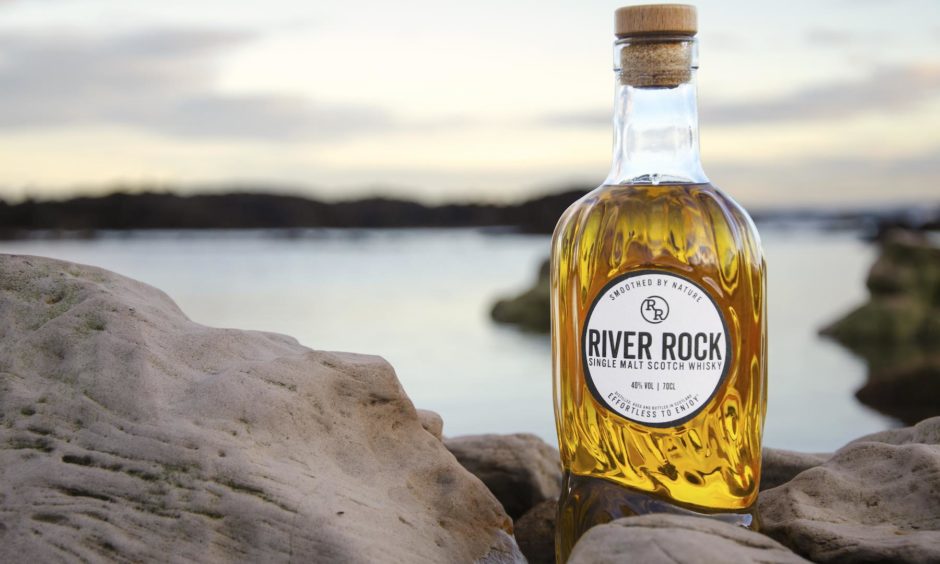 A trio from Fife are behind a new malt whisky which aims to make the spirit more accessible to non-whisky lovers – and at the same time help the environment.
River Rock single malt Scotch whisky is the brainchild of Mark Geary, Laura Anderson and Bill Farrar, who, with more than 70 years' experience between them, have worked on leading single malt whisky brands including The Macallan, Highland Park and The Glenrothes.
Their mission is to make whisky more welcoming. With its distinctively tactile glass bottles, which are made from coloured glass that normally goes to waste, and a sweeter, smooth taste, River Rock is designed to give people a new more accessible choice when it comes to single malt whisky.
To put its whisky on the radar of people beyond traditional whisky circles, River Rock has partnered with a group of like-minded small Scottish brands for its launch; ethical adventure company, Ocean Vertical; sustainable clothing company, Meander; small-batch coffee roastery, Common Coffee; and bike-fitting studio and café space, Bramblers.
As part of their commitment to the environment, the River Rock team has also formed a partnership with The John Muir Trust. For every one bottle of the whisky sold they will plant one tree on Schiehallion, Scotland.
When it comes to premium whisky, British consumers drink more American brands than Scotch, preferring the sweeter flavour profile and more relaxed and accessible attitude.
Sweeter and smoother
Knowing that the traditional look and strong taste of Scotch single malts can be off-putting for many, the founders of River Rock have created a sweeter, smooth Scotch single malt and designed a distinctively "wonky" bottle, which celebrates individuality rather than conforming to tradition.
The team spent three years finding the perfect single malt which met their criteria of being gentle and welcoming on the nose with a smooth, sweet taste and a hint of spicy oak on the finish.
The flavour profile and taste comes from the whisky being taken from higher up the copper still during distillation than other single malts and from the spirit being matured in ex-Bourbon barrels.  The resulting whisky is smooth and doesn't have the aggressive aroma or aftertaste that can be off-putting to some; it's deliberately designed to appeal as much to gin and bourbon drinkers as single malt connoisseurs, and to be enjoyed straight up or with a mixer.
The team knew that they wanted the bottle to be as unique and effortless as the whisky. Inspired by the powerful, yet effortless flow of a river, the bottle features smooth ridges running up and down its sides. Towards its base, the bottle has a distinctive groove running around its middle designed to offer a more rewarding pouring experience.
Helping the environment
As part of their commitment to waste reduction, the asymmetrical bottle is made using the usually-discarded coloured glass created when glass makers switch between colours. The bottles in future batches will come in a range of shades of colour from blue, black, green or clear, making each one unique.
The bottle is 100% recyclable, and the brand also offers a refill service.
The three founders of River Rock share a love of single malt and are driven by a determination to make it accessible to more people.  They also share a passion for the outdoors, beautiful design and leaving the planet fitter for future generations.
"It's been three years incubating and we have finally gone public with it," revealed Mark.
"The whole aim was to create a single malt which is a category we love, but we know some people can be put off by it – it can be a bit traditional, a bit boring maybe and whisky can seem quite fierce if you are just starting off in the category, so what we are trying to do is to make it up more welcoming for people.
"And we want to it in a way with what we hold as important, looking after the planet and Scotland in particular and working with as many local businesses as we could."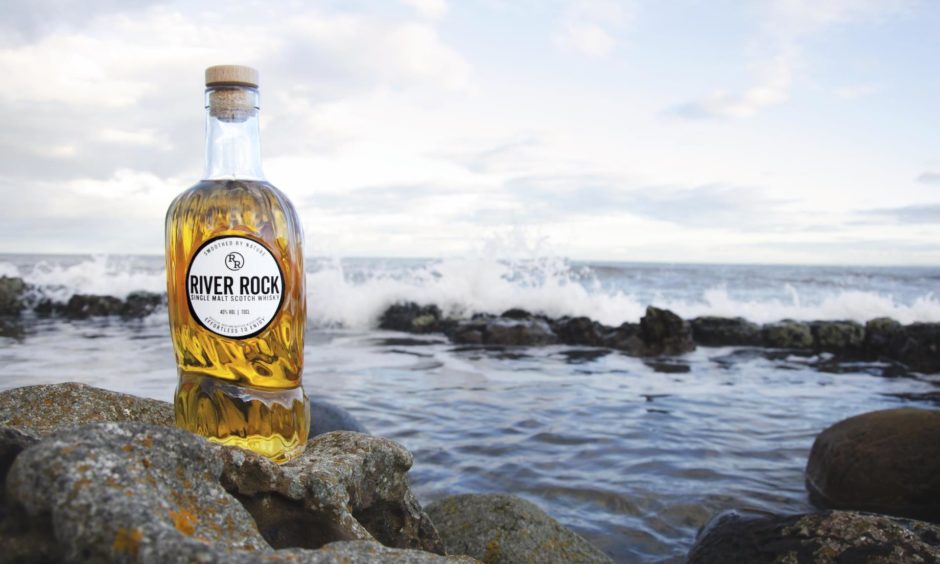 New project
The trio are all from Fife with Mark being from Cellardyke, Laura hailing from Collessie and Bill just outside Dunfermline. They worked together in the past but this is their first whisky launch.
Mark added: "We worked together at a company called Edrington who had offices in Perth, Highland Distillers. I was there for 18 years, Laura probably 15 and Bill a few more years than that, so we have been working together for 15 years.
"This if the first whisky project we have done and the first batch was to see if people thought it was exciting. It was only a small batch but it was sold out in a matter of hours."
So, if you aren't a malt whisky drinker what's different about River Rock that will entice you to try it out?
It's about saying here are no right or wrongs way to taste this and there are no right or wrong ways to drink this, it's about enjoying whisky.

Mark Geary
"Firstly, when you get the bottle you will see it is a bit different to most malt whiskies and find it more appealing, more interesting. We did our first tasting with a small group of like-minded companies, some members of which didn't like whisky either and it was well received," said Mark.
"It's about saying here are no right or wrongs way to taste this and there are no right or wrong ways to drink this, it's about enjoying whisky.
"What we have done with River Rock, we have a whisky which is a bit sweeter, so I would say to you 'Jut put your nose in the glass' and you shouldn't get any nasty, aggressive aroma, you should get some nice sweetness coming off.
"Then when you taste it, you might want to water it down a bit or put some ice in it as you the alcohol is still high. Then what you will get is a nice sweet taste in your mouth before you will get the bite which all whiskies have, but what we have found is people like that easy sweetness and the opportunity of drinking it how they want without having to adhere to all the rules that seem to goa round with malt whisky."
National drink
Mark is a firm believer that whisky producers should be trying to change the way whisky is viewed in an effort to make it more appealing.
"I think what we are doing in the industry in Scotland in a way is stopping people enjoying what is the national drink. I saw some stats recently that one in five bottles of premium whisky bought in UK was from Scotland and the rest were from other parts of the world. We have got this great spirit but enough people aren't getting access to it because there is a mystique or rules that people feel they have to abide by and people get a bit scared or intimidated by it and they think, 'that's not for me'."
And the environmental side of the project was on the agenda for the trio from the idea's inception.
"Right from the get go, before we even had the brand name, we said whatever we do we want to do it in a way in which we believe in," revealed Mark. "Let's look at how we can do this as sustainably as possible and make a positive contribution back to the stuff we love.
"When you make glass bottles, you have green bottles and clear bottles and when you change colour they normally don't use all the glass in between the green and the clear so what we said was, 'you know what, we won't have the same colour for every bottle, every bottle will be unique'. We decided to take that glass that doesn't get used because it is better for the environment and we have built that right into the heart of how we work and we work the John Muir Trust so for every bottle we sell we will plant a tree."