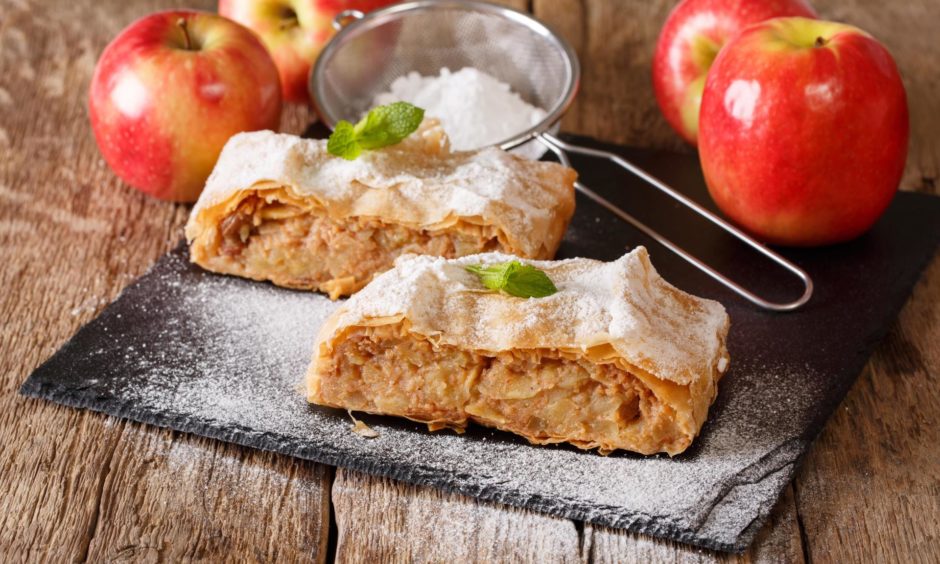 Whether it's strudel, tart, pie, cake or sauce, apple can be used in so many ways when it comes to baking, just take a look at these three recipes from Aunt Kate.
There may have been a lot of talk about pumpkins being in season, but did you know it's also apple season too?
Aunt Kate, the "original domestic goddess", who created recipes and household tips to readers of The People's Journal and the People's Friend from 1880-1960, created several cooking and baking books during that time, all of which featured many recipes using apples.
Below, we're featuring an American Apple Cake recipe, from Aunt Kate's 1910 Cookery Book, alongside cheese cake tartlets and apple sauce cake from her 1933 Baking Book.
For more inspiration, you'll find a collection of recipes from this series here.
---
American Apple Cake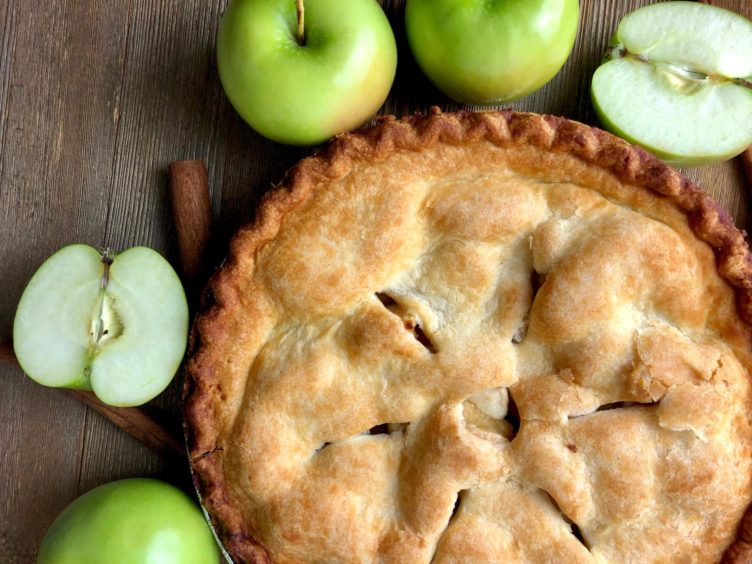 Ingredients
3 good-sized apples
8 oz (approx 225g) flour
2 tbsp caster sugar
1 tsp baking powder
4 oz (approx 115g) butter
1 egg
1 tbsp sweetened milk
Method
Take the apples, cut them into quarters, remove the core and then peel the skin very finely.
Get a bowl of cold water and drop into it the thinnest possible shavings of apple, cut across the quarters. The water prevents the apple from turning brown, as it so quickly does when left uncovered.
Now sieve the flour into a cool, clean bowl with the caster sugar and baking powder.
Take the butter and place it on top of the flour mixture, break it up into small bit and then, with the points of your fingers, rub the butter into the flour until the whole mixture is like fine breadcrumbs.
Beat the egg well with the sweetened milk. Add to the flour mixture gradually until it makes a sweet dough – add a little more milk if needed.
Divide the dough into two portions; have ready a well-greased cake tin and roll the two pieces of pastry out to fit the round tin.
Line the tin with one round, and cover it with the thinly-sliced apples; sweeten them and cover with the other round of pastry.
Seal the edges, brush over with a little egg if there is any remaining, and bake in a moderately hot oven (approx 180-190°C) for 45 minutes to one hour.
Dust over with some more caster sugar and serve either hot or cold.
---
Apple cheese cakes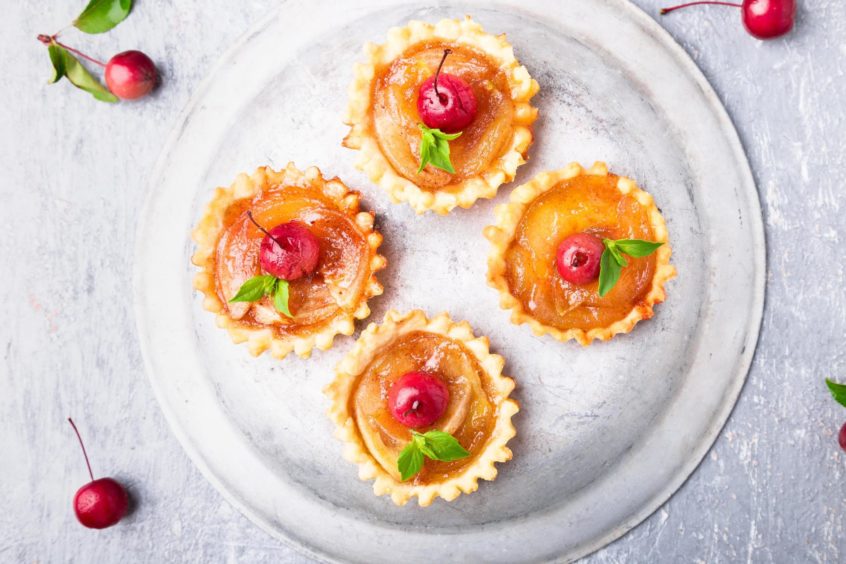 Ingredients
Pre-made shortcrust pastry
Lemon essence
1 cup (125g) apple pulp
2 eggs
2 tbsp sugar
Preserved cherries
Method
Line a dozen patty or pie tins with shortcrust that has been rolled out very thinly and cut into rounds.
Prick the bottom of the cases, then bake them in a moderate oven for 15 minutes.
Sieve the apple pulp sweeten it to taste and flavour with lemon essence.
Mix in the egg yolks and fill up the cases.
Beat the egg whites to a stiff froth with the finely-sifted sugar.
Pile a little of this on each tartlet, place a cherry on top and brown lightly in a cool oven (approx 90C).
---
Apple sauce cake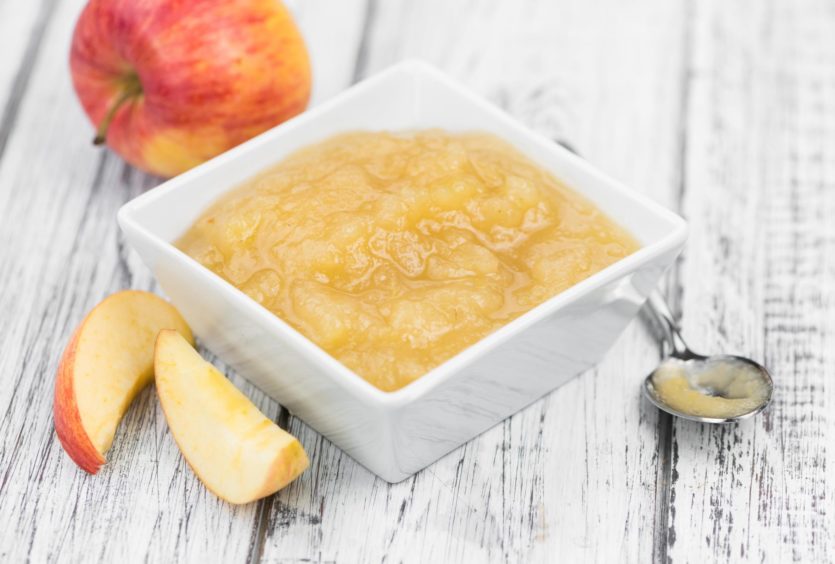 Ingredients
1 cup (approx 125g) sugar
½ cup (approx 65g) butter
1 tsp baking soda
½ tsp ground cinnamon
¼ tsp ground cloves
2/3 tsp salt
2 cups (approx 250g) flour
1 cup (approx 125g) raisins, halved and seeded
1 cup (approx 250ml) apple sauce (see below for recipe)
¼ tsp ground nutmeg
1 tbsp water
Method
First make the apple sauce by stewing the apples with nutmeg, cinnamon, and grated lemon rind, added after the apples have been stewed in sugar and water.
Cream together sugar and butter.
Dissolve soda in water, add to apple sauce, and while still foaming beat this, with raisins, into first mixture.
Fold in flour quickly, also salt and spices sifted together, and bake in a well-greased loaf pan in a moderate oven (approx 180-190C) for 45 minutes to an hour.
---
Read more in this series…
Aunt Kate's Kitchen: Easy fruit muffin recipes from the 1930s that will get you through today
Aunt Kate's Kitchen: Bread recipes from the 1930s that will still rise and shine today