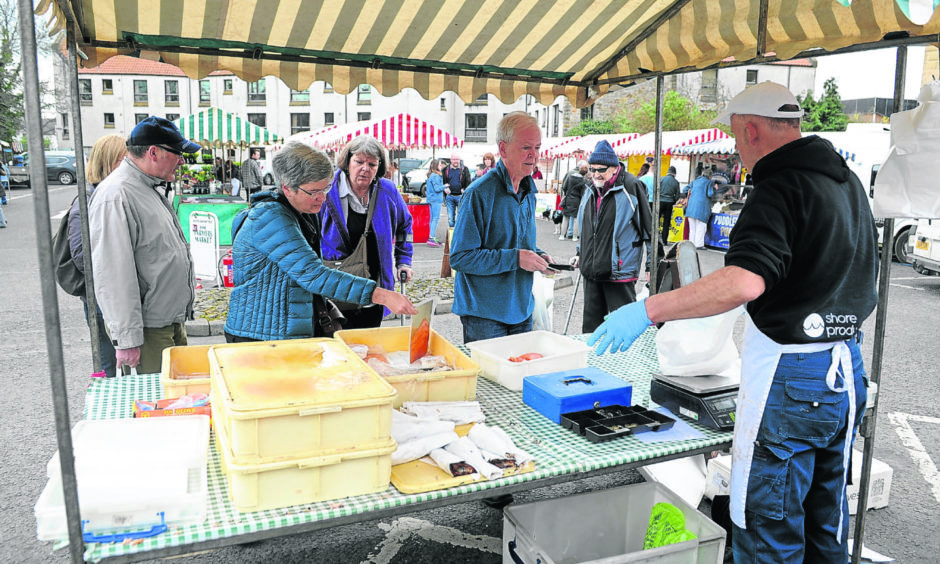 Organisers of the St Andrews event have been dealt a blow as they made preparations for this weekend's market and warn closure may be "just around the corner".
St Andrews Fife Farmers' Market will go ahead this weekend despite being hit by the news that they can no longer host the event in the town centre.
Organisers were yesterday informed by Fife Council that stalls cannot be erected in Market Street where they were planning to return for the first time since the coronavirus pandemic broke out.
As a result, the market will again be held in the Argyle Street car park where they have had a temporary base since farmers' markets were permitted to reopen again in August.
Disappointing
Guy Wade, chairman of Fife Farmers Markets, said the news was disappointing as organisers had been working hard for the Market Street return.
"Whilst we respect the decision taken by Fife Council and public health officials with regards to the Fife Farmers' Market not taking place in Market Street this Saturday, we are nonetheless disappointed that such a decision was made.
"A huge amount of logistical work and Covid safety planning had been put in place in advance of the market returning, including additional volunteers, one-way systems, signage, sanitising stations; all ensuring that the necessary preparations were made to allow for a safe, successful outdoor market.
"After eagerly waiting for over seven months for the reopening of the Market Street farmers' market, twinned with a very difficult half year of trading, hearing the news four days before the market was due to open was a hard pill to swallow.
"And whilst the market will still go ahead this Saturday in The Argyle Street car park with over 20 stallholders booked in, the lower footfall to this location has progressively made this market less and less viable to a point at which closure of this market is just around the corner."
Support small producers
Mr Wade added that he is hopeful shoppers will make a detour to support the event which is key to the small producers who take on stalls.
He added: "The Fife Farmers' Market brings diversity to the towns that it visits and is warmly received by many, especially by those who are concerned about shopping indoors during this pandemic. Providing an open-air, regulated shopping experience for consumers not only is in the interest of the consumer, but gives some hope to our small businesses that so desperately need the support right now.
"In going forward, we look forward to working alongside Fife Council and other groups in St Andrews to find a more suitable and permanent location in the town for the market to take place.
"We'd also like to encourage locals and visitors to St Andrews to support the market this Saturday and visit the Argyle Street car park where they will find the best of Scottish food, drinks and crafts and to make the Fife Farmers' Market part of their shopping experience to the town."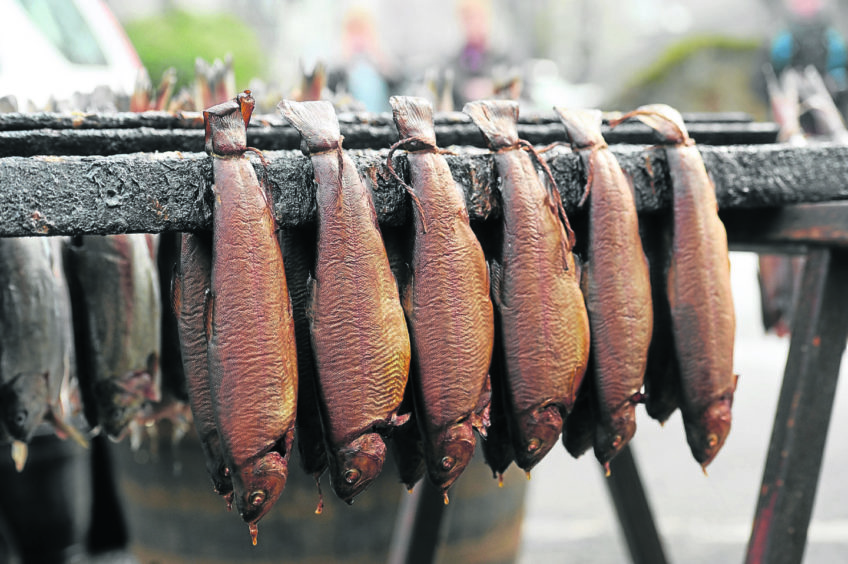 Crowd concerns
Fife Council's service manager for Sustainable Transport and Parking, John Mitchell, said concerns over managing social distancing in the busy street prompted the move.
He said: "Fife Council is encouraging people to stay safe and spend local. The relocation of the farmers' market to Argyle Street car park is to help promote physical distancing. Market Street typically has a high footfall and there are concerns about the market making this area more crowded.
"We're supporting the NHS to help local people stay safe, protect others and save lives by making it safer for people to travel in and around St Andrews.
"Our towns and villages provide a great range of shops and services and they have adapted to keep serving local people and providing essential services.
"Temporary measures are in place in the town to help keep everyone safe, and create more space for people to walk, cycle and wheel. By promoting social distancing – and the two-metre rule – we're helping people to spend safely and helping to prevent Covid-19 transmission."
Public safety is priority
Mrs Lucy Denvir, consultant in Public Health, NHS Fife, added: "Following a risk assessment NHS Fife Public Health support the recommendation by Fife Council to relocate the St Andrews Farmers' Market to Argyle Street car park.
"Public safety and reducing the transmission rate of coronavirus is our priority. This move will help to support appropriate physical distancing between stalls.
"So far, Fife has done relatively well in keeping Covid-19 cases to a minimum. However, we can't be complacent, because the virus is still out there, it hasn't gone away and cases can rise quickly.
"Although there is less risk outside, there are still risks. This means people must always maintain a two metres distance' when walking around town or queuing to get into shops.
"'Spaces for People' in St Andrews and other adaptations in and around the town are helping to ensure that people can safely move around town by making it easier for everyone to social distance.
"Everyone has to do their bit and everyone can help reduce Covid-19 transmission. This means sticking to FACTS:
"Face coverings in enclosed spaces
"Avoid crowded places
"Clean your hands and surfaces regularly
"Two-metre social distancing
"Self-isolate and book a test if you develop coronavirus symptoms, however mild they are."
The market operates from 9am to 1pm, with an array of local produce available.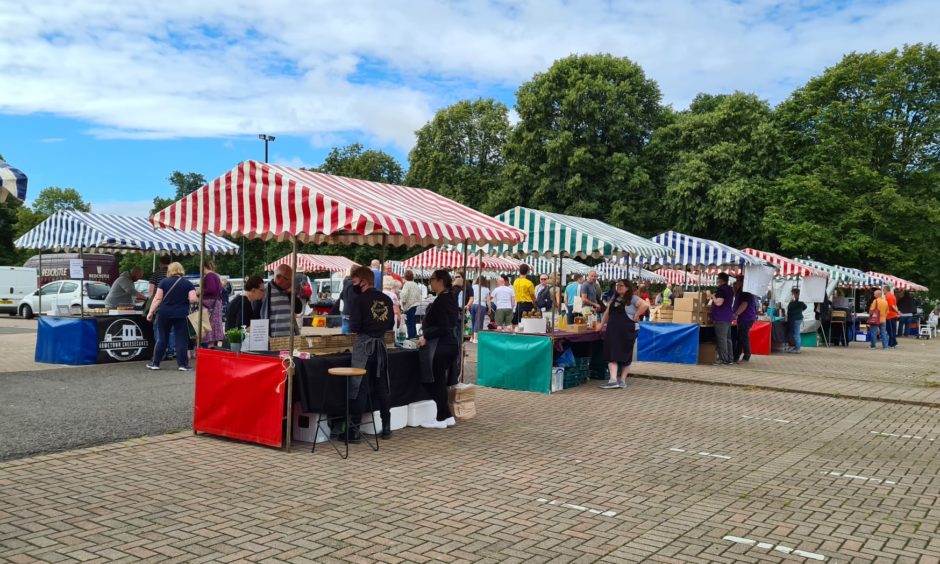 Perth back at South Inch
Meanwhile, this weekend sees Perth Farmers' Market return once more to its current location in the South Inch car park, having also been held there since August.
Market manager Adeline Watson said: "The public have been fantastic in coming along to the market in their usual numbers to the new location. Having a car parking facility right beside our stalls has been a great help and I must thank Perth Council for their support in providing this facility.
"We support around 50 high quality small local producers, the majority of whom do not have a retail outlet and rely on the market to provide a showcase for their produce.
"The market is also keen to promote any 'shop local' initiatives and always encourages visitors from outwith the area to seek out the many fantastic independent shops in Perth. Literature is always available on our information point and we are always delighted to take more."
Ms Watson said that the new base has proved popular with customers, while the market itself provides a lifeline for small producers.
She added: "With no large-scale events taking place this year demand for stalls has never been higher.
"As well as our normal food and drink offering, we now have a separate small craft section that again provides an outlet for small local producers.
"During the current crisis that the retail sector is going through the market is trying to face up to these challenges and maintain its platform for local producers. I would encourage anyone who has not visited the market for some time to come and seek out something that little bit different and support local businesses."
The market takes place at the South Inch car park on Saturday from 9am until 2pm.