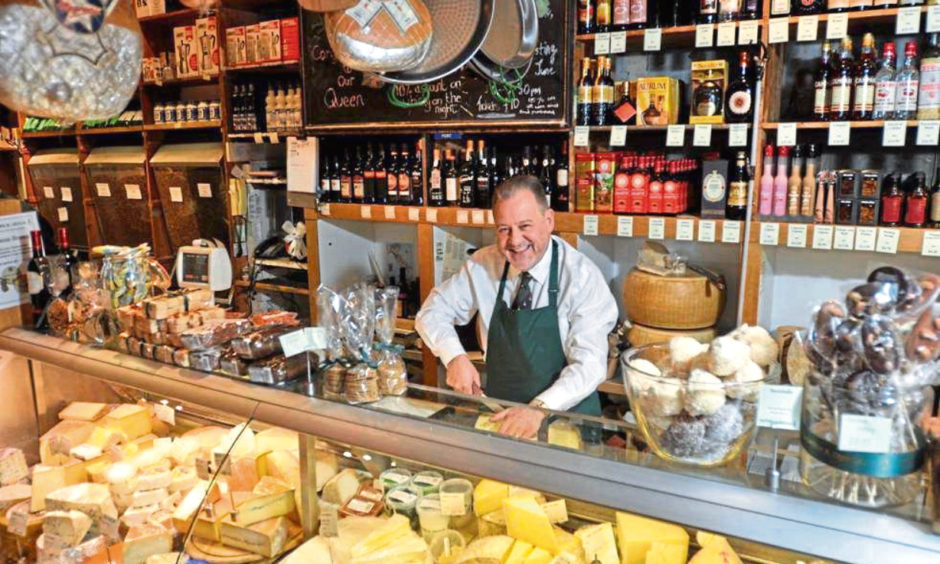 From Invergowrie to Edinburgh – food columnist Murray Chalmers reflects on some of his favourite foodie haunts to visit, and why running Dundee's first pop-up restaurant with his sister is best forgotten
Despite trying to support our beleaguered hospitality industry as much as possible, many of us have reluctantly had to scale back on eating out recently.
A combination of new rules, differing opening times in various establishments and a rise in infections has left many of us bewildered and scared. While sharing the concerns and fears of an industry on its knees, I also have to say that I value and respect the difficult decisions made by the Scottish Government.
I mean, do people really think they would wilfully jeopardise jobs and the wider economy if public health wasn't so seriously at stake?
As one who is now part of a higher risk group – 61 and counting – I'm not throwing the dice for my health by standing too close to someone in a bar, just as I wouldn't in the Co-op.
High price
Covid is a high price to pay for a pint and a bit of banter and I'm not willing to risk it, even if the law says it's OK and some naysayers seem to think anyone over 60 should be part of an expendable herd.
So no, the only croaking going on round here is hopefully from the frogs. While we warriors with free bus passes are still breathing, we must fight this kind of ageism which, logic says, would result in us already being treated as surplus to society's requirements.
Not me matey! My view. My life. My choice.
Nevertheless, I have been out occasionally and have enjoyed meals which were as appetising as they were socially-distanced, including an excellent afternoon snack at the Post House Coffee Co in Invergowrie.
Here you can eat outside in a series of quasi garden sheds while looking at a sign opposite saying "try praying". I do pray but I have to confess that the passion fruit cheesecake served at the Post House answered a more grumbling spiritual need while providing a hugely-sustaining sugar rush into the bargain.
I've also been food shopping in Edinburgh's brilliant Valvona and Crolla (before the tier structure was announced), where having truffles in your gorgonzola is as life-changing an experience as you can have for £13, until you become friends with the shop's very good Valpolicella.
Truffles
Obviously here I'm being flippant because not much is as life-changing as illness or living in poverty and having to use a foodbank – but you don't always have to be in the river to know that it's wet and deep.
This reckless behaviour involving spending £13 on a small piece of feral runny matter possibly marked me out as a tattooed new-money millionaire, because the next incident in Valvona nirvana was the assistant offering me one of the last two black truffles sitting rather forlornly in a jar.
I've been to mordantly serious truffle markets in south-west France where the vendors treat the selling of their stash as gravely as the French take their three-hour lunch break and the right to holiday for the month of August. It matters.
There are scales which can add 10 euros to the cost should a stray hair fall on them, there are dogs sitting agog – waiting to see how the spoils of their endeavours will perform on the truffle stock market – there is a sense of gravitas that even a basic knowledge of the French language and psyche cannot penetrate because truffles and the narrative around them are as elemental as the earth.
Anyway, one truffle – the runt of the litter, the shrimp in the rockpool – was so small that it cost "only" £20 but, as it would probably have provided only a waft on the wind of a sensory hit, I left it, remembering a decadent friend's maxim that anything worth doing is worth overdoing.
Edinburgh is where I go when I need a bit more of an expansively metropolitan city life than Dundee.
I've been making this same hour-long journey since 1976 and I just love it – a chance to stretch your wings and also be a stranger in a beautiful city with much to enrich the soul.
Barry Bryson
And the food! This time, of course, most places were closed but thankfully there was joy and it was provided by art and the brilliant chef Barry Bryson.
This most pleasing culinary experience was actually on the outskirts of the city, within the genuinely fantastic Jupiter Artland, a wonderful collection of contemporary art in the grounds of Bonnington House.
Among 120 acres of woodland and meadow, you can revel in a breathtaking collection of art including works by Anya Gallaccio, Cornelia Parker, Andy Goldsworthy, Dundee's Nathan Coley, Antony Gormley, Marc Quinn, Ian Hamilton Finlay and Anish Kapoor.
Every turn brings something new, from your arrival through Charles Jencks's Cells of Life sculpture garden to Nathan Coley's remarkable In Memory graveyard at the end.
After a few hours exploring the artwork it was time for lunch. Our visit was towards the end of Barry Bryson's three-week stint as pop-up chef here and after eating so well I can only hope he returns. Loose lips say this might happen around Christmas.
I first met Barry in January when he catered a brilliant Burns supper in the unlikely confines of Waitrose in Milngavie; since then I have seen this top chef respond to the pandemic with a work ethic as determined as it is inspiring.
Pop-up restaurants and collaborations are actually something I know a little about because my sister and I did one in Dundee a few years ago. Never again! Apparently our Dundee Dining Rooms was the first pop-up to happen in Dundee and, if that's true, then I can see why no one else had tried.
Although we had help from the fantastic Gillian Veal, and a whole load of support from the great and the good of the city, it's fair to say that the wheels on our wagon sometimes lacked a few cogs.
The logistics of a collaborative pop-up are complex because you're fitting a new concept into a space that sometimes wasn't built for it.
The first calamity that happened was when my sister lit the stove and it immediately went on fire.
From there it was a catalogue of stresses that needed herculean efforts to somehow get this goddam show on the road before the curtains and the hosts fell down after pudding.
Nightmare memories
Some random nightmare memories are trout on the menu but the fishmonger had no trout, running out of plates so rushing to TK Maxx to buy more, the glasses not being clean enough so I dashed to Fife and put them all through my dishwasher, we had insufficient bowls so a friend of artist Kim Canale had her main course in one of my own cereal bowls.
We ran out of greens which meant speeding to Matthews Foods where I virtually stole the last of the pak choi from people's baskets, my sister standing in the middle of an empty restaurant screaming the words "tea towels" over and over again, like a mantra for the maladjusted – and lastly me, host and greeter, running to the car to get my sister's clean clothes, dropping her bra and knickers from the bag as people started arriving.
The food was wonderful though. Needless to say Jupiter's pop-up by Barry was perfect.
Firstly, the permanent space is lovely – a glorious shade of pink that lifts the spirits (ignore initial scepticism that the café is called Café Party, which isn't as naff as it sounds because it's named after artist Nicolas Party, who designed it so brilliantly).
What you have to focus on is the food, all of which was excellent.
I could have eaten everything from a list that included the most unctuous beef ragu with smoked pancetta, tomato and fennel (£9), Barry's famous salmon, ginger and scallop dumplings served in chicken miso broth with fennel and chilli flakes (£9), a warm roast chicken Caesar salad (£9) and just the best warm feta tart, served with a notably fresh green salad (£8.50).
My lamb tagine special (£9) was perfection, while the chips David and I shared were a delight.
Faultless
Service was faultless. Really, this experience in the middle of a pandemic was noteworthy for so many things, not least that a menu like this – food you really want to eat, made from excellent ingredients and cooked brilliantly – is sometimes impossibly hard to find.
As the hospitality industry struggles it's great to see this example of a collaborative venture truly shine among adversity. Great stuff!
---
Valvona and Crolla, 19 Elm Row, Edinburgh EH7 4AA. Tel: 0131 556 6066. w: valvonacrolla.co.uk
Jupiter Artland, Bonnington House, The Steadings, Wilkieston, Edinburgh EH27 8BY. Tel: 01506 889900. w: jupiterartland.org
Jupiter Artland is currently closed but check website for updates.
Barry Bryson, Instagram. chef.caterer.edinburgh. w: cateredinburgh.com
Please observe the new tier system and only travel if absolutely necessary.
---
Further reading…
'Opportunities like this bring me great hope': Fife chef Barry Bryson opens pop-up cafe at outdoor art gallery
Murray enjoys a wonderful culinary day out in the Carse of Gowrie and the crowning glory is a good old belly laugh with new pals