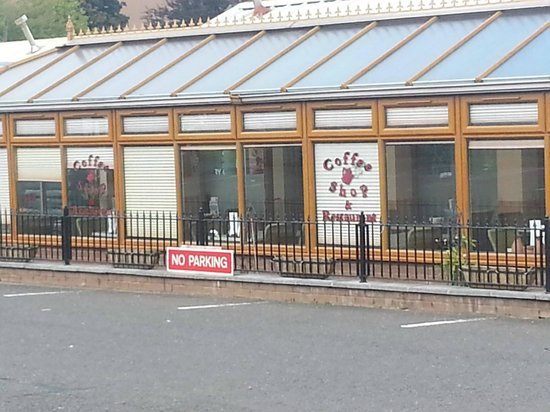 What is it?
Cafe at the popular garden centre just outside Cupar in Fife.
First impressions?
A large cafe with a choice of seating nearer the shop, or in the main restaurant with more natural light.
What did you have?
Mum opted for the mushroom soup, followed by fish and chips, Dad had lasagne and our daughter chose the sweet chilli sandwiches. With a tray bake and drinks the total came to around £37.
Much of a wait?
Drinks came almost immediately while the rest of the food followed a very reasonable 10 minutes later
How was the food?
The mushroom soup was very tasty – thick with some butter stirred in which made it quite rich. It came served with a slice of soft white crusty bread and butter which was delicious. The fish (battered, although you can also opt for breadcrumbed) was the size of Moby Dick and was crispy on the outside and succulent inside – perfect. The chips, however, let the side down by being a bit floppy and unappealing. Dad's lasagne was quite tasty and the garlic bread was crispy and moreish. The sandwiches, accompanied by a flowerpot full of crisps ( a nice touch) and a mini bucket of coleslaw) were well filled with chunky chicken and the bread was nice and fresh. The slice of fruit bread was moist if a little on the thin side for the price of £1.80.
Good for children?
There's a good under-10s menu with dishes from £4.35 and they all include a fruit drink or a glass of milk. The staff are very welcoming to children and the garden centre shop sells a nice selection of items aimed at kids.
Good for the rest of the family?
The menu selection is pretty impressive and there should be something to please every taste. The majority of the food is brought in fresh and cooked to order which makes it generally very tasty. The staff are lovely and nothing is too much trouble. The garden centre is nice to walk round before or after your meal and has a good selection of plants and other garden furniture and accessories.
Would you go back?
Yes, it's not bad value for what you get and a pleasant atmosphere.
Score:  4/5
Contact: :   Cuisine Ecosse, Cupar Garden Centre, Cupar Trading Estate, Cupar, Fife KY15 4SX. T:  01334 655 766. W: www.cupatgardencentre.co.uk