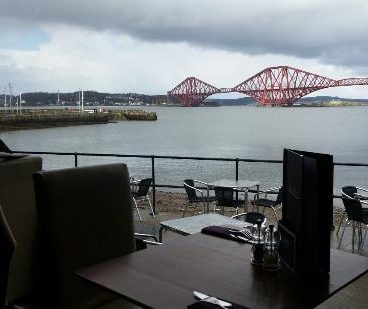 What is it?
Behind an unassuming shopfront on South Queensferry's High Street the Boathouse is a bright restaurant and bistro offering spectacular views over the River Forth and its Bridges.
First impressions?
We were a little unsure as to how to access the bistro with the pram but a very welcoming member of staff went downstairs to check that a table was available before inviting us to park the buggy upstairs. The modern space is welcoming with extensive dining areas and a terrace.
What did you have?
We were tempted to share the Tapas platter as a starter (£10.95). Mum had the smoked haddock served with mashed potato (£13.45), dad plumped for the beer-battered haddock and chips (£10.95) while the kids had haddock and chips and Macaroni (both £4.95). With drinks the total came to just over £50.
.
Much of a wait?
It took a while to get the kids settled and food ordered but the tapas platter appeared (and disappeared) very quickly and the main courses followed promptly.
How was the food?
It was of a very high standard. The tapas platter was a hit with adults and kids alike and included pate, smoked salmon, hummus, warm pitta bread and mussels. Mum's haddock was beautifully cooked with soft creamy mash, poached egg and rich cheddar sauce, the fish and chips were tasty and crispy and the pasta was delicious.
Good for children?
Apart from the tricky access the children were made to feel very welcome and they loved looking out over the water to spot boats, bridges and even a rainbow. High chairs and baby changing facilities are available. One small quibble is that the fish and chips came without any hint of vegetable matter so a few peas or small salad would have been welcome.
Good for the rest of the family?
The food and the views can't be faulted and worth the trek down the stairs. It isn't cheap but the quality is excellent. The bistro serves a variety of food with everything from open sandwiches to a seafood platter available. The restaurant offers more formal options. There are disabled toilet facilities but please note that customers requiring disabled access are advised to phone ahead.
Would you go back?
Yes we really enjoyed our visit – it's a great vantage point for watching the new bridge take shape.
Score: 4/5
The Boathouse, 22 High Street, South Queensferry, EH30 9PP.
Tel: 0131 3315429. Web: www.theboathouse-sq.co.uk