With December here and the festive season round the corner, we decided to taste test some Christmas treats.
From Christmas cake to yule log, mince pies to prosecco, we put some favourite festive food and drink to the test.
To make sure there can be no cries of fix or foul we picked a neutral ground. Universities are renowned for their fair, objective research and unbiased professional opinion.
Seven Dundee University students volunteered their services. They are:
Victoria Persson, 21, from Sweden; Omer Tehelli, 22, from Germany; Rikke Sorensen, 21, from Denmark; Fergus Sutherland, 21, from Scotland; Kieran Small, 26, from Scotland; Antonio Moscardi, 22, from Italy; Jason Lai, 24, from Singapore.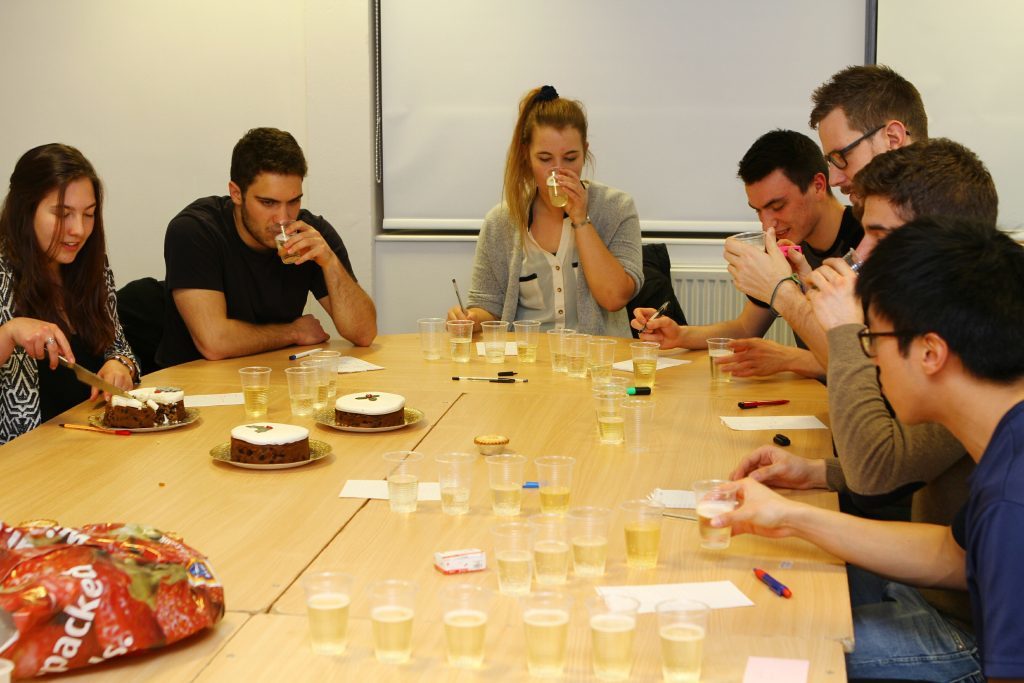 Our intrepid testers worked their way through four gruelling rounds of food and drink from Asda, Sainsbury's, Lidl, Aldi, Morrisons and Marks & Spencer. Where possible the product was own brand, standard range – not the Finest/Taste the Difference fancy-dan range nor the Basics/Value/Saver product.
We conducted a blind taste test, with our panel not discovering which supermarket products were from until they had tasted, cogitated and voted on their favourite, giving each product a score out of five.
Which supermarket came out on top for taste? Read on.
Round One: mince pies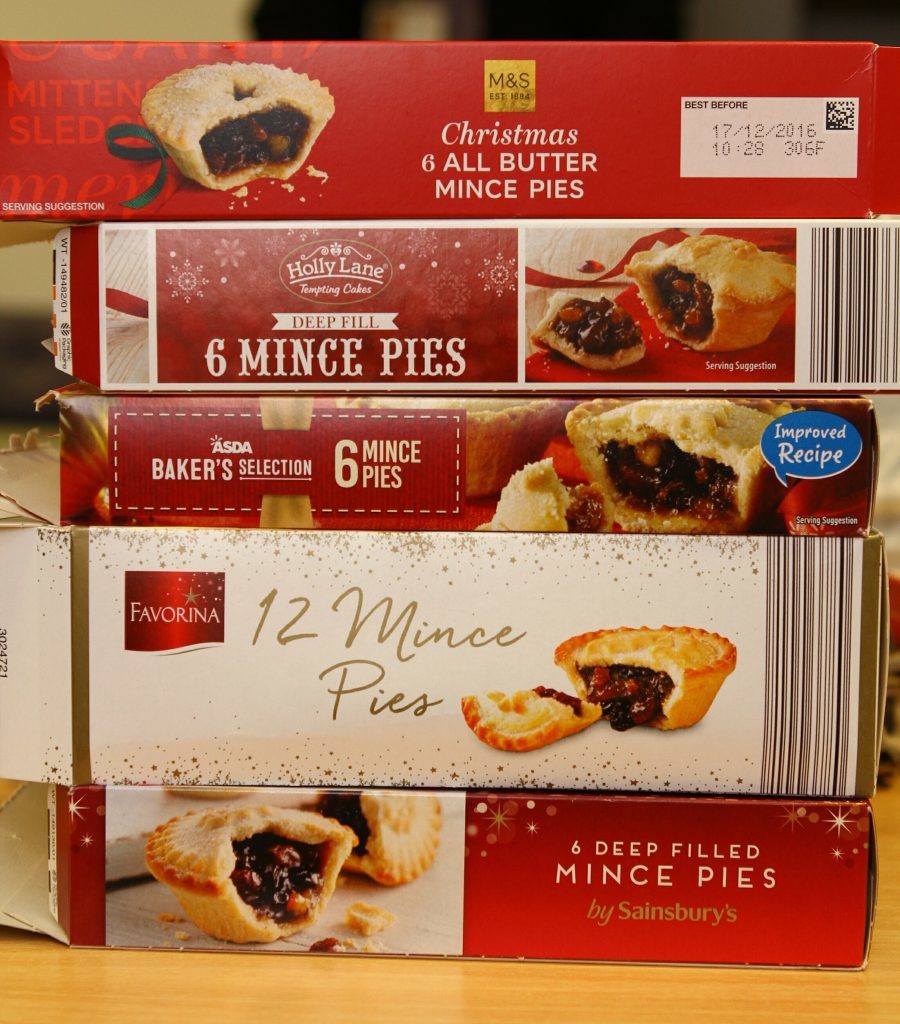 A true staple of Christmas; their rich, gooey goodness can only be resisted by the most Scrooge like of festive naysayers. But which one would win? The contenders:
Asda. Mince Pies. 99p for six.
Marks & Spencer. Classic Mince Pies. £1.80 for six.
Aldi. Deep Fill Mince Pies. 79p for six.
Sainsbury's. Deep Fill Mince Pies. £1 for six.
Morrisons. Mince Pies. £1 for six.
Lidl. Mince Pies. £1.49 for 12.
Omer was not a fan of Morrisons' product. "They're overcooked. The chef clearly wasn't paying attention", he says. Fergus adds: "I'm certain a chef has never been anywhere near those."
Rikke's delighted with the Sainsbury's product: "The sugar coating is the icing on the pie," she declares. Kieran, who is operating a conservative scoring system adds: "I'm giving that a rare and coveted four points."
More praise is reserved for Marks & Spencer's pies, however, with most testers feeling that their richness, depth and neat appearance make them the king of mince pies.
Winner: Marks & Spencer. 
With our candidates thirsty from excessive mince pie consumption we move swiftly on to the next round.
Round Two: Prosecco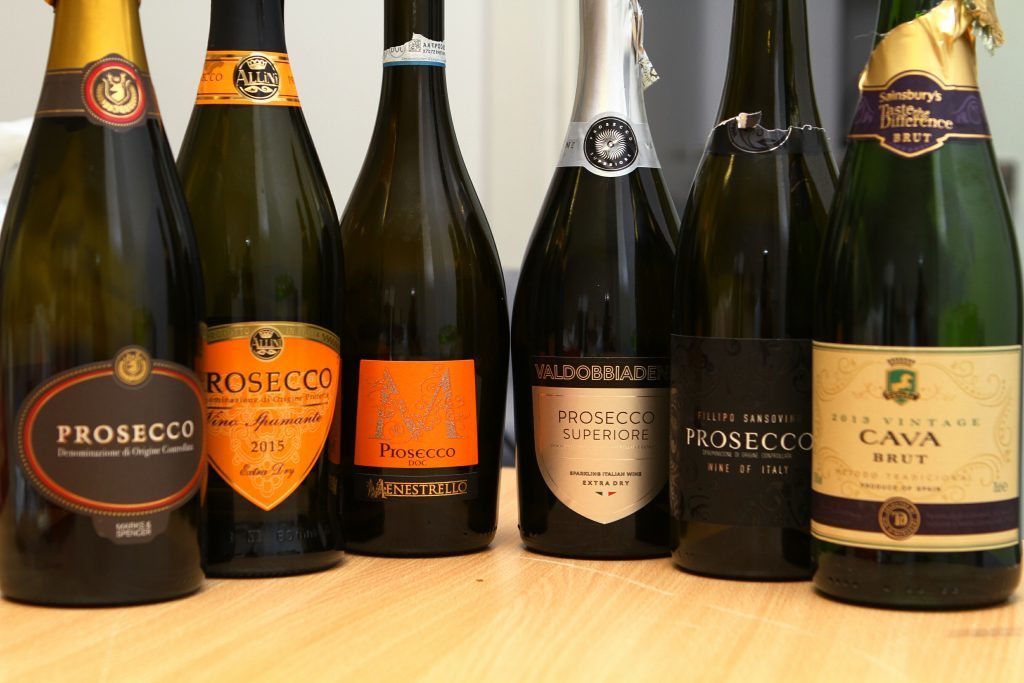 Christmas isn't Christmas without a little bit of fizz, and every supermarket we visited was promoting its bottles of bubbly wine. But only one could emerge victorious.
Asda. £6.
Marks & Spencer. £10.
Aldi. £6.99.
Sainsbury's. £7.
Morrisons. £5.50.
Lidl. £5.39
The M&S plonk has lots of bubbles but that doesn't stop Fergus giving it a mere 1.5/5. Aldi's product is even worse according to Kieran, who declares, cryptically, that it tastes "beige."
If that's bad, worse is in store for Sainsbury's, which attracts particular opprobrium for its strong, earthy colour, which many testers find off putting.
"It looks like a cup of wee," Rikke declares, looking with suspicion at her glass.
Antonio hails from northern Italy – the "home of wine" he says – and his opinion carries weight among the group. He's very unhappy indeed with Lidl. "That is not prosecco," he rages. "That's sweet dessert wine. It shouldn't be in a bottle with a prosecco label." Eventually he calms down enough to declare Morrisons his favourite, giving it 4/5.
What we've learned here is students don't particularly like fizzy wine. We don't have any cheap cider or jaegerbombs, however, so they have to pick a favourite and eventually they coalesce on a champion – which redeems itself after a torrid round one.
Winner: Morrisons. 
Our students continue to take the occasional sip at their bubbles, their faces squishing into rictuses of distaste, as the evening progresses. It's time for another food round.
Round Three: Christmas Cake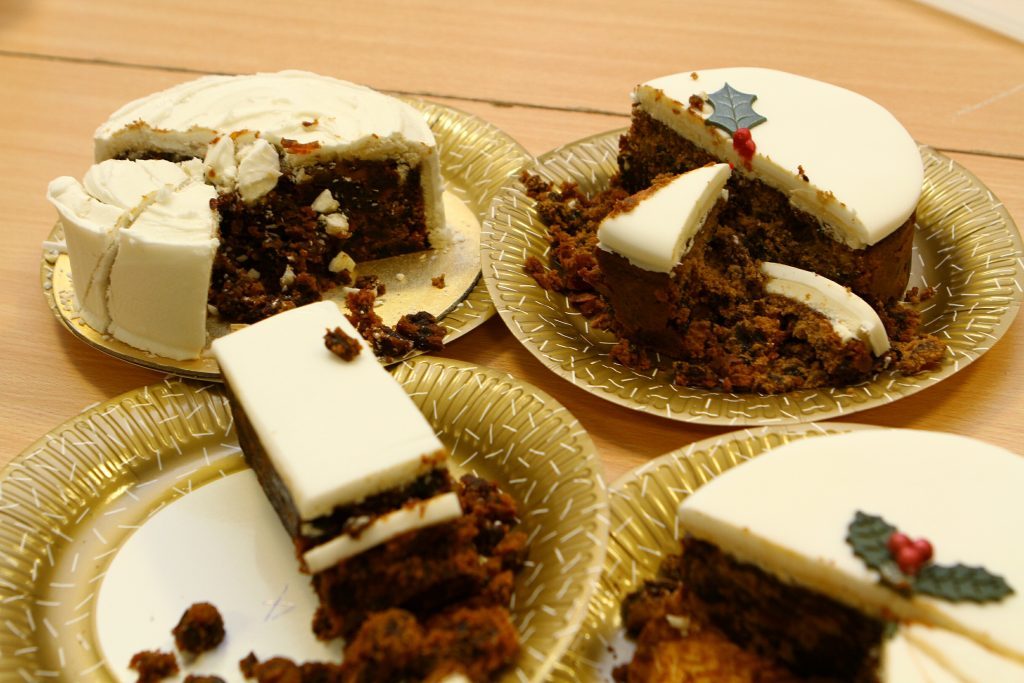 A disclaimer here. Three Courier colleagues helped with the supermarket sweep to buy these festive treats and we have a slight discrepancy in quality. The cheapskates who hit up Morrisons and Sainsburys went for an "iced fruit cake" rather than splashing out for a fully fledged Christmas cake.
This puts these supermarkets at an immediate disadvantage. But our capitalist society is inherently unfair so tough cookie: on we go.
Lidl. Iced Christmas Cake. £3.99.
Asda. Iced Christmas Cake. £4.
Aldi. Top Iced Round Cake. £3.99.
Sainsbury's. Iced Fruit Cake. £2.20.
Marks & Spencer. Royal Iced Cake. £12.
Morrisons. Christmas cake bar. £2.50.
Victoria is not pleased with Asda. "The cake doesn't even stick properly – it's falling apart," she complains, trying to keep it together long enough to get some in her mouth. A stale 1/5 from her. Kieran's a fan of the alcohol content in Sainsbury's cake. "I could get drunk on this," he beams happily.
Marks & Spencer's cake brings the bling with a thick coating of sparkling ice making it look like the kind of thing Jay Z might tuck into for breakfast. It divides opinion: some thing it's a bit ostentatious but for others it's their favourite.
At £12 it's nearly six times more expensive than its cheapest competitor but, as our panel of students never say, you gets what you pays for.
Winner: Marks & Spencer. 
Next up is the yule log. A relative newcomer to the festive feast compared to hoary traditionals like mince pies and Christmas cake, it's nevertheless proved popular for the lightness of its sponge filling and its liberal use of chocolate.
Round Four: Yule Log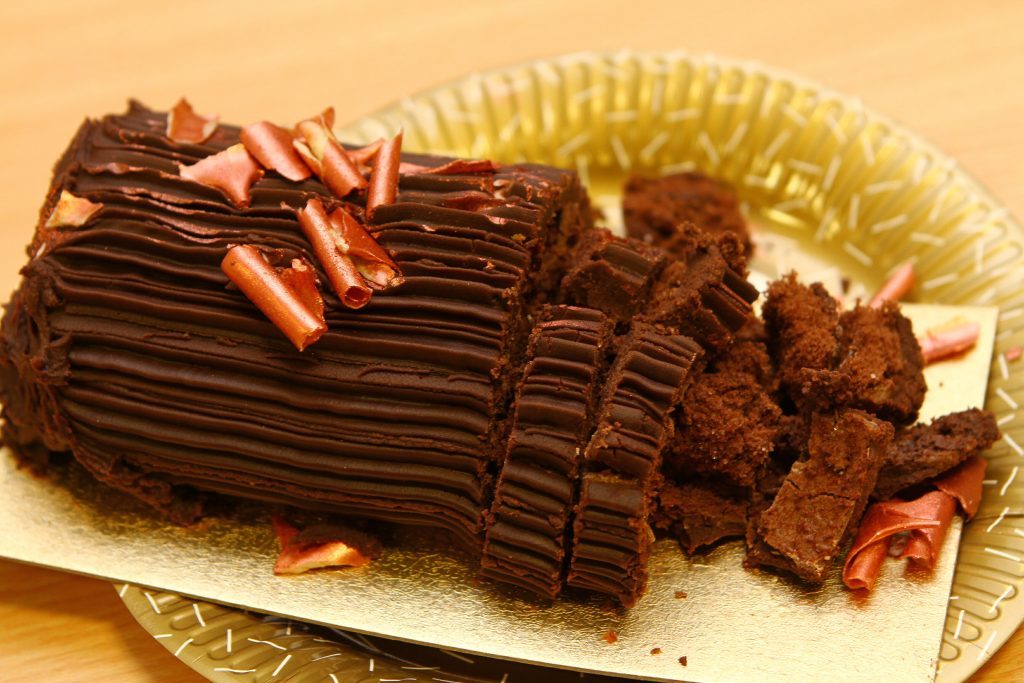 Only four of the supermarkets we visited had these in stock so it's a shorter list here. A couple of our tasters have nearly finished their prosecco (although some have barely touched theirs) and everyone has gorged on Christmas cake so there are no complaints.
Lidl. Yule Log. £2.99.
Morrisons. Chocolate Yule Log. £1.50.
Sainsbury's. Chocolate Log. £1.50.
Asda. Yule Log. £1.50.
It's rare for the budget supermarket to be the most expensive but Lidl's yule log looks the biz. Dripping with thick, textured chocolate, it oozes quality. "Very pretty," "Luxury," "Bring that over here" coo our testers.
There seems little point in continuing – although we all have a slice of the others for thoroughness' sake – and we have our most dominant victor yet.
Winner: Lidl. 
We could continue our test. But it's after 10pm. Our students are tired. They've eaten an incredible amount of cake, pie and chocolate. At least one of them is drunk on six kinds of prosecco.
In short, it feels like time to call a halt and a planned Stollen round is abandoned. It only remains to thank our testers, who clamour to be brought back for a summer beer and barbecue round before waddling off into the night.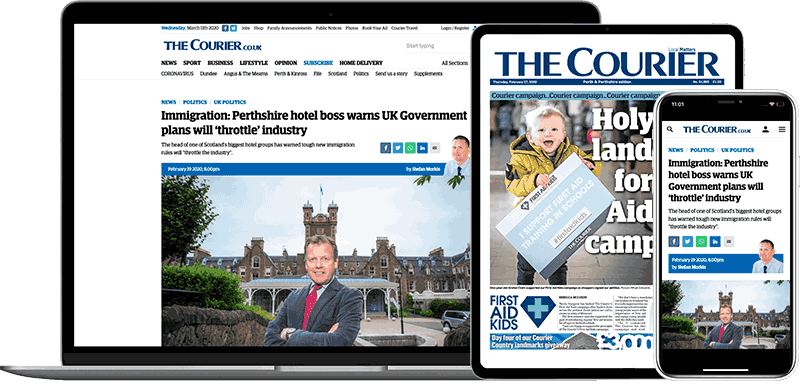 Help support quality local journalism … become a digital subscriber to The Courier
For as little as £5.99 a month you can access all of our content, including Premium articles.
Subscribe