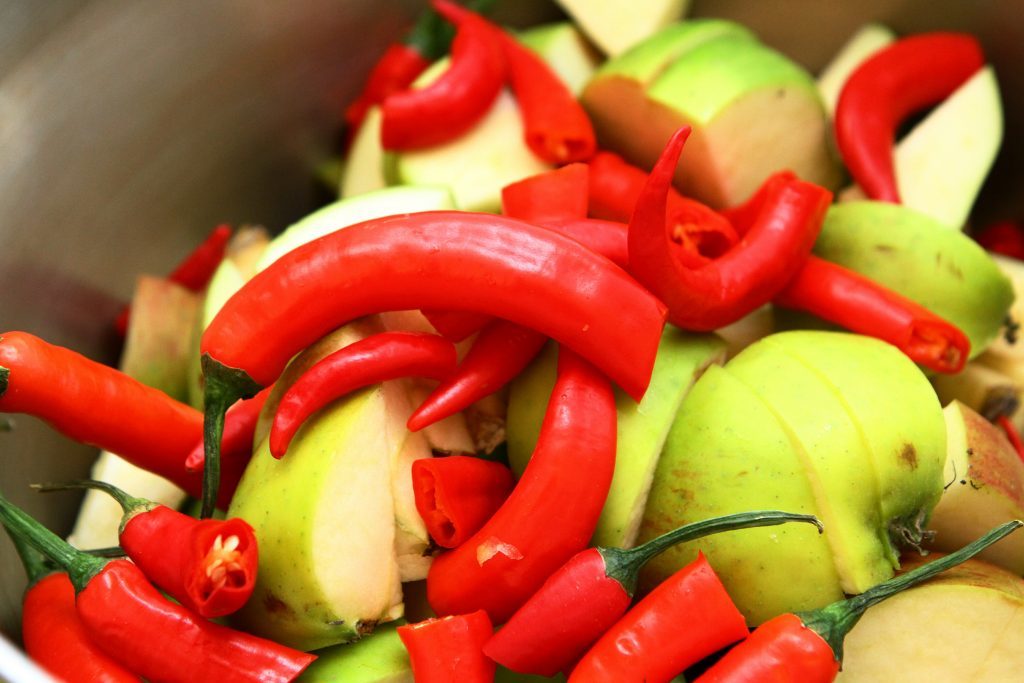 When Allan Ferguson was cooking a meal for some friends a few years ago the recipe called for chilli jelly. "I thought to myself, what's chilli jelly?" he recalls. "I had no idea where you would buy that so I decided I'd make some myself."
There was some left over so Allan put the remainder into a bowl for his guests to dip into. This off the cuff decision is what led to one of the hottest – literally – new food companies in Courier country.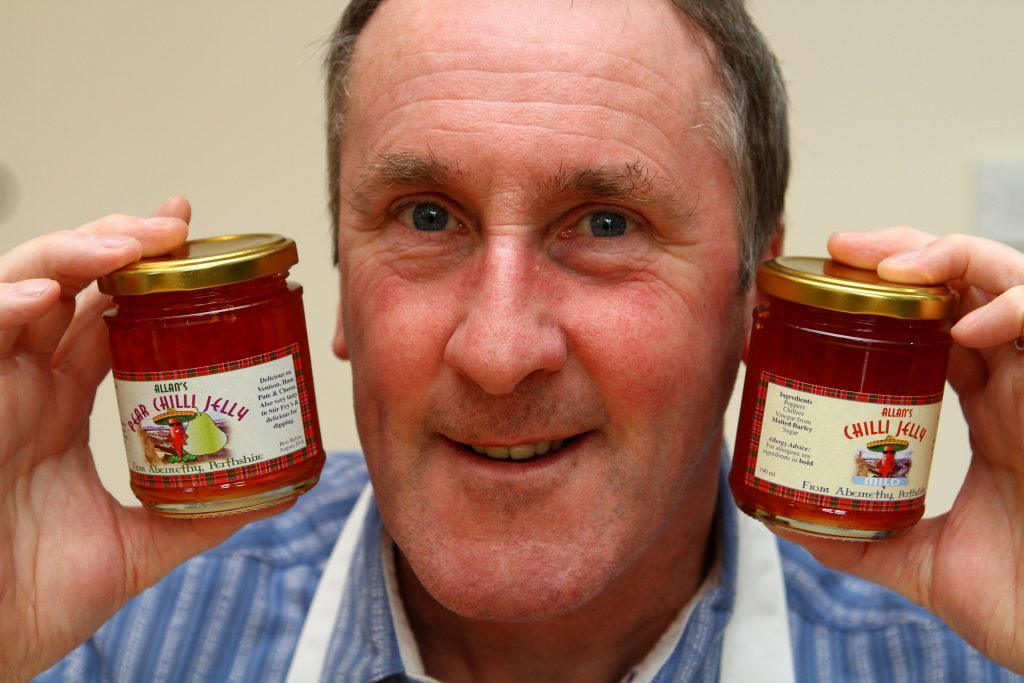 "Everyone was telling me how tasty it was," Allan continues. "I made another batch and gave out a dozen or so jars. Before long the guy who owns the village shop in Abernethy asked for some jars to sell."
That was four years ago, in 2013. Now Allan's Chilli Products is a thriving company with an expansive range on sale in delis and farm shops all over Fife, Dundee, Angus, Perthshire and beyond.
Allan (58), who works as a maintenance manager with construction firm JS Brown, spends evenings and every weekend working on the company while his wife Joan (56) and mother in law Betty (80) are at the business end of cooking up the product.
Remarkably, despite demand meaning they have to make nearly 200 jars of chilli jelly and sauce every day, the trio still manage to run the company from Allan and Joan's modest family home in Abernethy.
A joiner by trade, Allan converted their garage into additional preparation space and when I visit three huge pots are bubbling on the range cooker. "Give them a stir for us would you please," asks Betty, prevented from reaching the stove by the demands of Courier photographer Dougie.
The pots are filled with large chunks of apples, with topped-and-tailed chillies floating merrily between them in the roiling liquid. The smell is an intoxicating blend of stewing fruit and the sweet menace of chilli.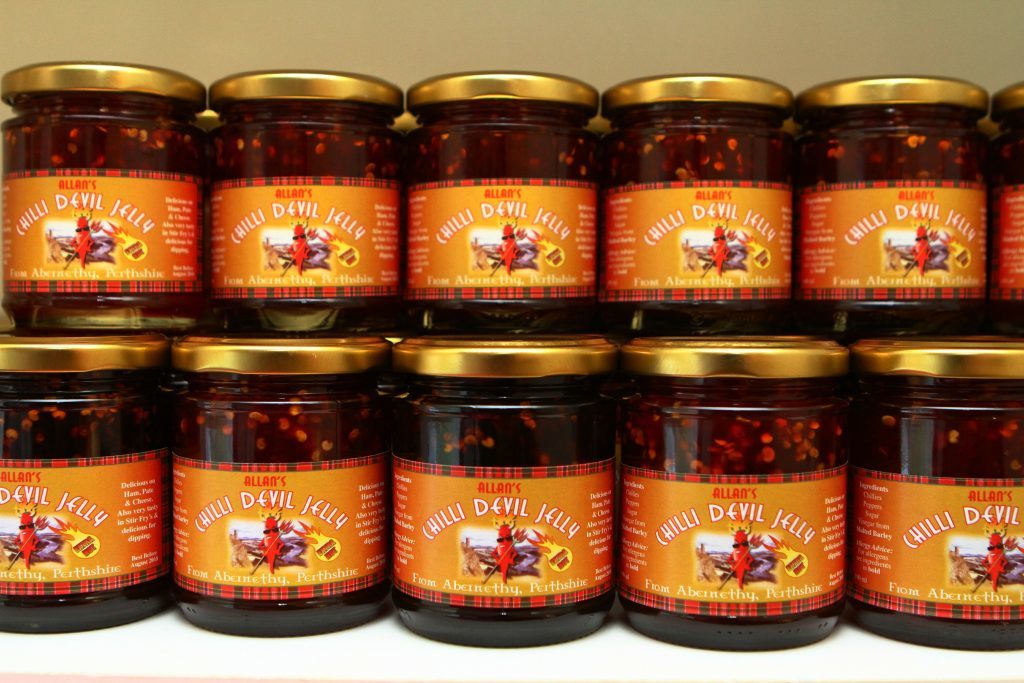 Once they've cooked together for long enough the mixture is taken next door and slowly strained into large bowls, with the liquid forming the basis for chilli jelly and sauce.
Since starting his endeavour, Allan has been a finalist in the Perthshire Chamber of Commerce Business Star Awards two years running and won a Great Taste Award for his Devil Hot Chilli Sauce. They've taken orders from Switzerland and a lady from New Zealand bought a box-full to sell at her farm shop.
To begin with Allan produced two chilli jellies – mild and hot – but over the past four years has expanded to an impressive 22-product range.
"We just did the jelly when we started out," Allan says. "But some people don't like the texture and prefer a sauce, so we now do 11 jellies and 11 sauces.
"We do smoked products – the chillies go to the Loch Leven Smokehouse to get smoked. We do chilli, apple, pear, garlic and apple, apple and mint – loads. I try to come up with a new flavour every year so we'll release one this summer. I've no idea what it'll be yet – maybe something with oranges.
Although a little sugar is added the majority of the sweetness comes from the fruit and pectin from the apples is what sets the jellies.
The trio are at risk of becoming victims of their own success but Allan, Joan and Betty are trying to resist the prospect of having to move the business to commercial premises.
"We're very busy every day and flat out at peak times of the year," Joan explains. "I often wake up at 5.30 in the morning and lie there in bed thinking I could be getting the apples on – so I'll get up and get started.
"We're determined to make it work here. One of the joys of the company is us all working together at home."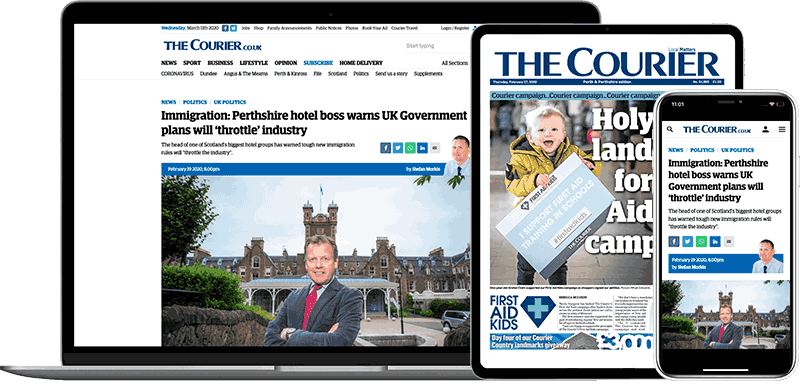 Help support quality local journalism … become a digital subscriber to The Courier
For as little as £5.99 a month you can access all of our content, including Premium articles.
Subscribe