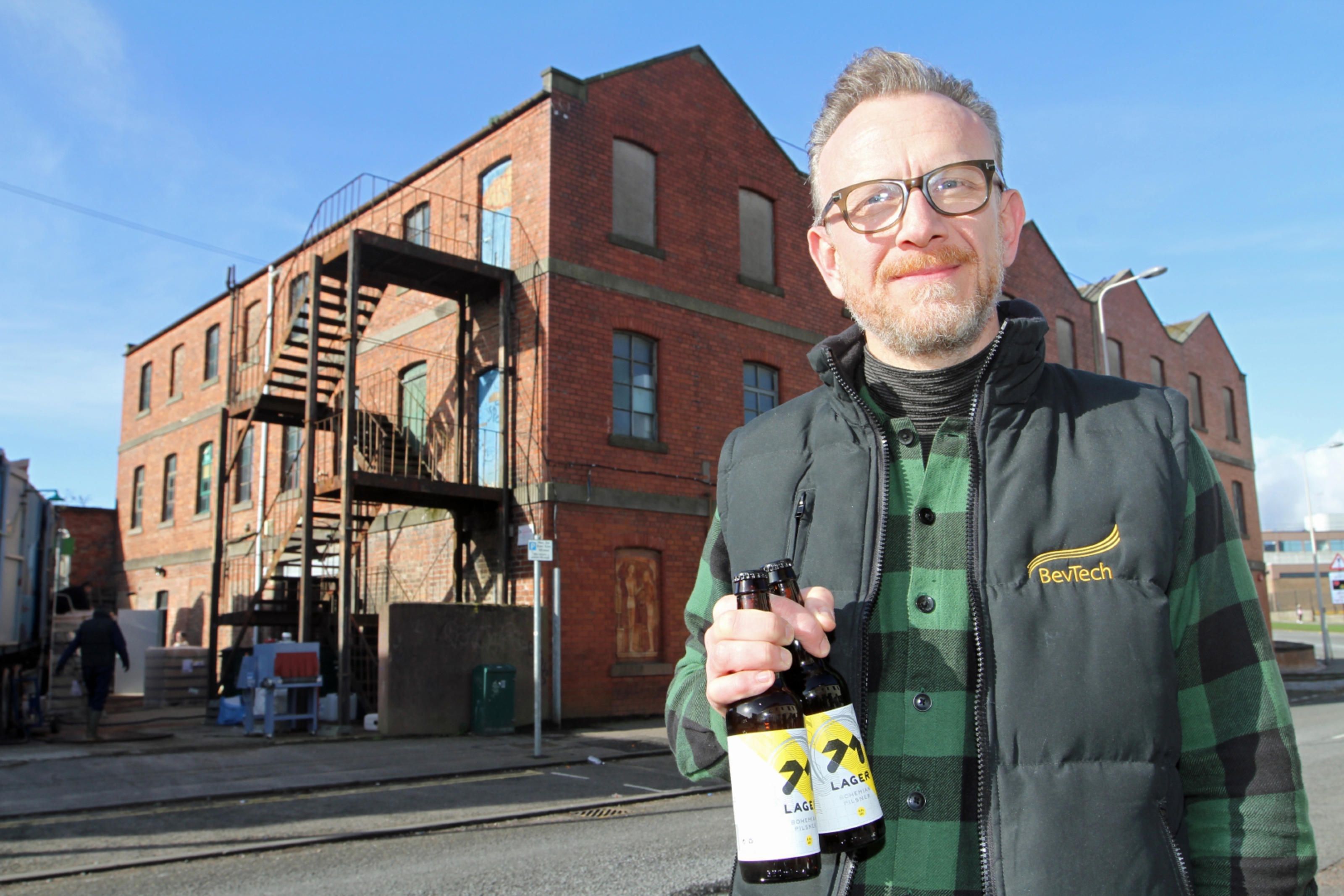 He's returned to his home city to launch the first brewery in Dundee in 50 years. Gayle Ritchie finds out more about the man behind 71 Brewing
When Duncan Alexander says there's something in the water in Dundee, he isn't just alluding to the cultural and economic metamorphosis of the city – there's a literal truth in his statement.
The water used at his newly launched brewery, 71 Brewing, comes from Backwater reservoir in Glenisla, is untreated and absolutely perfect for making lager.
"We found striking similarities between our water and traditional Pilsen water, which is soft, free from most minerals and low in bicarbonates," he says.
"This results in a very clean, fresh and crisp lager. We've not had to treat the water at all so it's totally natural."
Duncan – a proud Dundonian who left the city in 1997 and travelled across the country as an IT consultant – had his beer epiphany seven years ago.
He was visiting family in Australia when a trip to the White Rabbit Brewery in Melbourne with his home-brewing cousin changed everything.
"The craft beer scene was amazing and I knew that's what I was meant to be doing," he says.
"I came back to Scotland and set up a community brewery in Portobello, Edinburgh in 2011."
The enterprise tailed off in 2015 with the people involved scattering into different jobs while Duncan's IT career dragged him further into the world of finance. It was not a career path he relished.
It was then that he decided to turn brewing into a career and contacted an ex-colleague Mark Griffiths, a fellow beer fan and someone with experience running companies.
Longing to return home to Dundee and seeing the city was going through a period of regeneration, Duncan began to look for possible brewery sites.
"Dundee is a very exciting place and when I discovered it didn't even have a brewery, it was a no brainer," he says.
"We stumbled across an old brick-built ironworks in the DD1 area, which is the last surviving element of the former Blackness foundry based at 71 Blackness Road. Calling the company 71 Brewing was a nod to the past."
The company, which was launched last year, secured £650,000 from Scottish Enterprise, Regional Selective Assistance and The Scottish Investment Bank, as well as private investments, to convert the 7,200 sq ft industrial warehouse and it's hoped an off-licence and tasting bar will open soon.
Modelled on a Bohemian Pilsner, 71 Lager – the company's flagship product – uses Czech hops and British Pilsner malt and is 4.4% alcohol, so easy to quaff.
Bright and golden in colour the lager is a classic Czech pilsner with "good malty character, caramel tones, lightly hopped and with a nice finish," says Duncan.
While some craft breweries boast multiple lines, 71 Brewing is focusing on a single product for now although Duncan hints other varieties may
be in the pipeline.
"Dundee's a proud working class city and I felt very strongly that we needed to stay true to our roots, so this is a finely crafted easy-drinking lager for the everyday man, and woman," he adds.
"71 Lager is stocked in a few bars and off licences; we're not branching out into supermarkets just yet but we're tying in with food outlets for tasting sessions and events and hope to stage a few at the back of the brewery in summer."
Another plan is to transform a classic Renault 4 police car that Duncan bought in Ireland into a delivery vehicle – expect to see it trundling through the streets of Dundee soon.
And having just signed up as headline sponsors for Carnival Fifty Six at Camperdown Park this summer, 71 Brewing is doing its best to put Dundee back on the brewing map.
info
For more details, see www.71brewing.com