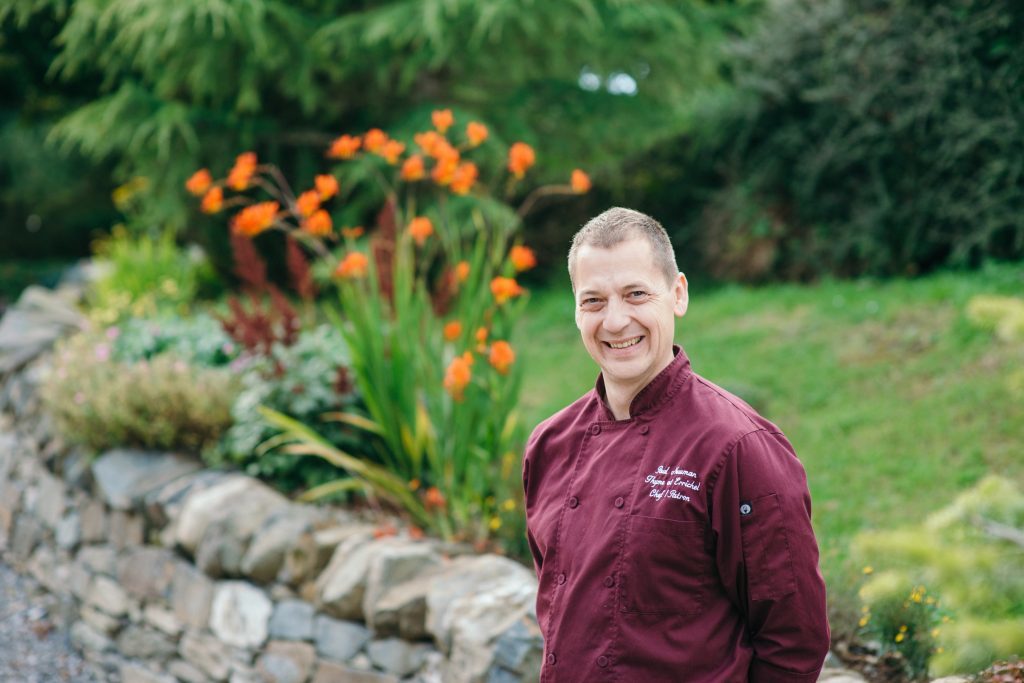 After discovering a natural flair for cooking in home economics classes at school Paul Newman persuaded his mum to let him into the kitchen to make cakes for family and friends.
The results spoke for themselves and as soon as he left school he embarked on the first stage of his culinary career as apprentice chef with Lloyd's of London before becoming chef de partie with the Royal Airforce. "I was inquisitive about ingredients and liked to try new dishes," Paul, 52, recalls. "Over the years I've been lucky enough to work in world cuisines from Cape Town to Kenya and to experience the most amazing and diverse culinary cultures."
When Paul was working with the Hilton group, he and Rebecca, who already had two little boys, had the chance to buy a farm at Errichel in Aberfeldy where Paul could realise his dream of rearing his own rare breeds.
"It's a high health status farm where we rear rare breed Shetland cattle and large black pork alongside chickens, ducks, geese, goats and hardy Highland ponies," says Paul. "Not to mention a menagerie of family pets of cats, dogs, tropical fish and two turtles."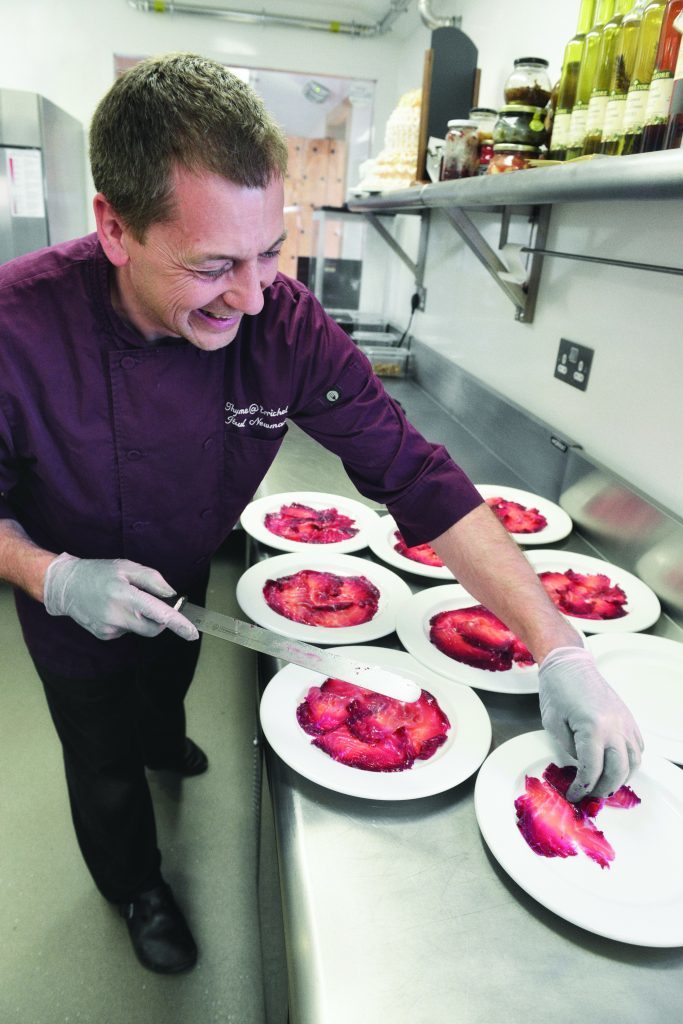 Opening Thyme at Errichel Restaurant, where Paul is chef patron, was a natural progression for the hardworking couple who also run self-catering and B&B accommodation. Their ethos focuses on sustainability and using the best in local and regional produce.
"Our passion for non-intensive rearing of rare breeds and then adding a sprinkle of inspiration from my travels around the world results in exciting, flavourful dishes you might not expect. We change our menu on a weekly basis to reflect the best seasonal, local and regional ingredients," he explains.
Always keen to experiment with textures and tastes, Paul enjoys making dishes using layers of spices, like tagines, where the spicing is built up to give fragrant dishes with complexity of flavour.
As well as developing a cured salmon using Scottish salmon, Ayrshire beetroots, Dewar's Aberfeldy single malt and citrus flavours – a firm favourite with their customers – Paul is also working on recipes and techniques to make air dried ham, salamis and dried meats.
As spring gathers warmth and momentum he is enjoying cooking with the eggs his flock of ducks has been producing. "Is there anything more delicious than a poached duck egg with first season asparagus and a little seasoning?" he asks.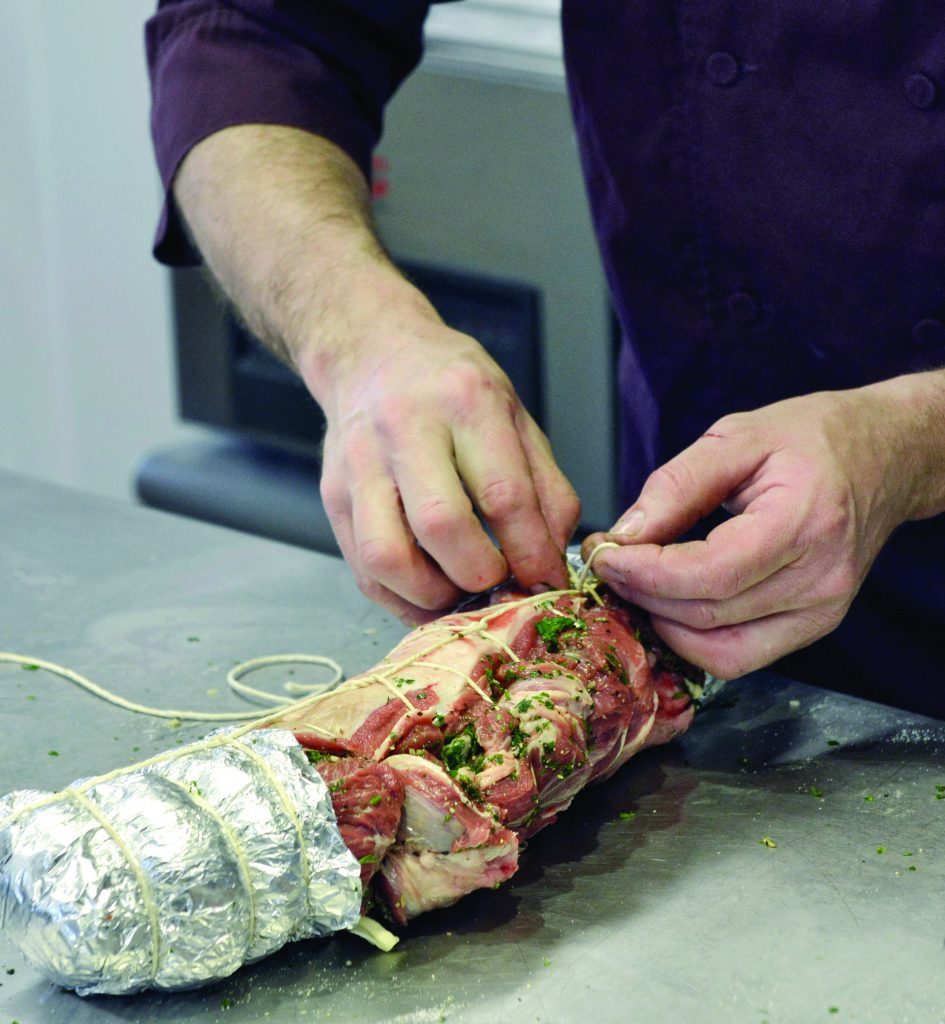 "I also really enjoy the first pick of the rhubarb from the farm, pale yet vibrant pink. It's versatile enough for both sweet and savoury dishes and with a little ginger root a great base for a delicious cocktail – gone are the days of overboiled rhubarb!"
He's keen to point out that successful cooking doesn't rely on expensive ingredients and fancy recipes.
"Start making something you enjoy and then experiment a little," he suggests. "Choose the best quality ingredients you can afford and try to use seasonal ingredients – you really can taste the difference and you will actually save money by purchasing seasonal goods."
As well as being able to spend time with his three young sons, one of the best aspects of the business is working with the animals and knowing that the result on the plate is through months and years of work with the farm stock.
But he warns that hospitality is not a nine to five job – long and unsociable hours are the norm.
"Make a decision based on passion, drive and resilience," he advises. "Work hard and enjoy what you do – being a chef is not an easy career but if you have passion for raw ingredients and producing field to farm dishes, it is extremely rewarding."
www.errichel.co.uk
Curried duck eggs with chermoula dressing
Serves 4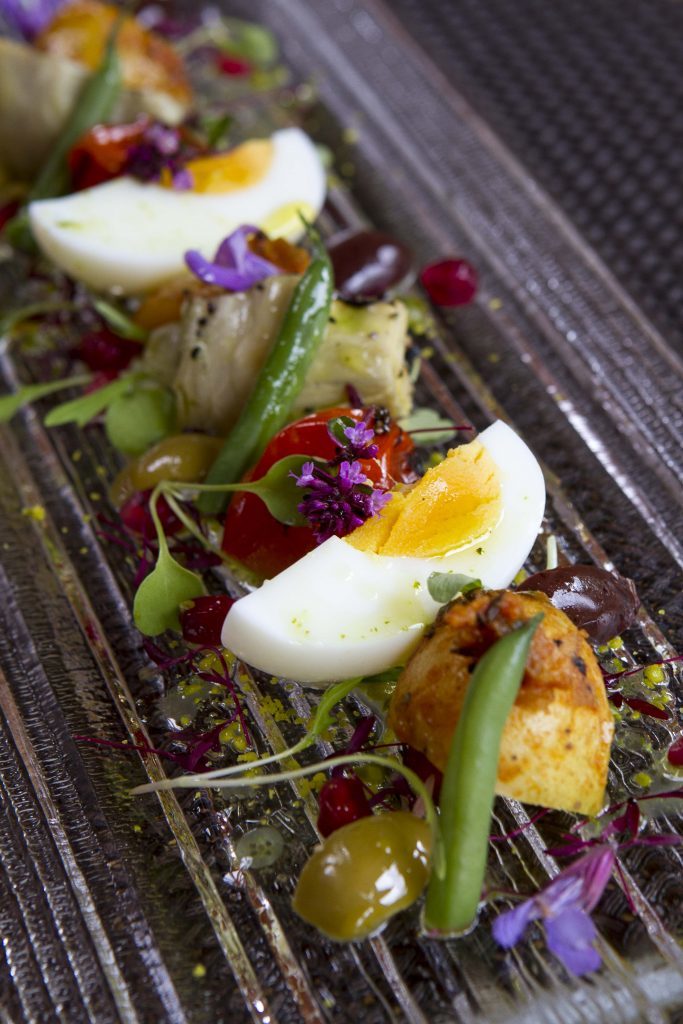 Ingredients
Curried duck eggs
½ tsp Dijon mustard
1 tsp curry powder
1 tsp garam masala
Pinch salt
Pinch black pepper
4 x soft boiled duck eggs, cooled & peeled
Directions
Mix all ingredients except the eggs to a thick paste.
Place eggs into paste and gently coat eggs.
Leave in fridge for a few hours, overnight is perfect if you have time.
Chermoula dressing
1 bunch coriander – leaves & tender stems only
1 bunch flat leaf parsley – leaves & tender stems only
2 tbsp smoked paprika
1 tbsp ground cumin
2 tsp freshly grated ginger
½ tsp chilli flakes
Pinch of saffron
½ tsp coriander seeds
3 tbsp olive oil
1.2 preserved lemon – roughly chopped
1 tsp salt
Directions
Place all the ingredients into a food processor and blend to a rough sauce consistency.
Patatas bravas
Serves 4
Ingredients
200g baby boil potatoes
1 small onion, finely chopped
2 cloves of garlic – finely chopped
2 tbsp tomato puree
2 tsp sweet paprika
2 tbsp olive oil
Pinch chilli powder
Pinch of salt
Directions
Pre-heat oven to 180 °C Fan
Cut potatoes in half and pat dry.
Mix all the other ingredients in a bowl and then add the potatoes and mix to coat.
Place potatoes into a roasting pan and roast for 30 – 35 minutes.
To assemble dish
A handful of blanched fine beans
A few olives
A few semi-dried tomatoes
Roast artichoke (you can roast your own or find them in good delis)
Cut eggs in quarters lengthways and arrange on plate with patatas, beans, olives, tomatoes and artichoke.
Finish with a drizzle of chermoula dressing and a small sprinkle of salt and black pepper.
Errichel Farm's rare breed Shetland beef tagine with fig and rhubarb
Serves 4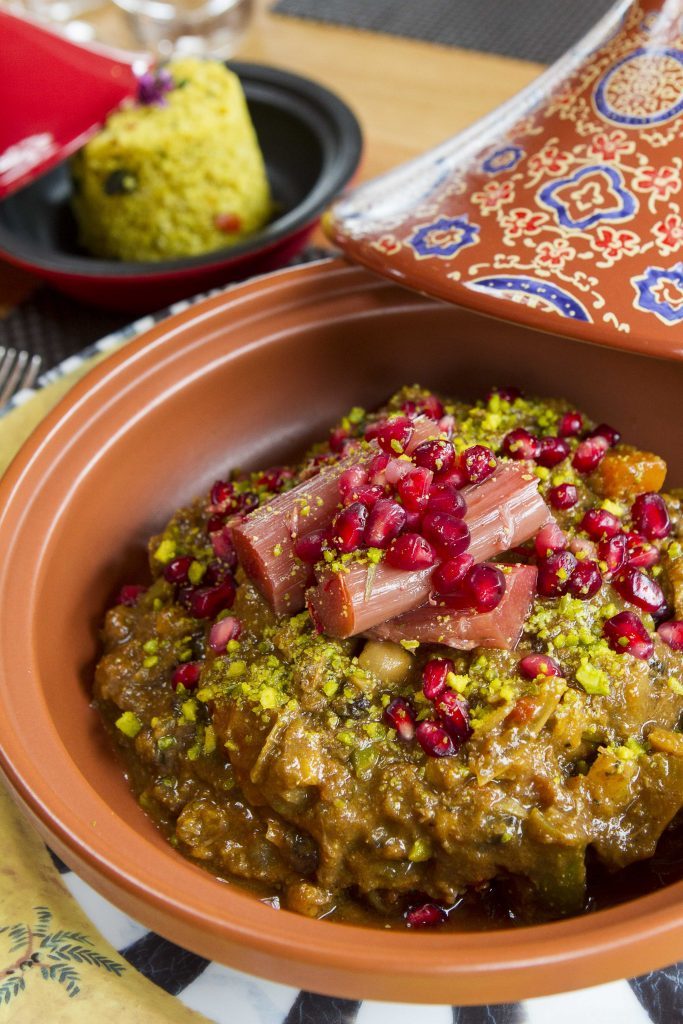 Ingredients
600g Shetland Diced Beef
1 red onion
½ a bunch of fresh coriander
Olive oil
1 x 400g chickpeas soaked overnight or 1 tin
1 x 400g fresh plum tomatoes diced
800ml vegetable stock
800g butternut squash diced
600g sweet potato diced
100g toffee dates
100g apricots chopped
2 tbsps flaked almonds
2 sticks rhubarb
25g demerara sugar
Sprinkle of pomegranate seeds
Spice rub
One level tbsp of each of:
Ras el hanout
Ground cumin
Ground cinnamon
Ground coriander
Chopped garlic
Ground ginger
Sweet paprika chopped red green standard chillies
Za-atar
Green thyme
Fig juice
Prune juice
Directions
Mix all the spice rub ingredients together in a small bowl with a good pinch of sea salt and black pepper and gently cook in a frying pan for ¾ minute without any colour just to allow the flavours to come out more.
Place the beef into a large bowl and mix it with the spices from the frying pan, then cover with cling film and place in the fridge for a couple of hours, preferably overnight.
When you're ready to cook, peel and finely chop the red onion, and pick the coriander leaves, finely chopping the stalks.
Heat a generous amount of oil in a tagine or casserole pan over a medium heat, add the meat and fry to seal and colour the meat. Add the onion and coriander stalks and fry for a further 5 minutes.
Drain and tip in the chickpeas, followed by the tomatoes, breaking them up with a spoon, then pour in 400 ml of stock and stir well. Bring to the boil, then cover and reduce to a low heat for 1½ hours.
Meanwhile, deseed and chop the squash into 5 cm chunks, the same with the sweet potato, then de-stone and roughly tear the toffee dates. Toast the almonds in a dry frying pan until lightly golden, then tip into a bowl.
When the time's up, add the squash, potato, dates and remaining stock. Give everything a gentle stir, then pop the lid back on and continue cooking for another 1½ hours. Keep an eye on it, adding splashes of water, if needed.
Place the rhubarb on a baking tray and sprinkle over the demerara sugar. Bake the rhubarb at 180°C for 15 minutes.
At this stage, remove the lid and check the consistency. If it seems a bit too runny, simmer for 5 to 10 minutes, more with the lid off – the beef should be really tender and flaking apart now, so have a taste and season again.
Add a tablespoon of fig and prune juice to the mix and simmer for another 2 minutes.
Scatter the coriander leaves over the tagine along with the toasted almonds. Top with baked rhubarb and a sprinkle of pomegranate seeds. Serve with a big bowl of lightly seasoned couscous and dive in.
Rhubarb tatin
Serves 4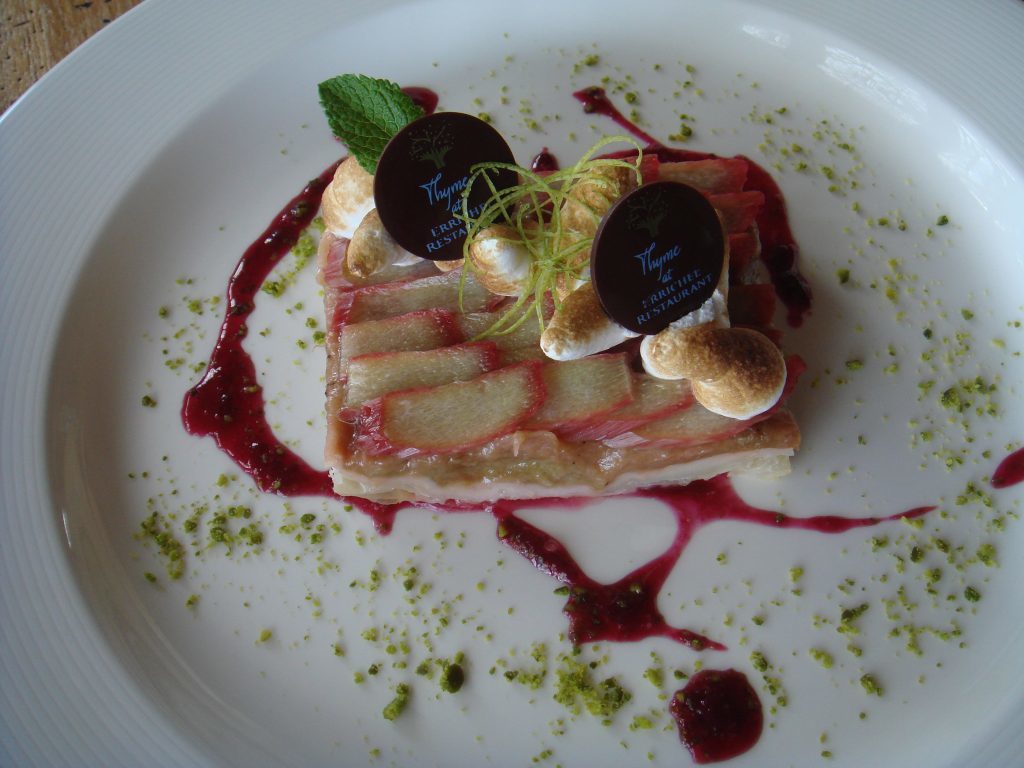 Ingredients
100g caster sugar
650g first of season rhubarb – cut to fit the pan
30g unsalted butter cut into 1cm cubes
Juice of ½ lemon
300g bought puff pastry
Directions
You will need a heavy based, oven proof frying pan or a tatin tin, approximately 24cm
Heat the oven to 200C
Put the sugar into the pan over a low heat to dissolve and heat gently to a pale golden colour.
Remove from the heat and lay the rhubarb, curved edge down. The sugar will be hot – take care.
Dot the rhubarb with butter and sprinkle on the lemon juice.
Trim the pastry to 1cm larger all round than the pan then lay on top of the rhubarb tucking in the edges.
You can chill this for up to 24 hours or bake straight away.
Bake in the pre-heated oven for 15 – 18 mins until the pastry is puffed and golden.
Remove from the oven and leave to sit for a few minutes.
Turn out on to your serving plate, once again take care as the caramel will be hot.
Serve in slices with eg mini meringues, fruit coulis and a sprinkle of pistachio.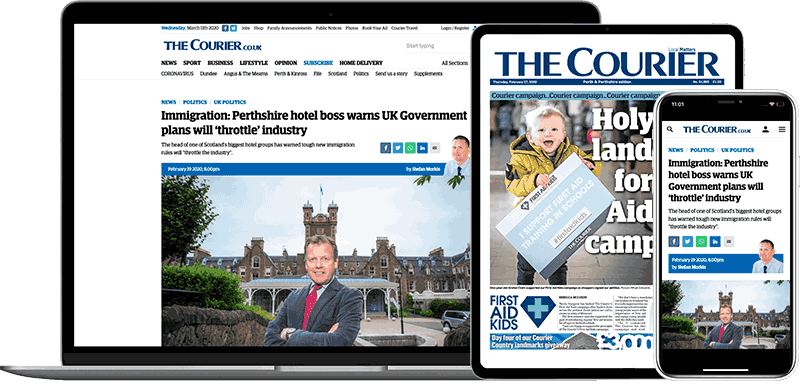 Help support quality local journalism … become a digital subscriber to The Courier
For as little as £5.99 a month you can access all of our content, including Premium articles.
Subscribe