Angus born and bred, chef Jamie Scott is the perfect person to champion all the wonderful produce the area has to offer. The MasterChef winner will be appearing at the Taste Angus Festival on August 19-20, cooking up dishes to delight in his demonstrations and serving scrummy street food to visitors.
Originally from Arbroath, where his parents ran a kitchen at the golf course, Jamie has been cooking since he was 11. He went to college at 16 then travelled all over Britain and Europe doing "stages" – a French term meaning unpaid work experience in restaurants.
The education served him well. Returning to Scotland, his first job was at the Colliston Inn in his home town, followed by a stint at the Byzantium in Dundee. Next he moved to Rocca in St Andrews as junior sous chef. By the time he left he'd graduated to head chef and the restaurant had been awarded three AA Rosettes.
Oh and there's also the small matter of that MasterChef victory. Buoyed by his success in the BBC television cooking contest in 2014, Jamie and wife Kelly opened their own restaurant, The Newport, last year and have already won two AA Rosettes in the first 12 months.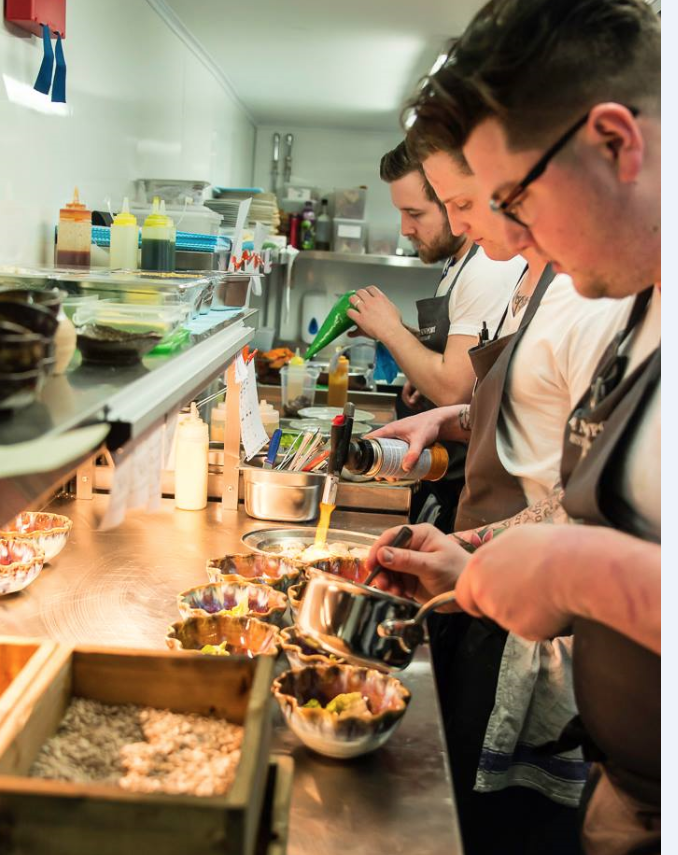 "It means everything to me," the 29-year-old smiles. "It's my life, cooking food we love, presenting an experience we want to be part of – it's special."
Describing his style as modern Scottish, Jamie and the team use as much local and seasonal produce as they can, much of it, naturally, from the fields and farms of Angus.
"Growing up in Angus you kind of take the amazing produce for granted at the time but I was aware of great farmers, amazing local vegetables, wonderful free range eggs and fish down at Arbroath harbour," he explains.
"It's when you start to use Angus produce to cook with that you realise just how fantastic it is. It's a proud reflection of the area and everyone takes huge pride in its provenance."
Favourites include soft fruit ("the best berries anywhere," he declares), Arbroath smokies, asparagus from Eassie Farm by Glamis and dairy products from Forfar.
And as the growing year gets properly under way, his mouth is already watering at the prospect of all those lovely ingredients.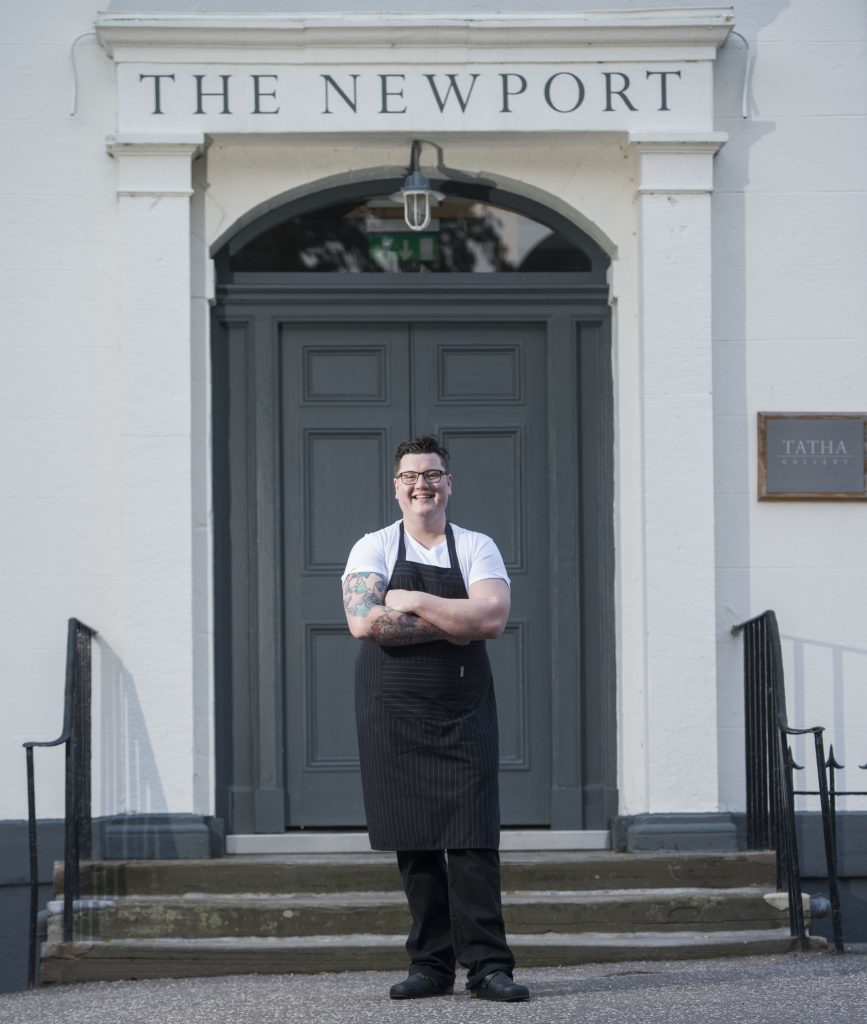 "It's still a bit cold for a lot of Angus produce but the next few weeks will make a big difference," he says.
Although the Taste Angus Festival is still several months away, Jamie is already busy planning for it, especially as he has at least eight different festivals to prepare for over the summer, including the Ideal Home Show, the Crail Food Festival and the Scottish Game Fair at Scone Palace.
However, Taste Angus will always have a special place in this local lad's heart. "The festival is a great platform for chefs, restaurateurs and producers to come together and showcase the fantastic food that Angus has to offer," he says.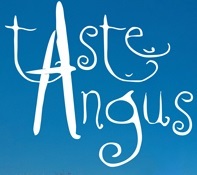 Jamie will be creating some of the restaurant's signature dishes during his cookery demonstration and will also be running a pop-up street food restaurant during the event at Glamis Castle.
"Hopefully we'll be feeding a lot of people," he says. "It's all about giving visitors to the festival a taste of the best street food so we need to get it right."
Now in its fifth year,Taste Angus is getting bigger all the time and Jamie is thrilled to see it promoting local producers and helping Scottish artisan traditions to thrive.
"I'm really looking forward to doing my demos and giving the audience a taste of Angus," he says.
And it won't be a case of all work and no play for the busy chef – when he gets a spare moment he'll be mingling with the crowds and drinking in the atmosphere of his home turf festival – and he means that literally. "I'll be enjoying the gin from the Gin Bothy, tasting food and catching up with friends and colleagues, and folk I was at college with," he smiles.
www.tasteangus.co.uk
Jamie's crispy cod cheeks, tartare sauce and pickled cucumber
Ingredients
(Serves 4)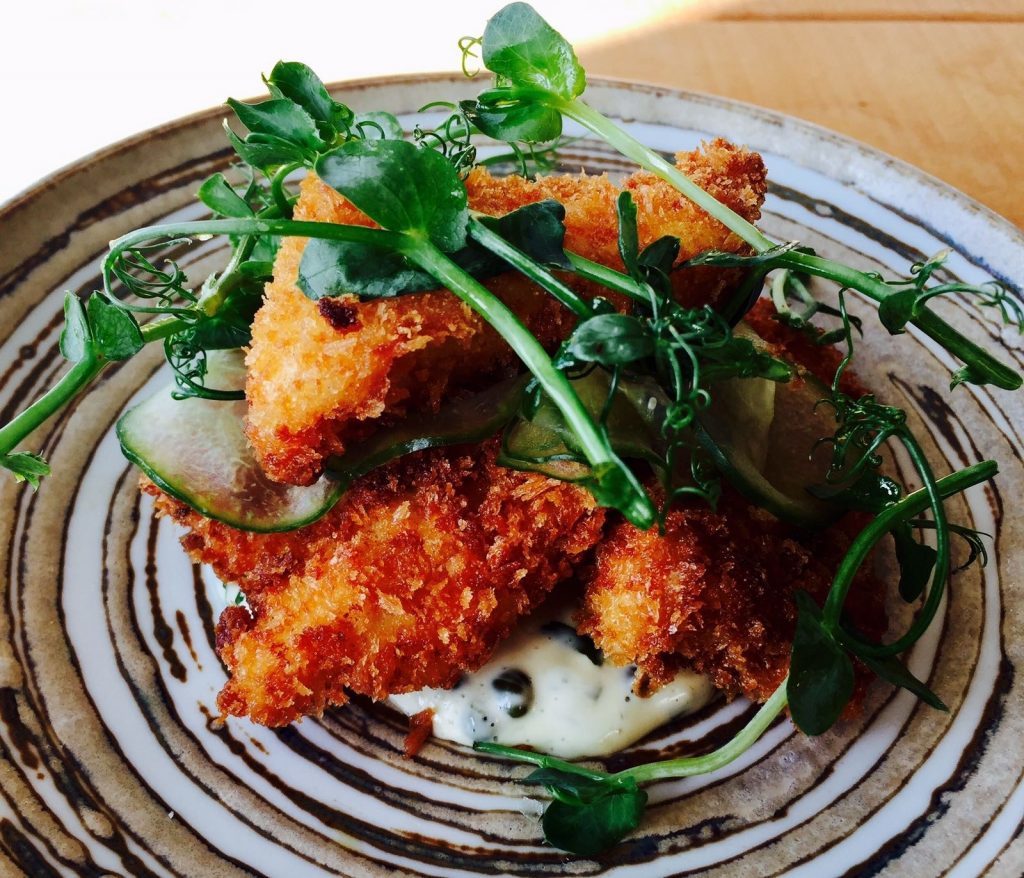 20 cod cheeks (skins removed)
100g plain flour
4 eggs, beaten
200g panko breadcrumbs
100ml white wine vinegar
50ml water
2 tbsp caster sugar
1 tsp peppercorns
1 sprig thyme
1 cucumber, seeds removed and dice into 2cm cubes
300ml mayonnaise
2 tbsp baby capers
2 tsp chopped parsley
2 tsp chopped pickled gherkins
2 tbsp chopped shallots
1 tbsp fresh lemon juice
Directions
Prepare the cod cheeks by dipping them in flour, shake off the excess, then dip them in the egg and the breadcrumbs.
Make the pickle by boiling together the white vinegar, water, caster sugar, peppercorns and thyme and allow it to cool.
Add the cucumber and leave for 1-2 hours, the longer you leave it the better.
For the tartare sauce, mix together the mayo, capers, parsley, gherkins, shallots and lemon juice and season with salt and pepper.
To finish, pre-heat the fryer to 17C  and shallow fry the cheeks until golden.
Drain excess oil on kitchen paper and serve with tartare sauce and pickles on the side.
Jamie's braised pork cheeks, spring vegetables and mustard sauce
Ingredients
(Serves 4)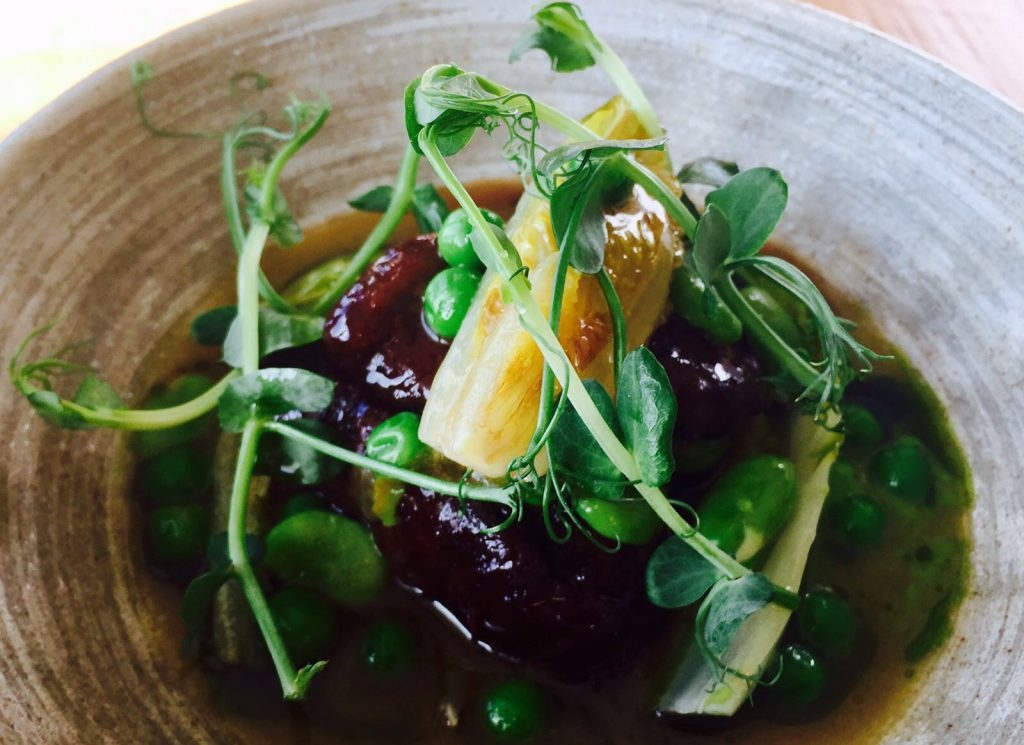 10 pork cheeks
1tbsp rapeseed oil
1 carrot, peeled and chopped
1 onion, peeled and chopped
1 celery stick, chopped
2 cloves of garlic
1 sprig of thyme
1tsp tomato purée
200ml white wine
500ml beef stock
50ml double cream
1tbsp Arran mustard
50g unsalted butter
150ml water
150g butter
1 courgette, core removed and cut into 1cm cubes
8 asparagus spears, peeled and cut into 1cm pieces
200g peas
200g broad beans
2 heads of baby gem lettuce, shredded
1 tsp chopped chives
1 tsp chopped chervil
Directions
In a casserole dish caramelise the cheeks in a tablespoon of rapeseed oil until golden all over. Remove from the pan and add the carrot, onion, celery, garlic and thyme then cook on medium heat until nicely coloured. Add the tomato purée and cook for a further minute. Add the alcohol and reduce by two thirds, then the stock and reduce by a third. Add the cheeks to the pan and place the lid on then bake in the oven at 150C for 1½ hours.
Once cooked, carefully take the cheeks out of the pan and pass the sauce through a fine sieve, pressing the vegetables to extract all the flavour. Place in a clean saucepan and reduce until thick.
Add the cream, mustard and unsalted butter then put the cheeks back in to keep them warm.
Add the water and butter and bring to the boil to emulsify. Next, add the courgette and asparagus followed by the peas and beans. Remove from the heat then add the lettuce and herbs.
Serve immediately by spooning some of the sauce on to four warm plates, then top with two of the cheeks and spoon over the rest.
Jamie's baked crowdie cheesecake with pear and caramel sauce
Ingredients
(Serves 4)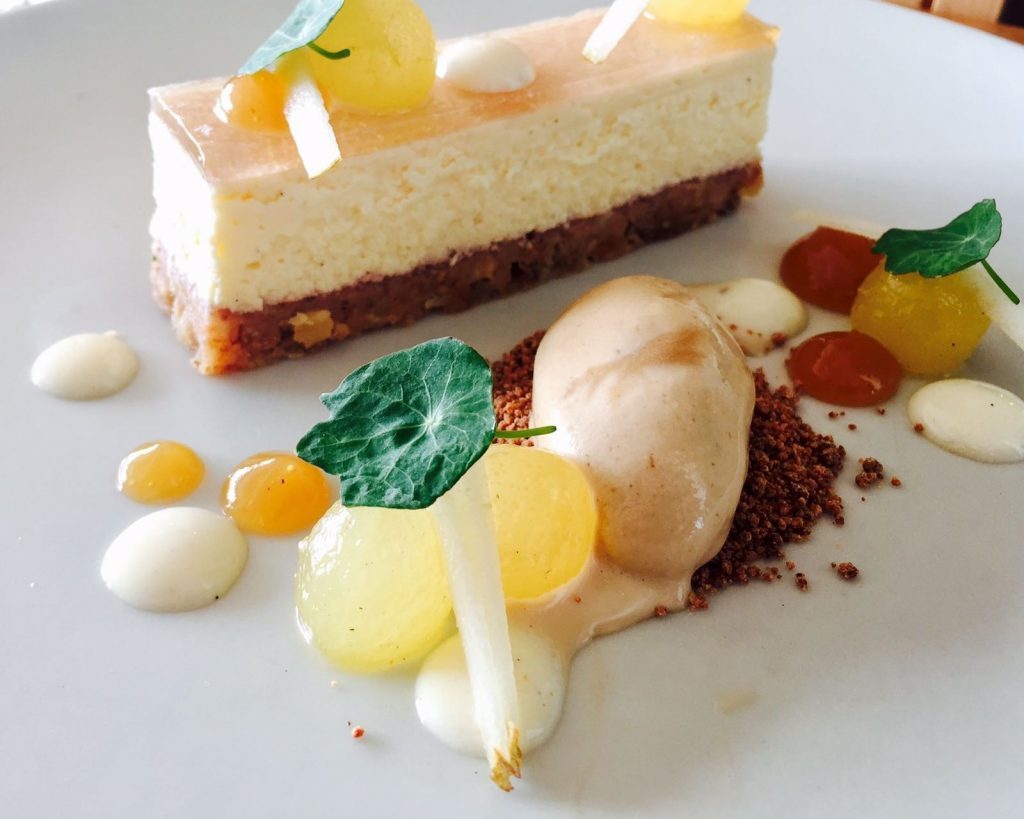 125g caster sugar
75g ground almonds
75g plain flour
50g butter, unsalted and melted
175g butter, melted
750g cream cheese, crowdie if possible
3 whole eggs
2 egg yolks
100g caster sugar
100ml double cream
1tsp vanilla paste
150g butter
75g syrup
150g dark brown sugar
75ml double cream
2 pears, cut into 40 balls with a melon baller
Directions
Pre-heat the oven to 160C.
To make the base: mix together the caster sugar, almonds and plain flour.
Place on a baking tray lined with parchment paper and bake for 15 minutes.
Remove from the oven and allow to cool.
Once cooled add to a food processor and pulse until a rough crumb is formed.
Add the melted butter and press into the base of a square baking tin lined with parchment paper.
Place in fridge until set (around 1-2 hours).
To make the filling: whisk together the cream cheese, eggs, egg yolks, caster sugar, double cream and vanilla paste and pour on to the biscuit base.
Bake in the oven at 100C for 40-60 minutes until just set with a little wobble.
Remove from the oven and leave to cool at room temperature  – do not place in the fridge as it will crack.
To make the garnish: melt the butter, syrup and sugar together on a low heat.
Once melted turn up to high and boil for 5 minutes until golden and thick.
Add the cream and reboil. Remove from the heat then add the pears.
To serve: cut a generous portion of the cheesecake and spoon over the pears and sauce.
Eat with a scoop of vanilla ice cream or pear sorbet.