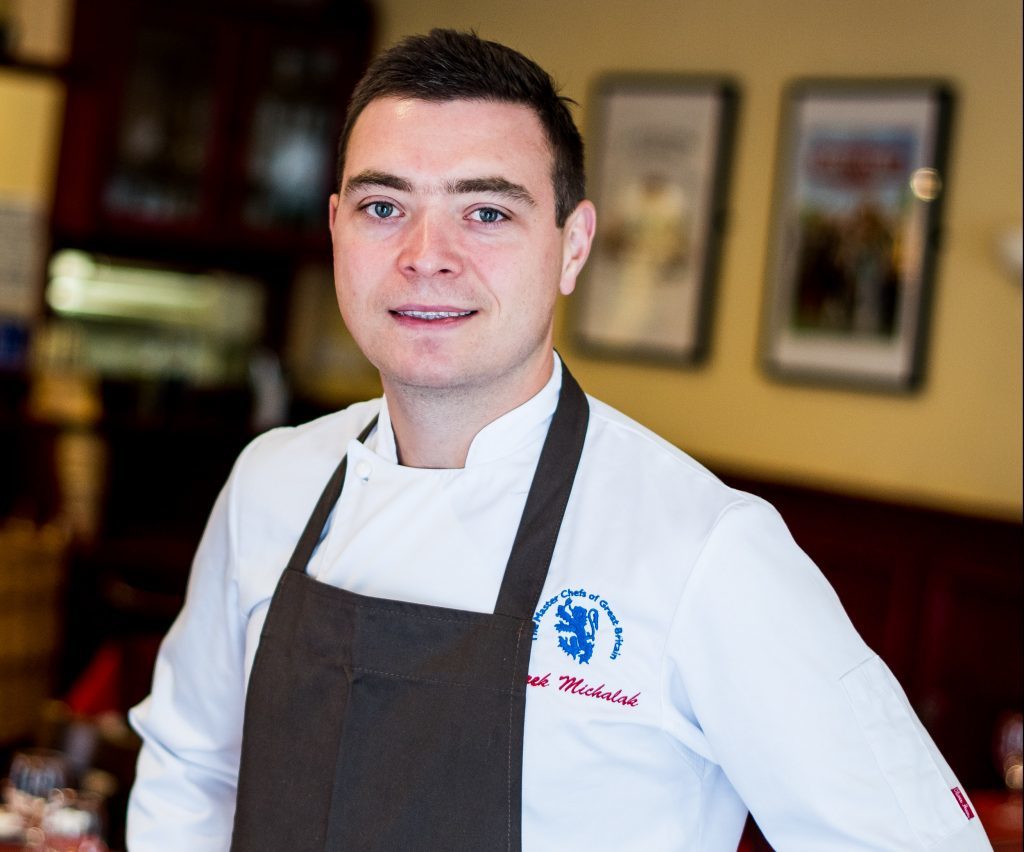 It's 10 years since award-winning Polish chef Marek Michalak took over the running of Café Tabou in Perth. Here he tells Michael Alexander why cooking is not just a way of earning a living – it is his greatest passion.
We live in interesting times and no one appreciates this more than Perth chef Marek Michalak.
The Polish national, who moved from Poland to Scotland in 2004 taking advantage of his home country joining the European Union, is "saddened" at the prospect of Britain leaving the EU.
Yet the 34-year-old, who became the first Pole to be accredited the title of a Master Chef of Great Britain last year, has been heartened by the number of customers who approached him after the UK Brexit vote, making it clear that hard working East Europeans like him and his wife Magda would always be welcome in Scotland where 62% voted Remain.
Since taking over Café Tabou in 2007 and making Perth their home, the couple have built up the reputation of the award-winning traditional French restaurant in St John's Place, which prides itself on a homely atmosphere and specialises in quality old French cuisine.
He and Magda have also become the parents of two British passport holding children – four-year-old Filip and 15-month-old Maja – and he is proud to say they were born in Dundee.
While Marek feels secure and is committed to staying in Perth, however, the reality is that rising food costs and on-going uncertainty over the rights of EU nationals in the UK mean that Brexit is already starting to bite.
"My heart is crying about Brexit because my children were born in Scotland and have British nationality," explains Marek, who holds Polish citizenship and will have to "think about what to do next" regarding his own passport.
"My life, my business, my property, my kids – everything is here.
"It was sad and disappointing when Britain decided to leave the EU. So many local people told me to remember that Scotland voted differently – that we are welcome and must stay – and that is what we plan to do.  But at the same time I respect peoples' democratic vote."
When Marek moved to Scotland from the Masurian Lake District of northern Poland in 2004, alongside his brother Michael and master butcher father Kazek, he couldn't speak a word of English.
But the Polish-trained chef quickly mastered the lingo through English language classes at Perth College and also underwent further chef training.
Initially working as chef and head chef before taking over the business, Marek says  the reputation of Café Tabou's menu is centred upon the use of local game, fish, vegetables and beef – the latter sourced from Yorkes butcher in Dundee.
He says they are "very lucky and pleased" to have so much quality produce on the door step.
But one thing they have decided recently is to concentrate on a smaller quality menu.
"Our menu used to be massive," explains Marek, "but what we are going for now is smaller with much more emphasis on quality. We decided that a few weeks ago.  All fine restaurants have a small menu with the emphasis on quality. So for example where we used to have six fish on offer, we might now have two. But it's much more finely tuned."
Marek says Café Tabou's reputation for fish and beef is what draws customers.
As a chef, however, one of his favourite creations is a good pot of stew.
"I love stews!" he laughs. "There are so many things you can add to one pot – bacon, onions, plums…"
When not juggling the children, Marek still works around 50 hours per week in the kitchen. Co-owner Magda also works in the restaurant.
But they are also dependent on the team comprising head chef Donna Curiciuc, sous chef Colin Mailer and chef de partie Jamie Mason.
As one of just 250 Master Chefs of Great Britain, Marek says it's a "wonderful feeling" to have been recognised by his peers.
But ultimately it's about giving his customers an unforgettable  culinary experience.
He adds: "I like to ensure the standards of the food served and service at Café Tabou remain perfect. To me cooking is not just a way of earning a living, it is my greatest passion. Taste and good manners prevail. Professional service entails satisfying every wish of the customer and our refined wine list comprises a variety of carefully selected wines matching our menu."
Marek has supplied The Courier with a three course men of his choice for readers to try at home:
Mackerel au vin Blanc
INGREDIENTS
(SERVES 4)
1 large carrot
1 onion
1 fennel
450ml white wine
3 tbsp olive oil
3 tbsp white wine vinegar
6 mackerel fillets
4 toasted ciabatta
DIRECTIONS
Finely slice carrot, onion and fennel.  Put into a deep pan/sautee pan.
Cover the vegetables with the white wine, olive oil and white wine vinegar.  Bring to the boil, then reduce to a simmer.
Place mackerel on top and cover with greaseproof paper.
Simmer for 5 minutes until mackerel is cooked.
Chill and serve with toasted ciabatta.
Petit sale aux lentil
INGREDIENTS
(SERVES 4)
750g pork belly
250g goose fat
1 large carrot
1 onion
3 garlic cloves
100g bacon lardons
250g puy lentils
Bouquet garni
1 litre chicken stock
100g smoked sausage
DIRECTIONS
Salt pork belly overnight.
Slowly cook pork belly in goose fat at 140°c for 2 – 3 hours.
Once pork belly is cooked, remove from lard and cut into portions.  Return to over at 180°c to crispen up.
Finely chop carrots, onions and garlic.
Pan fry bacon lardons, carrots, onions and garlic.  Add put lentils, bouquet garni and cover with stock.
Bring to the boil and then reduce to simmer.  Cook until soft, may need to add more stock as you continue to cook.
Once lentils are cooked, add diced smoked sausage and season to taste.
Apple Normandy Tart
INGREDIENTS
(SERVES 4)
Sweet Pastry
110g butter
225g plain flour
80g caster sugar
1 egg
Filling
4-5 Royal Gala Apples
100g Almonds
4 x Egg yolks
75g caster sugar
200g Double Cream
DIRECTIONS
Firstly make the pastry by rubbing together butter and plain flour until it resembles breadcrumbs, mix in sugar.  Add beaten egg and mix until it forms a dough.  Rest in fridge for approximately one hour.
Pre heat oven to 180°c.
Roll out and line a greased and floured tart case.
Blind bake for 15 minutes.
Peel and core apples and slice into rings.
Layer the apples around the pastry dish, sprinkling the almonds between each layer.
Mix together the egg yolks, sugar and cream then pour over the apples and back for 25 minutes until the egg mix sets.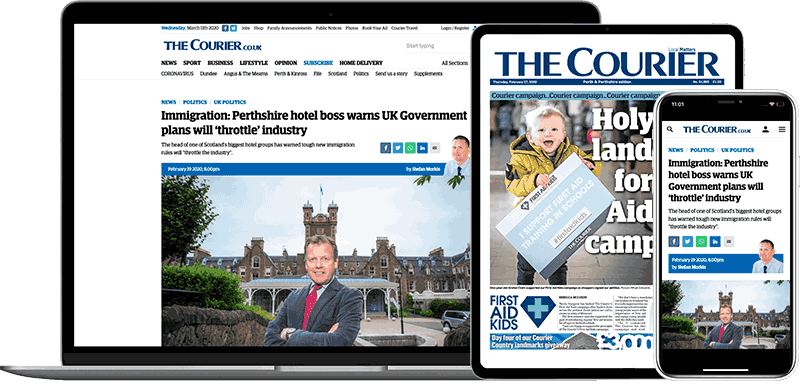 Help support quality local journalism … become a digital subscriber to The Courier
For as little as £5.99 a month you can access all of our content, including Premium articles.
Subscribe