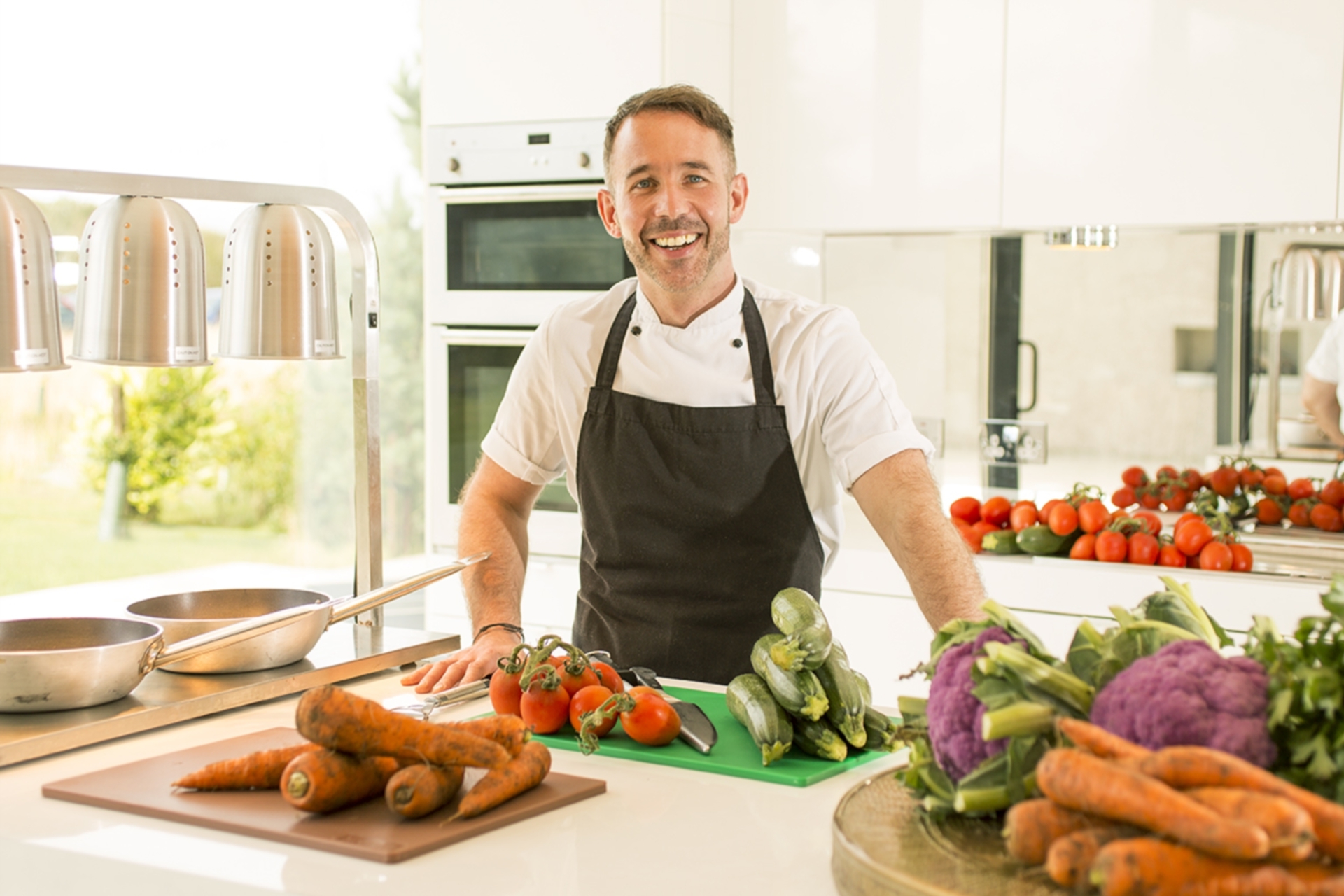 Originally from Fife, Barry Bryson is one of Scotland's leading private chefs. He's just launched an exciting partnership with Old Town Chambers in Edinburgh. Gayle Ritchie finds out more.
 Barry Bryson is the king of canapes.
"I must make around 60,000 individual hand-made ones a year," he beams.
"The time and effort that goes into them means I've got to have a passion for them!"
Based in Edinburgh, private chef Barry, 42, is the owner of Cater and is one of Scotland's go-to chefs for home entertaining.
He's cooked for everyone from Richard Branson to Burt Bacharach and leading fashion house, Louis Vuitton.
Earlier this month, Barry wowed diners with his canape creating passion when he launched an exciting partnership with the Old Town Chambers in Edinburgh.
Guests to the swanky event sampled some of Barry's tasty creations (while quaffing champagne) before moving on to the main event.
He served up three canapes for the summertime supper – pinhead oatmeal oatcakes topped with Scottish strawberry and black peppercorn puree and seared Highland venison; smoked salmon on beetroot blinis with a citrus crème fraiche; and radish cup with sea bass ceviche, avocado and micro coriander. Yum.
The night was a taster of what guests who stay at the chic, contemporary apartments can expect in the future.
"They'll be able to host their own dinners, cocktail and canape parties, or take part in cookery classes," explains Barry.
"I've cooked in some of the most beautiful venues in Scotland and the Old Town Chambers are certainly up there with the best.
"They're truly stunning and I'm looking forward to creating memorable and delicious events for guests."
Barry went to Madras College in St Andrews before training in professional cookery and food studies at Elmwood College in Cupar.
During his time there he did work placements at the Old Course Hotel in St Andrews and a Fife-based baking firm.
He worked in London for three years for the Park International Hotel in Kensington and then The Albany Hotel on Barkston Gardens.
Returning to Scotland in 1998, he worked for event chef James Robb in Edinburgh until he started his own company, Cater, in 1999.
From 2000 he ran cafes at galleries and art venues in Edinburgh, before opening the Circle Cafe in the city's Canonmills area. He sold this in 2010 to focus on his events work.
He kept Cater deliberately small, with only himself and another two chefs based at a commercial unit in Edinburgh.
"For the volume of work we do, that's pretty intense, but it works better for us and our product," says Barry.
Barry has always been fascinated with food, not only the flavours and enjoyment of eating it, but the processes involved in bringing it all together.
"My mum was a great cook," he recalls. "We always ate pretty seasonally and simply – that was the most cost-effective way.
"She worked full-time as well as having to cook for us so I was aware of the time she needed to do that. This gave me a huge respect for food."
Barry's cooking inspirations are wide-ranging and range from northern Spanish Michelin to Sunday dinner at a friend's house – "anything I can feel some passion in".
Alongside a passion for canapes, Barry loves eating to the seasonal clock. "I know it's a cliche but it's a good one!" he chuckles.
"I can always tell what time of year it is by what I'm cooking and eating.
"It's a brilliant time for produce in Scotland right now. I'm using lots of radishes, broad beans, cauliflowers, beets and tomatoes and shellfish.
"This is a time when we can use non-imported soft fruits so I make loads of meringues, Genoise sponges, cheesecakes, tarts and trifles in summer to showcase them all."
Barry sources ingredients from a small pool of trusted suppliers that he's been working with over the last four years – a Borders butcher, an organic Perthshire butcher and a Newhaven-based fishmonger, as well as a great vegetable supplier.
The partnership with Old Town Chambers, just off the Royal Mile, was born after Barry and his team wowed a party of diners at the venue late last year.
"I cooked for a large Edinburgh and London crowd getting together to celebrate a 50th birthday. We did dinner with cocktails and it went down a treat!"
What's special about Cater is that food is not cooked in industrial bulk and there's no outsourcing.
"That gives our cooking a strong identity," says Barry.
"That, coupled with using fantastic quality produce means we focus massively on each and every menu off-site so that we deliver on-site with precision.
"I personally brief and instruct every event directly to the waiting staff – sometimes up to 30 of them at one event – so that each job we do has a strong sense of momentum and clarity."
Any words of wisdom to young chefs?
"Remember that you never stop learning," he says.
"There isn't a point when you can afford to, as what we do requires constant thought as well as constant energy and passion."
For more details, see cateredinburgh.com
And for information on the Old Town Chambers, see www.lateralcity.com