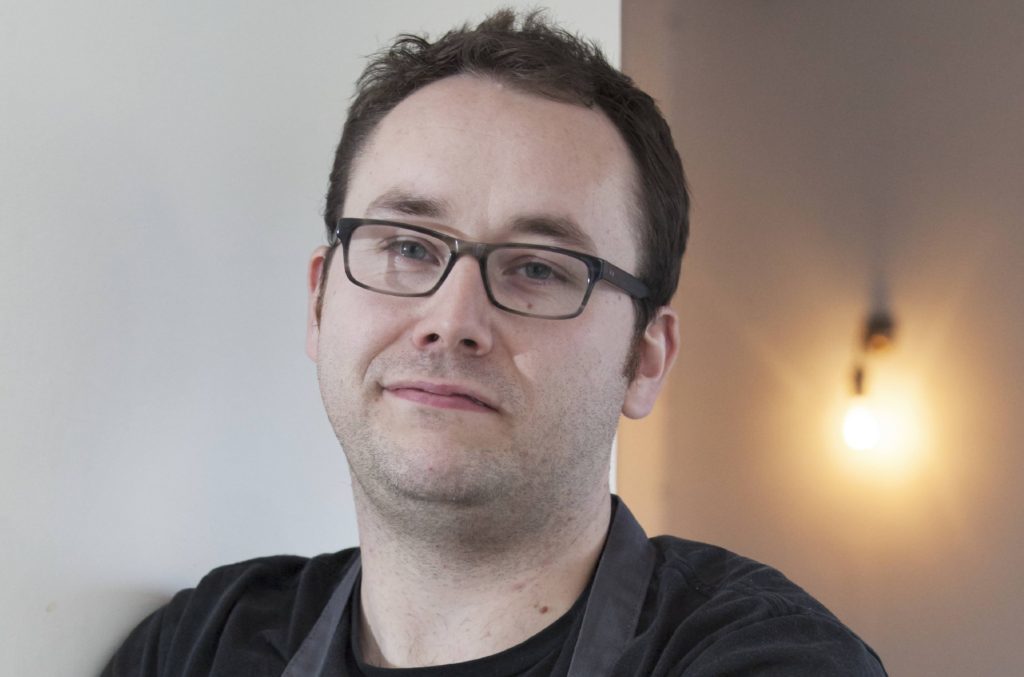 The warm glow that good food brings has always been an important part of Stuart Ralston's life. No wonder then that the name of his restaurant in Edinburgh – Aizle – is an old Scots word for a glowing ember.
"We opened Aizle because I wanted somewhere I would want to go to myself, a place that would welcome people with warmth and hospitality," explains Stuart.
Because his father was a chef, good food was in abundance when he was growing up. "We always ate well," he recalls. "We didn't have a lot of money but my mum always cooked for us and made sure we knew what fresh vegetables were and made beautiful braises. She was Cornish so we ate a lot of fish too.
"No wonder then that eating well developed into a passion for cooking and, at the age of 14, Stuart decided to follow in his dad's footsteps and train to be a chef.
Eventually he grew fed up with working for other people and decided to venture out on his own. The result: Aizle. But it's a restaurant with a difference. It doesn't have a menu as such; instead locally-sourced and seasonal ingredients – berries and game are big on the menu just now – are written on a blackboard and Stuart creates tasting dishes around them, taking inspiration from his travels, places he's lived, and French and Japanese cuisine.
A champion of all things vegetable, he says: "Vegetables are my favourite food type to cook with. I find them much more interesting than meat and fish, and more versatile. The fact that there are so many different varieties of the same vegetable is interesting in itself; for example, I like to keep reinventing my salt-baked celeriac dish and I think we must have served it more than 10 different ways since opening. It's always something I go back to.
"We still don't eat enough vegetables in the western world."
Mind you, there's one veg that he just can't bring himself to love: "I have a deep-rooted passion against turnips," he grimaces.
A typical day sees Stuart drop his son at nursery before heading to Aizle to check every delivery thoroughly to make sure it's the best quality.
"Anything that looks shabby gets sent back and the sous chefs phone our suppliers to make sure we get replacements on second-run deliveries," explains Stuart.
At 9.30am the team prove the sourdough bread that they make for every service and between 12 and 4 the kitchen team starts prep for the day.
"I'm there checking up on all the cooks, making phone calls, returning emails, chasing up suppliers, and finishing off recipe development," he says.
At 4pm the staff tuck into the "family meal", which each member takes it in turns to cook.
Come early evening it's all hands to the deck as the restaurant opens for dinner.
"There's no time for prep, phone calls, or email – it's literally everyone cooking and concentrating on the 48 covers we do during service," says Stuart.
Between 11 and 12 pm the whole kitchen is cleaned down and, and the sous chef phones in orders for the next day. By the time Stuart gets home to bed it can be the early hours of the next day.
While Stuart is proud of the way he's set up a successful business with no investors or huge bank loans, it's his team who make him glow with pride. "They have grown with us and they're so great to work with," he smiles.
"Restaurants always bring challenges, but owning the restaurant and also being head chef can be a balancing act because you need to give them both 100% of your attention," he admits.
Before he heads back to the kitchen, he recalls a comical moment. "My restaurant manager Jade was making a brown butter for infusing some Bourbon. This involves burning the butter at a fairly high heat. She thought the mix was cold enough to add the Bourbon, but when she added it: Whoomph!
"It kind of blew up all over the walls and floors. We had butter everywhere 10 minutes before service but her expression of surprise was priceless.
"There's nothing like an emergency clean-up just before guests arrive…"
www.aizle.co.uk
Carrot salad with Scottish crab and chicken salt
Serves 4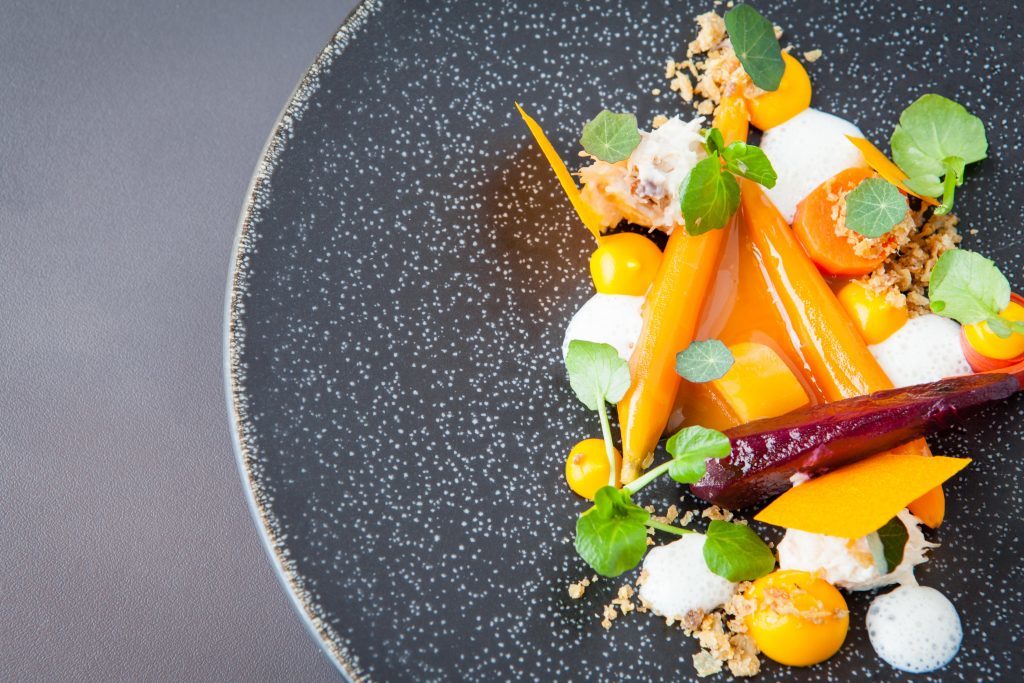 Ingredients
12 multi-coloured young carrots
250ml carrot juice
2 sprigs of thyme
1 tsp sugar
100ml water
100ml apple cider vinegar
1 sprig of dill
2 tbsp picked white crab meat
½ tbsp mayonnaise
1 lemon, plus extra lemon juice for the crab
2 chicken skins, removed from chicken legs
2 tbsp olive oil, plus extra drizzle for chicken skins
150ml yoghurt
Salt
Watercress to garnish
Directions
Begin by braising half of the carrots. Place 6 carrots in a pan with the carrot juice, a sprig of thyme, half a teaspoon of sugar and a pinch of salt. Cook gently, until tender.
Next, pickle the remaining carrots by brining then to the boil in a pan with the water, vinegar, remaining sugar and a sprig of dill. Cook until tender.
Then mix the crab meat with the mayonnaise and a pinch of salt. Add lemon juice to taste.
To make the chicken salt, season the chicken skin with a sprig of thyme, a pinch of salt and a drizzle of olive oil then bake in oven at 180°C until golden and crispy. Leave to cool, then chop into small granules to resemble coarse salt.
Make a dressing by whisking together the yoghurt, the juice of a lemon and 2 tablespoons of olive oil.
To assemble, arrange the carrots on plates then spoon around the crab salad. Finish with the dressing and garnish with a few watercress leaves.
Gartmorn Farm duck, tamarind, chicory, szechuan pepper
Serves 4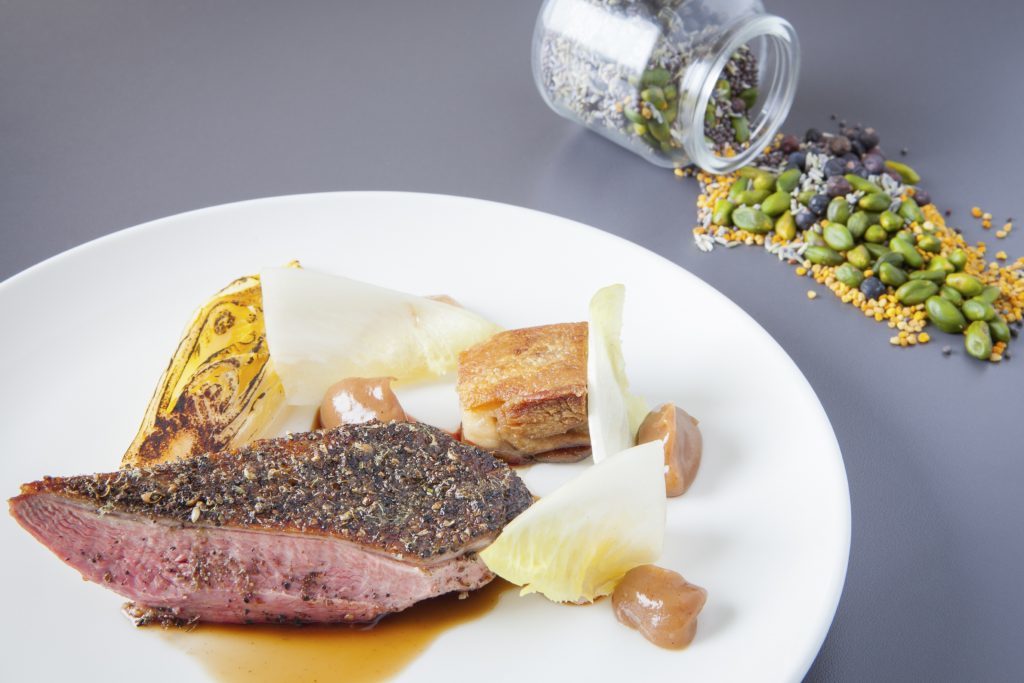 Ingredients
2 Gartmorn Farm duck breasts
Salt for seasoning
2 tbsp heather honey
1 tsp fresh lavender, crushed
½ tsp crushed Szechuan pepper
1 tbsp vegetable oil
225g tamarind
5 tsp palm sugar
1 tsp caster sugar – for the chutney
2 tsp garam masala
2 yellow chicory
100ml orange juice
½ tbsp caster sugar – for the chicory
2 sprigs thyme
A splash of olive oil
Salt and pepper to taste
Directions
Score 8-10 small slashes in the skin of each duck breast with a sharp knife and season with salt. This will help it to cook evenly. Pour the oil into an oven-proof pan and bring to a medium heat. Place the duck in skin-side down and keep pouring out the excess duck fat, until the skin is crisp. Reserve this for your roast tatties on a Sunday.
Once the skin is crisp and golden turn the duck over onto the breast side and pop into oven at 180°C for approximately 8 minutes. Remove from the oven and allow to rest for 5-10 minutes. Brush the duck skin with honey and sprinkle the lavender over so it sticks.
To make a tamarind chutney, boil the tamarind pulp for 20 minutes. Then add the palm sugar, caster sugar and garam masala and salt to taste and cook for a further 5 minutes.
Transfer the chutney to a bowl and chill. It will be served cold.
Cut the chicory in half. Heat a pan to a medium heat and add a splash of olive oil. Place the chicory in the pan and start to caramelise the chicory cut-side down. Once you have a nice roasted colour, add the orange juice, sugar and thyme and braise until the chicory is tender. Remove the chicory from pan and reduce orange juice until a syrupy glaze consistency. Brush on to chicory to finish.
To serve, cut each breast in half and place on to plates, pouring over any pan juices. Arrange the chicory around the duck and garnish with cold tamarind chutney.
Poached rhubarb, vanilla custard & oatmeal
Serves 4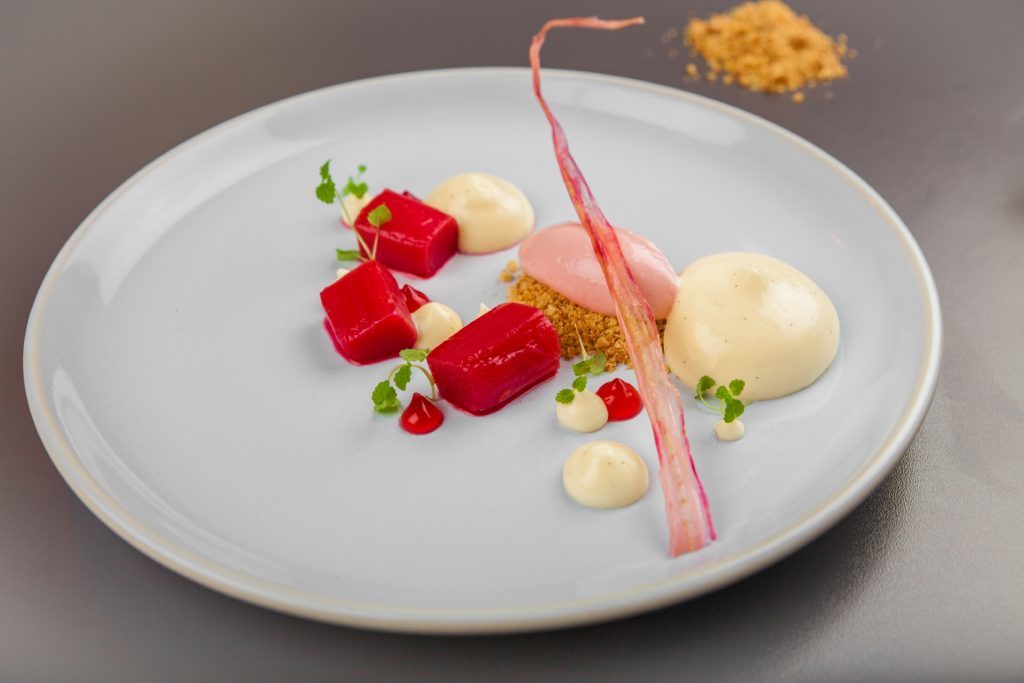 Ingredients
370g caster sugar
500g hibiscus tea, made by infusing 35g dried hibiscus flowers in 500ml hot water
Juice of 1 lemon
25ml Grenadine
500g Yorkshire forced rhubarb, peeled and cut into 2cm dice
284ml milk
142ml cream
Scraped seeds of 1 vanilla pod
5 egg yolks
80g Scottish oats
75g unsalted butter, cubed and room temperature
75g plain flour
A pinch of salt
Sweet cicely to garnish
Directions
Place 250ml sugar, 500ml hibiscus tea, the lemon juice and Grenadine in a pan to a boil. Once boiling, add the rhubarb and simmer until just soft. I prefer it to retain a little crunch. Remove from the heat, place everything and bowl and place in the fridge to chill. The rhubarb will soak up the flavours of the tea.
Next, make a vanilla custard. Heat the milk, cream and vanilla in a pan until scalding hot, then turn down the heat. In a bowl, mix the egg yolks with 60g of sugar and add to the hot milk mixture and bring the pan slowly back to heat and cook until thick. Pour into a bowl and allow it to chill and infuse in the fridge.
To make the oatmeal biscuit topping, toast the oats in a medium hot pan until golden brown. Whilst warm, mix in a bowl with the butter, flour, salt and 60g sugar. Work until it forms a dough, then place in the fridge to chill. Once cool, break the dough up into rough small chunks and bake at 180°C for 12 minutes or until golden and crunchy.
To assemble, arrange the rhubarb pieces on plates and crumble the oatmeal biscuit onto each plate. Spoon or pipe two or three servings of custard per plate and garnish with sweet cicely (optional).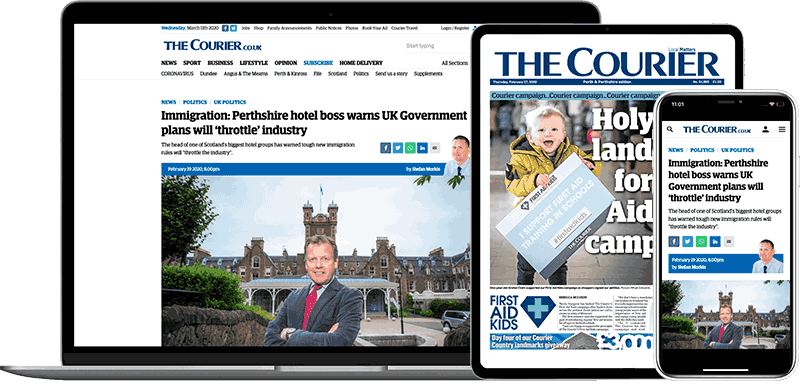 Help support quality local journalism … become a digital subscriber to The Courier
For as little as £5.99 a month you can access all of our content, including Premium articles.
Subscribe