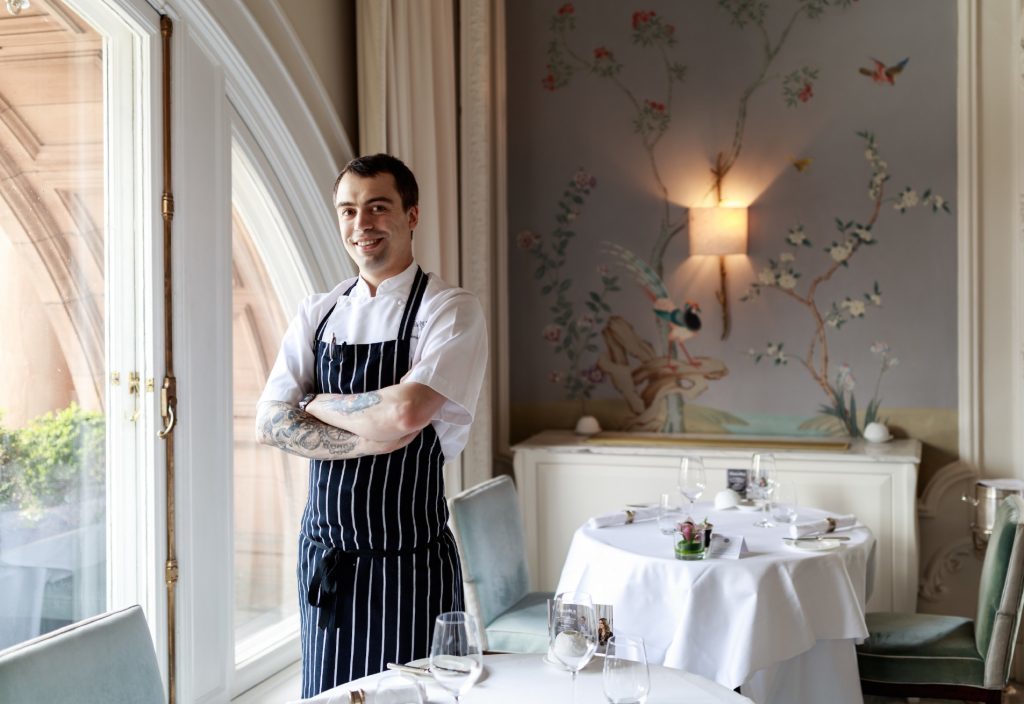 Dan Ashmore, head chef at the prestigious Pompadour by Galvin in Edinburgh,  has fond memories of a photograph his grandmother took of him when he was just three years old.
"I've always loved cooking and I remember baking with my nan after school. In the picture, I'm standing with a pressure cooker and a load of raw veg. I was making stew apparently," he chuckles.
Dan grew up in Sheffield and when he was at college he got his first job at a busy brasserie. "From there I moved to Fischers at Baslow Hall (a hotel in Derbyshire) and it was there I got my first taste of what a Michelin star meant. It was something that drove me down to London three years later," Dan recalls.
During stints at top restaurants including The Square in Mayfair and Restaurant Tom Aikens in Chelsea, Dan met Fiona, his wife to be.
"We decided to make the move to Fiona's home city of Edinburgh, and my first role there was at Number One at the Balmoral Hotel for three years before I made the move to The Pompadour."
The Pompadour by Galvin, which has just won fine dining restaurant of 2017, takes its name from Madame de Pompadour, the favourite mistress of King Louis XV of France. Serving classical French cuisine, it opened in autumn 2012 at Waldorf Astoria Edinburgh – The Caledonian under brothers Chris and Jeff Galvin, two of Britain's most influential chefs.
"It's an honour to be a part of such an amazing team and to feel part of both Galvin Restaurants and The Cally," Dan enthuses. "Everyone wants the same thing and we all work hard to deliver the best possible experience for our customers.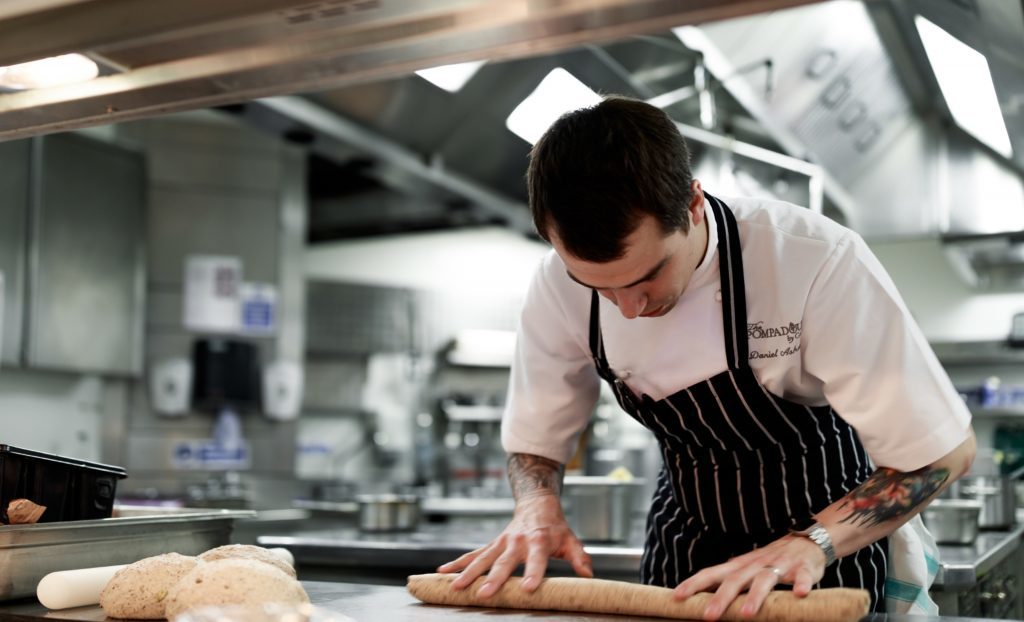 "The ethos of the restaurant is a pretty simple one really: to use the best ingredients we can get our hands on – being in Scotland makes that bit easy – and cook them with love."
Over the summer months, Dan has relished cooking with the finest produce Scotland's larder has to offer. "In my eyes, Scottish strawberries are the best in the world," he says. "Also, summer is such a great time for fish and crustacea from Scotland's coast so there was a lot of seafood and berries on my menus over the summer months. Not together of course," he jokes.
"Now were into early autumn, I'm enjoying cooking with grouse – well, all game really. And truffles. And although it won't be in until November, I can't stop thinking about Vacherin Mont d'Or cheese (Swiss/French cow's cheese).
Passionate about all produce, he admits a weakness for butter. "I'm quite naughty and put it in lots of dishes at home – Fiona always shouts at me," he laughs.
"At The Pompadour, I'd have to say my favourite ingredient is fish. I love cooking all fish, from mackerel to wild salmon – it's just so versatile.
"I've yet to find any ingredient I dislike," he continues. "I'm always up for trying new things and haven't been unpleasantly surprised yet. Something I really do not like though are huge portions of food with piles of chips on the side."
As we know, every chef has a favourite gadget that he or she would be lost without and for Dan, it's his digital temperature probe. "It's so helpful and there's no escaping the truth with one," he explains. "It tells you exactly how your meat is cooked, exactly the temperature of the chocolate you're tempering. It's invaluable to any chef."
The restaurant team have just come to the end of a busy time with the Edinburgh Festival, planning menus and ensuring they delivered the best for their customers. But there's no rest in sight for Dan.
"Fiona is expecting a baby this month so I'll be very busy for quite a while yet," he smiles, clearly relishing the thought.
His own experience over the years means he has some sound words of wisdom for young chefs just starting out.
"I'd say there're three main things: have the right attitude and turn up early with clean sharp knives and clean whites; taste your food; and be a sponge – absorb everything around you. From kitchen porters to a head chef – everyone knows something you don't. Use that to your advantage."
So does his role as head chef bring its own challenges?
"Challenges? No, this is the easiest job ever," he jokes. "In all seriousness though, you will always encounter challenges in this industry but nothing our great team at The Pompadour can't handle."
www.thepompadourbygalvin.com
Try some of Dan's favourite recipes
Jasmine poached salmon with pickled endives and orange dressing
Serves 4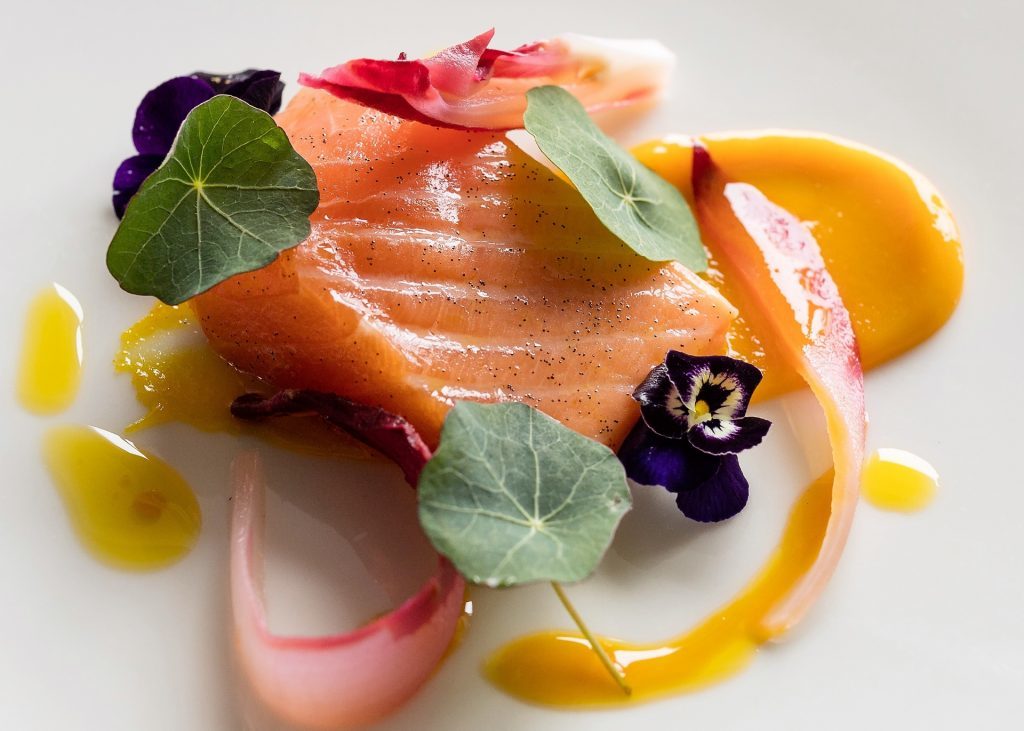 Ingredients
100g salt
100g sugar
2l water
10 green tea and jasmine tea bags
4 50g portions of salmon, skin off
20ml rapeseed oil
Orange dressing:
2l orange juice
100ml rapeseed oil
Pinch salt
Pickled endives:
75ml white wine vinegar
50g sugar
400ml orange juice
4 endives
Garnish (optional) of nasturtium leaves, hairy bitter cress and viola flowers
Salt
Directions
Make a brine with salt, sugar and water in a pot and bring to the boil. When boiling, add the tea bags, turn off the heat and allow to cool.
Once cooled, place each piece of salmon in the cold brine for 4 hours. Remove from the brine and place in a poaching bag with rapeseed oil and poach for 12 minutes at 50C.
Make an orange dressing by passing 2 litres of orange juice through a sieve into a pan then reducing it to approximately 100ml. Be very careful not to burn it. Once cooled, add 100ml rapeseed oil and a pinch of salt.
To make the pickled endives, mix vinegar with sugar and orange juice in a pan and bring to a boil. Cut each endive in half lengthways. Add the endives to the pan and remove from the heat. Leave to cool.
To serve, cut the endives to your desired size, and lay on the plate. Place the poached salmon on top and dress lightly with the orange dressing. Add the garnishes if you've chosen to use them and enjoy with a glass of chardonnay.
Loch Etive sea trout with herb gnocchi
Serves 4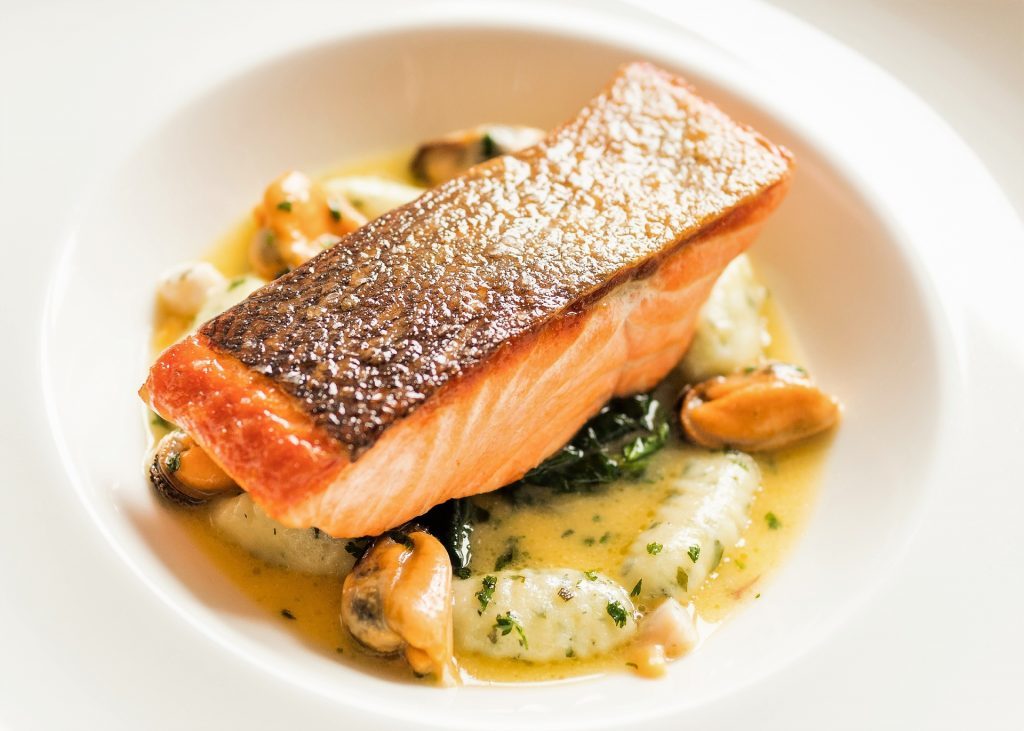 Ingredients
For the gnocchi:
200g dry mash
1 egg
30g grated parmesan
10g salt
60g 00 flour
5g chervil
5g parsley
5g chives
5g tarragon
For the mussels and clams:
10g shallots, sliced
50ml white wine
1 clove garlic
1 bay leaf
200g mussels, cleaned
200g clams, cleaned
For the sauce:
30ml mussel stock
Knob of butter
A large handful of washed spinach
1 tbsp chopped chervil
4 120g piece of trout or sea bass
Splash of rapeseed oil
Salt and pepper
Directions
To make the gnocchi, make a dry mash by baking potatoes at 170°C for 45-60 minutes. Scoop out and pass through a sieve. Put a pan of hot, salted water on the stove and bring to a simmer ready to cook the gnocchi.
Mix the egg, parmesan and salt together to make a paste. Mix this through the warm, dry mash, then slowly mix in the flour in bit by bit, then add the herbs.
Cut the dough into similar sized pieces, roll into balls, and shape. Use a gnocchi paddle if you have one. If not, the gnocchi should each be about 3cm long, with a 1.5cm diameter.
Place the gnocchi into the simmering water until they float. Remove from the water and chill in iced water. Then store on a lightly oiled tray in the fridge.
For the mussels and clams, place a large pan with a lid on the stove to simmer. Once simmer, add the shallots, wine, garlic, bay leaf, mussels and clams. Cover with a lid to allow the mussels/clams to steam. You know they are cooked when the shells open.
Once cooked, drain the liquid into a bowl to use for the sauce, and remove the meat from the shells. Retain the mussel stock.
To make the sauce, place 30ml of mussel stock in a pan with a knob of butter and allow it to melt.
Add some spinach and allow it to wilt. Then add the mussels, clams and gnocchi, heat through for 2 minutes. Add some chopped chervil at the last minute.
To cook the trout, heat a non-stick pan on the stove and add a little rapeseed oil. Season the trout on both sides with a pinch of salt and pepper. Once the pan is hot, place the trout in, skin-side down (you may have to do this in 2 batches). Press down on the fish with a fish slice to help the skin crisp up. Season to taste. Cook for around 3 and a half minutes, then turn to cook for a further 30 seconds or so to finish it off.
To serve, heat 4 deep plates and spoon in the sauce evenly. Top each plate with a piece of trout and serve.
Buttermilk pannacotta with strawberry compote and yoghurt sorbet
Serves 4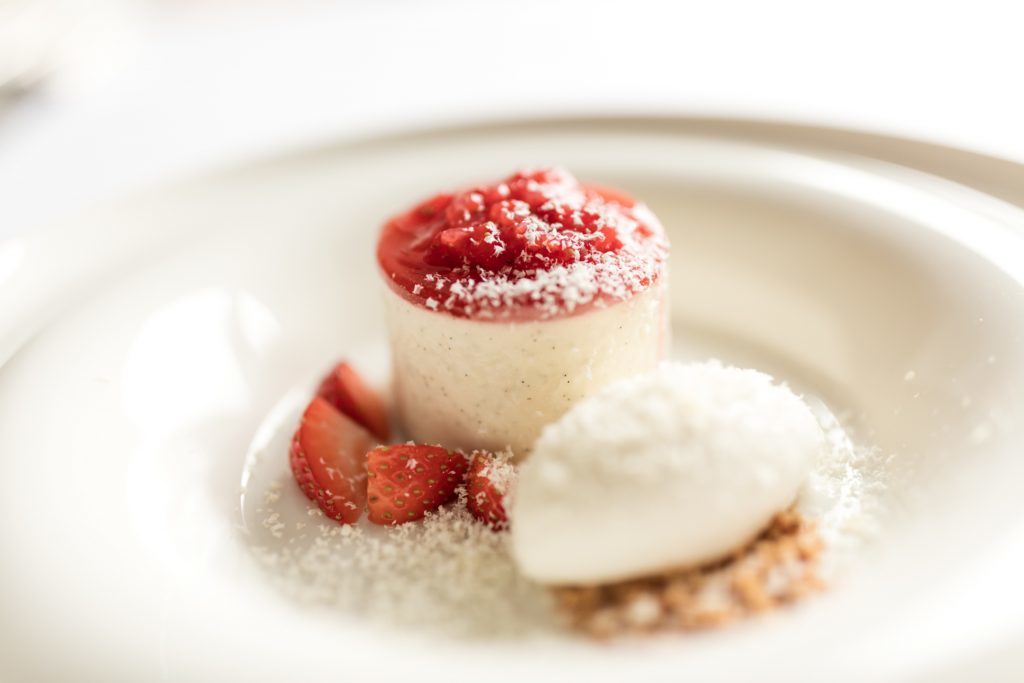 Ingredients
For the pannacotta:
500ml buttermilk
150g sugar
2.3 leaves gelatine (bronze leaf)
0.25g vanilla seeds
For the crumb:
60g soft butter
110g caster sugar
60g Demerara sugar
110g ground almonds
110g flour
Sorbet:
40ml of water
40g of sugar
0.5 gelatine leaf
300g of plain yoghurt
For the compote:
250g strawberries
60g sugar
10ml grenadine
5g pectin
80g white chocolate as garnish
Directions
Line metal ring moulds with cling film and grease spray. Place 250ml buttermilk and the sugar in a pan and gently warm. Place the gelatine in water to soften. Once soft, melt the gelatine in the warm buttermilk and add to the remaining 250ml of cool buttermilk. Pour the mix into the moulds and allow to set.
For the crumb, mix the soft butter, caster sugar, Demerara sugar, almonds and flour. Use a mixer if you have one. Spread on a baking tray and bake for 20 minutes at 170°C until crisp.
For the sorbet, warm the water and sugar in a bowl and place the gelatine in it to soften. Once softened, add the mix to the yoghurt and blend them together by hand. Freeze, then scoop when ready.
For the compote, chop the strawberries and mix with 50g of the sugar. Place in a saucepan and cook down to remove excess liquid. Add grenadine and cook for 2 more minutes. If you don't have grenadine water will do. Mix 10g sugar and 5g pectin together and place in the pan. Cook for a further 5 minutes and chill.
To serve, remove the pannacotta from the moulds and place on plates. Top with the compote, and place a spoon of the biscuit crumb next to it. Then scoop the sorbet and place each scoop on top of the crumb. Grate some white chocolate over the top for decoration if you wish.