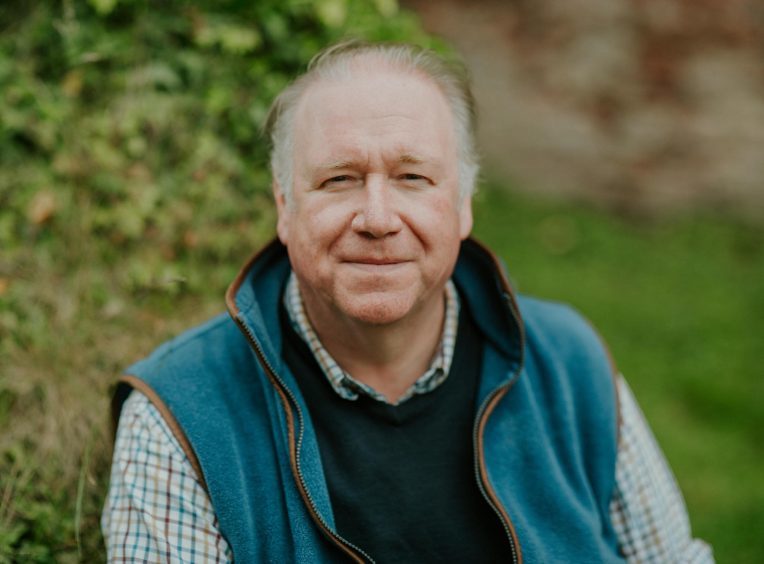 Andrew Mackenzie-Smith, chef patron of Lindores Abbey, tells Caroline Lindsay what keeps him going when the heat is on
Q Desert island food?
A Mince and tatties. I know it's comfort food but stranded on a desert island I think I'd need comforting.
Q Favourite TV chef?
A Michel Roux Jnr. I'm not a great fan of 'celebrity' chefs who haven't done the hard yards working in a top kitchen. Michel has certainly done that.
Q Favourite cook book?
A Back in the day I really liked a couple of books called Great British Chefs and actually the early Gary Rhodes books were a go-to, which maybe dates me a wee bit.
Q Favourite ingredient?
A Venison, cooking on a stalking estate (Alladale) I learned to be very creative with venison as it was free and very tasty.
Q Most hated ingredient?
A Rice pudding, to this day I cannot bear it.
Q Perfect dinner guest?
A My old boss and mentor, Stephen Doherty, ex-head chef of Le Gavroche; he taught me about consistency and hard work.
Q Favourite kitchen gadget?
A My stubby Global vegetable knife.
Q Favourite music to cook to?
A The Clash – keeps me upbeat when the heat is on.
Q Perfect menu?
A Tricky one, but right now it would be a starter of Cumbrian air dried ham with celeriac remoulade and truffle shavings.
The main would be roast fillet of Aberdeen Angus beef (my father bred them) on a fondant potato with glazed root vegetables and a rich red wine jus. Dessert, a Roux Bros tarte tatin with home-made vanilla ice cream.
Q Favourite country for food?
A Scotland, we have the best ingredients in the world – the main thing is not to faff about with it too much before putting it in front of the customers. Let the ingredients speak for themselves.
Q Favourite chef, alive or dead?
A Marco Pierre White, in his Harveys (a London restaurant) days.
Q Favourite culinary season and why?
A Winter, going back to my comfort food.
Q Salt or pepper?
A possibly too much of both but under-seasoned food doesn't appeal.
Q Favourite herb?
A Rosemary, I used to use it a lot when I made rosemary-scented crème brulee – yummy.
Q Favourite spice?
A Tough one, but I'll go for Posh! Seriously, it would be saffron.
Q Favourite way to cook the humble potato?
A Potatoes roasted in goose fat – back to my comfort food again.
Q Favourite go-to recipe if you're in a hurry?
A I like a frittata whereby I can use up virtually anything left in the fridge.
Q Favourite naughty nibble?
A It's got to be Twiglets.
Q Favourite health food?
A I am partial to raw carrots.
Q Ideal picnic dish?
A We are great fans of Mr C's pies, our local award-winning pie maker.
Q Ideal BBQ food?
A homemade hamburgers with apple and grated horseradish inside them.
Q Are you critical of the food when you're dining out?
A I understand that places have off days, if the ambience is good and the staff are trying their best I'm not too critical, I think everyone should work a shift in a very busy kitchen, mistakes can happen, but they shouldn't happen twice.
Q Do you tip in restaurants?
A Yes, though I sometimes feel it's a little naughty when it has already been added, I also wherever possible tip in cash.
Q Top tip for failsafe cooking?
A Always use a big enough pan.
Q Worst cooking sin in your opinion?
A Over-complicating dishes, for instance a 'chip tower' means each chip has been manhandled while the dish is simultaneously cooling down.
Seared Scottish Scottish salmon with sauce antiboise
Serves 4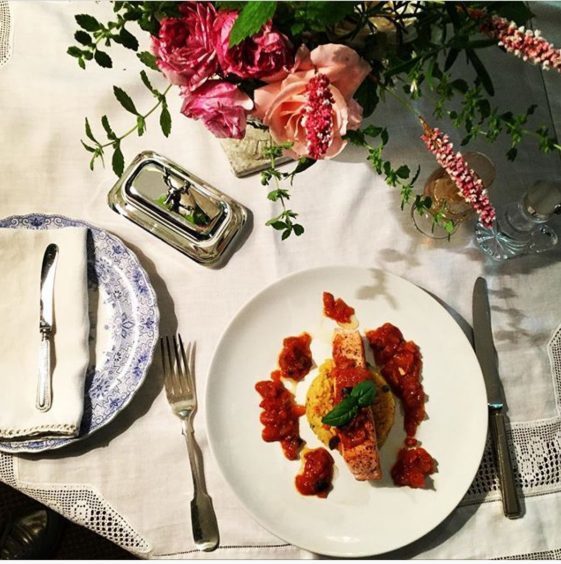 Ingredients
1 onion, roughly chopped
Small knob of butter
1 stick of celery, roughly chopped
Bay leaf
Salt and pepper
250g tinned plum tomatoes
2 cloves of garlic, finely chopped
1 tbsp tomato puree
1 tbsp dried herbs de Provence
2 tsp of sugar
Juice of one lemon
50g of butter
Few drops olive oil
4 lightly seasoned salmon fillets @ 160g each
6 shredded basil leaves
4 shredded mint leaves
6 roughly chopped black olives
1 tsp crushed garlic
1 creamed anchovy fillet
150ml extra virgin olive oil
Directions
First make the tomato sauce: put onion and celery into a food processor and puree to a pulp.
Heat butter in a heavy based pan and sweat the puree for a minute or so with the bay leaf and some salt and pepper (go light on the salt as the anchovy fillet will be salty).
Meanwhile, put the plum tomatoes into the processor and whizz to a puree, then sieve and add to the pan with the garlic, tomato puree, and herbes de Provence, sugar, butter and the lemon juice.
Simmer for 10 mins, then remove from the heat and cool to room temp.
Heat a few drops of the olive oil in a non-stick pan over a high heat. Put the salmon fillets in to sear for one minute on each side then remove from the heat.
Into the tomato sauce stir in the basil leaves, mint leaves, olives, garlic, anchovy and olive oil and season to taste.
To serve
Plate up the salmon and drizzle the Sauce Antiboise over it.
Best served with hot new potatoes, or Saffron rice and a crisp green salad.
www.lindoresdistillery.com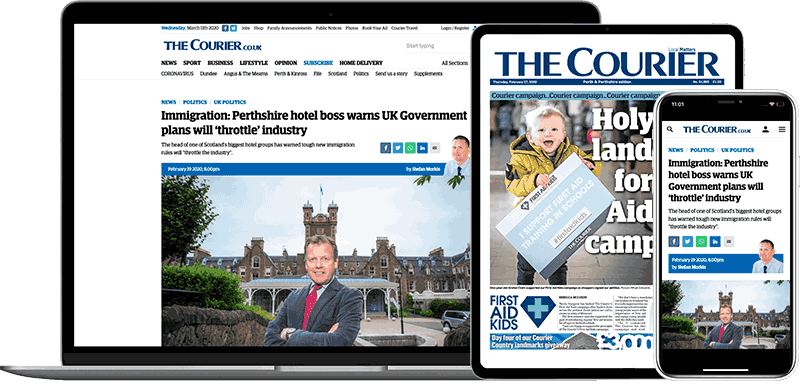 Help support quality local journalism … become a digital subscriber to The Courier
For as little as £5.99 a month you can access all of our content, including Premium articles.
Subscribe