Husband and wife, Chris and Rachel Rowley and Chris's brother Andrew, own and run Ballintaggart Farm at Grandtully in Perthshire, established 2016. Ballintaggart is a cook school with Saturday masterclasses and bespoke workshops, two luxury bedrooms offering B&B, monthly communal dining feasts, a private event space and external catering business.
Embracing winter
My favourite kind of days are ones when you need sunglasses and a scarf, and with the recent big blue skies and low light, I have been blessed. Although I'm not quite ready to say goodbye to the glorious, golden colours of autumn, I'm beginning to embrace winter here.
In the farmhouse, we've enjoyed slow roasts, winter salads, butternut squash chilli and warming bowls of soup. A particular highlight was a delicious 10-grain minestrone packed with vegetables, roast chicken (great for left overs) and scrumptious venison salami. Meanwhile, Chris has been busy quite literally baking our daily bread with an excellent variation on our white sourdough to include fennel seeds from the garden and creating menus featuring our own cured wild duck ham, spiced butternut squash and artichoke bhajis, monkfish with cauliflower puree, pickled garden vegetables with kale oil, and melting coffee and chocolate fondants.
Marshmallows
We're loving toasting marshmallows too, a simple pleasure not just reserved for Bonfire Night here. Resident guests can sit on the terrace by our firepits, homemade marshmallows and toasting forks in hand, soaking up the starry skies. It's certainly proving to be a rather special backdrop with our second, exciting marriage proposal here just last week.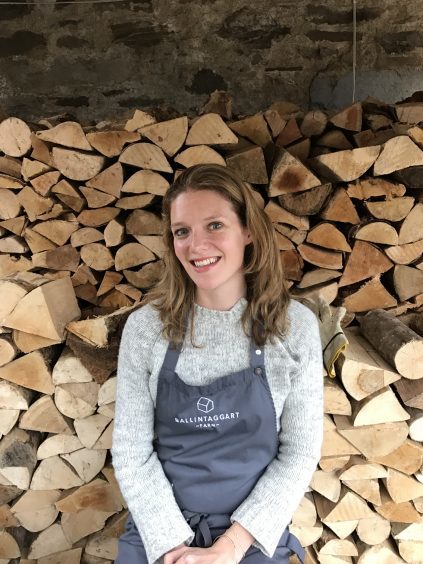 Pruning
Elsewhere, we are planning a big pruning project in our orchard and working to create the next section of our kitchen garden with new beds, sheds and a seating area coming soon. And, I'm beginning to think about the festivities, though you'll have to wait until next time for more on that…
Songs to cook to
Empire of the Sun – Walking on a Dream
It's a team favourite as an album and walking on a dream is kind of what we're doing here – creating a business and a family home.
@ballintaggartfarm (Instagram)