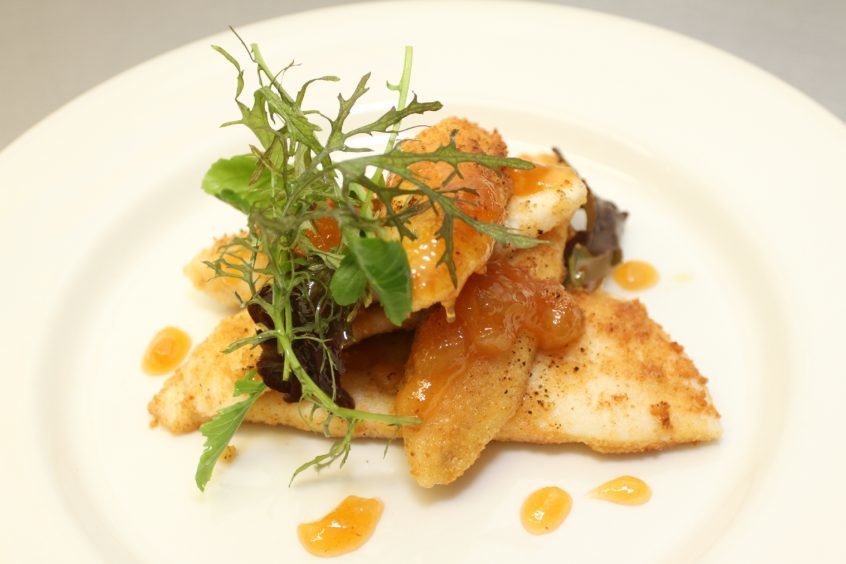 Land locked Little's brings a fresh sea tang to Perthshire – Blairgowrie Restaurant excels in fish and seafood dishes thanks to proprietor Willie's passion for fish.
Here's what Willie has to say about spreading his love of seasonal, Scottish fish and seafood to Perthshire's people and how he is inspiring young folk interested in a career in hospitality along the way.
"In these days of overprocessed supermarket foods, flown in from all over the world at completely unseasonal times, my passion is for fresh, local produce.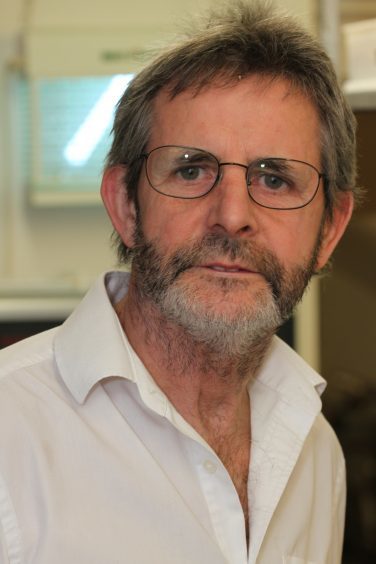 "Sounds simple, but many consumers want certain produce all year round, and supermarkets are obliged to give it to them even if it's lacking in taste and quality. Strawberries in the depths of winter are a good example, although advances in the local Perthshire berry trade mean that we will soon have year round berries in Blairgowrie that taste good!
"For myself though, eating seasonally and eating local was something I grew up with, not a trendy marketing tool as it is now.
"My parents were in service at Cortachy Castle in Angus – my father was the chauffeur and my mother was the cook. This exposed me to an amazing food heritage from an early age, with fabulous local produce at our disposal, and the opportunity to learn from my mother who was a master at pickling, bottling, preserving, wasting nothing and making the most of each and every ingredient that came her way.
"My parents were loyal souls who would never have thought of themselves as stealing anything from the Laird, and they were massively grateful to be employed at the Castle, but it was a simple case of using up what was going spare in the abundance of superb ingredients from the Castle's rich pantries – fresh figs and peaches from the Conservatory, grapes from vines straining under their weight, globe artichokes, asparagus and pheasant eggs from the pens of the "bag" for the next day's shoot.
"By the age of eight I could cook a traditional egg custard with a handful of pheasant eggs and the cream of the Jersey Herd's milk, topped with wild brambles and blueberries. A favourite dish was a mash of Jerusalem artichokes topped with a pigeon or plover's egg – not exactly your typical childhood fare but every day food for me.
"My mother was an extremely versatile cook, used to preparing everything from an elaborate banquet for the Laird to meals for her own hungry family.
She taught me all there was to know about seasonality, which in those days was a reality of survival for working class families.
"Now in my restaurant, Littles, I offer a seasonal menu with numerous daily specials. I source all my fish and seafood from trusted suppliers in places like Peterhead and Kinlochbervie – the fishermen and the divers direct – I know them all by name and I know where everything in my restaurant – and my fishmongers, Fish In Crieff, has come from.
"I think up my daily specials whilst driving from Crieff to Blairgowrie. I spend my mornings at the fish shop and then go to Blairgowrie in the afternoon to cook in the  evenings in the restaurant.
"So I know exactly what I have at my disposal to cook with, and will give it serious thought as to what to put on the specials blackboard, and what my customers will enjoy.
"Another of my passions is to try to get my customers to try other types of fish they may not have tried before, such as bleu ling, a delicious and meaty deep water fish. Similar to cod, it is fished off the coasts of Scotland. It's certainly one that many people will not have heard of, but once they try it, they love it. We are now asked for it at Fish in Crieff.
"I am also a fan of foraging and know the best places to go to source certain ingredients, such as wild garlic which tends to grow in woodland areas, in or amongst patches of bluebells. I am happy to say that foraging has really come back into fashion, championed by many a trendy Michelin chef. Again, it's something I have always done. It's the leaves of the wild garlic that are prized, not the bulbs. As hardy and fast growing as chives, the leaves form a dense canopy across woodland floors.
"My other passion over the last few years has been to help young people interested in becoming chefs and generally working in the hospitality industry, to get valuable work experience to help them get in the business."
As Willie explains, despite his lifelong love of food, he did not plan to become a chef.
"I originally wanted to become a gamekeeper, if truth be told, "he said, "but my mother wouldn't let me. I ended up at catering college in Dundee, thinking I would just drop out and return to my preferred vocation. I soon realised I knew far more about food, flavours and ingredients than anyone else on the course, but it wasn't until I went to Ayr College that I really started to love working with food, and it became my passion to think up new dishes, recount dishes from my childhood, and experiment."
Willie's extensive, and highly entertaining, childhood foodie memoirs are to be published in a book he is currently writing.
"When I put pen to paper, the stories just flowed out," said Willie, who also recounts tales of his Grandmother's amazing cured hams , green tomato chutney and home baking all produced in a house in the Borders with no electricity.
"She slaughtered her own pigs and made black puddings whilst the blood was still warm, "said Willie. "She is another huge foodie influence on my life."
It was diversifying into fish wholesaling which cemented Willie's passion for fish, and led to him setting up Little's Restaurant.
"I used to go up to the fish markets at Peterhead, Scrabster and Kinlochbervie, and engage directly with the skippers and scallop divers to get the very best, freshest fish and seafood. I supplied many other hotels, restaurants and retail outlets," said Willie, who set up his own Fishmongers Fish in Crieff ten years ago.
"I gained many valuable contacts which I still have to this day, but more importantly I received a huge buzz from visiting these markets and buying more unusual fish and seafood direct, lines you simply don't see in the supermarkets. I used the fish for my own fishmongers and when I set up Little's five years ago, I decided it would specialise in fish and seafood."
Willie can still be found at these fish markets across Scotland and admits he does not always know what fish will be coming in to Fish in Crieff and the restaurant, so the menu is seasonal and full of surprises.
"Fish in Crieff is still my daily routine. I spend the morning there and then head over to Blairgowrie for evening service. On Fridays and Saturdays we do lunches too, between 12 noon and 2.30pm. We have a loyal clientele who know they can ask me to cook fish to order the way they like it. I will have a bit of banter with them and tell them where it comes from and who caught it for example."
"Our customers also know we are happy to accommodate any special requests, such as lobster and whole fish, and our vegetarian surprises are known throughout the area."
For many customers though, as Willie reflects, haddock will continue to be their favourite and the king of fish for them.
"I serve it with straw chips and homemade tartare sauce," says Willie, "what could be better!"
To contact Littles, which is open Tues, Wed and Thurs 4-9.30pm for dinner and Fri and Sat 12-2.30pm for lunch and 6-9.30pm for dinner, call 01250 875358, www.littlesrestaurant.co.uk
Breaded plaice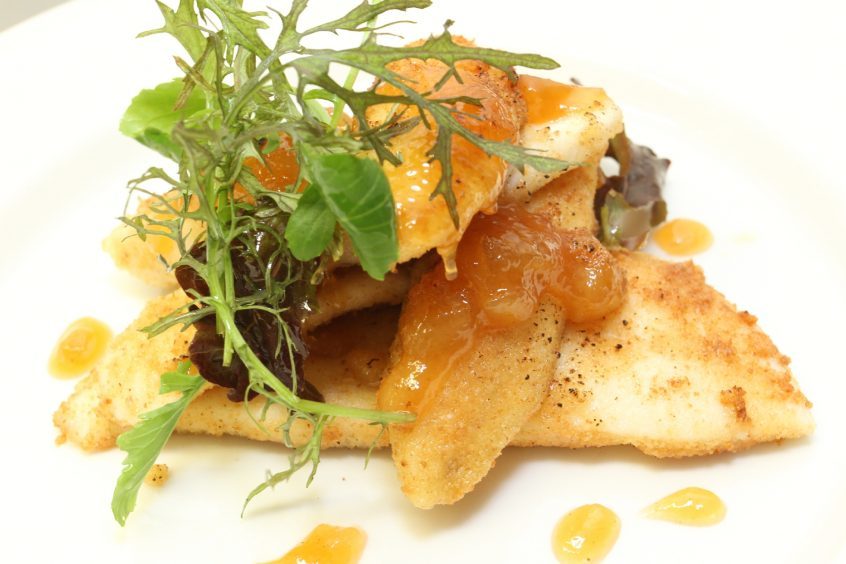 Plaice is now in season, bright in colour with big orange spots. It's thick, meaty and has a taste of its own that won't be lost with this simple recipe.
For two people
2x thick skinless plaice fillets
200g white breadcrumbs
200g melted butter
1 banana sliced lengthways
2 generous spoons mango chutney
½ lemon
oil to fry
Coat the fillets in butter then breadcrumbs and place in a fridge to allow the butter to set. Repeat with the banana slices.
Heat a little oil in a pan – just enough to cover the base. Add banana halves and turn until nicely golden brown, then remove. Add plaice fillets topside down (this is the presentation side) and cook until you see colour, then turn. Now place the banana on top of the fillet and coat with mango chutney, ensuring some also runs over the fish. Place under a grill for two minutes.
Plate up, squeeze lemon over and serve with potatoes and vegetable of your choice or maybe a nice cucumber salad.
This fish is amazing cooked this way, a bit like sweet and sour.