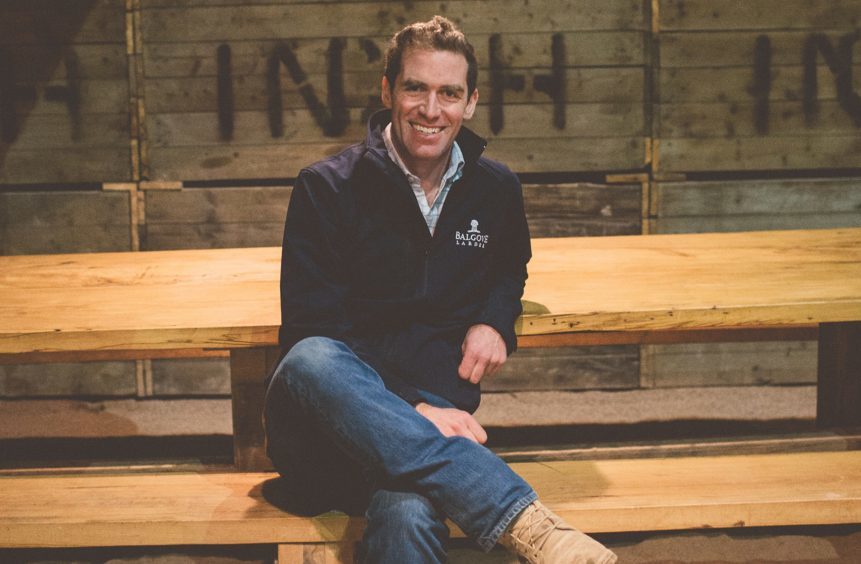 Will Docker tells Caroline Lindsay about life down on the farm at Balgove Larder
Q Desert island food?
A Has to be a big ribeye steak – ideally cooked over a desert island fire.
Food always tastes better outside.
Q Favourite TV chef?
A Valentine Warner – he doesn't take himself too seriously which is vital with food – it can be fun!
Q Favourite cook book?
A Anything by Swedish chef Niklas Ekstedt – his restaurant in Stockholm is outstanding – he's big on fire when it comes to cooking.
Q Favourite ingredient?
A Traditional dry aged beef. There's so much really substandard beef on the market that proper well hung beef is really worth the money.
Q Most hated ingredient?
A It's a toss up between margarine and UHT milk – neither should be classed as dairy products and there's just no substitute for the real thing.
Q Perfect dinner guest?
A My whole family – I don't get to see enough of them and we always have a huge laugh when together.
Q Favourite kitchen gadget?
A Simply a very sharp knife – there are too many flash in the pan gadget phases, I truly believe in keeping it simple. That said a boiling tap is a huge addition to any kitchen.
Q Favourite music to cook to?
A Something oldish and upbeat like September Fields by Frazey Ford – you need some tempo to get the hussle on.
Q Perfect menu?
A A light fish course like scallop ceviche to start, a humdinger of a steak and chips for main and something creamy or chocolate based for dessert. Always up for slipping in a savoury course too.
Q Favourite country for food?
A Japan or Scandinavia – both of their flavours seem to be so fresh and simple, focusing on the quality of the ingredients as the paramount priority.
Q Favourite chef, alive or dead?
A My father – never got to eat enough of his food.
Q Favourite culinary season and why?
A Late summer – the coastline is overflowing with abundance and lots of vegetables at their best.
Q Salt or pepper?
A Has to be both but just the right amount of salt does transform 'plain' into 'outstanding' – too much and it's ruined.
Q Favourite herb?
A Coriander or rosemary, both pretty potent but powerful in the right hands.
Q Favourite spice?
A Star annise – adds depth and that 'what is that flavour' effect, though it's a bit like Marmite when it comes to love/hate…
Q Favourite way to cook the humble potato?
A Salt crust baked in an Aga with a lot of butter – takes me back to childhood in a flash.
Q Favourite go-to recipe if you're in a hurry?
A Ripe tomatoes, garlic, anchovies, pasta, parmesan and parsley – a River Café chef tried to convince me this is a traditional Italian peasants dish – when in fact the flavours are fit for a king.
Q Favourite naughty nibble?
A Roasted almonds all day long – they never get boring and there's no guilt associated!
Q Favourite health food?
A Ummmm roasted almonds! They reduce blood pressure and cholesterol – happy days!
Q Ideal picnic dish?
A Hot stew in a thermos – perfect for a Scottish picnic, ideally with creamy mash in another thermos!
Q Ideal BBQ food?
A Super fresh mackerel – preferably minutes from being caught by the chef – they never used to be prized but I cannot get enough of them.
Q Are you critical of the food when you're dining out?
A Sadly yes and seem to be getting more fussy with age! But I tend not to chance it so often and listen to the grapevine about where to go.
Q Do you tip in restaurants?
A Always unless it's been truly dreadful, which is very rare thankfully
Q Top tip for failsafe cooking?
A Keep it simple and be organised. Also never belittle your efforts – too many people say, 'this may not be very nice when serving something delicious' self promotion counts for a lot!
Q Worst cooking sin in your opinion?
A Using bad ingredients is criminal – very little needs to be done with good products and knowing where your food comes from is just so important.
BALGOVE HAGGIS SCOTCH EGGS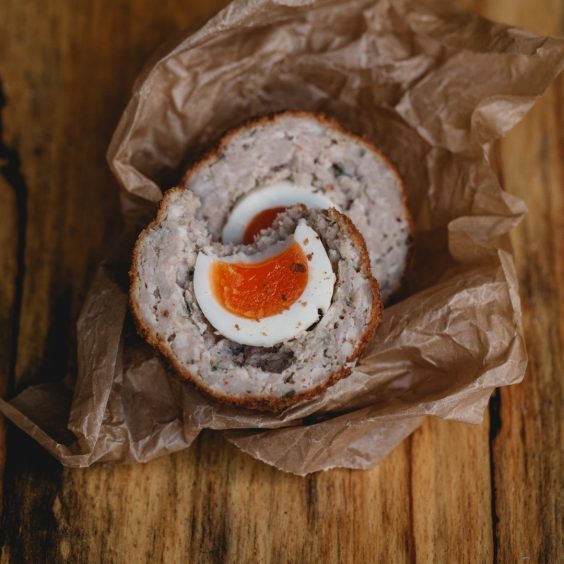 Makes 6
Ingredients
8 large Fife free range eggs, 2 beaten
700g Balgove haggis
700g Balgove pork, sage and thyme sausage meat
Plain flour for dusting
Breadcrumbs for coating
Sunflower or vegetable oil for deep-frying
Directions
Place 6 eggs in a saucepan of boiling water and boil eggs for 6 – 7 minutes, remove and plunge into a bowl of icy cold water. Once cool, carefully peel and set aside.
In a large bowl, mix both the sausage meat and haggis together using your hands, and divide mixture into 225g portions. Flatten each piece into the palm of your hand, placing an egg in the centre of each and gently wrap the patty evenly around each egg.
Place the flour, beaten eggs and the breadcrumbs into three separate dishes.
Dust the wrapped eggs in the flour, dip in the beaten egg, and roll in the breadcrumbs.
Heat vegetable oil in a deep fat fryer to 180C, (use a thermometer for accuracy). Once the temperature is reached, gently spoon the eggs, 2 at time, into the pan and deep fry for about 15 minutes, turning them every so often, until they are crisp and golden. Using a slotted spoon remove the eggs from the oil and drain on kitchen paper. Allow them to cool for 10 minutes.
Enjoy your Scotch eggs warm or cold.