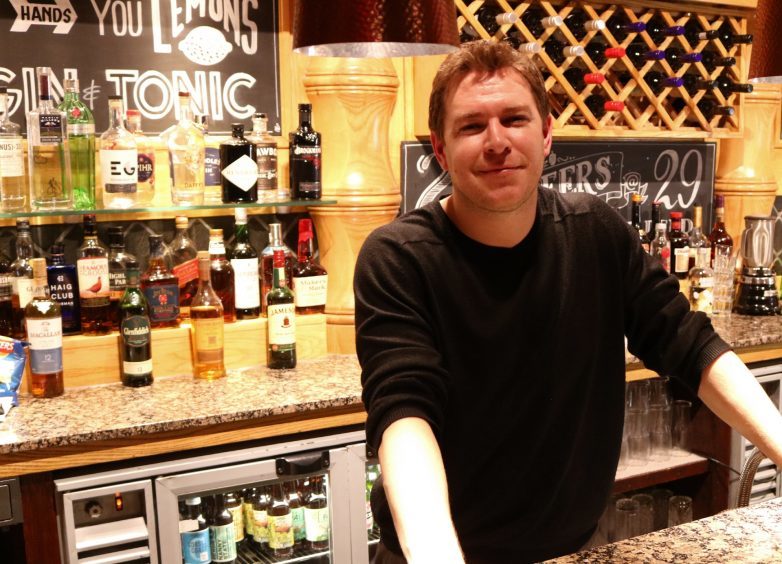 Neil Gardiner, chef and restaurant manager at 29 Bruce Street in Dunfermline, tells Caroline Lindsay about his food loves and hates.
Q Desert island food?
A Iberico Ham. Just give me a leg of this, a bottle of Malbec and a sharp knife and I could die happy.
Q Favourite TV chef?
A Rick Stein – an oldie but a goodie. I watch some of his older shows going back to the 80s. He was probably one of the first celebrity chefs. Just seeing his food journeys through the Med and India, cooking alongside families and having them teach him a thing or two about their cusine is great to watch. Plus his love of seafood and the passion he shows cooking it – he's my food hero.
Q Favourite cook book?
A Jamie's 15 minute meals. Simple ingredients, quick, easy and tasty. Ideal when you get home from work after a long shift and want to make something quickly.
Q Favourite ingredient?
A Garlic – so many uses and it can be put in so many dishes. I like it slow roasted with a touch of cumin – it becomes like little sweets, soft and gooey. The next day is interesting though – people will smell you from across the room. It seems to ooze out of your pores!
Q Most hated ingredient?
A Mushrooms – ever since I can remember I have hated them. Even the thought makes me queasy. No rational reason, just a pure hatred. I will tell people that I am allergic to them just to avoid them being near my plate.
Q Perfect dinner guest?
A I love cooking for my 16-month-old daughter. She is willing to try anything and the faces she makes when she likes/dislikes something are priceless.
Q Favourite kitchen gadget?
A Slow cooker – it makes my life at home cooing for the family so much easier. I actually have two side by side so when I am off I can make two different dishes and food for the week. It takes no time at all to prepare and I can still enjoy my day off while it slowly cooks away without me having to be there.
Q Favourite music to cook to?
A Just something that you can sing along to. Doesn't matter the genre or decade.
Q Perfect menu?
A Tapas – I love to share meals so ordering a feast and trying all the different dishes with friends over a few bottles of wine really appeals to me.
Q Favourite country for food?
A Spain – I spent some time in Barcelona and loved the food market on the Las Ramblas, the colours and the smells. I enjoy simple food but full of flavour. Every vegetable tastes and looks better in Spain. The tomatoes, the onions…
Q Favourite chef, alive or dead?
A American chef Katie Lee.
Q Favourite culinary season?
A Summer. I grew up in my grandad's garden and couldn't resist stealing the pea pods and the tomatoes off the vine.
Q Salt or pepper?
A Salt. I couldn't live without salt. My wife nips my ear all the time but I love it. Rock salt especially. To me salt just takes a dish up a level.
Q Favourite herb?
A Rosemary – there are so many diverse uses for it. It goes with meat and veg and it's great in a gravy too.
Q Favourite spice?
A Paprika for the smell and taste it adds. I put it in marinades, sauces and rubs and it does wonders to chicken skin too.
Q Favourite way to cook the humble potato?
A Sautéed with garlic and rosemary. Jamie Oliver taught me this one. My entire family loves it.
Q Favourite go-to recipe if you're in a hurry?
A Green lentils, red onion, garlic and paprika: red onion and garlic in a frying pan for 2 minutes. Add a tin of drained green lentils and paprika. Add salt and pepper. Two minutes later it's done. Quick, easy and pretty healthy for the most part.
Q Favourite naughty nibble?
A Cheese. I love cheese. I always have it in my fridge at home. So many different types to choose from. The smellier the better in my opinion.
Q Favourite health food?
A Avocado – super food. Healthy and very tasty as long as it's ripe!
Q Ideal picnic dish?
A It requires preparation but chicken, lettuce, flat bread and tzatziki. Have it all in little dishes and then create your own sandwich.
Q Ideal BBQ food?
A Corn on the cob. I was in America a few years back and was at an American style BBQ. All you need is corn, oil, salt, pepper and a brush of butter. Wrap in tin foil and put on the BBQ until the foil starts to blacken. You haven't tried corn on the cob until you have tried it this way.
Q Are you critical of the food when you're dining out?
A Not really. I think that I am pretty easy going. I am usually out to have a night off so as long as it tastes good and I can relax then I am happy.
Q Do you tip in restaurants?
A I always tip no matter what. However the better the service, the more I tip. If it's a small team in the kitchen I like to put a couple of beers behind the bar for when the kitchen staff finish too so they get to feel appreciated also.
Q Top tip for failsafe cooking?
A Preparation. Have everything you need prepared to make your life as easy as possible.
Q Worst cooking sin in your opinion?
A Cold plates for a hot meal they draw the heat off the food very quickly.
Salty seared scallops
I chose this recipe as I love simple food that tastes amazing. This dish uses only three ingredients and a couple of kitchen staples so you can't get much simpler than that.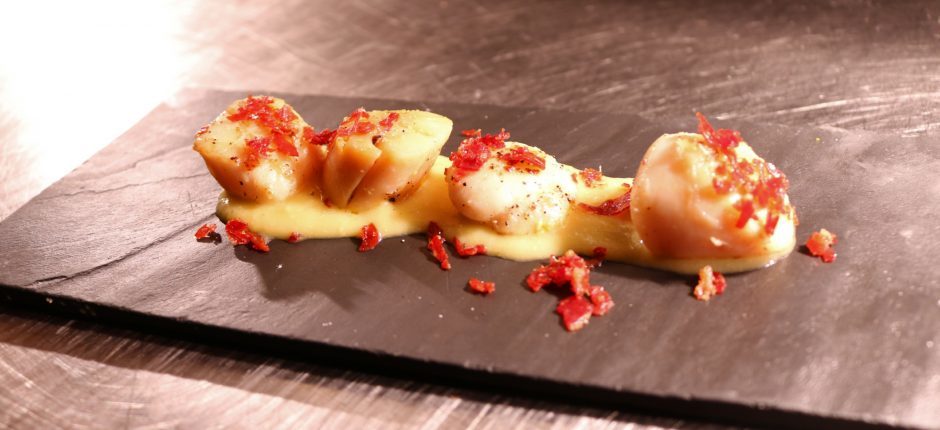 Serves 1
Ingredients
Prosciutto
Boiling water, to cover corn in the cob in the pan
Salt
1 corn on the cob
Cracked black pepper
Two tbsp olive oil
Scallops
Directions
Preheat the oven to 180C.
Place prosciutto on a tray and into the oven until dry and crisp. When cooled crumble to create a prosciutto salt. Boil water, add salt and cook the corn on the cob for 4 minutes.
Using a sharp knife cut the corn from the cob in to a bowl. Add salt and pepper and a couple of spoonfuls of olive oil. Blitz using a hand blitzer or a food processor.
Put the mix through a sieve to strain all the corn husks out. You should be left with a perfect sweetcorn puree.
Season the scallops lightly. Add to a hot pan with the smallest amount of oil.
30 seconds each side should be about right. The scallops should be seared and have colour on both sides.
On a plate using a teaspoon do a smear of the sweet corn puree.
Line the seared scallops along the sweetcorn smear.
Sprinkle with the prosciutto salt